SEVEN ESSENTIAL RELEASES
Essential Releases, July 30, 2021
By Bandcamp Daily Staff · July 30, 2021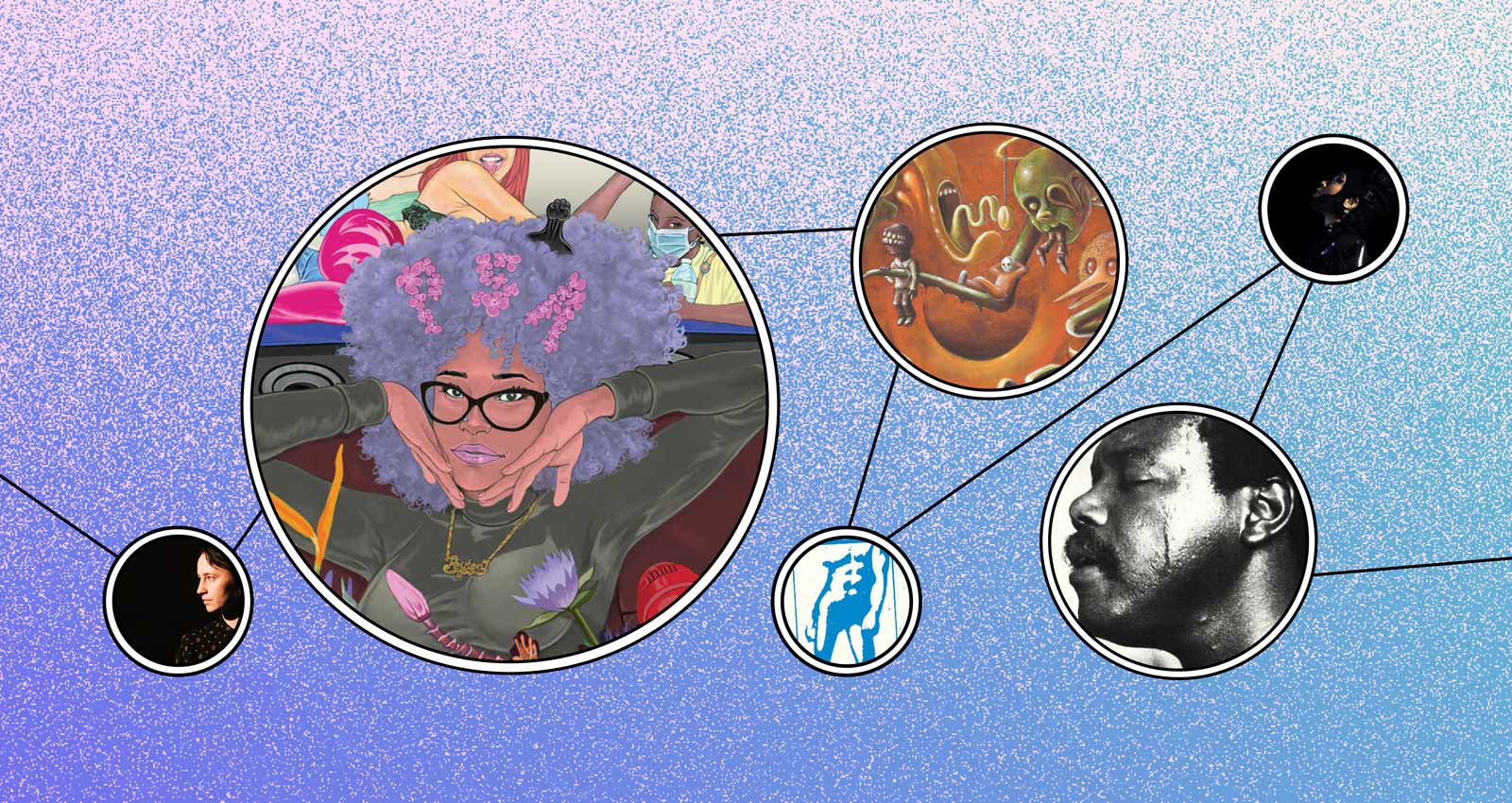 Welcome to Essential Releases, our weekly roundup of the albums that we can't stop playing, and that we think you need to hear.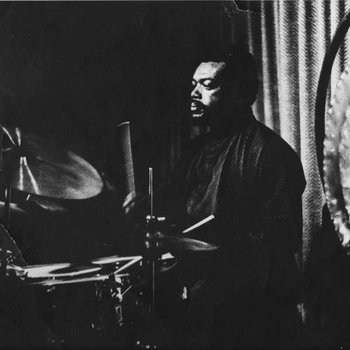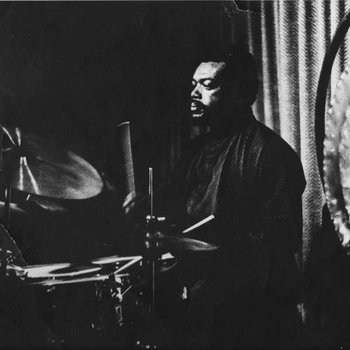 Merch for this release:
Compact Disc (CD), Vinyl LP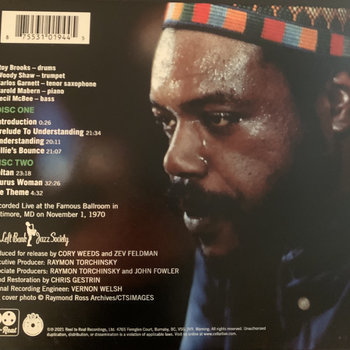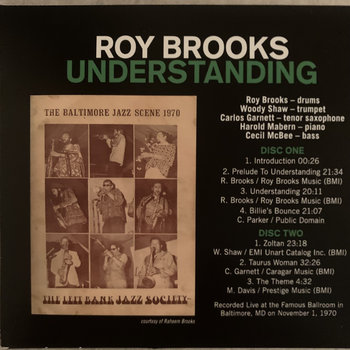 Things are going as expected on Understanding, the recently-released "lost" live album by the drummer Roy Brooks, until a little after the 18-minute mark of "Prelude To Understanding," when, following a brief bass solo by Cecil McBee, a subtle boing arises in the mix. It doesn't sound like McBee bowing his instrument, it's literally a boing, like something from a Hanna-Barbera cartoon. The sound briefly suspends the album's frenzied procession, introducing a somewhat odd noise to what had been a fierce set. It's Brooks tapping a musical saw with a mallet, pronouncing his genius as a bandleader and not just a sideman. Recorded in 1970 at The Famous Ballroom in Baltimore, Understanding offers a deep dive into the often-overlooked percussionist, who played with legends like Yusef Lateef, Charles Mingus and Horace Silver but never established himself as a lead musician. Compared with Ethnic Expressions, an Afrocentric jazz album released by Brooks in 1973, Understanding is intense, full of blistering horns, melodic keys and torrential drum taps that grow more powerful as the tracks unfold. By the time "Billie's Bounce" arrives, following the 40-minute "Prelude To Understanding" and "Understanding" centerpiece, the arrangement escalates: the brassy wails are unrelenting; the drums are especially furious. Understanding shows just how dynamic Brooks could be.
"I'm sick of watching TV, I'm sick of all the Zooms, I'm sick of talking to the screen," UK artist GLOR1A announces halfway through her new EP METAL, and who among us can't relate? The difference is that while most of us used technologies to have endless work-related meetings and awkward "family reunions," GLOR1A put the technology to good use; she launched a web series called Dystopian Futures, where she and a series of panelists tackled topics like climate change, the future of art, and how to be an activist at home. Anyone who's heard her music will not be surprised that those topics are forward-looking: METAL is an absorbing collection of R&B and pop melodies nestled deep within delightfully warped and futuristic production from artists like Ikonika and Barkley Bandon. "Sad Surveillance" is mesmerizing, with undulating waves of electronics rising and falling over a stuttering, almost trap-y beat. Lyrically, GLOR1A pulls off a savvy double meaning—it's hard to know if it's a stalker or big tech that's monitoring her, and then eventually you realize that they're one and the same. "Double D" is another hypnotic number, GLOR1A's voice getting stretched out and distended into strange shapes while Bandon's rhythm track—which at times evokes the sound of steel drums—pulses beneath. METAL deserves to be mentioned in the same breath as electronic innovators like Yves Tumor and Blackheart-era DAWN: artists who take a familiar musical base and then giddily trouble the waters.
Merch for this release:
Vinyl LP, Cassette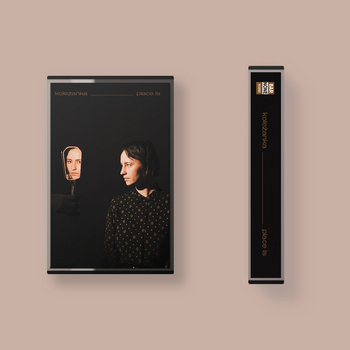 Kristina Moore, formerly of indie rock band Triathlon and now recording as koleżanka, is in search of something on Place Is, a shifting record concerned with barreling through the liminal spaces of the world, with songs that flash along like vivid landscapes glimpsed outside the window of a speeding tour van (or possibly a spaceship.) The ambiance is golden and the sonic palette diverse, zipping from grandiose soft psychedelia ("7th St/7th Ave") to hypnotic art pop ("Words for No One") and funky dream pop ("Vegan Sushi."). Though she avails herself of plenty of synthesized sounds and is supported throughout by cracking, funky percussion contributed by collaborator and  multi-instrumentalist Ark Calkins, it's Moore's clear voice, always sitting high in the mix, that lights the way through these pleasantly off-kilter soundscapes.
Merch for this release:
Vinyl LP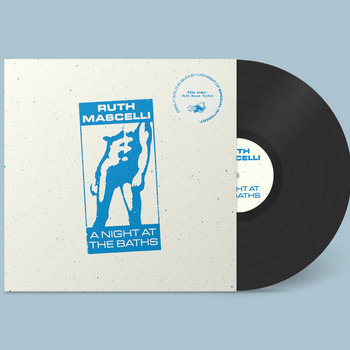 You may be familiar with Ruth Mascelli from their work in Special Interest, and I've written about their prior solo project Psychic Hotline in this space as well. While Psychic Hotline hews closer to minimal wave/synth-pop, Mascelli's work under their own name heads full-bore into acid territory, though it's much more subtle in many places than one might expect from that label. Designed as an audio tour of gay bathhouse culture, there's unmistakable eroticism throughout, from the light pulse and twitch of "Petri Dish," where clattering beats recall the pattering of echoes against tile walls, to the urgent, heady (no pun intended) "Libidinal Surplus," which brings together the rave and the hookup, and the swirling "Hydrotherapy," a lovely ambient comedown. The bathhouse, of course, isn't just a sexual space but a communal space, in a similar manner to queer dance clubs; one must be attuned to and part of its subcultural nuances and secret-by-necessity inflections in order to really understand it. It is a place of often-fleeting connection and a place of contention, as closer "Missing Men" nods to. Mascelli, whose work only grows more adept with each release, has done a fantastic job of creating work that stands on its own and can be evocative even if you've never been to a bathhouse or know anyone who has, but if you know even a bit of that hidden language, it becomes so much more full.
Merch for this release:
Compact Disc (CD), Vinyl LP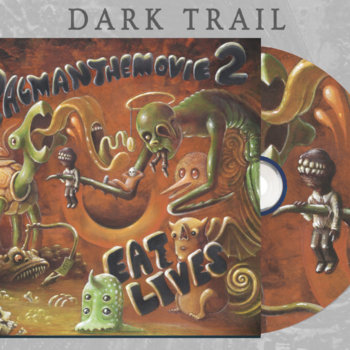 High-decibel hysteria, tight runtimes, batshit vocals, abandnameformattedlikethis: Pacmanthemovie are sasscore as they come. Much like their peers in what I've jokingly dubbed the sasscore-without-spaces circle (see also: SeeYouSpaceCowboy, wristmeetsrazor)—a batch of contemporary bands who, in the spirit of forebears like Blood Brothers and An Albatross, cast aside hardcore's machismo tropes in favor of caustic, chaotic camp with math-rock influences. Their latest, Pacmanthemovie 2: Eat Lives, is a moshpit-ready spectacle that begs to be taken on the road ASAP, with a distinctive maniacal charisma all its own. The band's piercing notes, misanthropic tongue-twisters ("I'll be feeding bones in bulk with love"), and claustrophobic arrangements create a hostile atmosphere, but the confidence with which they lead us through them makes oblivion feel like a cartoon, albeit one you probably shouldn't watch with the kids around. (To that end: "I'm one of a kind bitch, you'll know me well," off "PacManthem," would make a pretty great catch-phrase for an Adult Swim villain.) Not that there's any time to soak up the surroundings or decipher the lyrics: 11 songs and 20 minutes later, you're sitting there with your ears ringing, wondering what the hell you just experienced. And that's the fun of it.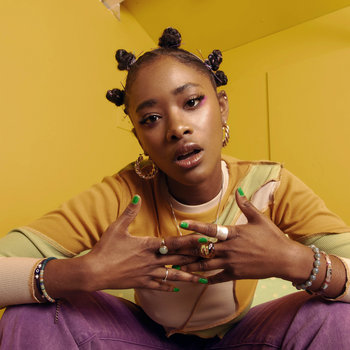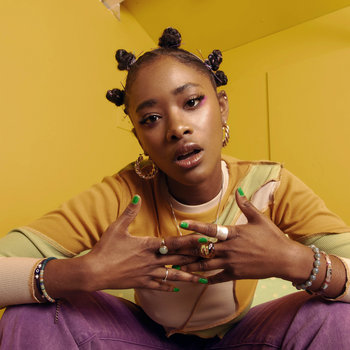 Merch for this release:
Vinyl LP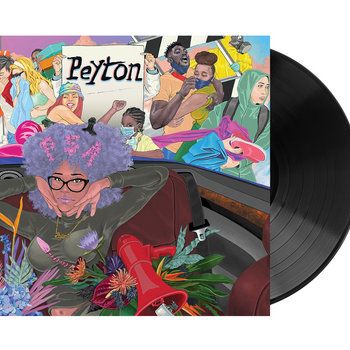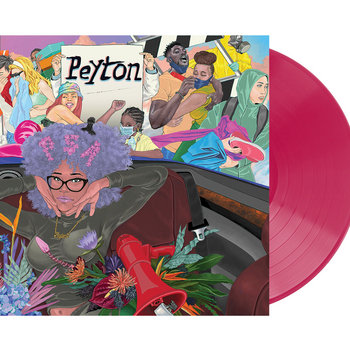 The mononymous Peyton returns with her debut full-length album PSA after the success of her 2019 EP Reach Out. Born Peyton Booker in Houston, Texas, the R&B singer's latest offering is filled with dreamy and sanguine songs that transverse lo-fi pop and alt-R&B influences. What I love about Peyton's music is that it deftly captures the emotions that come along with entering a new phase in life. The overarching theme of PSA is maturing and coming-of-age. The cheerful melody of the opener "What Did I Do" belies its exasperated lyrics about a non-committal love interest: "What did I say and what did I do to make you run, run away," sings Peyton. My favorite track is the self-assured and shimmery "Let It Flow" where Peyton sings: It's not complicated/ My soul is a spaceship/ I'm taking off trick." The album closes with a reworked version of "Pure Imagination" from the Willy Wonka & the Chocolate Factory soundtrack that is layered with acoustic guitar and allows her silvery voice to shine through. PSA is a good window into Peyton's introspective world.