SEVEN ESSENTIAL RELEASES
Essential Releases, August 26, 2022
By Bandcamp Daily Staff · August 26, 2022
Welcome to Essential Releases, our weekly roundup of the albums that we can't stop playing, and that we think you need to hear.
Merch for this release:
Vinyl LP
I've always had a soft spot for heavy music with literary leanings: the more obscure allusions and high-concept shenanigans, the better. This ultra specific, impossibly nerdy quirk (which manifested for the first time in my teenage years upon encountering Leviathan, Mastodon's 2004 magnum opus loosely based around Herman Melville's magnum opus Moby Dick) laid the groundwork for my infatuation with not just with metal, but my career as a music writer; a Metallica album review, I reasoned at the time, was no different from a book report, only cooler. That I'd devour House of Sand, the fifth album from Dawnwalker, the London collective headed by singer-songwriter Mark Norgate, was more or less predestined: verdant, prog-infused metal tracks performed with the fluidity and aggression you'd expect from bands like Opeth and Porcupine Tree; Victorian Gothic themes of demonic possession, domestic trauma, and societal decline; and even a writing credit for 18th-century Romantic icon Percy Bysshe Shelley, whose poem "Adonais" is quoted at the end of track three. For such an ambitious LP—recorded by an eight-piece ensemble, no less!—the construction is actually pretty straightforward, employing a minimal instrumental palette (guitars, drum, piano, violin, vocal harmonies) while forgoing click tracks and digital instruments. Consequently, House of Sand is a record that feels refined, but never overwrought, honoring the written word without descending into the rote. My inner child is doing cartwheels at this very moment.
Speaking to Mixmag Asia, Hong Kong producer FINGERGAP illuminated the guiding principle behind his exhilarating fusion of Cantopop and footwork: bringing the beat back, literally. While much of contemporary Cantopop is slow, romantic balladry made specifically for karaoke, just a few decades ago it was much higher-spirited, often featuring Italo disco influences—made for dancing rather than singing along. The torrid highs and lows of romance have always been a key part of the sound—Cantopop's roots are in Cantonese opera, and from the '50s onward, it's been part of the landscape of soap operas and other TV dramas, similar to other East Asian pop music styles. FINGERGAP's interpretation mitigates all that syrupy sweetness with footwork's brisk 160bpm tempos, yet it loses none of the emotionality or delicacy—check out closer "未必可以懂 (May Not Understand)" for a particularly poignant example, driven by fluttering synths and understated but nonetheless heartfelt vocals. (The chorus translates to this gentle sentiment: "I may not understand/ But I would like to offer you a silent hug/ And hope the ache will be relieved at the moment of embrace.") Shan Shan 160 is FINGERGAP's first full-length release, and it ably executes his vision—these songs are well-written, elegantly produced, and effervescently fun without sacrificing any of Cantopop's essential attributes. Living in the city that originated footwork and juke, I love hearing all of the global interpretations thereof—hearing this music that grew out of the Chicago house scene fused with other cultures and conventions is so fascinating, and it's clear that the artists doing it view themselves as part of an ongoing and complex cross-cultural conversation. FINGERGAP's work is so clearly different than what's happening in the Japanese juke scene, for example, but in a complementary, rather than competitive way. A really, really cool debut.
Perfectly serviceable throwback alternative rock from Connecticut group Hellrazor, Heaven's Gate is elevated by good songwriting and production and only loses the plot when the band does, either trying to get too experimental with a formula that wins for a reason (because it rocks!!) or…well, who knows why bands do what they do; whatever, nevermind. In any case, there are more good songs than bad ones, and everyone who misses the '90s or pretends they do will enjoy filling in the blanks like music nerd mad lib e.g., "this is the Nirvana one" and "this is the Sebadoh one," et cetera, et cetera, ad infinitum.
Merch for this release:
Vinyl LP, Compact Disc (CD), Cassette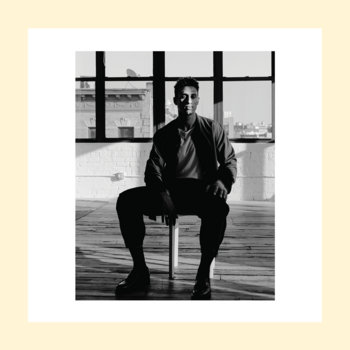 Last year's debut from New York-based artist Steven Raekwon Reynolds is a delicate folk album. Recorded both in New York and in Edwardsville, Illinois, Reynolds's project takes listeners on an honest and unvarnished journey through love and all of its ups and downs. The lead single "Darling" has an electric guitar-heavy melody paired with longing lyrics like "I want to be wrapped up in you." This track is followed by the more upbeat "Do You Feel the Same." "I just hope you feel the same/If you do, I'm yours to take," sings Reynolds. The album's penultimate track is a reprise of "Darling" which replaces the electric guitar with piano. The album closes with the meditative "Don't Leave," which features a lovely choral-like refrain that ends the album on a graceful note. The songs on this album are for the hopeless romantics among us and those that can cosplay as such during the album's runtime.
Merch for this release:
Vinyl LP, Compact Disc (CD)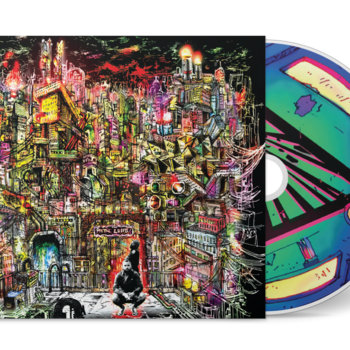 "Damn Alice!," the second track on the new album from ShrapKnel—the duo of Curly Castro and PremRock—opens with an extended riff on Lewis Carroll. This is fitting: Castro and PremRock spend the bulk of their second record navigating a landscape dense with allusions to film, music, and historical events, all of them tweaked and decontextualized until they're as surreal as, well, a cat smoking a hookah. Over booming, apocalyptic production mostly provided by Steel-Tipped Dove, the duo smash together references to Do the Right Thing and Stand By Me ("We torched Sal's famous, only Smiley survived/ Wanna see a dead body? Well, follow me, tribe"), and pay winking homage to their hip-hop forefathers ("When the MCs came to live out the name/ Damn, I was walking out the projects with Sheraine"). But as the record goes on, it becomes clear that this approach isn't just a clever semiotic parlor trick—it's something darker and more unnerving. By bombarding us with this imagery—especially over beats that sound like they're ricocheting off the buildings in a burned-out city—Castro and PremRock seem to suggest that the imagery is all that's left of modern society; we've fallen so deeply in love with the spectacle that there's no longer anything behind it. We're through the looking glass, alright, but our Wonderland is shitty and smells like burning tires, and it doesn't really matter which pill you take, because both of them make you smaller.  In a way, it reminds me of The Tricks of the Shade, the underrated 1992 masterpiece by the Philadelphia hip-hop group The Goats: a neverending nightmare carnival where you wander for an eternity without finding the exit.
The latest from "celestial pop" artist Vinyl Williams doesn't sound effortless, but neither does it sound overworked and therefore self-conscious and annoying, which is often a trap with music that relies on sparkly galactic lounge vibes for curb appeal (I mean, just look at the cover art.) But Williams writes actual songs, nice ones, and so Cosmopolis is an album worth listening to in full; first to simply enjoy the beauty of his compositions and then to start unlocking the myriad lovely ways he finds to ornament them and stitch them together, landing on a finished product that's somewhere between baroque and sunshine pop and blessedly free of twee bleep bloop shit, which would surely lower the bar for what he's trying to accomplish here. Words like "elegant" and "sophisticated" could be thrown about to describe the record, however, Williams is just a hair too eccentric to slot into the category of music that could be played at some lame hotel bar or whatever—but probably not NPR.