SEVEN ESSENTIAL RELEASES
Essential Releases, August 12, 2022
By Bandcamp Daily Staff · August 12, 2022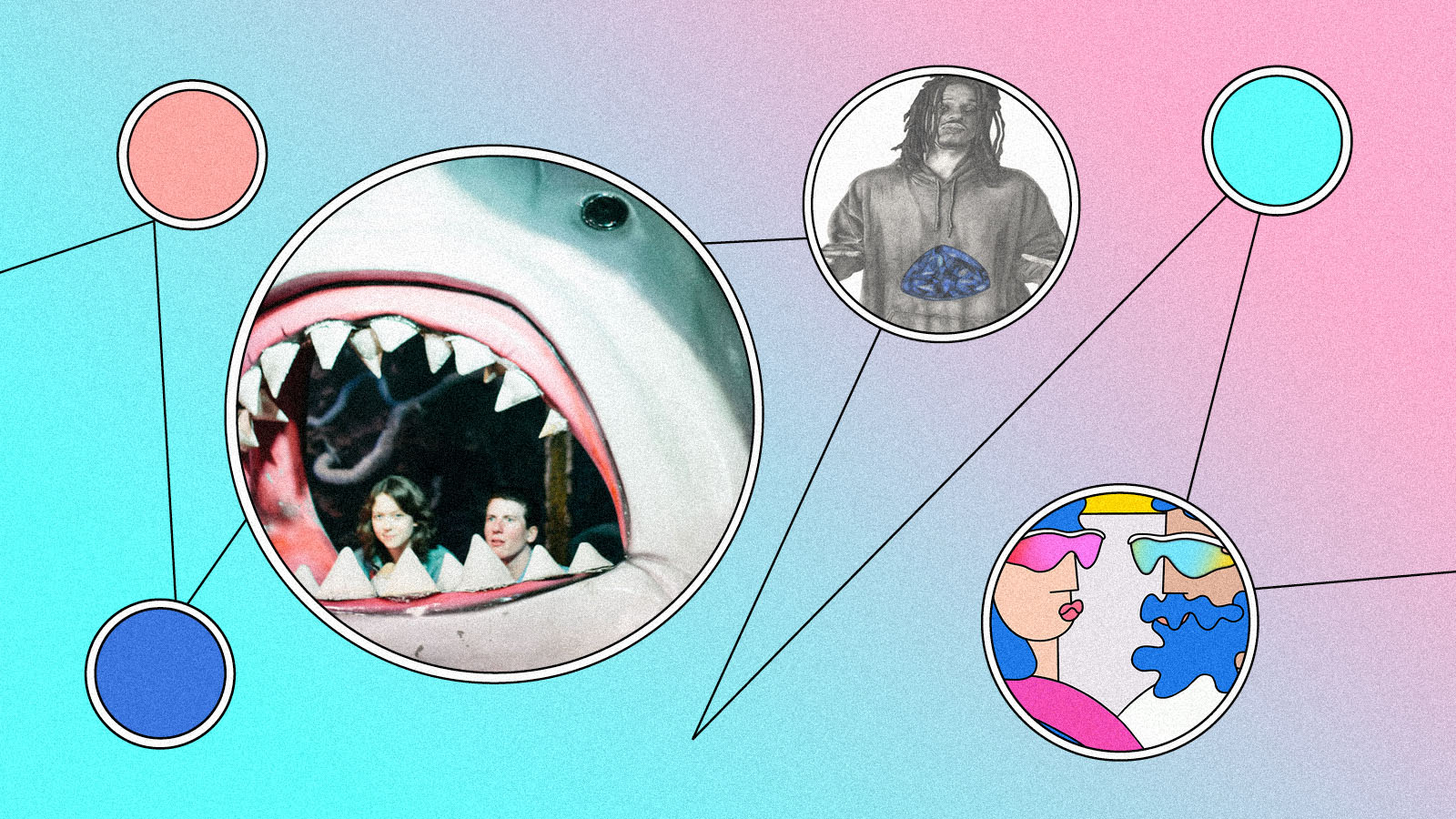 Welcome to Essential Releases, our weekly roundup of the albums that we can't stop playing, and that we think you need to hear.
Merch for this release:

The tropicalia-disco duo's latest album is named after their 1981 Toyota Celica. What Brijean does best is create cinematic dancescapes and Angelo is precisely that. The album starts with a question: "Which way to the club?" It's both a question and statement of intent for this magnetic dance record. The dreamy title track transports listeners with its electro-beats while they repeat: "Angelo can you transport me?" Elsewhere the boogey-down beats of "Take a Trip" are breezy and luxurious and "Shy Guy" is vibrant and lush. The album's penultimate track "Caldwell's Way" is a technicolor ode to leaving home and closing chapters in your life. The album closes with "Nostalgia," a fitting end to an album about bittersweet new beginnings. Angelo is a dance album that traverses emotions like joy and wistfulness—there's joy when a party begins and it's bittersweet when it ends.
desert sand feels warm at night
夜道
Merch for this release:
2 x Vinyl LP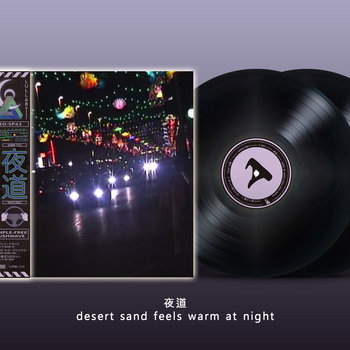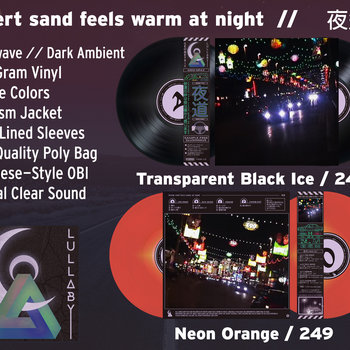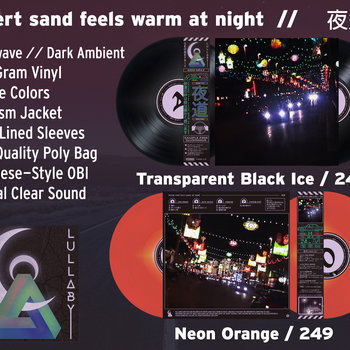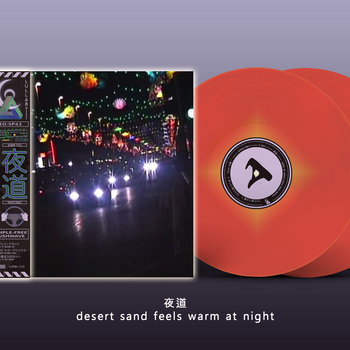 The humid days of mid-August require a tranquil soundtrack to take the edge off, and few people do that better than the UK artist William Hallworth-Cook, who records as—deep breath—desert sand feels warm at night. Over the last four years he's amassed a discography heavy on expansive compositions that feel like bands of color slowly creeping across a sundown sky, tranquil and calming, with a kind of soft-focus beauty. The excellent Pittsburgh label Geometric Lullaby recently committed desert sand records to wax—水に流す, and this one. And while they both share similar attributes—four side-long songs that move in slow-motion—this is the one that has got its hooks in me. And while I am loathe to refer to the music here as "vaporwave," the tracks on 夜道 demonstrate that music's strange power when it's at its best. There's a remarkable moment about 14 minutes into the first track when a slowed-down vocal—a vaporwave staple—drifts slowly into frame, floating just above the foamy oceans of synth. I've heard this trick a thousand times, but there's something disarmingly beautiful about the way Hallworth-Cook employs it, a kind of nagging sorrow hidden within the sound. The entirety of the composition that occupies Side D is just a cluster of drawn-out notes creating a melody that feels like a contented sigh. Each track here is both strange and strangely moving—a mirage you can't look away from.
Merch for this release:
Cassette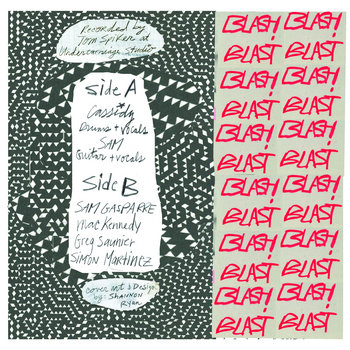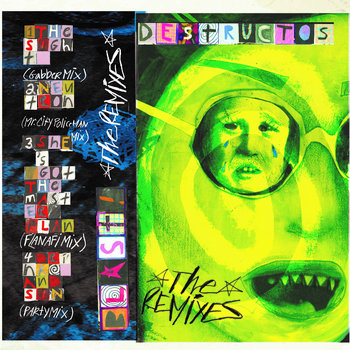 Remember two weeks ago when every cosplaying "indie" band and their sycophantic supporters completely melted down upon being told (by me) that they are, in fact, full of shit? That was super depressing! But I have friends in low places (Philadelphia) and was invited to a house show there last weekend featuring idiosyncratic duo DeStructos, which restored my faith in humanity via the persistence of true DIY and basement punks who don't sound like a pile of money. The B-52s get brought up a lot in (all three) reviews of this band because of the yelpy call-and-response, boy-girl vocals, but I also hear a lot of early Sleater-Kinney in their razor-sharp guitar lines and chaotic energy—not really saying much, I guess, since S-K are, also, dedicated B-52s followers. So, let's just say ultra-revved up Vivienne Styg minus the swampiness/added scariness. The b-side of this cassette release features some remixes of the original tracks, all of which offer unique, dance-worthy spins on the original tracks.
Merch for this release:
T-Shirt/Shirt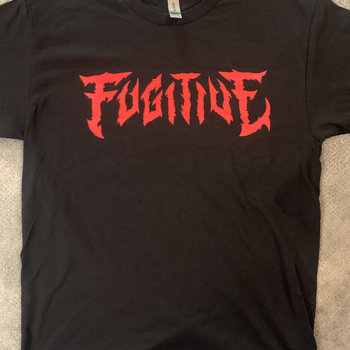 It's hard to believe that two whole years have gone by since the death of Riley Gale, Power Trip vocalist and one the greatest frontmen in modern heavy music. His passing will forever be remembered as a tragic turning point in thrash metal's history: not just because Gale's immense vocal power and devilish onstage charisma rendered him a once-in-a-generation performer that we'll never experience again, but because his band—commercially successful, critically acclaimed, adored by heshers, normies, and Post Malone alike—would likely have achieved Metallica-level success within a decade's time if he were still with us. Our collective grief isn't going anywhere, but the show must go on. Enter Fugitive, Power Trip guitarist Blake Ivanez's new band featuring members of Creeping Death, Skourge, and Impalers. Released via 20 Buck Spin, their debut EP, Maniac, contains five rippers that balance thrash's speedy thrills with death metal's cavernous stomp and hardcore's cocksure aggression. Maniac's got all the giddy mayhem and impressive solos we've come to expect from Power Trip, but the dank production and hyper-condensed arrangements lend its songs a hellish, almost hallucinogenic bent reminiscent of bands like Undeath and Sanguinisugabogg. Whether Power Trip proper returns remains uncertain (I'm certainly not holding my breath), but in the interim, Fugitive is keeping the spirit alive with this stellar EP.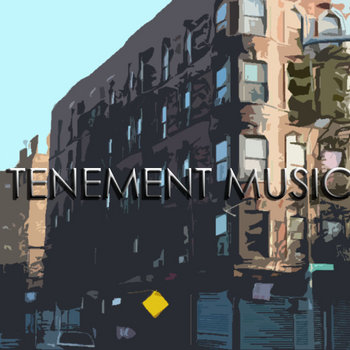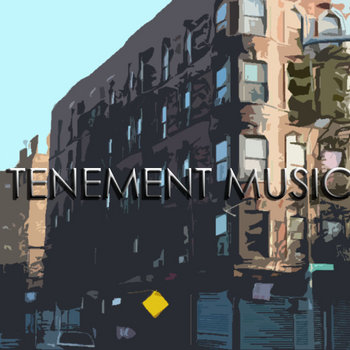 Merch for this release:
Vinyl LP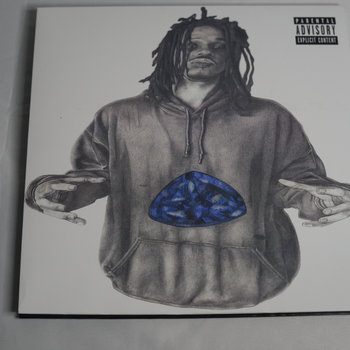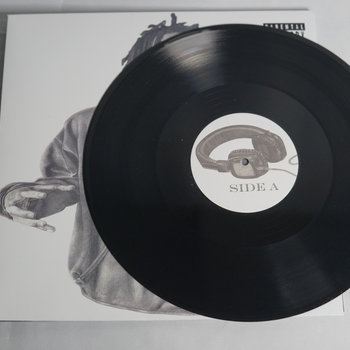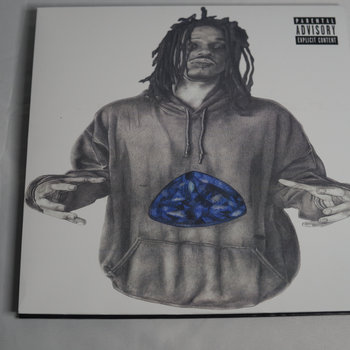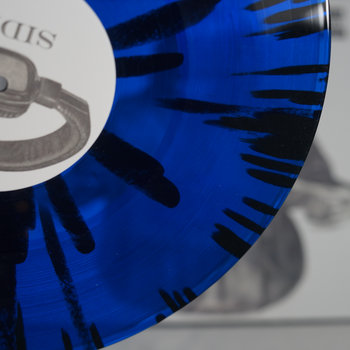 I'm going to be honest with you, I don't know a ton about the Brooklyn hip-hop label Tenement Music. One of my favorite Bandcamp pastimes is getting lost in the site's underground rap catacombs, and it was during one of those deep-dives that the cover art for an album by Raticus & Miskeen Haleem caught my eye, as it was clearly the work of visual artist Squat Dead Face. But the further I explored the Tenement Music catalog, the more obsessed with it I became—to the point that I eventually ended up forking over the funds to acquire a stack of it on wax. All of the releases are genuinely great, but the one that's been monopolizing my turntable the most over the last few weeks is Audio Sapphire, a collaboration between the rapper Pruven and Raticus—who, as far as I can tell, is the label's in-house producer. (Don't quote me on that, though.) Pruven's rhyme style is fascinating; tonally and structurally, he at times recalls Kool Keith, free-associating surreal imagery to create brain-bending bars that demand repeated listens to decode. Unlike Keith, though, Pruven is deadly serious; there's a grim neo-realism to his imagery that makes them land like ominous proverbs scrawled on the walls of ancient mausoleums. Raticus undergirds all of it with beats that feel dank and overgrown with moss. We're about three decades into the lifespan of "grimy hip-hop" at this point, but there's something different about Raticus's beats; they're not just damaged soul loops—they feel almost alien and forbidding; on "Metal Circuits," buzzing keyboard lines writhe over a drum track that sounds like a wad of wet paper towels repeatedly slamming into a concrete wall. (This is a compliment.) If it wasn't already taken, a better title for Audio Sapphire would have been Shoot Out the Lights. It's the perfect entry point into the Tenement Music universe.