SEVEN ESSENTIAL RELEASES
This Week's Essential Releases: Jazz, Anarcho-Noise, Electropop, and More
By Bandcamp Daily Staff · November 02, 2018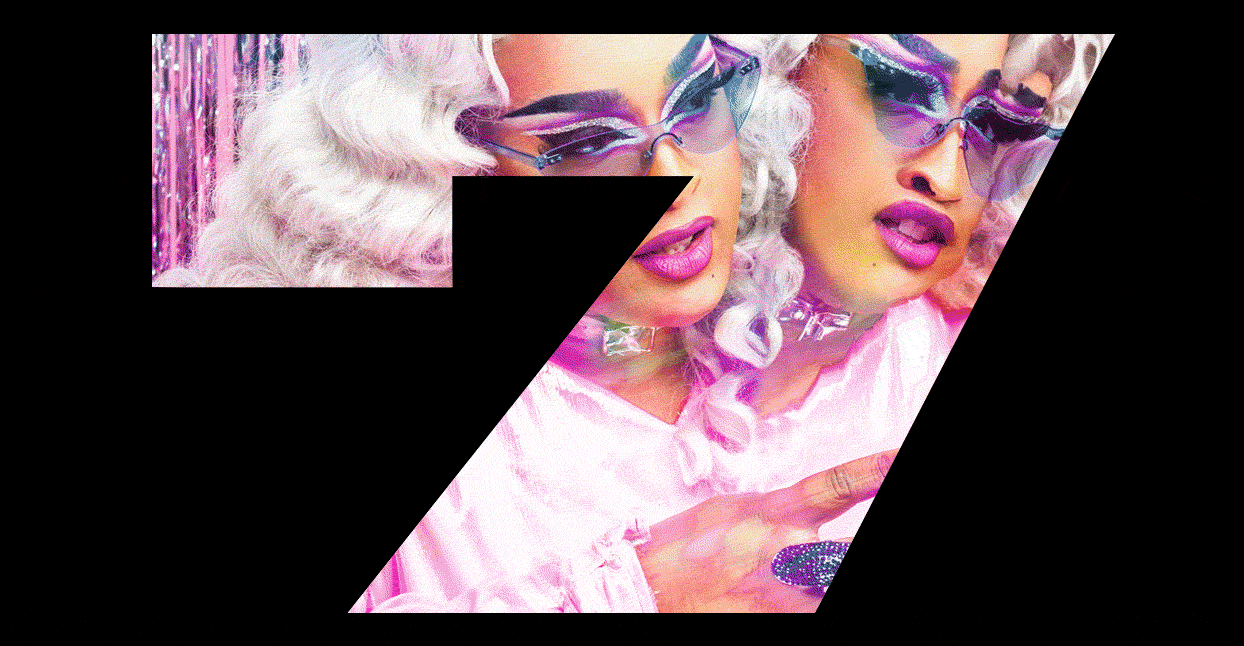 Welcome to Seven Essential Releases, our weekly roundup of the best music on Bandcamp. Each week, we'll recommend six new albums that were released between last Friday and this Friday, plus pick an older LP from the stacks that you may have missed.
New Releases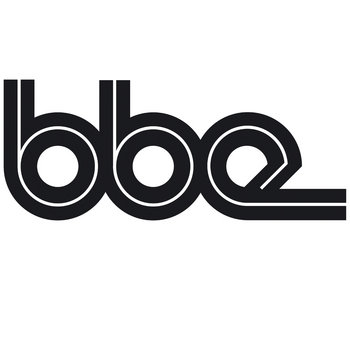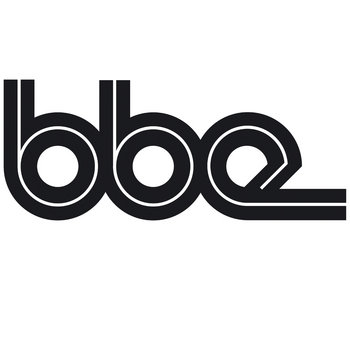 Merch for this release:
Vinyl Box Set, Compact Disc (CD)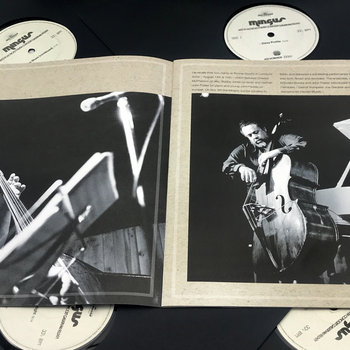 By the time Charles Mingus arrived at the Strata Concert Gallery in 1973, he was already Mingus. He no longer needed a first name; the bassist had already cemented his bust on the Mount Rushmore of American jazz music. So with his legend already cemented, Mingus played a four-hour set in Detroit that, until now, has been tucked away and unreleased. BBE Records has released the performance in a four-hour box set called Jazz in Detroit / Strata Concert Gallery / 46 Selden, which offers a look into Mingus's grand orchestration. With a lineup that includes drummer Roy Brooks, trumpeter Joe Gardner, pianist Don Pullen, and saxophonist John Stubblefield, Jazz in Detroit plays like a live radio show, complete with interviews and band introductions that give the music a personal feel. Musically, many of these arrangements run 20 minutes or so, which gives songs like "Pithecanthropus Erectus" and "Noddin' Ya Head Blues" the proper time to unfold. Indeed, it takes great patience to fully absorb this box set, but if you take time to unpack these compositions, Jazz in Detroit proves to be a rewarding listen with lots of history at its core.
-Marcus J. Moore
Drug Church
Cheer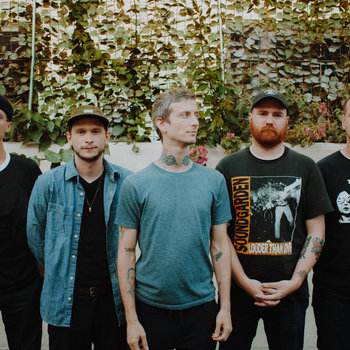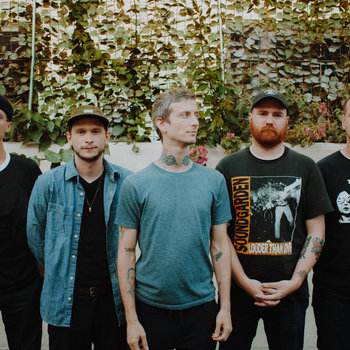 The latest album from Drug Church offers a teachable moment on the musical merits of selling out. With their high-profile label home—top-shelf punk purveyors Pure Noise—eager to foot the bill, the Albany outfit have chosen to go all-the-fuck out this time around, trading rugged grunge-punk anthems for polished pop-punk. Frontman Patrick Kindlon's emboldened clean vocals — periodically spiked with the same gruff yawps fans have come to expect — offer steep returns in and of themselves on standouts like "Weed Pin" and "Grubby," recasting the Self Defense Family doomsayer as a surlier Billie Joe Armstrong; that general sense of magnetism extends to his bandmates, as well, who flex their pit-starting finesse on roiling crossover ragers like "Avoidarama." Those impartial to the likes of Culture Abuse, Joyce Manor, Frank Carter and the Rattlesnakes, et al would be advised to snatch this one up, pronto: unlike most religious organizations, Drug Church don't put their indulgences to waste.
-Zoe Camp
It has been, shall we say, a hard week for me, an American secular Jew who lost family in the Holocaust. Punk has been a solace to me in such times before, and I have found particular personal significance in this release from Tel Aviv's Jarada (Hebrew for "anxiety"), a political hardcore outfit who have some feelings about state and interpersonal violence to work out. They do so sharply and efficiently, roaring through 13 songs in under 20 minutes. The soloing has just enough melody and just enough discordance, the chording is rough-hewn, the drumming is breakneck and precise, and the bass both holds down the fort and occasionally rises through a breakdown to claim its own space. There are mosh parts. They're good and don't feel overwrought. And above it all, blown-out vocals that mostly push forward at top intensity but display dynamism when needed. I'm very glad for the Croatian label Doomtown Records' proper issue of this one, which brought its urgent messaging to my attention. Just wish I could see them live immediately so I could lose myself in the pit.
-Jes Skolnik
New York noise band Missing Foundation carved a jagged path across New York's Lower East Side in the mid '80s, pairing militant politics with serrated slabs of sound and the kind of deft iconography the Situationist movement would have killed for. Their concerns were many, but chief among them was the scarily prescient notion that the LES would soon become so gentrified that it would drive out the very artists and punks who had made it a cultural epicenter. The band's logo—an upside-down martini glass that meant "The Party's Over," a kind of line-drawing middle-finger to the rich—was scrawled on buildings and subways across the city, acting as angry territory-marking before the invasion of the wealthy. The group's first iteration reached its natural conclusion during the infamous 1988 Tompkins Square Park riot, after which frontman Peter Missing decamped to Germany. The band has made sporadic live appearances since then, but the arrival of a brand-new record—shortly after Missing uploaded the group's entire discography to Bandcamp—is a pleasant surprise. On first pass, though the music here is still gnarled and howling, it's easily their most accessible release to date; gone are the atonal slashing guitars and slamming sheet metal that defined early classics like "Jameel's Turmoil." Instead, most of Nature is centered on throbbing, almost danceable rhythms, occasionally ornamented with groaning bass or wiry lead guitars. As its title implies, Missing's concerns this time out are primarily environmental, railing against the destruction of the environment and dreaming of a utopia where pollution and technology are eliminated once and for all. It's a bracing, absorbing record that ranks among the group's best, and serves as a sobering reminder that the problems of 1982 are still very much with us today—a fact further underscored by the sudden appearance last year of a giant upside-down martini glass, scrawled in white paint on a water tower in Williamsburg, Brooklyn.
-J. Edward Keyes
Merch for this release:
Compact Disc (CD), Vinyl LP, T-Shirt/Apparel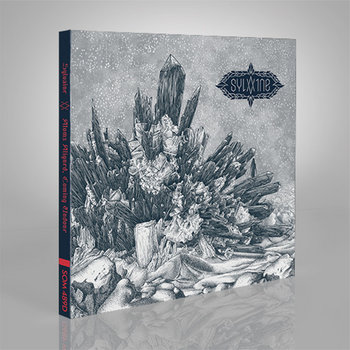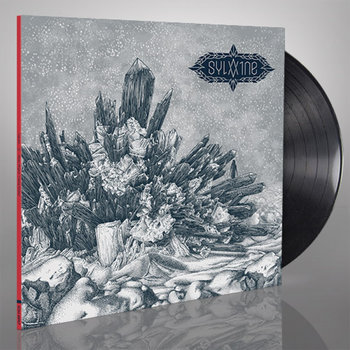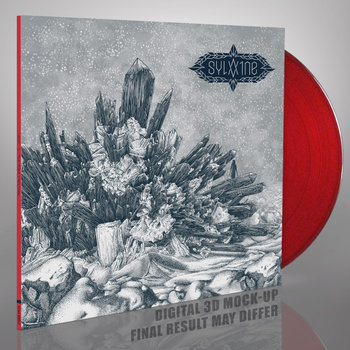 Norwegian artist Sylvaine's dreamy, gauzy blackgaze could easily be categorized as a super heavy take on alternative rock in the mid-90s weirdo girl vein—think the chorus of Sarah McLachlan's one-off collab with Delerium drenched in shadow, stripped of feel-good raver beats, and stretched out to album length—but there's a stinging starkness in her approach that pierces through her gorgeous atmospherics like a knife through raw silk. Throughout Atoms Aligned, Coming Undone, Sylvaine constantly plays with sonic dynamics to keep the listener guessing. Soft and loud, light and dark, polished and raw—the record's brooding guitars running the gamut from the polished pop metal crunch of Nirvana to the ruthless noise of My Bloody Valentine in their most brutal moments. Yet through it all, Sylvaine's lovely voice is layered and languid and luscious to the ear—the light in the dark leading the way through 6 songs of epic beauty and ferocious power.
-Mariana Timony
Atlanta's Taylor Alxndr isn't just an electro-pop artist and underground drag icon—she's also the founder of Southern Fried Queer Pride, an arts and advocacy organization specifically oriented to uplift and support queer and trans people of color, and the curator of Sweet Tea, a variety show for queer and trans performance art. While many drag stars make more outrageous, externally-directed club pop, Alxndr's work is dreamy and internally complex, often meditating on connection and communication (unsurprising for someone so focused on community work). You won't find any ball slang explainers here; over 808 kicks and smeary synths that sound lit from within, Alxndr's soft, sweet voice muses on tokenization and the frustration of having to play a capitalist game to survive ("One Dot") and the desire to be present in one's body and life at all times ("Feel It All")—trauma most certainly prevents some of us from having those experiences, myself included. This is multifaceted, personal pop, designed for community healing but free of grating platitudes. Hologram is a lovely record, streetlamp-shimmery and radiator-warm, a reminder of the power of interpersonal thoughtfulness and kindness in marginalized communities, and a necessity for these bleak times.
-Jes Skolnik
Back Catalog
Merch for this release:
Vinyl LP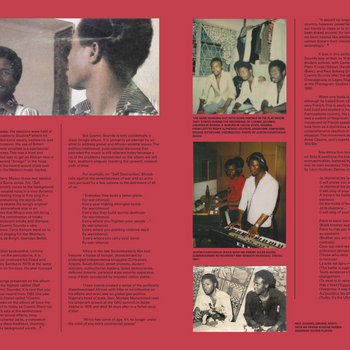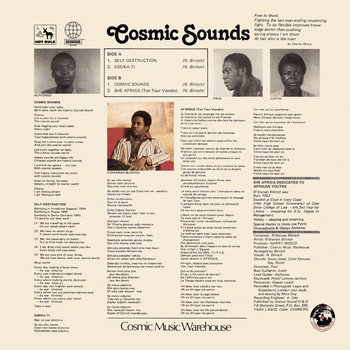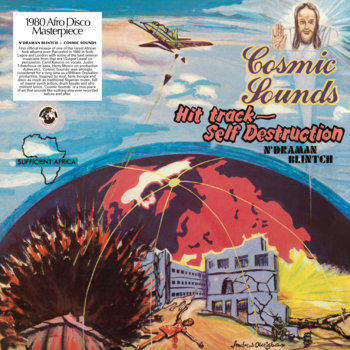 Records like Cosmic Sounds are hard to assess; on the surface, it's an Afro-disco jam that doesn't need a message behind it. But when you dig into the music, you find that vocalist N'Draman-Blintch is talking about real issues that are easy to miss. The opening song, "Self Destruction," uses world war as a way to discuss the absurdity of the planet. There's also a hint of nonchalance here: We don't have anywhere else to go, so you might as well do your damndest. "I say drop your bomb when you like," goes a line from the song, "everybody will pass away." Mixing rapid-fire electronic boogie, Afrobeat and disco, Cosmic Sounds is a certified classic that sounds just as fresh now as it did in 1980, when disco was more viable in the mainstream marketplace. Given the current political climate, the themes resonate loudly on this record, and is meant to make you dance well into the apocalypse.
-Marcus J. Moore