SEVEN ESSENTIAL RELEASES
This Week's Essential Releases: Hip-Hop, Noise Rock, Black Metal & More
By Bandcamp Daily Staff · November 03, 2017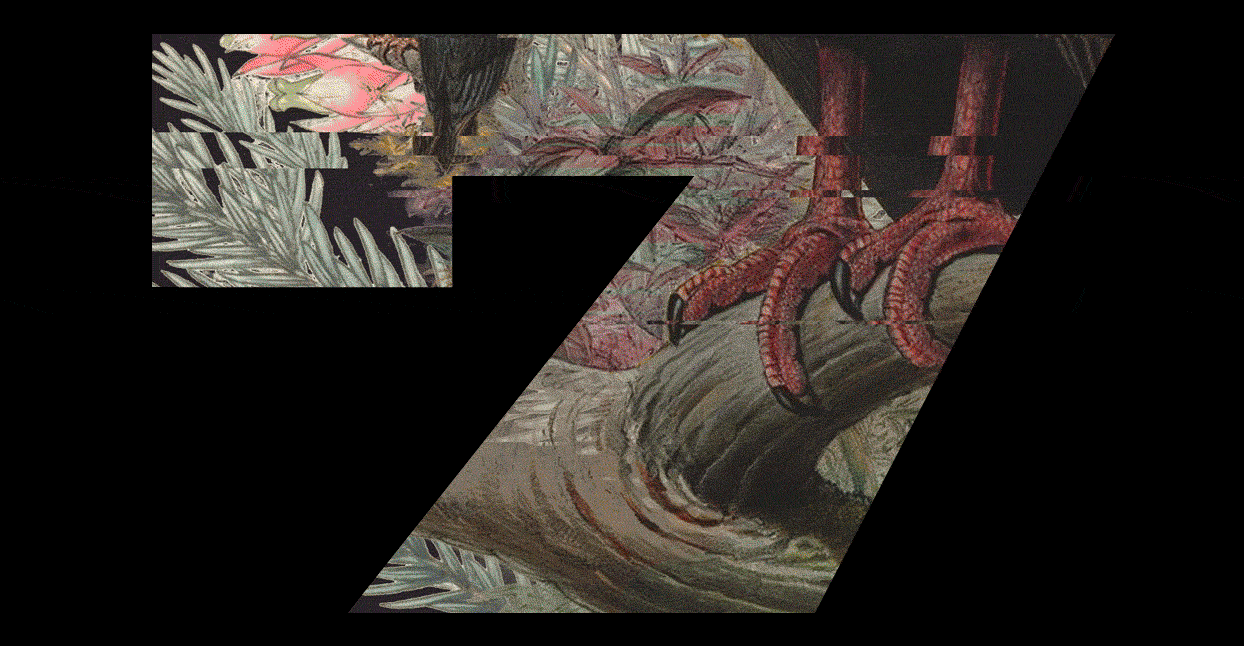 Welcome to Seven Essential Releases, our weekly roundup of the best music on Bandcamp. Each week, we'll recommend six new albums, plus pick an older LP from the stacks that you may have missed.
Armand Hammer, Rome
If you don't know what to expect from rappers billy woods and ELUCID's new album, allow them to tell you directly: "ROME… is the sound of rats in the walls, fleeing," reads the description on the album's Bandcamp page. "ROME is a feast of words, a stylistic demolition derby…" Normally, I'd second-guess such hyperbole, but that pretty much says it all. Recorded under the name Armand Hammer, ROME is a gritty ode to 1990s New York rap, built on dark, unflinching flows that recall Boot Camp Clik, Organized Konfusion and early '90s Wu-Tang Clan. While current events are discussed, woods and ELUCID only do it in passing, putting greater emphasis on standout one-liners. "Speech is never free, pay me what I'm worth," goes a line from "Pakistani Brain." Then, on "Microdose": "I was born in the year of this country's last recorded lynching … my question is, 'Who stopped recording?'" Lines like these make ROME what it is—a tough-minded release full of menacing straight talk and hard-edged beats. Raw raps never go out of style.
Indie music blog The Grey Estates' Sugar Rush 2 compilation, a follow-up to their 2016 comp of the same name, is true to its name in both sound and theme. Packed full of ear-candy and loosely organized around a "sugar-as-metaphor-for-love-and-romance" motif, Sugar Rush 2 has something for DIY music lovers of all persuasions. Highlights include Amanda X's grunge-y power-pop track "Vivid Sweet," Seattle indie surf trio Baywitch's "Jawbreaker," and Pumpkin's minimalist twee pop song "Postre de Mis Sueños" ("Dessert of My Dreams.") All proceeds from the comp benefit Queer Oriented Radical Days of Summer, an overnight camp for queer and gender non-conforming youth. Super sweet.
Curdled, throaty vocals bubble up from the black depths of the lake on the second INCONCESSUS LUX LUCIS record from the always excellent I, Voidhanger Records. The ominous build of the opening track "With Leaden Hooks Chains" stalks the listener in the shadows like a beast out of a gothic horror novel. The sonic fog rolls in like the actual fog on the creepy English moors so immortalized in Victorian literature. The U.K.-based black metal band has dubbed their genre "Saturnian Black Magick," but classic metal fans will find Quietus to be a refreshingly brutal black metal upgrade on beloved, Iron Maiden-y riffs. There's a certain comforting feeling in the way the aggressive guitars rise and fall like clockwork in each song—but there's nothing comforting about the absolute darkness the record commands.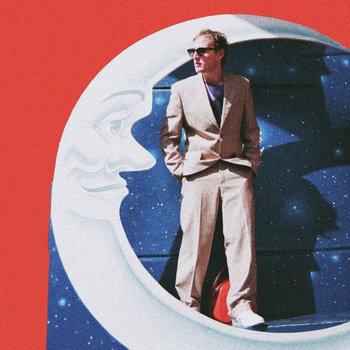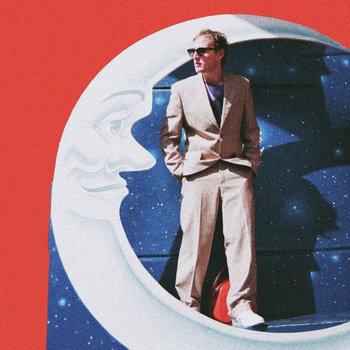 Merch for this release:
2 x Vinyl LP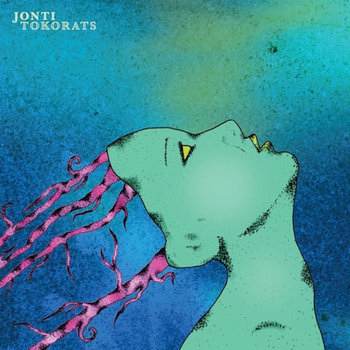 Jonti's new album is full of nuance and splendor, taking on several moods in a breezy 51 minutes. Conceived in a New York apartment and finished in a garage in Australia, Tokorats is based on what Jonti calls a supernatural creature, "a multicolored weirdo mutant" that represents the full spectrum of a person's character. "In every song," Jonti has said, "I was having a conversation with all the good and unflattering reflections of myself—aka, my Tokorats." The album seems to reflect that, drifting between real and hypnagogic states. Songs like "Isle of the Dead," "Misto on the Moon" and "Staring Window" are sweet and melancholy, while "Alien" feels bright and resurgent. Overall, Tokorats is warm and therapeutic, capable of soothing the most downtrodden soul.
Krallice with David Edwardson, Loüm
Krallice has long been an impressive beast of a group: despite its members' extremely distinct resumes (Geryon, Gorguts, Orthrelm, Castevet, and so forth), it's always felt remarkably unified. And despite its incredible technical complexity, it's never felt too brainy, having enough raw power and heft to evoke immediate emotional response. In the past few years, since 2015's Ygg hurr, in particular, Krallice's style of thorny avant-black metal has become especially focused, Mick Barr's signature fretwork impossibly fast. On this brand-new collaboration, the group incorporates Dave Edwardson of Neurosis and Tribes of Neurot (who contributes roaring vocals and epic synths here), and, much as one might expect, their sound gets cathedral-big, gloomy ambiance and atmosphere filling every possible space. "Kronus Deposed" and "Rank Mankind" contain some of the most beautiful haze here; when the group's claustrophobic bludgeoning eases up for just a tiny moment to let that smoke and fog build before dropping the drill back down into the earth, it feels like a true gift. Impeccably detailed, with crystal-clear careful recording contributing to its impact, Loüm, which arrived as a recent surprise drop, is a treat for all adventurous black metal fans, "hipster" or not, a fitting accompaniment for the grey months ahead.
Merch for this release:
Vinyl LP, Compact Disc (CD)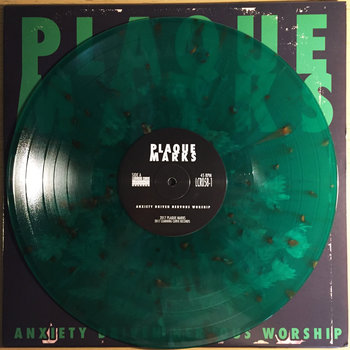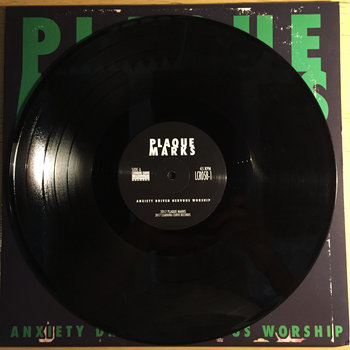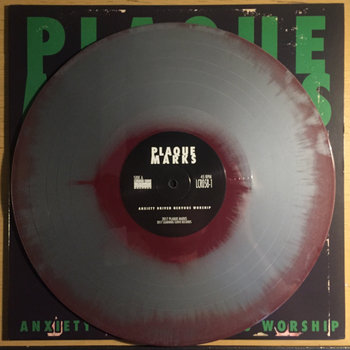 Plaque Marks called themselves "a stain on the smile of the Philadelphia music scene," but that description is almost too self-deprecating for the magnificent horror that awaits on Anxiety Driven Nervous Worship. On first listen, the signifiers are obvious—a little Unsane, a little Jesus Lizard, a dash of Big Black—but the more time you spend with it, the more Worship begins to take on its own sense of harrowing severity. The whole thing feels like being hit in the chest with a medicine ball full of bacon fat: "Oregon Chem Trail" hurls endless, greasy slabs of guitar; "Urban Blighters" sounds like an entire band getting caught in the gears of a rusted turbine engine—guitars, drums, and guttural vocals all ground together into one violent mix. That Worship runs a relatively brief six songs is a blessing—Plaque Marks come on with such pulverizing fury and snarling spite, 22 minutes in their bloody grip does more damage than a full hour spent in a boxing ring.
Back Catalogue
Merch for this release:
Cassette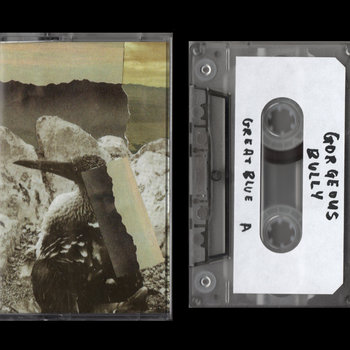 Yet another entry in the seemingly endless supply of excellent music on the Slovakian label Z Tapes, Gorgeous Bully write spry and leaping indiepop songs that shroud pop hooks in guitars as fuzzy as an old wool sweater. Irresistible album opener "I Can See" sketches the blueprint in three minutes flat: jittery riffs, a hint of keys, and a vocal melody that rises and dips as gently as a kiddie rollercoaster. The entirety of the endearing great blue operates in this same framework. "I Can't Make It Right" opens with the line "Days are such a drag," but Thomas Crang sings it like it's a line from a love letter. The marvelous "Oh Why" is three minutes of tremble-and-shake, guitars and drums seeming to race each other to the finish line as Crang delivers the refrain—"oh why am I alone again?"—with characteristic sweetness. Crang has cited Silver Jews and the Smiths as key influences, but there's more than a little Comet Gain and Up Against the Legends to their fizzy mix. Great Blue is aptly named: "Blue" for Crang's mood, and "great" because it is.