SEVEN ESSENTIAL RELEASES
This Week's Essential Releases: Hip-Hop, Experimental R&B, Death Metal & More
By Bandcamp Daily Staff · August 24, 2018
Welcome to Seven Essential Releases, our weekly roundup of the best music on Bandcamp. Each week, we'll recommend six new albums that were released between last Friday and this Friday, plus pick an older LP from the stacks that you may have missed.
New Releases
Merch for this release:
7" Vinyl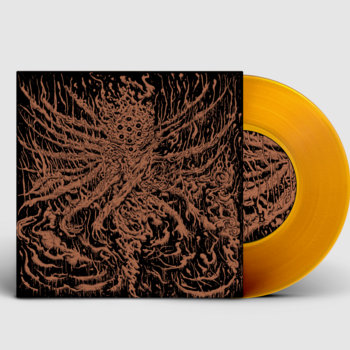 This brutal n' short demo from the San Jose deathgrind outfit (there are several metal bands called Altars, as you can imagine) is everything I could possibly want from the style—a wall of guitar detailed just enough with riffage to make each song distinct, rampaging drums played with enough looseness to slightly swing, vocals that are just goofy enough, lyrics about dark sorcery. The songwriting is compact and efficient, structured for maximal impact (as much as I love music that just blasts its way through life, a little artfulness can be a good thing), so when that howl-into-solo crescendo arrives a minute into the triumphant closer, "Black Magic," it's a genuine delight. Bless this particular Altars for working with a pleasingly timeless style that seems inured to subcultural trendhopping and/or posing; it's straightforward and uncouth (this is a compliment), free from pretense.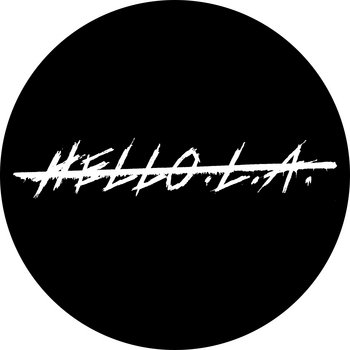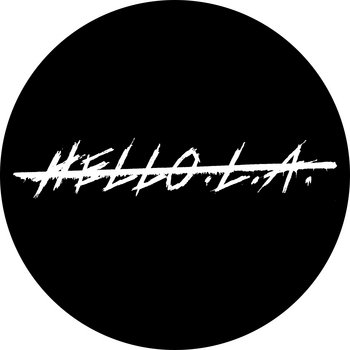 Merch for this release:
Cassette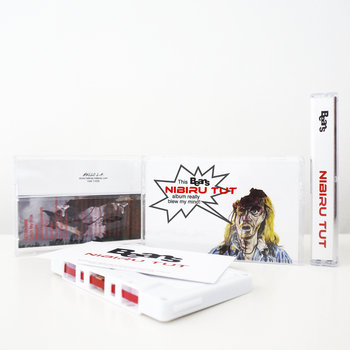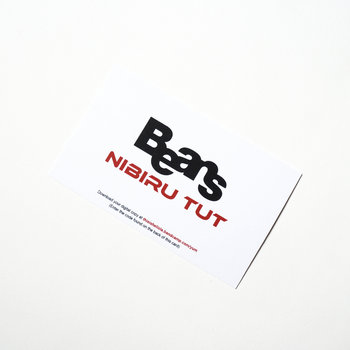 Beans is tired of messing around. Have you seen the news? The world is in peril and he needs to shake you up. He'll grab your shoulders and yell in your face if he needs to—and it won't be a quick rant, it will be an unrelenting stream of real talk and rapid-fire facts. He's the town crier with a megaphone; you just gotta listen damnit. Such is the approach of his new solo album, Nibiru Tut. Over ear-splitting synthesizers and wobbly electronic drums, the rapper uses plain language to run down the despair of the past few years. Like on "I Don't Play," for instance: "A bunch of people in the USA thought T*ump was for play, but the majority of poor working class white people voted against their own self interest, didn't feel the same way / Riding the waves of resent to Election Day." Then on "GETDA$$$$," the rapper builds to a palpable rage: "The U.S. will be a third-world nation under the T*ump administration." On these and other songs, Beans doesn't rhyme for the sake of rhyming; he's trying to fill your brain with as much knowledge as possible. Though that feels like a bit much after a while, one can understand the mounting desperation. These are extraordinary times for sure.
Merch for this release:
Compact Disc (CD), 2 x Vinyl LP
Over the course of his career, multi-instrumentalist Dev Hynes has focused strictly on the other. A tall, sexually-fluid black man of British and Sierra Leonean descent, Hynes naturally stands out, and his music—under the name Blood Orange—examines dissimilarity with the utmost compassion and respect. Hynes listens deeply, letting his guests speak openly about blackness and queerness without judgment from the outside world. In turn, his music feels like a safe space for honest discourse, and his new album, Negro Swan, plays like a series of private conversations that we're all thankful enough to hear. Featuring Diddy, Janet Mock, A$AP Rocky and Georgia Anne Muldrow, Negro Swan is more intimate than 2016's sprawling Freetown Sound, dissecting different aspects of existential plight for a thoughtful 50 minutes. "My newest album is an exploration into my own and many types of black depression, an honest look at the corners of black existence, and the ongoing anxieties of queer/people of color," Hynes wrote in a press release. "A reach back into childhood and modern traumas, and the things we do to get through it all." Negro Swan sells unbridled ambition as the way to make it through—modesty be damned, go out there and do the most. With its downtempo mix of 1980s R&B, gospel and ambient, the soundtrack itself feels spacious and improvised, full of one-take vocals and sharp cuts to keep listeners guessing. Hynes lets you choose your own adventure. He's benevolent like that.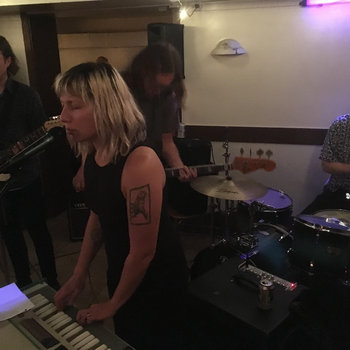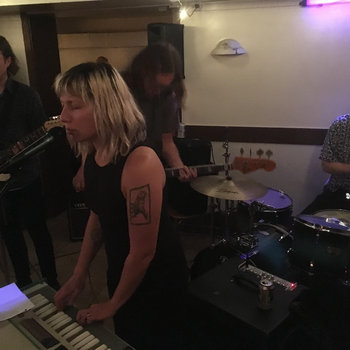 Merch for this release:
Vinyl LP, Compact Disc (CD)
"What do I do with these empty hours?" goes the first line on the debut from Chicago's Ethers. Given that the group's members hail from a host of garage rock mainstays—among them, Radar Eyes, Outer Minds, and (my personal favorite) Heavy Times—the answer to that question seems to be: form another band. But anyone looking for the in-the-red mania that powered those bands on Ethers will be thrown by the sedate—relatively speaking—sound of the album's dozen songs. In the end, this is a good thing: slowing things down only allows more space for the band's melodic grace. "Rip Off" glides gently upward into the kind of two-note chorus that's designed to lodge itself in brains, the wheezing organ only adding to the song's carnival-esque feel. "Nature's Revenge" kicks the tempo up a notch, but rather than splicing the whole thing together with slashing riffs, Ethers gild the song with clanging Jerry Lee Lewis-style piano, giving it a brightness and buoyancy. And while the songs are, loosely speaking, "power pop," that would be very loosely speaking—there's still plenty of grease and grit caked into every note. The difference is that now it's moving slowly enough to be fully appreciated.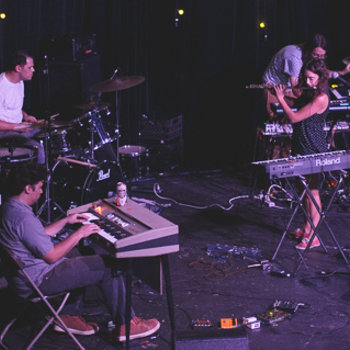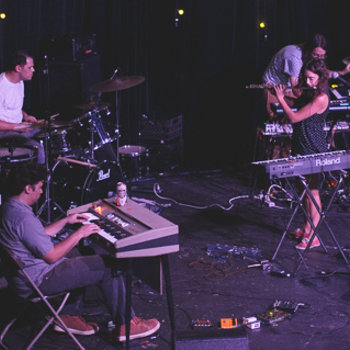 Merch for this release:
Vinyl LP, Cassette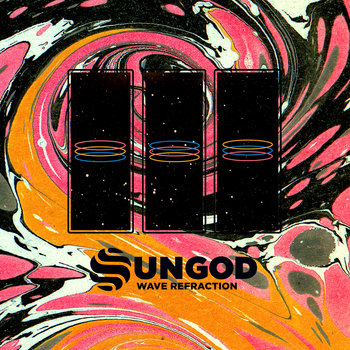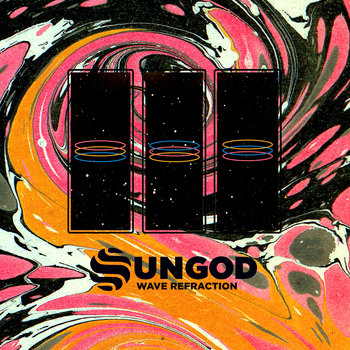 Austin's Sungod are on a kosmische journey, having turned out several increasingly interesting albums of atmospheric, analog synth-driven, experimental rock clearly influenced by the more acidic side of the German style—early '70s Ash Ra Tempel and the like—as well as Can's rhythmic, improvisational jazz-influenced excursions. While Sungod are obviously keen students of that sound-world's conventional details, though, where they really excel is in the spirit of it—that sort of joyous, unfurling rainbow of collective possibility that can nimbly create hard-charging, brightly hued psychedelia ("Little Gold Mouth") as easily as it can open up the doors to more ominous territory ("Hypnotism," "Birth and Speed Merging") and explore the kosmische connection to early electronic dance music ("Von Innen"). While we may be currently living in the most banal dystopia humanity could have possibly conceived of, Sungod remind us that there are still channels left to be cracked open, dreams of the future yet to be cauterized.
In the waning days of summer, after weeks upon weeks of oppressive heat, it becomes necessary to—speaking colloquially—chill. Fortunately, Ukranian artist Vakula has made an album for just that occasion. Originally released in 2014, A Voyage to Arcturus delivers on its sci-fi title, presenting 16 decidedly laid-back songs that explore the cosmos without raising anyone's resting heart rate. "Maskull's First Day on Tormance" is practically the reason the word "exploratory" was invented; it opens with a kaleidoscope of keys before cruising into a cosmos lit up by flanged-out guitar. "Sullenbode" is a relaxed bit of beachy lounge exotica—Martin Denny by way of Brian Wilson—and "Maskull's Keyhole," with its far-off "ahh-ahh-ahh" backing vocals and fluttering nylon-string guitar, sounds like an outtake from the Vampyros Lesbos soundtrack. But it's not all foamy synth-surfing; "Oceaxe" is a warm ripple of Tropicalia balladry that would do Joao Gilberto proud, and "Wombflesh Forest," with its bass-a-popping and its guitar a-wailing, sounds like a Venusian take on Rush. But even in those worked-up moments, Arcturus's collar remains firmly popped. This is cruising music, as balmy as ocean waves, as refreshing and intoxicating as a frozen margarita.
Back Catalogue
Pan Afrikan People's Arkestra
The Call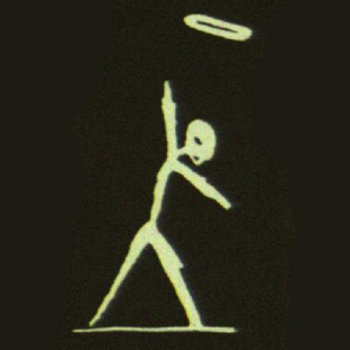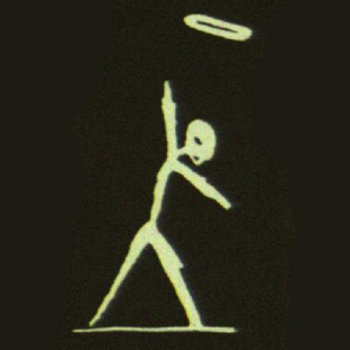 If you look down near the historic World Stage performance space in L.A.'s Leimert Park, you'll see Horace Tapscott's name along the sidewalk. The jazz pianist and bandleader has his name etched in the concrete along Degnan Boulevard in the black cultural hub, where fellow titans like jazz drummer Billy Higgins and cultural activist Kamau Daáood made their names. In the 1970s, Tapscott formed the Pan Afrikan Peoples Arkestra, a large spiritual jazz ensemble that the pianist maintained until his death from cancer in 1999. On The Call, the band's 1978 album, Tapscott and company pivot between various big band compositions with various players, far removed from the downcast piano solos he'd otherwise record. Listening to it, one can draw a direct line to modern-day purveyors like L.A. trumpeter Josef Leimberg, who employs the same sweeping orchestration to his G-funk-inflected blend of jazz. "He was all about community building," saxophonist and local native Kamasi Washington recently said of Tapscott and his Arkestra. "It was a group led by this world-renowned musician who left the doors open to anyone in the community who wanted to be a part of it. That saved a lot of lives." So while Tapscott has a number of great releases of the Nimbus West Bandcamp page, the musician's true legacy rests in the community—from the jazz you hear coming from South L.A., to his name in brass literally guiding your steps down the street.