SCENE REPORT
The New Seattle: A Guide to Western Washington's DIY Scene
By Martin Douglas · May 10, 2021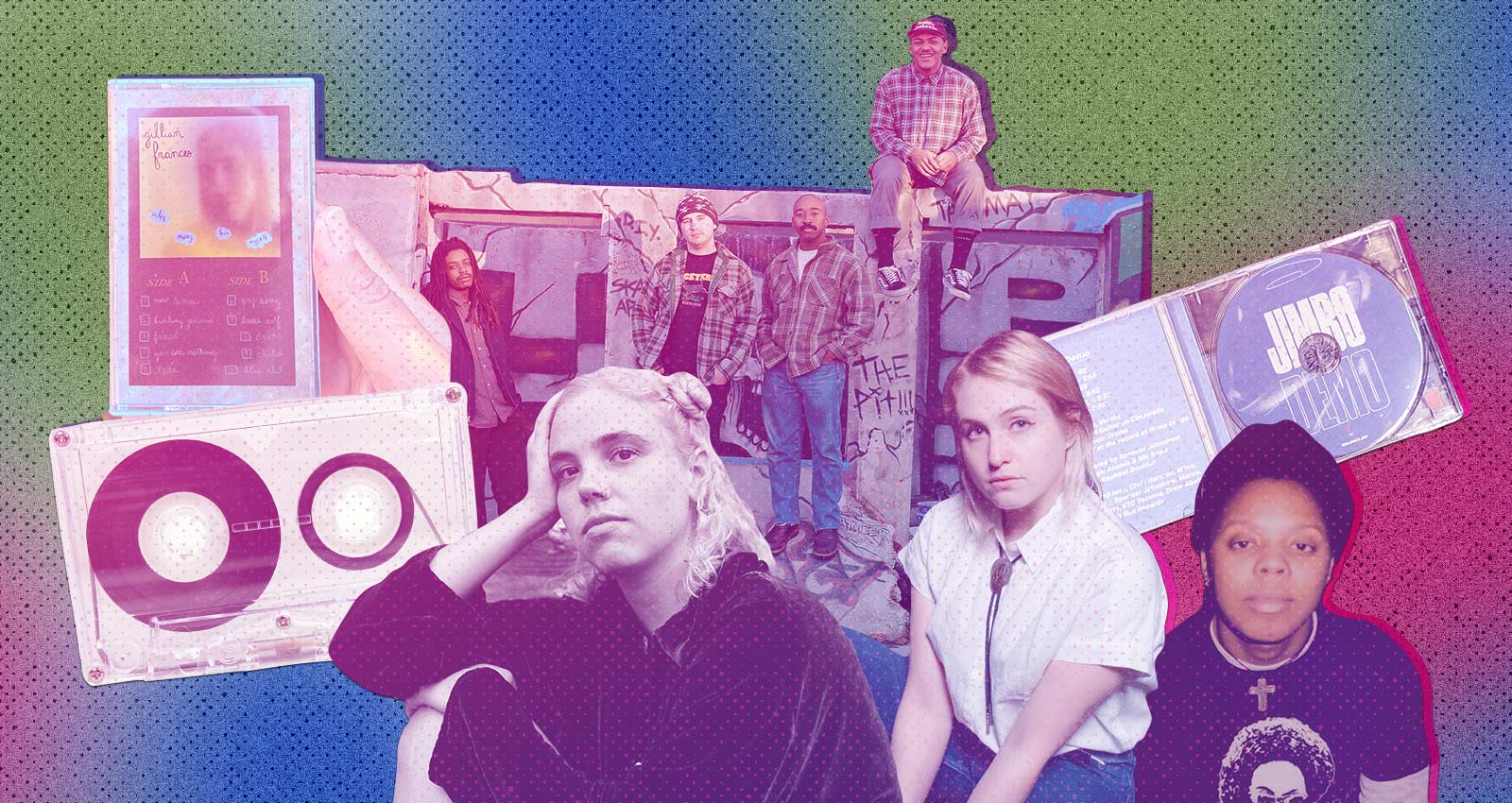 Everybody keeps talking about "The New Seattle."
Once the dingy, depressed birthplace of grunge music, Big Tech money and the sweep of gentrification started funneling into Seattle in the early '10s, creating an environment from which the fifth most populated city on the West Coast can't come back from. Flannel-wearing, granola-eating punks were pushed out of the way by the formidable income of North Face-wearing yuppies who could afford $20 bowls of paella as an appetizer. The massive influx of tech jobs brought the attack of the 50-foot cranes, demolishing the residential and commercial buildings of the past to make room for condos to accommodate the half-million residents the city has gained over the past 15 years. Talk of the so-called "New Seattle" invariably references the multibillion tech industry in our backyard, as if the newly divorced Bill Gates hasn't been stacking piles of money here for decades.
Truth be told, the Seattle of the early 2020s maintains many of the same fundamental stereotypes that date back to the late 1990s: Tech industry playground, liberal white utopia, second-tier musical community. No longer renowned nationally for a scene or a sound, Seattle's best-known musical export of the past few years has been a performatively woke white rapper (a sadly appropriate avatar for the city's most visible archetype). After the grunge movement fizzled and the major label money thrown at every longhaired dude lugging an amp down Denny Way dried up, Washington State's rock scene retreated underground once again. Far from riding high on Nirvana album sales, local institution Sub Pop was rumored to have owed a few of their bands money—the Dwarves famously broke into their office and spray-painted an unofficial invoice on their floor—and Olympia arguably replaced Seattle as the Pacific Northwest's musical epicenter (before eventually moving even farther south to Portland). The city has since produced a small number of widely recognized bands such as Modest Mouse and Death Cab for Cutie, but while Seattle's indie-rock and DIY communities have also produced stellar groups like Pedro the Lion and Wimps, they've only acquired pretty small cult followings outside of the Pacific Northwest.
Gone are the days where a musician on barista's wages could reasonably afford a two-bedroom apartment (with a fiscally-responsible roommate) in Capitol Hill, the Central District, Ballard, Beacon Hill, or any of Seattle's centrally-located neighborhoods. Today, such folks would be extremely fortunate even to shack up with four other people in a three-bedroom house deep in the city's southernmost neighborhoods, like South Park. Partly for this reason, White Center—once barely considered a part of the city because of annexing threats and white professional views of crime and "diversity"—is now undoubtedly Seattle's coolest neighborhood, with many of the city's bands having played shows at Southgate Roller Rink and a pro wrestling-themed bar being built on the district's main strip.
The difference between Seattle's first tech industry explosion and its more contemporary iteration is the growing gap in economic equity between young professionals and the artistic class, courtesy of the poison balloon of late-stage capitalism. It's the asymmetry between billionaires like Paul Allen who funneled a portion of his riches into the music and arts community (through initiatives like the Museum of Pop Culture [MoPOP], formerly known as Experience Music Project; his generous donation to radio institution KEXP; and the profoundly short two-year run of Upstream Music Festival) and money hoarders like Jeff Bezos who bullies the city into not having to pay a big business tax while he and Amazon feed off the community without giving anything back.
Despite the intentions of Amazon and the dozens of Big Tech copycats following suit, the Seattle music scene has retained the DIY spirit that has permeated the city for nearly a century, springing from the misinformed notion that Seattle was for so long considered a second-tier city in terms of the capitalist circle-jerk that has been the mainstream music industry. Seattle's music community has more or less always had to do it themselves, so they continued doing so; pre-grunge, post-grunge, and well into the 21st century.
Through the many permutations and constellations of musical identities making up Seattle's post-millennium scene—Ballard/Fremont's folk/country/chamber pop; Capitol Hill's humorist, feminist indie-rock and punk; East and South Seattle's acclaimed Black Constellation rap collective—the city has weathered the "home of grunge" tag to become one of America's most diverse music scenes.
Musicians in Seattle have been getting priced out for much of the past decade and have been moving south—to sister city Tacoma, to Portland, to California. Even still, many bands and artists have managed to persevere, taking increasingly uncompromising visions to fans with easier access to music than ever, buoyed by the tradition of the exemplary, off-center guitar music of Seattle and its surrounding communities.
From Anacortes to Olympia, here are some keepers of the flame.
TO THE NORTH (Anacortes):
.
00:10 / 00:58
Merch for this release:
2 x Vinyl LP
Over the course of the past quarter-century, few artists have been as continually influential to the culture of Washington's DIY landscape as scene veteran Phil Elverum. From the Microphones to Mt. Eerie and back again, Elverum has proven to be one of the Northwest's preeminent sonic architects. There are musicians in their basements and bedrooms to this day lifting tricks from 2001's The Glow Pt. 2.
But this is not an example of a legend coasting on goodwill. Elverum continues to make music as vital and engrossing as he did twenty years ago, with Mt. Eerie opuses A Crow Looked at Me and Now Only; both stirring and devastatingly sad meditations on grief borne out of the loss of his wife, musician and visual artist Geneviève Castrée. Microphones in 2020, the long-awaited resurrection of his famed experimental singer/songwriter project the Microphones, serves as a rolling biography of recording under the name, from its beginnings in the sleepy, halfway hippie harbor town of Anacortes down to Washington's capital city Olympia, and in the Norwegian cave where the name was retired and Mt. Eerie was born. At one track, four chords (at most), and 45 minutes, Elverum's latest opus once again stretches the form of musical autobiography to its limits, moving through decades of history with his boyish singing voice and patient hand entirely intact.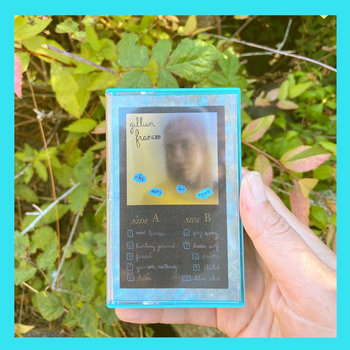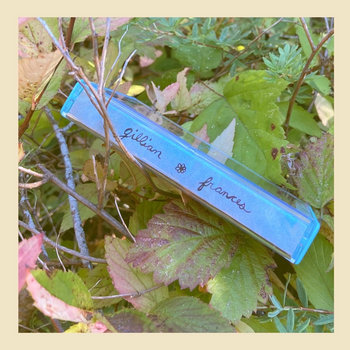 .
00:10 / 00:58
Merch for this release:
Cassette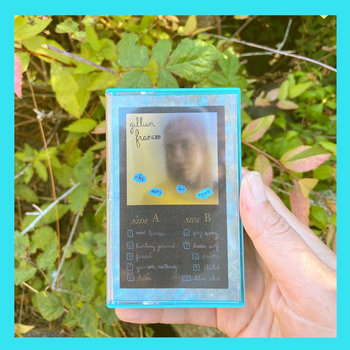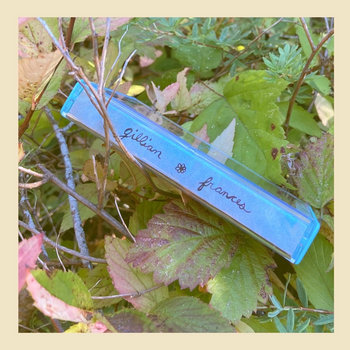 A singer/songwriter with distinctly Northwest bonafides—a classically trained violinist born in Portland to a pair of grunge musicians, an alum of the city's chapter of the Rock 'n Roll Camp for Girls—Gillian Frances would eventually move to Anacortes and record their stellar debut full-length at renowned studio the Unknown (a church converted into the musical cathedral which birthed albums such as Angel Olsen's Whole New Mess). Miles Away from Myself moves at a nearly glacial pace, flitting between slowcore ("Hunting Ground"), drone-pop ("Lake"), and half-speed introvert disco with a "European Son"-esque breakdown ("Pop Song"). Frances is a deceptively heavy songwriter, using the soothing melancholy of their voice to explore grief, anxiety, dissolving friendships, depression, and whatever that shit is that makes our veins blue.
TO THE SOUTH (Tacoma, Olympia):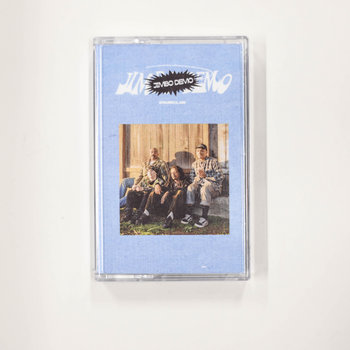 .
00:10 / 00:58
Merch for this release:
Compact Disc (CD), Cassette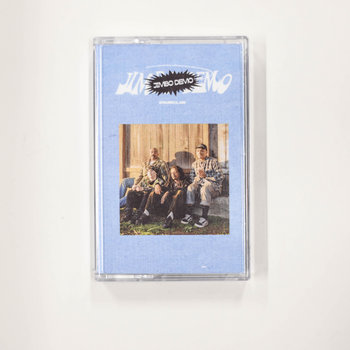 Among its many other qualities, Tacoma is a proud community. So for a band from the City of Destiny—whose music scene has been overlooked since the Sonics and the Wailers first broke up in the late '60s—to become arguably the most buzzed-about rock group in America today is a point worthy of bragging. After two indelible singles and no shows, the quartet (named after a rural South King County town with a virtually untouchable high school wrestling team) nearly broke the hype machine with their distinct flavor of blown-out, major-key guitar pop brought to soaring heights by frontman Aramis Johnson's charmingly off-key vocals and sense of humor. Enumclaw serves as indie rock in its purest form, hearkening back to a time before indie music was synonymous with sexless white kids appropriating contemporary R&B. Listening to Jimbo Demo is perfect for navigating the clogged arteries of I-5 South on a sunny Friday afternoon; breezy, lackadaisical tunes with loud, distorted choruses augmented by lyrics about the long search for self-actualization.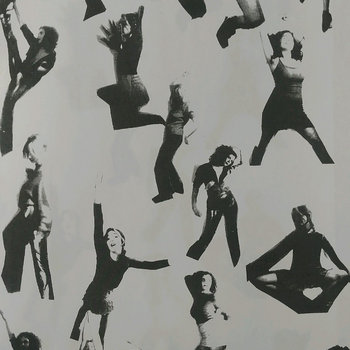 .
00:10 / 00:58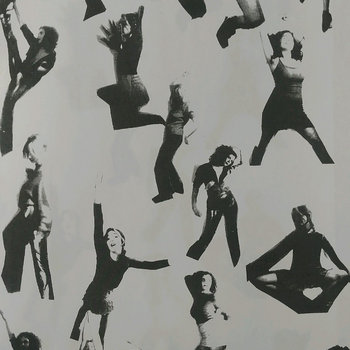 Dating back to the 1982 foundation of the iconic K Records, Seattle's DIY landscape would look much different without the enduring influence of Washington's capital city. This point could extend to the highest reaches of the region's rock scene, as Nirvana—the most recognized band from around these parts by what could only be measured by the ton—were way closer contemporaries to Bikini Kill and Beat Happening than they ever were to Pearl Jam and Mudhoney. And still, some of the most interesting music in the Pacific Northwest comes from Olympia. Case in point: Table Sugar, whose loopy, kaleidoscopic style of poppy post-punk instantly garners favorable comparisons to Odyshape-era Raincoats. Collected Acknowledgements is a sunburst of short, playful, infectious art-punk songs with equally playful stream-of-consciousness lyrics—and takes less time to listen to than it does to take a thorough shower.
TO THE EAST (Issaquah):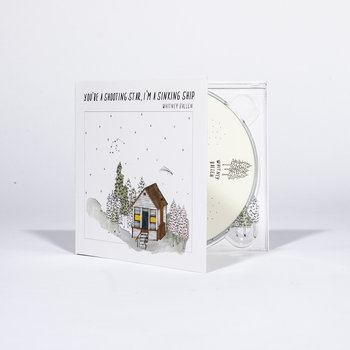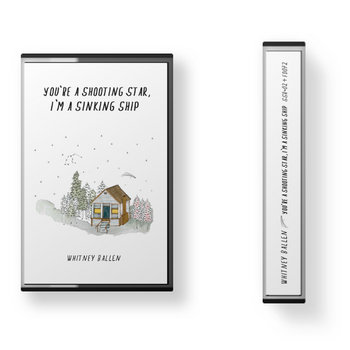 .
00:10 / 00:58
Merch for this release:
Compact Disc (CD), Cassette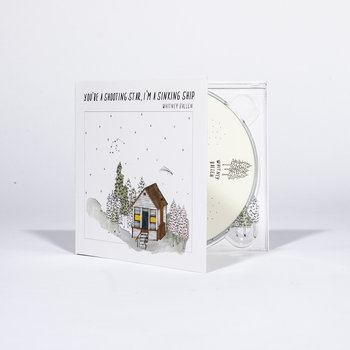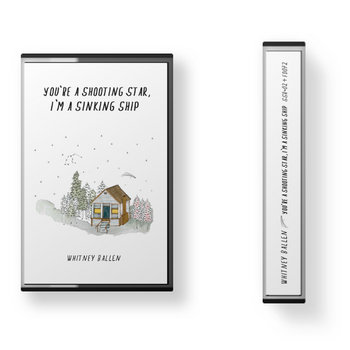 A short jaunt across the Highway 520 Bridge, King County's Eastside has been just as integral to Seattle's music scene as any other spot in Western Washington. When the city's infamous Teen Dance Ordinance was the law of the land, Redmond's Old Fire House and Kirkland Teen Center were the venues carrying the flag for all-ages music in the Greater Seattle Metropolitan Area. Without the Eastside's all-ages culture, bands like Murder City Devils, the Blood Brothers, Minus the Bear, and Modest Mouse would look very different, or they may not have ever existed. From Issaquah, the same town as Modest Mouse—considered a backwater town in the '90s and a decreasingly woodsy suburb today—Whitney Ballen also came up in the Old Fire House Teen Center scene and grew to become one of the region's most distinct singer/songwriters.
2018's You're a Shooting Star, I'm a Sinking Ship was written from the perspective of the "loser" of a breakup; its grooves pulsating with heartbreak and everything that comes with it: sleepless nights punctuated by dreams of the person you loved having sex with someone prettier and cooler ("Fucking"), the moment a dwindling relationship breathes its final, dying gasp ("Moon"). Temptations to reduce Ballen to the maligned subgenre of "sad girl indie" are quickly rebuffed when the sweeping, graceful musicianship of her work hits the air like the crashing water of nearby Snoqualmie Falls.
IN SEATTLE PROPER:
.
00:10 / 00:58
A band named after Jean-Luc Picard's baby mama in Star Trek: The Next Generation, Beverly Crusher exemplifies the straight-faced humor and deceptive profundity of Seattle's modern-day garage-punk scene. Frontman Cozell Wilson—a native of Tacoma who spent weekends with his father in Seattle—once described the band as "Iggy Pop meets the Stooges meets At the Drive In with a little bit of the bluesiest Sabbath song they have," but it's just as accurate to think of them as post-reunion Mission of Burma meets the Dirtbombs. Wilson evokes the classic archetype of a rock 'n roll singer (with the added splash of several cans of Rainier); soulful, scathing, and shouty all at once. From the inside jokes and sardonic humor of Nirvana to Tacocat's odes to X-Files heroines and tidal waves of menstrual blood, Beverly Crusher contains a sound, lyrical direction, and ethos embedded into the history of Seattle's best rock music.
.
00:10 / 00:58
Merch for this release:
Cassette
Nothing says "DIY" like a cassette label. Den Tapes was started in 2015, in the thick of Seattle's peak gentrification period, with an ethos of providing a platform for "emerging artists who are doing rad shit in the Northwest." The breadth of their catalog offers a cornucopia of the many facets of the Northwest music scene, including the aforementioned Beverly Crusher; the shimmering, widescreen rock of Antonioni and Wild Powwers; the lovable dirtbag pop-punk of Rat Queen; the squall of Fluung; the horn-assisted punk of Actionesse; and the self-described "indie-rock capo-core" of Coach Phillips. Den Tapes has flourished in Seattle's DIY scene by being inclusive and weird, operating on a shoestring budget given the continuing skyrocketing of rents in the city, and emphasizing the motto of "No Jerks."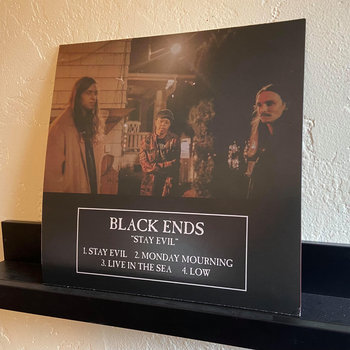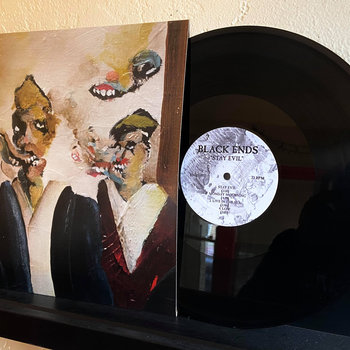 .
00:10 / 00:58
Merch for this release:
Vinyl LP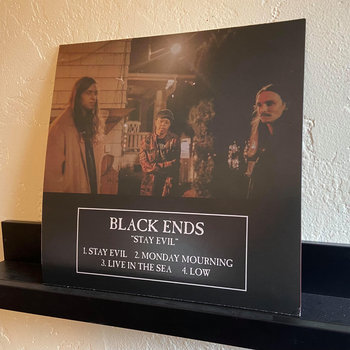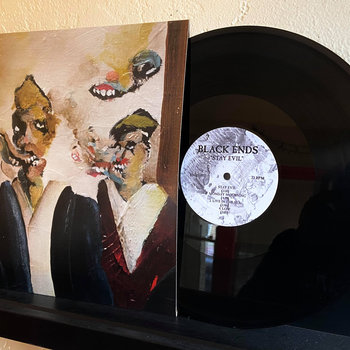 Whenever the music of Black Ends comes into conversation anywhere in the Pacific Northwest, one question is sure to follow: "What in the fuck is 'gunk-pop'?'" Black Ends frontperson/mastermind Nicolle Swims—classically trained guitarist and avowed student of Kurt Cobain's work—describes the self-invented subgenre as pop music, only a little dirtied up. Dedicated to the memory of George Floyd, Stay Evil, reportedly about abuse and getting revenge on one's abusers, runs the gamut of a singular Black experience in America through both impressionism and blinding clarity. Swims, a one-of-a-kind musician in terms of composition and melody, harnesses the idea of noise as a component of pop music, using distortion and dissonance to augment their dark humor and, occasionally, outright bleakness. The music of Black Ends represents "the New Seattle" in all the best ways: sometimes sarcastic and cynical but not needlessly so, constantly in musical conversation with the past and the present, and containing a biting social awareness most people in the city only pretend to have.