SCENE REPORT
The Humid Heaviness of Greenville, SC's Metal Underground
By Eli Enis · November 19, 2018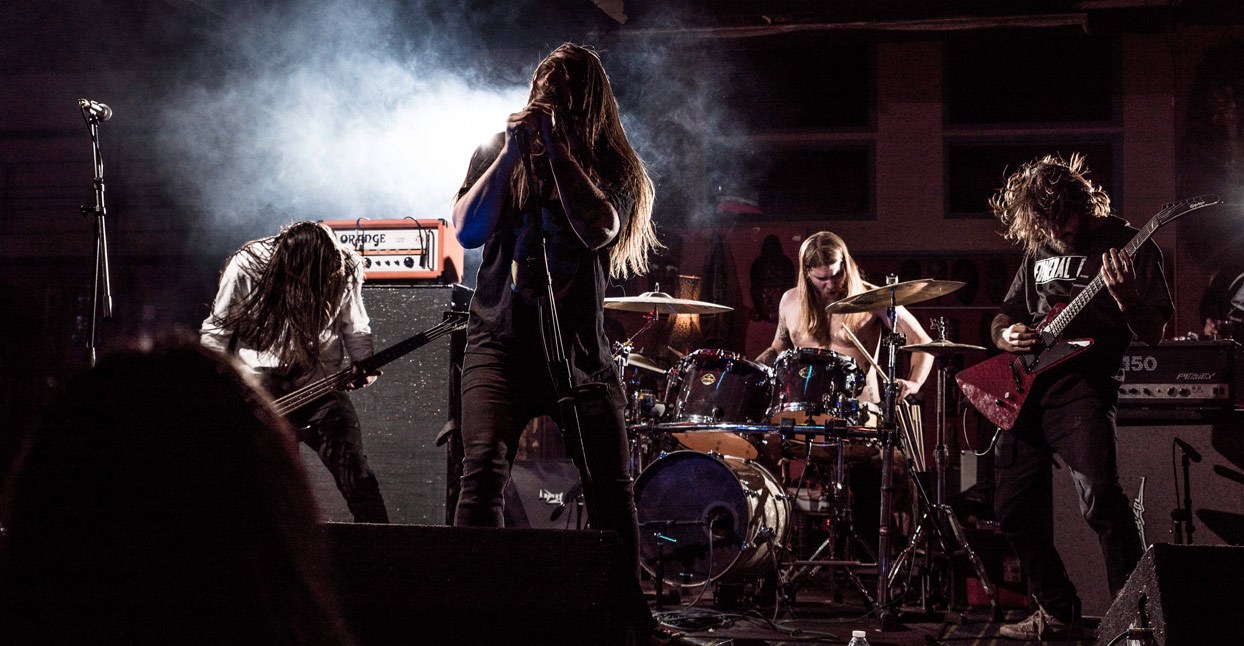 The city of Greenville, South Carolina has had the same Republican mayor, a lawyer named Knox H. White, for 23 years. There's a Confederate monument on the city's main street that features an inscripted poem containing the phrase, "That the soldiers / Who wore the gray and died / With Lee, were right." In South Carolina, a law called the Heritage Act prevents the removal of monuments from municipalities, schools, and other public institutions without a two-thirds vote from the state's General Assembly. According to the 2010 census, Greenville's population mirrors the demographics of South Carolina as a whole: two-thirds white, roughly one-third black. 
Greenville is only the sixth largest city in South Carolina, located approximately halfway between Atlanta and Charlotte, NC. However, unlike much of the economically disenfranchised South, and despite its traditional conservatism, Greenville's recently been heralded as one of the most up-and-coming cities in the country. In a glowing profile from last June that highlighted its vibrant startup culture, Bloomberg essentially equated it to the Silicon Valley of the South. In 2017, Condé Nast Traveler ranked it the '#3 Small City in the U.S." to visit. And according to the U.S. Census Bureau, Greenville was the fourth fastest-growing city in the country between 2015 and 2016.
According to Ian Nix, a 29-year-old Greenville native who fronts the Greenville grindcore group WVRM, the new money infiltrating his once-sleepy Southern city isn't necessarily making it a more progressive place—economically or socially. "Greenville's a really nice area," he says during a phone call in October. "The downtown is so full of money, it's pretty, there's a nice park. We have nice things around us, but our lives don't really feel nice… It's kind of booming right now, but the majority of the jobs are service industry. Restaurant stuff, hotel stuff. And I feel like, man, my livelihood is going to be based on serving rich tourists. I think a lot of us feel that way and we don't like it at all."
The "us" Nix is referring to is, broadly speaking, the working class of Greenville, but specifically the city's tight-knit arts community, which is buttressed almost entirely by locals. Nix attributes this lack of fresh blood to the city's lack of colleges, and by extension, young, progressive creatives; thus, the status quo—which Nix frames as "conservative hippies who love jam bands"—goes unchallenged.
This is especially true for Greenville's metal scene: throughout Nix's short lifetime, there've only been three periods when metal music had a notable presence in the city. In the mid-90's, tech-death pioneers Nile formed in Greenville, influencing a short wave of death metal in the area that failed to produce any other bands of national interest. Then in the early to mid 2000's, Christian metalcore acts like Norma Jean and Zao were becoming incredibly popular in the South, creating a flurry of bands that spread up from Columbia, SC to Greenville.
"Back then it was almost like, in order to get your parents to let you go to these shows, you had to be like, 'Oh no, they're Christian bands. It's okay, they're not scary,'" Nix recalls. He's been going to metal shows since he was 14.
Nix formed a death metal band at the end of highschool and moved to Atlanta to try and push it nationally. At that point, there was only one place to play shows in Greenville, and no touring bands were coming through. But after Atlanta didn't work out, he moved back to Greenville in 2013 and started WVRM.
"We were like, 'We've always listened to grind—let's try a grind band, there isn't one around here.' And still there isn't. We're the only grind band in Greenville, I think ever in the history of the city."
Since then, WVRM have become the inadvertent leaders of Greenville's heavy music scene. With no room for genre-based factions, death metal, doom, hardcore, and punk fans are all one in the same. Metal subgenres are historically infamous for petty warring over sonic minutia and authenticity posturing, but Nix says that Greenville headbangers are united by their morals rather than a count of blast beats per song.
"Part of it is trying to create an insurrectionary culture that completely combats the conservative, right-wing thing that they're trying to push even harder now than they used to," Nix says. "I think it's really important, in the South of all places. Especially in South Carolina. The civil war started here. Secession started here, in this state. The spiritual fathers of white supremacy are from here. And we're deeply, deeply embedded in the culture… and so adopting the anti-fascist label, I think it's essential for every artist. Because it's sort of a desperate time and it needs to be out there that you'll fight against it."
Nix says he and his three bandmates are the most upfront about anti-fascism within the scene, but that the majority of the metal bands in Greenville (save for a few white nationalist-adjacent bands he refrained from naming because "they're dangerous people") all feel it. "But here, where we're playing the music and who we're playing it for: that's working class," he says. "We're not fucking nice. We'll cuss and we'll fight and we'll say some real shit that you don't wanna hear."
Below are seven metal bands ranging from sludge, to deathgrind, to metallic hardcore, that are all 'saying that real shit.'
Merch for this release:
7" Vinyl, Cassette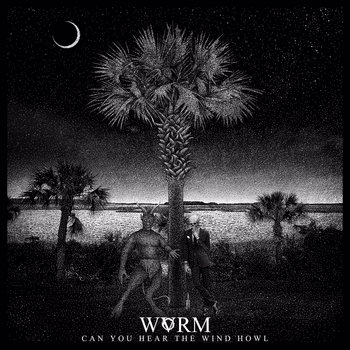 WVRM are a true powerhouse. They've put out at least one project per year since forming in 2013, and each demonstrates their progression from hardcore-tinged grind, to deathgrind, to sludge, to an utterly devastating melange of them all. Their 2014 full-length Swarm Sound and their 2016 follow-up Heartache are vital for Pig Destroyer and Full of Hell fans alike. And in true grind fashion, they're over and done with in a slick 20 minutes.
Their 2017 EP, Can You Hear The Wind Howl, might be their best so far. It was engineered and mixed by Converge's Kurt Ballou, who brought forward the low ends and further sharpened their serrated tones in a way that does serious justice to their range. "Suffer Ritual" is their most melodic song but also features their heaviest mosh part, and "Mountain of Dead Pigs" bleeds into piles of distortion that evoke the dead cops "floating up" and "rotting out" that Nix is shrieking about. They pull from every corner of the Greenville scene without ever sounding like they're forcing a sludge chug into a death-metal jolt. It's always seamless, and each riff is incomprehensibly heavier than the last.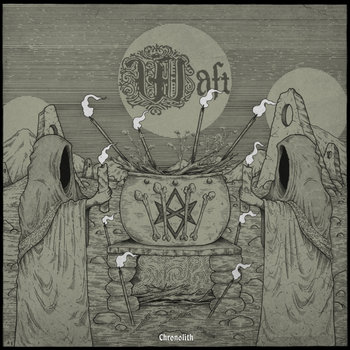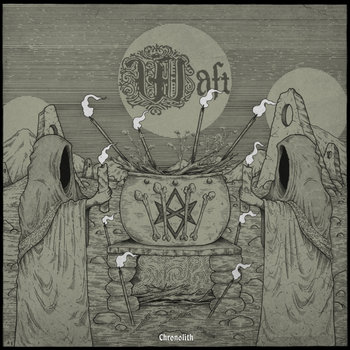 Waft's 2015 full-length, Chronolith, is a fuzzy, sludgy, stoner-rock record—imagine Bongripper or Eyehategod riffs with deep vocals that boil rather than sear. It's swampy music that nestles into a groove and doesn't put much effort into altering it, as most sludge metal is wont to do. Therefore, there's no indication at any point in the album that Waft would add blast beats and beefy metalcore riffs to their future output. But they did.
Their side of their new split with WVRM begins with a bouncy, off-kilter, almost Meshuggah-esque riff that oscillates between a mosh part and a sludge chug. Suddenly, it breaks into a death metal blast beat that completely slices apart even the heaviest moments on Chronolith. The track, somewhat clunkily, loses its momentum in an elongated bridge, but ultimately salvages itself with a pulsating, almost black metal outro. The next track is more straightforward sludge until a two-step metallic hardcore riff shows up, priming the song for a finale that makes you guess whether you should be crowd-killing or old-school headbanging. A full-length in the vein of this split would be a must-hear.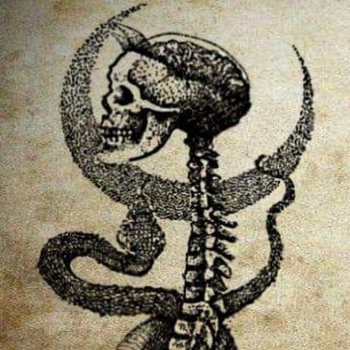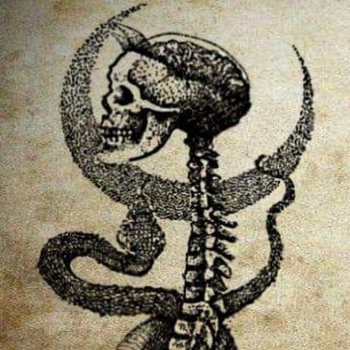 Merch for this release:
Compact Disc (CD), Vinyl LP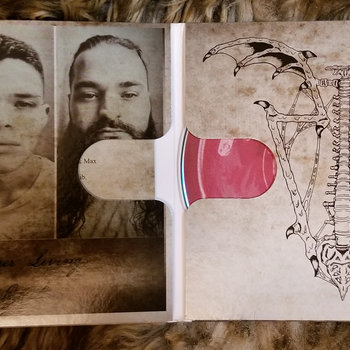 TONE's crushing self-titled album from 2016 offers a pummeling fusion of hardcore and death metal reminiscent of WVRM's, with one major substitution: instead of gnarled grind riffs, the focus here is sludgy thickness. The album is rife with extraordinarily fatalistic lyrics about worldwide destruction, with a specific emphasis on revenge fantasy toward racists. A song called "Noose Hanger" is essentially a graphic description of a lyncher getting his due, and "Dylan Roof" features the lines "oppressing parasite" and "your kind doesn't deserve the air I breathe."
Their 2018 EP, titled No Longer Living, Merely Existing., has better production, some spates of black metal, and overall darker tones than its predecessor. It's depressingly bleak, stone-cold music for the grimmest of times. If it wasn't already obvious, louder is better for home stereo consumption.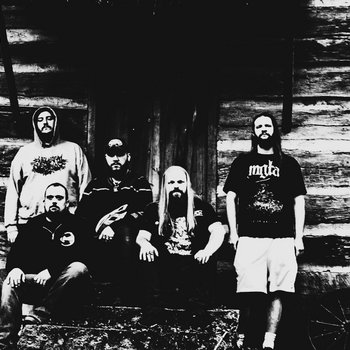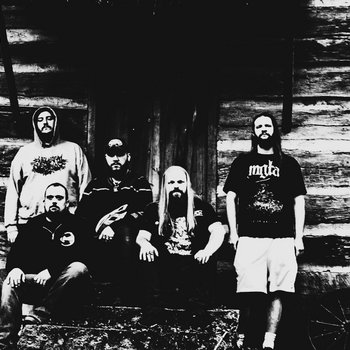 Tar Hag sound like what their name implies: sticky, sweltering bog music with melodies that drip and ooze ominously. If albums had scents, their 2017 effort Elder Cloak would reek of putrid muck. Their vocalists are only referred to as Beeg and Dano on their Bandcamp page. The album's cover art looks like it'd be hung behind the counter of the local head shop that never manages to fully mask the weed smell. None of this is to say that Tar Hag are generic, even though they kind of are—but they're generic in the best of ways. The blackened vocals and cavernous bass tones give the songs a necessary oomph that drives more than drags, and the guitar effects are meaty, yet invitingly warm. Clocking in at 25 minutes, and with no track exceeding the six-minute mark to wander into chugging redundancy, Elder Cloak is a fine piece of stoner-doom.
Merch for this release:
Compact Disc (CD)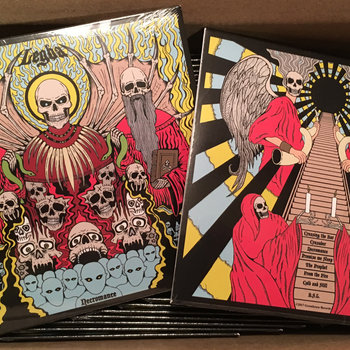 Legba are a doom band that pull more from the genre's bluesy elements than its metallic ones. Picture Red Fang meets Earthless meets Electric Wizard, with maybe a splash of Kylesa. The songs are alternately sung with drawly, uber-Southern clean vocals and bellowing, doomy grunts. Their 2016 self-titled and 2017's Necromance are chock-full of long slow-burners, spliced with psychedelic film samples and haunting, classic-sounding bridges. It's music of another era, but Legba freshen it up and — in true Greenville fashion — excel at leavening aggro-laden sludge with spacey stoner-rock together.
Interestingly, despite Nile's lasting legacy on tech-death as a genre, none of the other bands on this list really sound anything like them. Pale Ritual, made up of two brothers who split their time between Greenville (their home) and New York, are the only ones carrying the torch for tried-and-true, 90's-style death metal in Greenville. Their album Acolytes, released last October, is a crisp selection of brutal and virtuosic death metal. However, unlike Nile's inclination to assault the listener by rarely pulling back, Pale Ritual incorporate tasteful moments of tender, though complex, clean shredding that unexpectedly explode into blast beats and black metal howls. Acolytes has a much higher production value than most of their Greenville peers, and for a two-piece, they have astonishingly tight chemistry that could easily be mistaken for a full band. In one of the most oversaturated genres in music, Pale Ritual make death metal sound fresh again—just as Nile did years ago.