SCENE REPORT
The Legendary Techno (and Wild Parties) of The Bunker New York
By Christian Eede · April 10, 2018
Since its launch as a record label in 2014, The Bunker New York is a name that has become synonymous with heads-down, after-hours techno. From the deep mysticism of Donato Dozzy's Squadra Quadra to the menacing abstractions of Marco Shuttle's Fanfara, and the party-starting acid house of Justin Cudmore's Forget It, it's also a label that has firmly kept one foot on the dancefloor in the years that have followed its first release.
To truly understand the story of The Bunker though, you have to go back to 2003, and to the start of a series of then weekly free parties of the same name at a Manhattan venue called subTonic. "There was already a party my friend, Chris Sattinger [whose alias was Timeblind], was doing at subTonic on a Friday night with Mike Wolf before he decided to step down in 2003," label founder Bryan Kasenic says. "Chris decided to bring me on board and rebrand the parties, so The Bunker came from something that was already happening in a way." With Sattinger relocating to Berlin not long after Kasenic joined the fold, full control of The Bunker was eventually left in his hands.
"We were booking guests most weeks and the party went from 10pm to 4am," Kasenic says, adding that, due to the shoestring budget of around $100 provided by subTonic for each party, guests were mostly friends from New York, though the occasional DJ from out of town would step up if they were around. "We basically had no budget. We would give around $40 to the guest and spend $20 on a flyer fund. That would leave us with little money left—there wasn't even enough for cab fare or whatever, but the money wasn't really the point."
The parties continued at subTonic until its closure in 2007, building up a loyal following in the interim. The Bunker quickly relocated to another Brooklyn space called Galapagos, which was renamed Public Assembly in 2008 when new owners took over. The party remained there until 2013 hosting techno heavyweights such as Voices From The Lake (who would later go on to release music with the label), Surgeon, Marcel Dettmann, Omar-S, and plenty more during that time. Since 2013, the party has existed in a more nomadic form, making use of the wealth of new club spaces that have opened in Brooklyn in recent years, such as Elsewhere, Output, and Good Room.
It was the permanent move of the party to Output in 2013 that inspired Kasenic to establish The Bunker New York as a label a year later. "I'd always wanted a record label," he says, referencing his time working at a label called the Agriculture, run by friends DJ Olive and James Healey, in the early '00s. "I didn't really have money to do it for a while but I was always surrounded by people who were making amazing music that just wasn't being released," he adds. "I no longer had so much to do logistically when we started doing the parties at Output, because a lot of it was handled by the venue. That was a good time to start the label because I had more time on my hands to focus on the project and do it properly."
After securing record distribution and with a number of releases already lined up, The Bunker New York launched as a label in January 2014 with a three-track record from Michael Hopkins, aka Leisure Muffin, who had been a regular at the parties since they began. Nine more releases followed that same year, with Kasenic primarily using the label as an outlet for the wealth of undiscovered talent around him in releases from Clay Wilson, Løt.te, Zemi 17, and more. "A few of the records have come from more established names, like Atom™, Voices From The Lake, and Marco Shuttle, but if you look at the catalog, it's mostly people who don't have a lot of other releases. It would have been super easy, with all the connections we have to artists who've played at the parties, to bring in already established names on the label. I think we've established a sound for the label that I don't think we could have found if we were just working with people who weren't part of the community around the parties. Most of the music comes from people who are regularly at the parties and have a more intimate relationship with what is going on, so they can really nail the vibe."
Kasenic name-checks a certain psychedelic quality to much of the techno found across the label's back catalog, something which he says is linked to the parties. "We have a lot of stuff that's obviously geared towards the dancefloor, but I think a lot of it suits the opening or after-hours of the party," he says. "We have tons of peak-time releases, but because the label is a reflection of the party, and as somebody who is there from the very beginning to the end, there are all these other aspects to dance music that I think are important to consider." He points to the recent 15 Years Of The Bunker compilation as an example of the depth in the label's sound, having pulled in music from 26 different affiliates of the label, a few of whom—namely Coward, rrao, LDY OSC., and Abby Echiverri—made their production debuts on the compilation, while others, such as Tin Man, Gunnar Haslam, and resident Mike Servito, are by now label veterans. "There's a lot of variety on that release, but it all works together," he says. "There's this feedback loop of what people enjoy at the parties, and then people might make music in response to that, and those records end up becoming big at future parties."
The rest of 2018 will see The Bunker's residents and friends travel around the world for a series of showcases celebrating the party's 15-year milestone, while residents Mike Servito, Patrick Russell, and Eric Cloutier continue to tour extensively having fully launched their careers via the party. Kasenic also balances The Bunker New York's booking agency strand Beyond Booking alongside the label, which will keep up its ever-healthy release rate with records from Wata Igarashi, Clay Wilson, and Abby Echiverri, amongst others, all in the offing.
Below, Kasenic reflects on five standout releases from The Bunker New York's four-year history as a label.
Leisure Muffin
001
Merch for this release:
Vinyl LP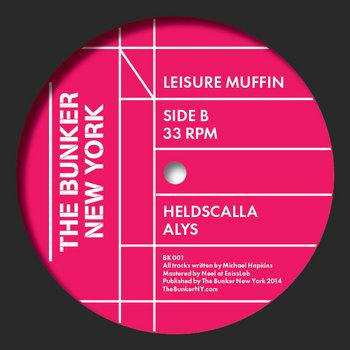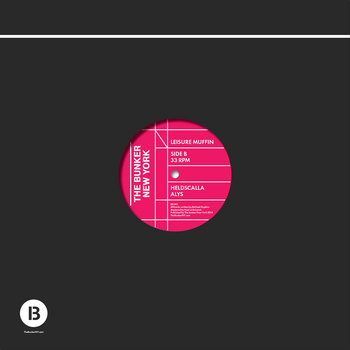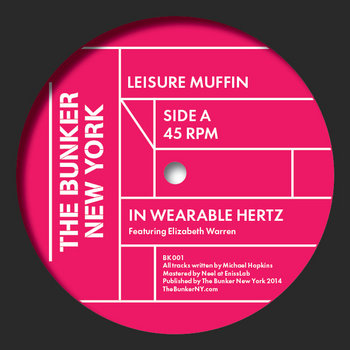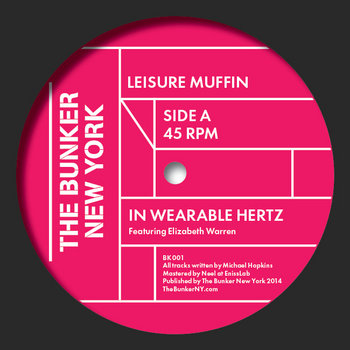 Released at the start of 2014, this EP is where it all started for The Bunker as a record label. Leisure Muffin, aka Michael Hopkins, had been a regular performer and attendee at the parties since they began at subTonic in 2003, but 001 marked his debut release on any label. It centers around his adoration for modular synthesis, producing three charming, minimal-inflected techno cuts.
"Michael is one of my oldest best friends so through our friendship, he was coming to the parties, hanging out and being inspired by what he heard there," says Kasenic. "He's one of those people who has always been around me and making incredible music, but not releasing it and not getting the attention he deserved for it, so I really wanted to give him some shine. It's very hard to get people to put out your music, and I get this question from artists a lot: 'How do I get this label to sign my music?' I just wanted to give that opportunity to a bunch of people that I was friends with and thought were making great music."
Merch for this release:
Vinyl LP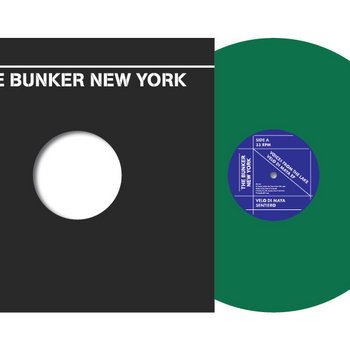 Comprising Italian DJs and producers Donato Dozzy and Neel, Voices From The Lake have come to be known for their subtle fusion of trippy, minimalist techno and ambient music. Their debut for the label, Velo di Maya, was put together from live recordings captured at a party thrown by The Bunker at Public Assembly in July 2012. Over the course of the night, they played for six hours, bookending back-to-back DJ sets with two separate live sets. The label later got in touch with the duo regarding their plans for the tracks that they had played during the live sets that night, and they subsequently set about producing live studio takes based on their favorite segments from the recordings.
"Dozzy came to play for us before that night in 2012," remembers Kasenic when asked about The Bunker's relationship with the duo. "I know he played at the eight-year anniversary so that would have been in 2011, but I think the first time would have been in 2010, and that was his first time playing in the U.S."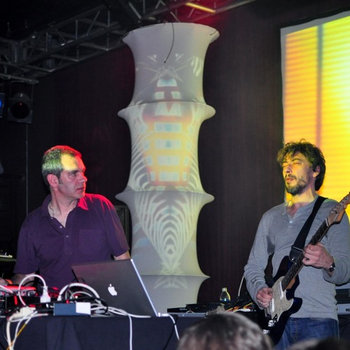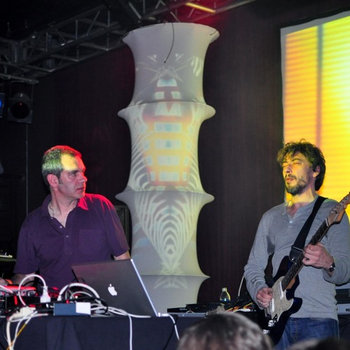 Merch for this release:
Vinyl LP, Compact Disc (CD)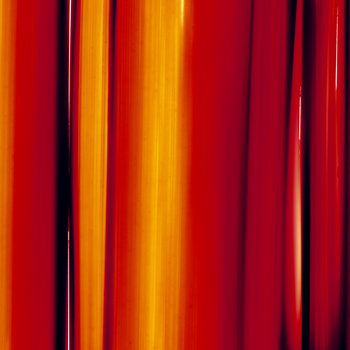 Reagenz are David Moufang, aka Move D, and Jonah Sharp, aka Spacetime Continuum. Much of their material is born out of improvisatory live shows which see them draw the lines between dreamy ambient and more dancefloor-focused techno. This was no different on The Periodic Table, their first and only release with The Bunker to date. It was also a seminal moment for The Bunker as it marked the label's first LP release, stretching over an hour of hypnotic dance music across three pieces of vinyl.
"David had played quite a lot at The Bunker and I think I had the idea in my head for a while that I'd love to get Reagenz to play an extended set," explains Kasenic. "It took a while but I finally booked them for a set at The Bunker's 10-year anniversary party in 2013. They were staying at my house—most people who would play at the parties would stay at my house—and just after we got home from the party, at around 7am or whatever, they were immediately wanting to hear the recording of the set. I was like, 'Why are you guys bugging out so much about this recording?,' and they said they wanted to use it to make their next album. I told them that I was starting the label and asked them on the spot whether we could put it out. It's a really great album that I'm still very proud of because it was essentially made at the party."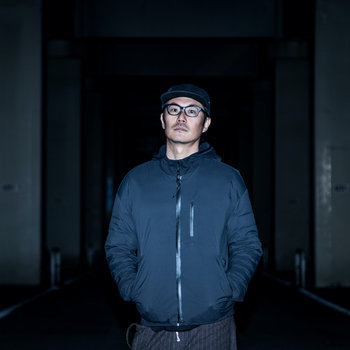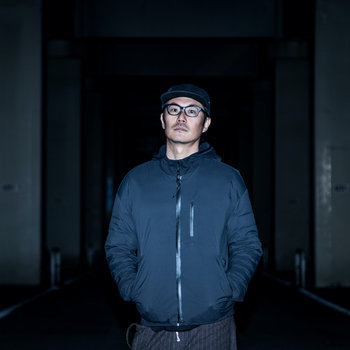 While Japan's Wata Igarashi might not have had a lot of history with The Bunker before the release of Mood of the Machines in late 2016, his heads-down, austere brand of techno certainly shared numerous traits with the label and party's sound. Consisting of four tracks, the EP centers around brooding, infectious basslines and sparse synth experimentations.
"Some friends and I found some mixes of his online and we were all really into them," recalls Kasenic. "I didn't know his productions so much at that point, but we did a showcase for The Bunker at Berghain in 2015 and he came along. I bumped into him there and he introduced himself. I asked him for a podcast for The Bunker sometime after that when we did the party in Japan for the first time. Then I asked him to send over some music, and he gave me around eight or nine tracks. It was all so good that it took me a while to pick the four tracks that I thought would be best for the EP. It definitely wasn't my vision at the start to be releasing music by people from such faraway places, but I was really impressed by his sound from the beginning and it seemed to be a natural fit for the label."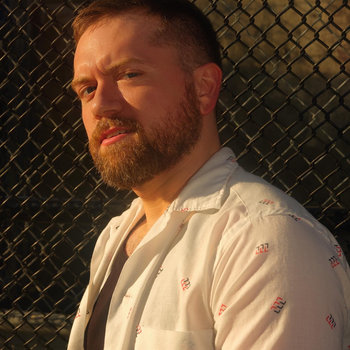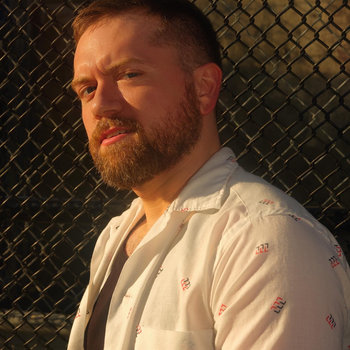 Growing up in Springfield, Illinois, Justin Cudmore played drums in various bands before later finding himself wrapped up in electronic music after relocating to Chicago in the mid 2000s. His fascination with house music, particularly acid house, grew quickly as he eventually found a community around the city's much-loved venue Smart Bar, while also working for the now defunct blog Little White Earbuds. He later moved to Brooklyn and began DJing at underground parties there. Forget It, only his second release following a debut for L.A.'s Honey Soundsystem collective, expertly displays Cudmore's affinity for playful, acid-infused house and techno.
"He moved to New York and he and Chris [aka Gunnar Haslam] became good friends because he also used to write for Little White Earbuds," says Kasenic. "They both became really good friends with Mike Servito. Justin was making music as a hobby and when he gave some of his first tracks to Mike he really freaked out and wanted to play them. It was actually the first stuff that Mike played digitally because he was vinyl only for a while, but he liked it so much that he wanted to play it out from the CDJ. I started asking both those guys for music through Mike. I play Justin's stuff out all the time. It works early, it works late, it works at primetime. It's just really catchy and effective while being unique."
-Christian Eede