SCENE REPORT
Ten Artists Keeping Spanish Pop Campy and Rebellious
By Richard Villegas · Illustration by Thomas Slater · April 15, 2020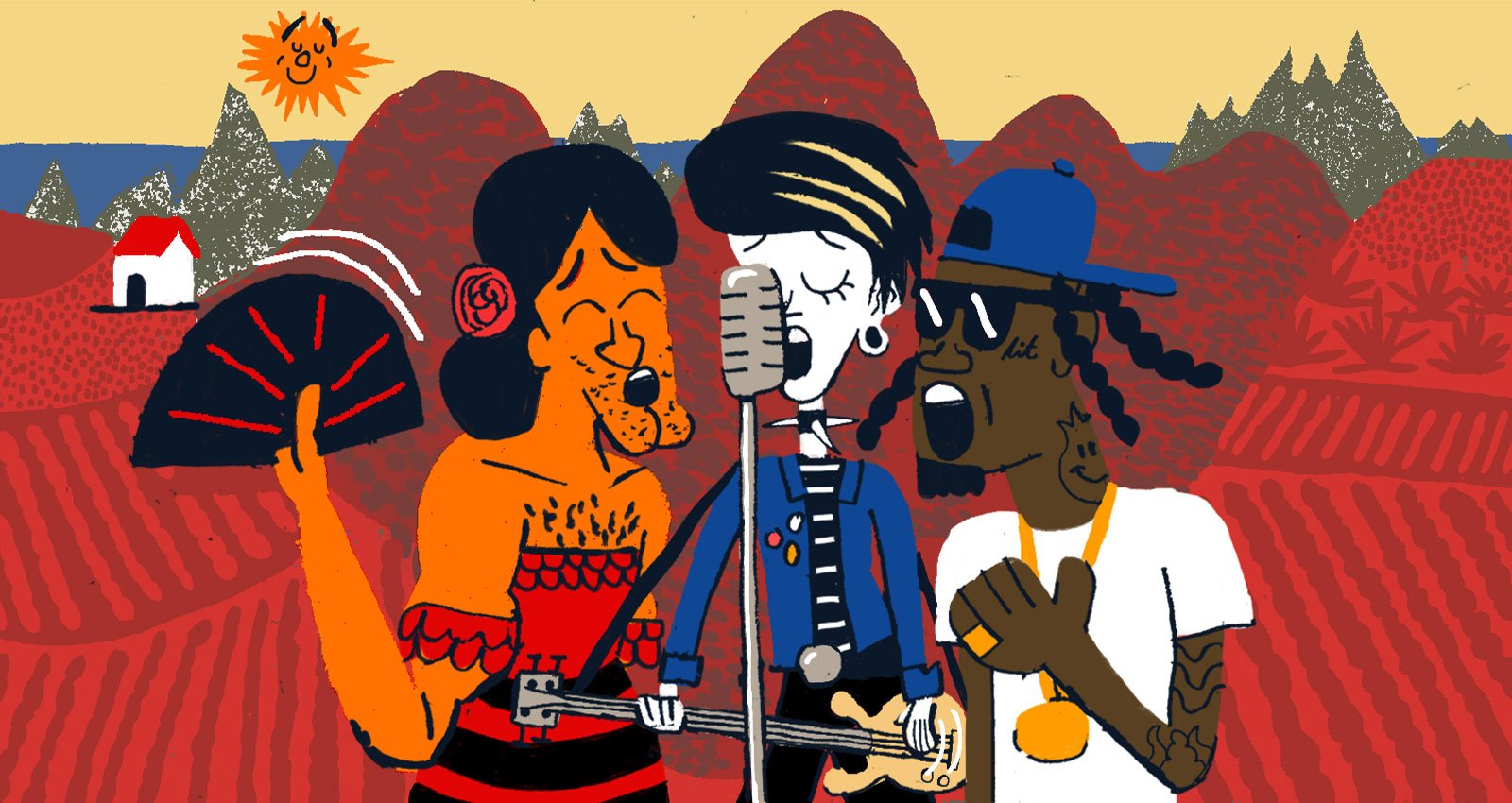 In the mid '70s, with the decline of Francisco Franco's bloody and oppressive dictatorship, young people in Spain sensed a loosening of cultural chains. Soaking up music and fashion trends from their European neighbors and the UK, as well as the United States, they kicked off a raucous golden age of punk rock, disco hedonism, and queer dissidence called La Movida Madrileña (The Madrid Movement).
La Movida, as it is commonly referred to, ushered in a new social language; women shirked demure modesty, and LGBTQ+ people could finally come out of hiding. Legendary film director Pedro Almodóvar was a force at the center of the storm, capturing the social rebelliousness of late '70s Spain in his first feature Pepi, Luci, Bom y Otras Chicas del Montón. The film showcased the wild makeup and hairstyles of the day, and was soundtracked by Spanish new wave and post-punk, even featuring a cameo performance by Alaska of the band Alaska y Los Pegamoides (later the voice of campy disco icons Alaska y Dinarama and Fangoria). Spanish rock and pop flourished throughout the following decade, thrusting scrappy homegrown bands like Mecano, Hombres G, and Radio Futura onto the international stage.
In the '90s, pop star worship came into vogue, with Marta Sánchez, Mónica Naranjo, Miguel Bosé, and a post-Mecano Ana Torroja securing constant radio play, stadium tours, and TV appearances that brought them into households across the Spanish-speaking world. The late '90s also gave way to Tontipop ("dumb pop"), a short lived wave of bubbly, satirical pop that harkened back to La Movida's unruly heyday, now amplified by the advent of the Internet. In many ways, Tontipop acts like Los Fresones Rebeldes, Los Super Elegantes and La Casa Azúl laid the groundwork for the wildly experimental nature of Spain's post-Y2K indie boom, with a distinct creative independence that continues to embrace the humor and socio-political awareness emblematic of contemporary Spanish pop culture.
"People have grown accustomed to consuming pop music with no message," says Enrique Aparicio, half of Spanish electro-pop duo Monterrosa. Alongside Rocío Saiz, the pair have infused club-ready bangers like "Fauna" and "Me Manipulaste" with lyrics examining gendered violence and toxic relationships, while always finding a balance between conscientiousness and levity. "We're trying to explore new subjects within the range of our abilities, but we also love when fans discover or rediscover the underlying story behind a song."
Monterrosa are not the only band around with a distinctly queer, dissident ethos. Hidrogenesse, Papá Topo, Lidia Damunt and La Prohibida have all cultivated staunchly camp careers with a dash of surrealism, spinning convoluted tales of love, hate, and soap opera melodrama over towering synthesizers and drum machines. Labels and production houses like Elefant Records, Bankrobber, and Canada Editorial have also cultivated new avenues in Spanish pop, populating their rosters with musicians from across diverse scenes that bounce from synth-pop to psych rock at the drop of a hat. Punk and electronic music are also going strong; just dive into renowned label La Agonía de Vivir's extensive catalog for the former and check out releases by producers Pional and Le Parody for the latter. If tradition with a modern twist is more your speed, flamenco innovators Niño de Elche and Romeromartin are good places to start digging.
Another market that has grown exponentially over the past two decades is urbano; hip-hop and trap crews like Agorazein, PXXR GVNG and FANSO Collective helped to mold a sonic underground that now dominates the charts. Yung Beef, C. Tangana and Kaydy Cain are bonafide pop stars, logging millions of plays across YouTube and streaming platforms, while also helping to popularize reggaeton and paving the way for newer, brighter talent in La Zowi, Ms Nina and MC Buzzz. Even Catalan's Rosalía—the flamenco prodigy turned global pop sensation—has incorporated trap and reggaeton into her repertoire under the watchful production guise of El Guincho, further expanding the Spanish pop landscape.
However, where there is promise there is also struggle. Spain faced an economic crisis after the stock market crash of 2008, which led to sweeping long term budget cuts for arts and culture initiatives. Currently, artists are grappling with the fallout from the Covid pandemic, with summer tour and festival schedules disrupted as Spain continues to report staggering infection rates and death tolls. Massive festivals like Primavera Sound and Mad Cool have been either cancelled or postponed, while iconic venues like Madrid's Sala Sol and Barcelona's Razzmattazz remain closed, dealing a brutal blow to venue staff, sound engineers, and artists alike.
"We cannot change the situation and hard times are coming," wrote Monterrosa's Rocío Saiz for Spanish newspaper El País at the end of March. "We don't know what our employment prospects, if any, will look like after this. As artists and as workers in an industry, what matters most now is sorority with those who need us."
In mid-March, Saiz and her colleagues kicked off a series of online concerts poignantly dubbed Cuarentena Fest (Quarantine Fest), where weekly performances from bands like Papa Topo, El Petit de Cal Eril and Cariño aim to bring a bit of joy to beleaguered fans and raise funds for industry professionals whose livelihoods have been completely frozen. Additionally, the series has enjoyed such success that festival organizers have scheduled dozens more online shows broadcast from all over Latin America, strengthening the bonds of cross-continental artistic camaraderie.
For a better sense of the sounds and scenes flourishing across Spain's fertile pop landscape, we've put together a list of some of our favorite acts making waves today.
---
Merch for this release:
Vinyl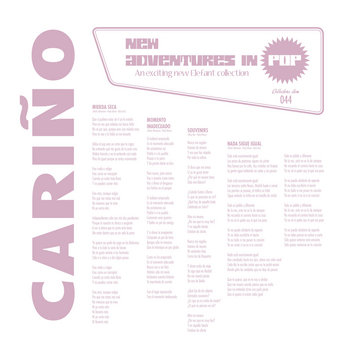 The Madrid trio are riding high as one of the scene's buzziest new breakouts thanks to their effervescent guitar pop, which is expertly coupled with cheeky lyrics about sexual awakening, romantic impatience, and feeling down in the dumps. Cariño's 2018 debut Movidas catapulted the band into the national spotlight; songs like "Canción de Pop de Amor" and "Bisexual" received extensive playlist placement and radio play, leading to multiple national and European tours. The band has continued releasing buoyant singles like 2019's excellent "La Bajona" and emo Christmas ditty "X Navidad." They've nabbed a slot at this year's Coachella, which has been postponed for the fall due to the Covid pandemic.
Electro-pop with incisive lyrics,  Monterrosa came together in 2018 to disrupt complacent airwaves and stagnant festival line-ups. Comprised of Rocío Saiz of feminist punks Las Chillers, and Enrique Aparicio, aka DJ Esnórquel, the pair considers music a medium for their political agenda, which includes the empowerment of women in the pop underground and flagrant, combative queer visibility. Songs like "Flores en el Parking," which speaks to the oppressiveness of gender roles, and "El Temblor," which examines the childhood bullying faced by both musicians, create layered canvases of synth hedonism loaded with an emotional gut punch. But Monterrosa also leaves plenty of room for levity, like on "Parálisis" and their rousing cover of Shakira's "Estoy Aquí."
Originally hailing from China, Chenta Tsai Tseng, aka PUTOCHINOMARICÓN, is an architect, activist, and musician blurring the lines between punk and bubblegum synth-pop to make some of the catchiest, angriest music around. "Puto Chino Maricón" and "Gente de Mierda," from his 2018 debut Corazón de Cerdo Con Ginseng Al Vapor ("Steamed Pig's Heart With Ginseng") are cathartic diatribes disarming the countless homophobic and xenophobic slurs that shaped much of his Spanish upbringing. Part of what makes PUTOCHINOMARICÓN so remarkable is his uncanny ability to collide musical asymmetry with angelic vocals. Jagged cuts like "Deporte Nacional," "Se Me Da Mal Ser Mayor" and the emo-flavored "Ojalá (Te Murieras)" propelled his 2019 album Miseria Humana into riveting new sonic territory.
No conversation on pop in 2020 is complete without including reggaeton, and in Spain, Argentina-born Ms Nina reigns supreme. One of the most renowned names of the digital reggaeton underground known as Neoperreo, Ms Nina broke out with 2016's "Acelera" and hit viral pay dirt the following year with her Beauty Brain-produced smash "Tu Sicaria." Ms Nina is a household name with a major international presence, and collaborations with influential perreo contemporaries like Tomasa del Real, Chico Sonido and Deltatron have only further cemented her legacy.
Bold and fashionable to a fault, Los Punsetes is one of Spain's most beloved indie bands of the past decade, with a series of critically acclaimed albums that meld indie rock and post-punk with tropical instrumentation. While Spanish pop is known for its circuitous storytelling, songs like "Tus Amigos" and "Opinión de Mierda" immediately set Los Punsetes apart from the pack by way of their unusually blunt lyrics. On their engrossing 2017 album ¡Viva!, tracks like "Tu Puto Grupo," "Mabuse," and the title track, set Ariadna Paniagua's amusingly deadpan vocal cadence against guitars that buzz like chainsaws.
Merch for this release:
Compact Disc (CD), Vinyl LP
One of Spain's top purveyors of camp, Papá Topo underwent a major sonic evolution from the jangly twee indie pop of their 2010 debut Oso Panda into the disco decadence of their latest album, 2016's Ópalo Negro. Founded in 2008 by Mallorcan singer-songwriter Adrià Arbona Orero, the group remains a staple of the Spanish queer underground, frequently performing at Pride events across the country and collaborating with national legends like Hidrogenesse and La Prohibida. Papá Topo has songs for every occasion, whether you're bedroom stargazing or spinning under a disco ball—check out "Lo Que Me Gusta del Verano es Poder Tomar Helado," "Ópalo Negro," and "Sirenear."
Merch for this release:
2 x Vinyl LP, Compact Disc (CD)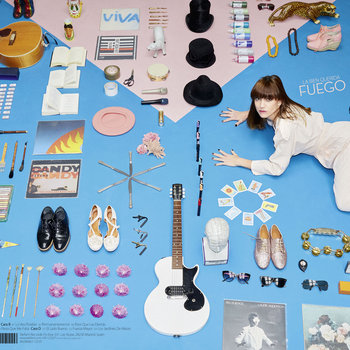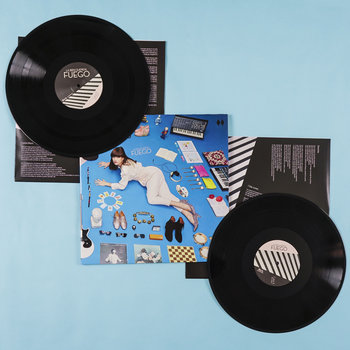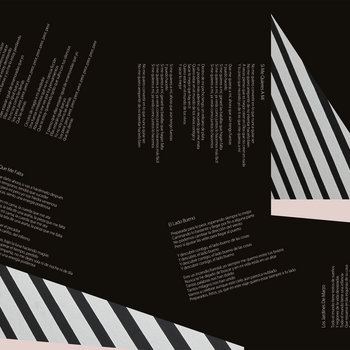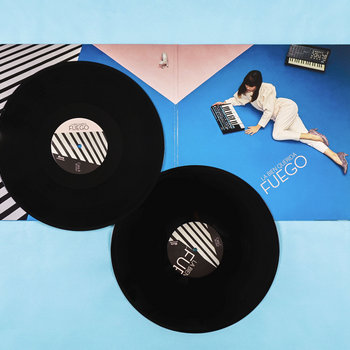 The alias of Ana Fernández-Villaverde, La Bien Querida hit the scene with 2009's optimistic Romancero, releasing five more studio albums over the course of a decade and establishing Fernández-Villaverde as a brooding independent pop star with a penchant for poetic and heartrending storytelling. The 2015 album Premeditación, Nocturnidad y Alevosía plunged into post-punk with droning bass lines and an army of dissonant synths, while 2017's Fuego felt like a refreshing dip in the Mediterranean, complete with light-hearted pop melodies and flamenco claps. But the sonic canvas is only half the story—confessional gems like "Dinamita" and "La Verdad" mark Fernandez-Villaverde's hypnotic drawl as one of Spain's most treasured voices.
Emerging from the midst of Spain's buzzy trap wave, MC Buzzz (formerly MC Buseta) has charted new waters by mixing trap sequencing with the baile funk street symphonies of his native Brazil. Migrating from São Paulo to Barcelona as a teenager, MC Buzzz found himself rubbing elbows with Spanish trap trailblazers PXXR GVNG; he was eventually drafted into an urbano boy band named Los Sugus before breaking out on his own. Get into his 2019 full-length debut Baile De Rua, a veritable smorgasbord of collaborations featuring producers King Doudou, Paul Marmota and Merca Bae and sweaty twerk throw downs in tracks "Bota Bota" and "Todo Os Dias."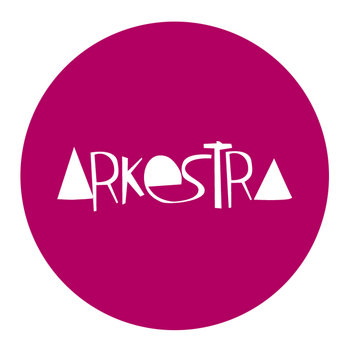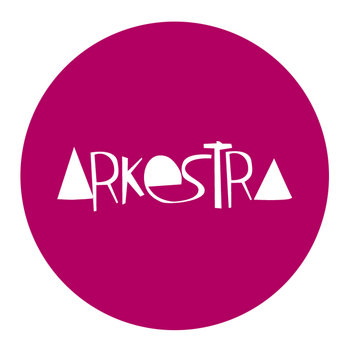 When Catalonian producer Bflecha dropped her 2013 opus βeta, it delivered a celestial blend of futuristic R&B and shimmering vocals that reverberated through the world of Spanish-language independent music. Underground favorites like "B33" and "A Marte" utilize space travel metaphors over a bed of drum machines and sensual bass lines. Follow-up Kwalia is equally impressive while not dwelling on past glory—it retains the R&B vocal stylings but turns the production dial towards oscillating synths, deconstructed beats, and shape-shifting melodies. Singles "Rutas Circulares" and "Zigurat" solidified Bflecha as one of Spain's finest and most refreshing producers.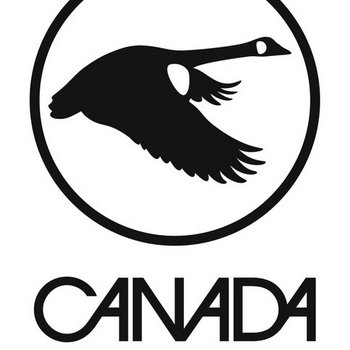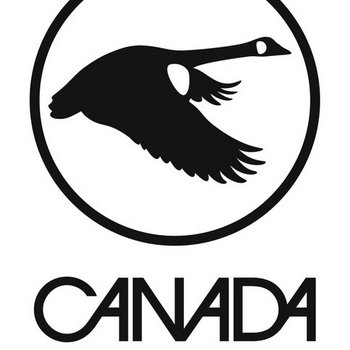 Merch for this release:
Compact Disc (CD)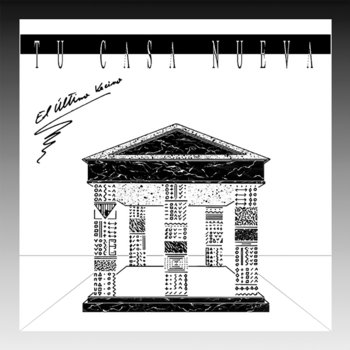 Where Bflecha gazes boldly into the future, El Último Vecino plants their feet firmly in the past, summoning the romantic vulnerability of post-punk icons like The Smiths and Parálisis Permanente. El Último Vecino first made a splash with their 2013 self-titled debut, following up the next year with a 3-track EP featuring "Tu Casa Nueva" and "Culebra, Columna, Estatua," some of their best-known hits to date. Singer-songwriter Gerard Alegre Dòria exudes the aura of a downtrodden yet rebellious pop crooner, a sly mixture of James Dean, Morrissey, and Robert Smith who seems to glide over the band's saturated synthesizers and barreling rhythm section.