SCENE REPORT
Ohio Hardcore Versus the World
By Samuel Tornow · November 24, 2021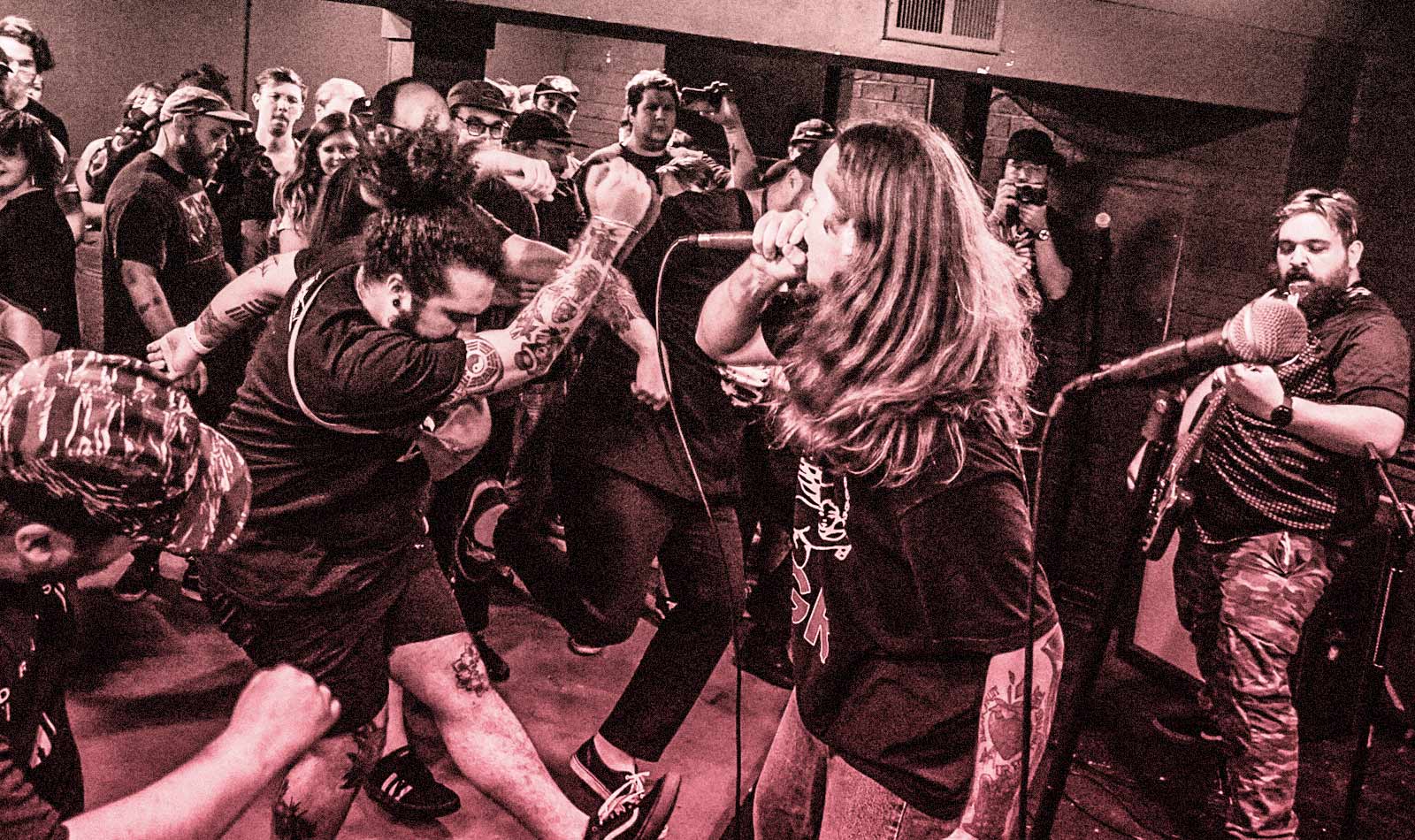 Ohio is having a moment. If you haven't been paying attention, there's a hardcore renaissance happening in the Buckeye State. Over the course of the last two years, it's become a hotbed for no-bullshit hardcore and power violence, led by bands like En Love, SLUG, Primordial Harvest, and For Your Health. All these groups swing the Ohio hardcore flag with honor, and in the manner of traditional hardcore, they're bringing their friends, too.
In 2018, before many of these bands were formed, Ohio's hardcore scene was in a drought. The number of venues and acts had dropped drastically compared to previous years. Touring acts and festivals weren't picking locals to open shows. And so, taking a page from the earliest hardcore tomes, some Columbus punks decided to speed up the cycle themselves. They looked at thriving scenes in Philadelphia and Denver and started taking notes.
"We looked at how Ohio was languishing, and how much better we thought it could be, and wanted it to be," says Nate Snitchler, a member of En Love, Rejoice, Snitch Bastard Judas, and Holy Kiss, "and we were like, 'What if we just started every band?'"
Gradually, the number of bands started multiplying. Members from one band would team up with members of another to form something new. Members of En Love formed or joined the bands Circus, Rejoice, Snitch Bastard Judas, and Holy Kiss—all of which are made up of members from other local bands.
"It just kind of kept expanding like that from there, where every time we have an idea, we can just text someone else who was in this core group," he says. "And then we ended up being like, 'Oh, that's a hundred bands now.'"
Columbus wasn't alone, though. Around the same time, hardcore bands began popping up across the state. In Northern Ohio, Last Gasp shares members with SLUG, who shares members with S.M.I.L.E. Within a year or two, the foundations were strong, hardcore shows were happening, and fans got involved.
It takes more than people to make a hardcore community, though. It's also about uplifting each other, a credo Ohio bands and fans take to heart. En Love's vocalist Joey Mendicino kicked off a recent set at Hate5Six with a chest-thumping roll call: "This set goes out to Rejoice, to Body Farm, to Last Gasp, to SLUG, to The Way, to Circus." It's something which has become a ritual before each performance.
"Every time, we will shout up the same bands," explains Snitchler. "Every time, because it's the team. Everybody eats. Our successes are everybody else's successes. It's not a competition at all for Ohio. It is all about everybody being more successful together. Like there's– there's no competitive element to it."
While the scene is very much a collective, it's not a reach to say that without local label Delayed Gratification Records, it wouldn't look the same. Vladimir Necovski—whose brother, Ilija, would later become the guitarist and co-founder of En Love—started the label in his childhood bedroom back in 2013 as a way to get involved in the scene.
Now, DGR's catalog reads a primer for the scene at large. Since its beginning, Necovski has put out over 60 releases—most of which are by Ohio bands—each a different shade of hardcore. There are extreme offerings like Rejoice; upbeat fist bumpers such as SLUG and S.M.I.L.E; and straight-edge champions like TraumaxQueen.
"Without [Necovski], the scene doesn't exist in the way it currently does," says Snitchler. "He's willing to ride for our scene and for the people involved more than anybody else. He also does a ton of work on bookings. Between booking, promoting shows, and then knowing which bands to put on shows to make them do well, he makes it so that people from out-of-state want to keep playing Ohio."
Early this year, DGR held a showcase featuring Ten High, S.M.I.L.E., Circus, Rejoice, SLUG, and Last Gasp. Of the six bands that played, five were taking the stage for the first time, and five had released music during the pandemic, a testament to the scene's relative infancy. Over 300 fans came out—something Necovski has never seen for a local hardcore gig.
"I went into the night thinking 60 people would show up and it would mostly be just friends," he says. "Instead, people were in line from doors through the first band. I credit it to a lot of new energy in Ohio hardcore as well as a lot of new people being interested in hardcore as well." With that in mind, here are some key bands from the scene.
---
.
00:10 / 00:58
Merch for this release:
Vinyl LP
Every En Love track is a pusher: It gets your face, grabs your jacket collar, and screams a manifesto. Vocalist Joey Mendicino leads the charge on the merciless Love Will Drown the Nest with a desperate bark well-suited to the band's sense of urgency. With most songs clocking in under two minutes, there's not much time to get comfortable. From start to finish, the band carries out an onslaught of powerviolence with feedback, a bullying rhythm section that pushes the listener down and doesn't let them up.
Four songs and five minutes are all it takes for Circus to get their message across. The group, also fronted by Mendicino, play no-frills hardcore with demonic swagger, all maniacal laughter, breakneck-speed riffs, and screamed commands. Lyrics such as, "Free the lions, free the tigers, free the clowns," "Send in the clowns," and opening line, "Welcome to the fucking circus," drive home the group's carnivalesque energy even more. It's a hardcore album fine-tuned for storming the big top.
.
00:10 / 00:58
Formerly known as Cue Ball, S.M.I.L.E. recently rebranded themselves after switching guitarists. The Akron-based group split the difference between classic punk rock and traditional hardcore: The speed is slower, the melodies are able to shine, and the vocals are easier to make out, but the attitude is all the same. Just S.M.I.L.E. would fit seamlessly on a Tony Hawk Underground soundtrack—punk enough to play while you plan out your next combo string. The final track of the EP, "SMILE," perfectly encapsulates the group's ascendant status. It kicks off with a bassline straight out of late '90s skate punk anthem, followed by a proclamation of angst: "Kick down the door/ I'm taking control/ I'm not going to deal with this shit any more." Pure adrenaline, zero subtlety, and thoroughly badass: That's the Ohio way.
.
00:10 / 00:58
Snitcher and Necovski confirm it: For Your Health's impact on the Ohio scene is indisputable. While their sound isn't exactly hardcore proper—the music incorporates elements mathcore, death metal, and even jazz—their road-warrior status and frequent releases make them a cornerstone of Ohio hardcore nevertheless. Their latest record, In Spite Of, is a grab bag of metal and punk styles; the guitars skew math-y, the growled vocals invoke '00s metalcore, and each track is weirder and more confident than the last. Take the closer "This City Will Crumble and Many People Will Die," which starts in media res. In the first 30 seconds, For Your Health packs in dissonant guitar stabs, cookie monster growls, clean vocals, and drum patterns so complex they'd require a cryptographer to decipher.
The album notes for Demo nonchalantly read: "It's a pretty good demo." Damn right it is. Proudly hailing from Cleveland, SLUG's sound blends the muscular, angsty, and fun sides of hardcore in a way that recalls Boston, Massachusetts's The Rival Mob and Richmond, Virginia's Bracewar. It's like if Turnstile hit the weight room. No song here crosses the two-minute mark, yet each feels like several tracks in one. Take the self-titled opener: It's fast out of the gate, but ultimately devolves into a tense, feedback-laden beatdown—the aural equivalent of a truck plowing through a brick wall in slow motion. It's glorious, it's violent…it's SLUG.
.
00:10 / 00:58
In terms of pure heaviness and rage, no other hardcore band in the state stands up to Rejoice. On their punishing new record Damnation No Longer Hurts, the band (also fronted by Snitchler) unleash a rapid clip of blast beats and blood-curdling riffs—an intense listening experience that's not for the faint of heart. Snitchler's screams are low and gruesome, obscured further by effects, resulting in an animalistic growl. Because the band's songs run longer than that of their peers—most tracks approach three minutes, an eternity by hardcore standards—the blood-curdling riffs have more time to stew, rendering the meltdowns even more rewarding.