SCENE REPORT
Three Faces of New South African Jazz
By Philip Freeman · Photos by Siya Makuzeni · May 02, 2018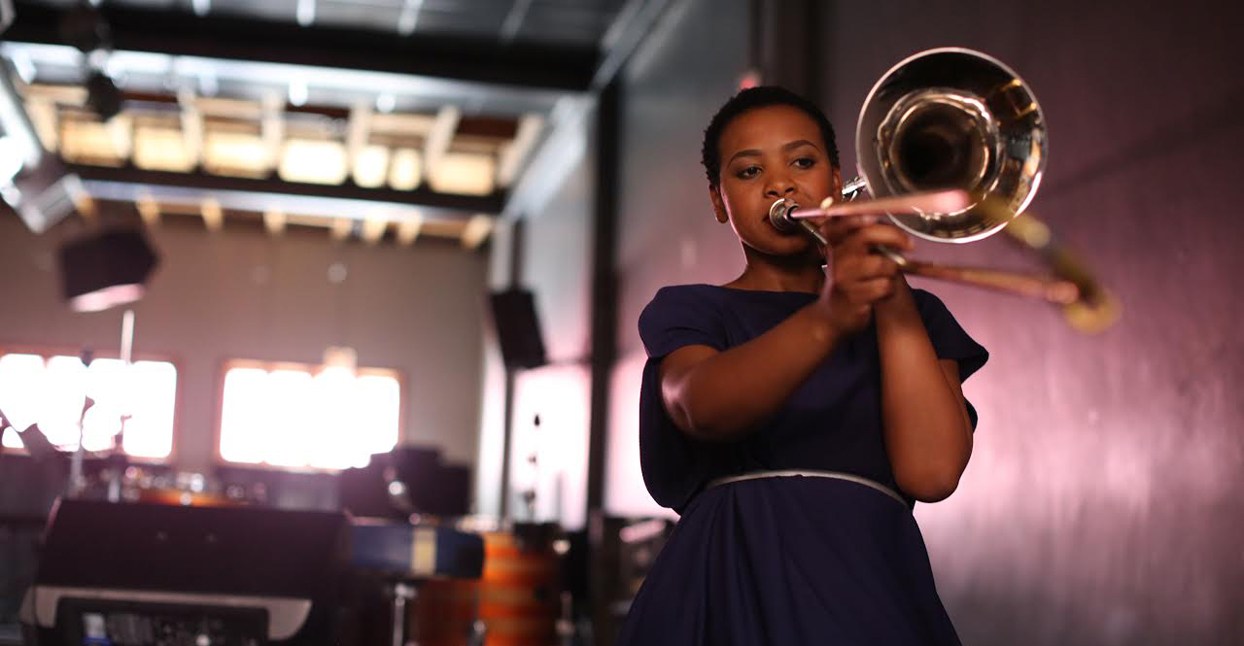 South Africa has long been recognized as the continent's primary home for adventurous, forward-looking jazz. Two crucial groups established the foundations of the music in the 1950s. The Blue Notes, led by pianist Chris McGregor, included trumpeter Mongezi Feza, alto saxophonist Dudu Pukwana, bassist Johnny Dyani, and drummer Louis Moholo-Moholo. After leaving South Africa in 1964, the various members of the Blue Notes achieved great individual renown in Europe. Meanwhile, The Jazz Epistles—whose 1959 album Jazz Epistle, Verse 1 was the first by a black South African jazz band—included pianist Abdullah Ibrahim, aka Dollar Brand, along with trumpeter Hugh Masekela, who died in January 2018. Masekela, who has been called "the father of South African jazz," had a global career that included the crossover hit "Grazing in the Grass" as well as notable anti-apartheid songs and decades of work as a human rights activist.
South African jazz has always incorporated local traditional styles alongside funk, R&B, and swing, to create unique forms like township jive and "Cape jazz." Since the abolition of apartheid in 1994, the music has truly flourished, and a new generation of players and singers has come forth. Many young South African jazz musicians are carrying their homeland's sonic legacy forward, while creating something new and entirely their own. Among them are keyboardist/singer Thandi Ntuli, saxophonist Linda Sikhakhane, and trombonist/singer Siya Makuzeni, all of whom are tightly connected to each other and to the broader history of South African jazz.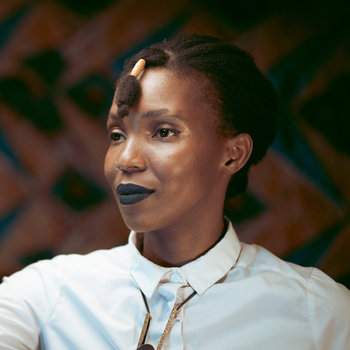 .
00:10 / 00:58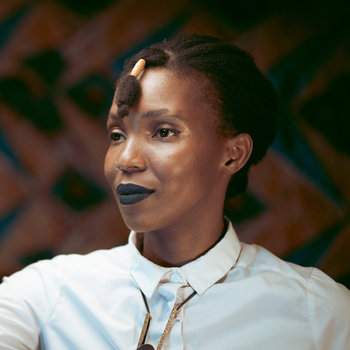 Ntuli's second album, Exiled, is a double-disc that features gently grooving compositions with wordless vocals atop her modernistic piano and lush arrangements. Her lyrics have real bite, dealing with the many aspects of African and African diasporic identities in the modern world. "The Void" features a dramatic recitation by poet Lebo Mashile. "She was born to exiled parents in the United States, ironically," Ntuli says. "I reached out to a few poets that I respect and admire to write something [for 'The Void'], because I don't consider myself a poet, so I felt it really needed the artistic flair of someone who has worked on that craft. I eventually came across a TED Talk on YouTube called 'Memory Matters' that Lebo gave, and many of the sentiments expressed in that talk really touched on some of what I felt the essence of 'The Void' was."
Bassist Benjamin Jephta and saxophonist Sisonke Xonti, crucial members of the Exiled band, are also heard on Makuzeni's debut album, 2016's Out Of This World. "I went to school with Benjamin and Sisonke, and met Siya later in life," Ntuli explains. "The scene is quite small in South Africa so a lot of us use similar personnel on our projects." Similarly, trumpeter Sakhile Simani, heard on Out Of This World, is also on Sikhakhane's album, Two Sides, One Mirror.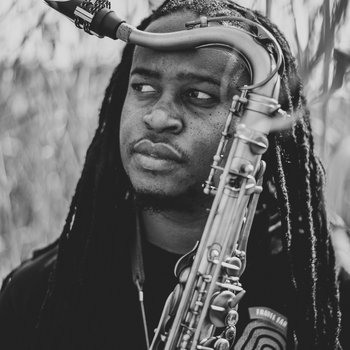 .
00:10 / 00:58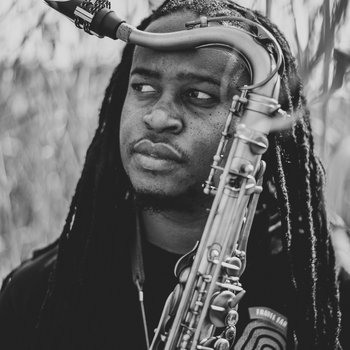 Makuzeni is a vocalist who both scats and sings in English and isiXhosa, but she's also a talented trombonist. "I always say the trombone chose me," she says. "I played recorder at school until my music teacher suggested I should pick up another instrument. There was a big band program at the school, and my audition process involved me trying out all the instruments in the room—to no avail—until I got to the trombone. I took it home that afternoon and have not looked back since."
Her voice has a full sound with a barbed edge, somewhere between Erykah Badu and Miriam Makeba. Her band's music combines jazz, funk, and hip-hop beats into an organic swirl fueled by thick electric piano, booming bass, and crisp drums, with taut, soulful horn arrangements. Interestingly, Makuzeni thinks of herself primarily as an instrumentalist; she describes singing as "essentially playing another instrument, though I do feel technically I have fewer boundaries when I sing. Scatting allows me to tap into a space where I can push the possibilities of my voice, create spontaneously, and explore new textures and sounds."
Out Of This World features a single guest appearance from a non-African musician: drummer Justin Faulkner of Branford Marsalis's band plays on "Through the Thunder." Makuzeni plans to include more American and European players on her second album, which is currently in the works.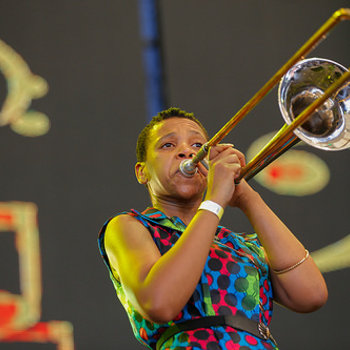 .
00:10 / 00:58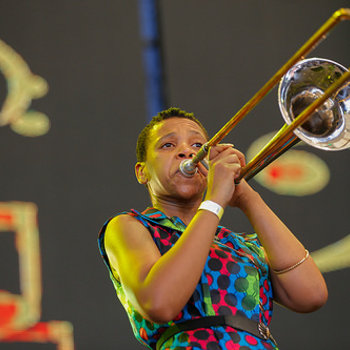 Sikhakhane plays on Exiled; Ntuli says, "I really love his solo on 'It's Complicated, Pt. 2.' Linda's sound on the tenor saxophone is incredible. Rich, sultry, and I can identify it in an instant. I loved how his sound was very fitting for what I was reaching for in terms of production on the song in general."
Sikhakhane, who currently lives in New York and studies at the New School, has self-released Two Sides, One Mirror, which was recorded in South Africa. To a Western ear, his spiritual, questing style and deep tone may seem inspired by the work of John Coltrane and Pharoah Sanders, but it's got deep African roots, too. "As a Zulu South African growing up in KwaZulu-Natal, which is a culturally rich province," he explains, "modal music has always been the core of my upbringing and being exposed to different types of ceremonies which exercised this music helped me relate to the likes of bra Winston Mankunku [Ngozi], a legendary South African saxophonist whose sound introduced me to Coltrane. I'm more of a receiver than a composer, and my ambitions are to execute life experiences and heal the world through music." The album's nearly 11-minute centerpiece, "Ibuzwa Kwabaphambili," showcases Sanele Phakathi's McCoy Tyner-esque piano as well as Sikhakhane's crying horn and vocals from Omagugu Makhathini.
Though he's enjoying his time in New York, and is working with local artists, Sikhakhane's not planning to stay. "Home is where I'll end up for sure, I really love South Africa," he says.
Ntuli describes the South African jazz scene as small, but vibrant. "We don't consume as much in terms of live shows as the scenes that are well located such as the Europe/U.S. markets," she says, "but there are incredibly talented musicians and unique composers. I am really excited with the scene, small as it is." What's more interesting is that jazz is beginning to take hold in other parts of Africa; according to Ntuli, "there are pockets in a few countries that are open to jazz and audiences that are hungry for it. I recently had a few performances in Mozambique and Swaziland and this was my experience with the audiences there. I've also performed in Kenya, which seems to have a budding scene too."
Makuzeni agrees about the power of contemporary South African jazz. "We have a lot of instrumentalists and session musicians, and most of them are also composers. There are some dedicated jazz clubs to perform, but I think like anywhere, more would be beneficial. Our audiences are incredible as it's a mix of young and old." And she's performed even more broadly than Ntuli, recalling gigs in Algeria, Senegal, Kenya, Cameroun, Mozambique, Namibia, Zimbabwe, Lesotho, and Swaziland.
Because of the politicization of music during the apartheid era, being a jazz musician in South Africa today can carry social responsibilities, though Ntuli says it's up to each to make the choice for him or herself whether to take on the mantle of activism. "I do know that because our past still has a very heavy presence in the current state of South Africa that sometimes, these political overtones inevitably come through," she says, "and it may not even necessarily be lyrically but in the artistic pursuits of the different individuals. Our generation seems to definitely be tackling the idea of identity a lot, and I've seen that come across in many people's music, however subtly."
Ntuli, Makuzeni, and Sikhakhane all feel linked to the music's history in their homeland, and all have strong memories of Hugh Masekela. Sikhakane says, "The whole world was saddened by the passing of bra Hugh, my interactions with him were mostly through his great records. I have played in his presence and met him a couple of times at festivals. He really served the world through his anti-apartheid songs and brought light to many."
"I met him on a few occasions backstage at performances," Ntuli recalls. "The last interaction with him, I think, was backstage when the Jazz Epistles did a reunion performance. I performed with Siya, who opened for them. His work was the soundtrack of my upbringing… there are albums of his that I may not own but would likely be able to sing the music back to back… that's how much a part of our culture he is."
-Phil Freeman