SCENE REPORT
Synths Rule the New Orleans Underground
By Alex Galbraith · May 29, 2020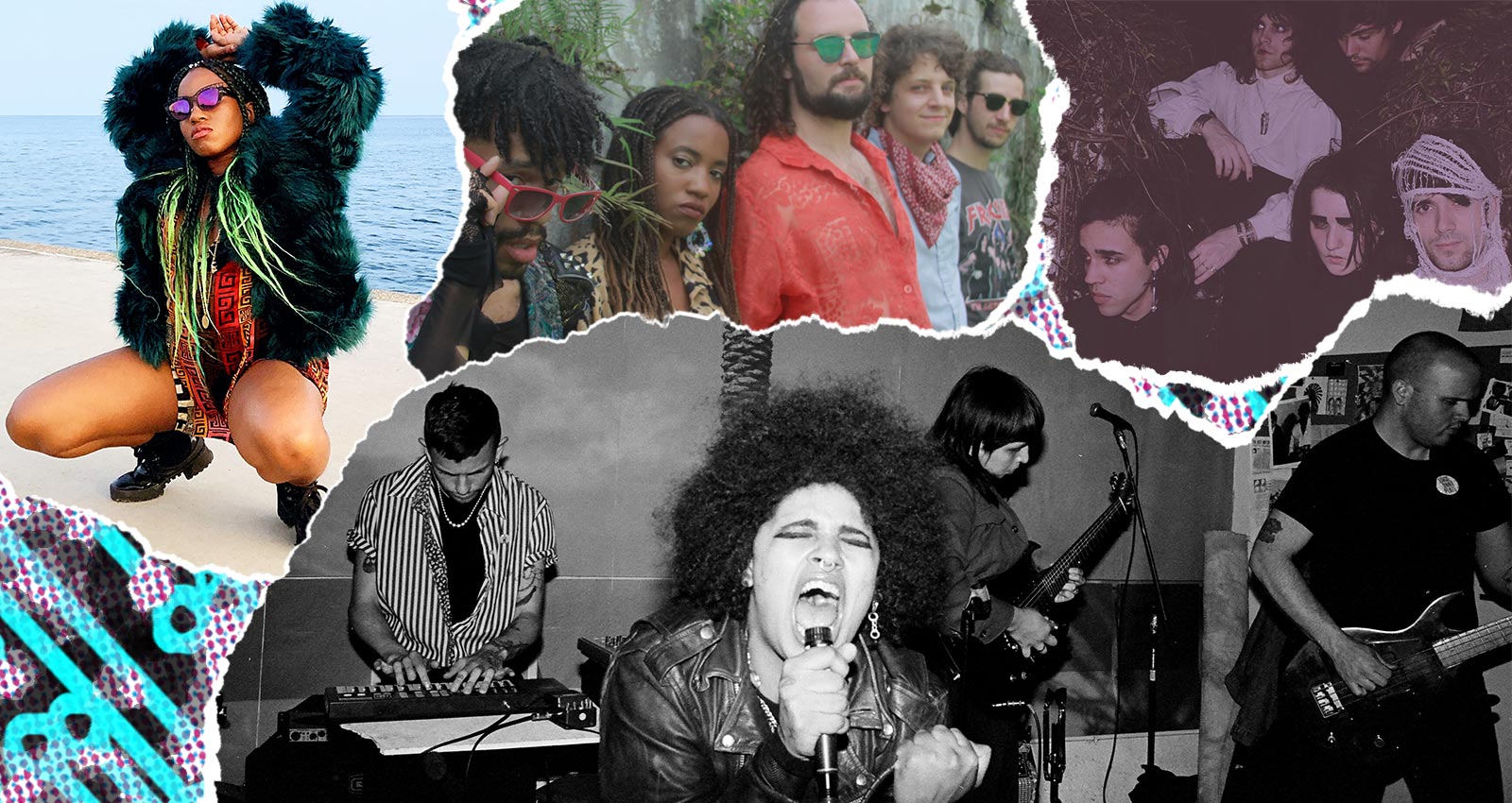 Plenty of cities in the United States are associated with specific styles of music. Whole strains of funk, jazz, house, and soul both define, and are defined by, the city that birthed them. But New Orleans is one of the only cities whose musical identity has been honed down to a single instrument, the gravitational center of New Orleans jazz: a screaming trumpet.
Drawn by the music, the food, or the relatively cheap rent, for centuries artists of all stripes have chosen to make the city their home. Despite nature and humans' best efforts—natural disasters, political corruption, redlining and gentrification—New Orleans is still here and still loud, thanks in part to the fresh recruits filling out the bills. And while jazz's bright trumpets and trombones are still the city's foundation and hallmark, there is also a pulsing underground where a different instrument reigns: the synthesizer. Retrofuturist funk, ghostly darkwave, abrasive punk—synths are incredibly versatile, and New Orleans's underground has loved them for decades, from scene vets like Quintron to newer outfits like Special Interest.
A synth keyboard might not have the same stop-you-in-your-tracks power as a breathy blast from a trombone (though it does have programmed trumpet and tuba presets), but its champions put the instrument to good use. In a pre-crisis world, any given night in New Orleans was bound to boast packed-out synth-heavy shows, bringing sweaty and appreciative listeners together to celebrate life and creativity. While the entire city is itching to return to a time when we can find humanity in a singing stranger's voice, when that day comes, that voice might be accompanied by something a little more synthetic.
Quintron & Miss Pussycat
Swamp Tech
Even if Quintron wasn't a multi-generational scene veteran, and even if his hand-built analog synths weren't a natural bridge between the present day and the garage rock of the past, it would make sense to bring his act up first in any account of NOLA's synthesizer infatuation. Born Robert Rolston, the one-man band, inventor, and club owner has been around since time out of mind, and Quintron's early two-chord stomps sound suitably primordial. On Swamp Tech, the basslines wiggle like earthworms in deep, dark dirt as the inventor's custom synth drums keep time. The organ howls like the wind off the ocean, and Quintron shouts to be heard over its buffeting blasts.
A dive into Quintron's catalog reveals wonders, from long dirges built around weather-controlled synthesizers to haunted-house tributes to frog sounds. His rock 'n' roll records capture the feel of a room with condensation on the walls. His legendary live shows with puppeteer Miss Pussycat earn him regular shout-outs in local profiles. The synthesizer's versatility has led to a million little splinters of synth music in the city, but Quintron is a scene unto himself.
Merch for this release:
Vinyl LP, Cassette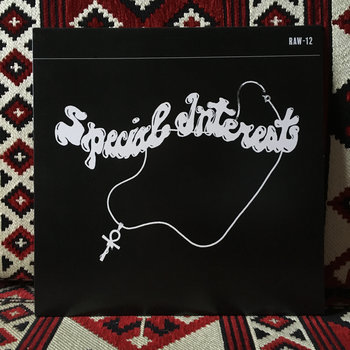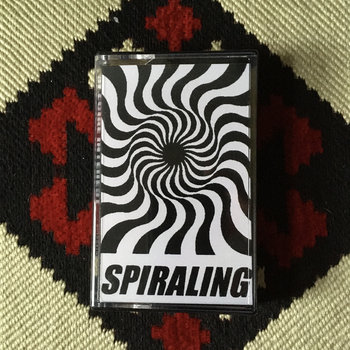 No wave is done a little differently in New Orleans. It is as dissonant and chaotic as anything on No New York—but you're going to want to dance to it. Special Interest's 2016 debut is a perfect example. Synth player Ruth Ex lays down walls of sounds that powerhouse vocalist Alli Logout vaults over with venom. Logout's standoffish dance-floor-filling chorus on  "Disco II" ("You don't know me/ I don't owe you shit") neatly sums up the band's attitude, and "Young, Gifted, Black, In Leather" could serve as the band's WWE walk-out music.
The band named their act after the catch-all section where video stores sorted their cult, art, and pornographic films, and they have a fitting revulsion for anything that can be called "vanilla."  "I've sat through so many boring sets of dudes with thousands of dollars worth of synths who still can't manage to make something engaging," Ex said in an interview with local alt-paper Antigravity. "You don't need expensive equipment to make electronic music or any kind of art for that matter."
Though Special Interest became local legends via rowdy shows in laundromats and Rally's parking lots, their Quintron-produced album doesn't sound ragged. It gleams where it needs to while providing a much-needed release valve for aggression in a scene that's largely content to dance and sway. It's not rough-around-the-edges, it's just rough.
Prince famously recorded in his own home. His Chanhassen, MN compound Paisley Park was a reflection of his mind, so naturally it had to incorporate his relentless dedication to writing and recording. A significant chunk of the grounds are taken up by world-class studios and places to store his song sketches. Still, no one would dare call what Prince did "bedroom pop," even if it was made mere steps from where he laid his glorious Purple head.
Sexy Dex & The Fresh offer an idea of what a bedroom take on His Royal Badness might sound like. Plus one Edition is the first album since frontman Dexter Gilmore fleshed out his onetime solo project with his friends and former bandmates in the shoegaze act Glish. The result sounds fuller and slicker than any of his individual efforts. The Revolution-style keyboard stabs press against a ceiling of intentional, warm hiss. The frantic funk of tracks like "SP33D R4CR" and "Le Sigh" prove that you don't need a home with a recording wing to put out something that will move an ass or two.
Merch for this release:
Cassette, Button/Pin/Patch
It often feels like pop culture has given up on sneering. These days, chart hits come in two modes: painfully earnest, or dead-eyed and detached. The language of comedy has moved away from old-school mockery, preferring "normal world" sarcasm, heart-on-sleeve testimonials, or toxic levels of irony. But there's still joy to be found in looking down on things you rightly find detestable, and you can hear it all over Tuffy's 2019 debut
The level of pleasure lead singer Ferra Mones feels in the abuser-gets-his-just-desserts anthem "Bobbit!," is clear with every chorus: "Severed parts!" The band gleefully turns Lorena Bobbit's famous attack on her then-husband into a play on the handheld kids' game Bop It!, shouting "Bobbit, Lorena/ Twist it, Lorena/ Pull it, Lorena/ Rip it, Lorena." That gleeful sense of scorn runs throughout the album, with synths providing a steady backing of "nyah nyah nyah" as Mones looks down her nose at creeps of all stripes, riding the surf-indebted bass with B-52s-style spoken asides.
Because synths can create any number of sounds, they're especially useful for smaller acts, or people who want to thumb their nose at traditional instrumentation. Given that versatility, it's not surprising that most of the city's synth-loving acts only need one of the instrument to get the job done. The duo Static Static are not one of those bands.
Taking the dueling-pianos concept to a chaotic and futuristic end, they doubled up on synths to create force fields of unnatural sound. Each track on their most recent album The Future As Dark starts with a cascade of bleeps and bloops. The chaotic circuitboard-on-a-bender intros eventually resolve as John Henry and Heather Vinz begin to shout over the din, in voices filtered and stripped of the curves and lilts of humanity. It sounds like a broadcast from musicians stuck in a purgatory of William Gibson's devising, with jacked-in punks yelling at the tops of their processed voices while machines screech around them.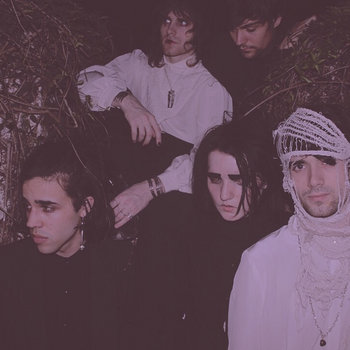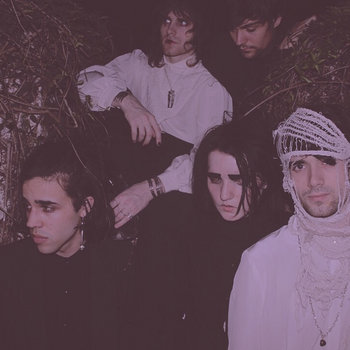 Merch for this release:
Cassette
New Orleans's landscape and culture is known for its splashes of color: pastel-colored French Quarter apartments, painfully bright shotgun houses in Bywater and Treme, and the unbelievable bead-and-feather creations of Mardi Gras costumes. But there's a significant community of folks who like things a bit darker, too. In the local Quarter hideaways on Decatur St. and the confines of bars like The Goat, the city's goth scene thrives. There's a reason Trent Reznor had a decades-long kinship with the town, and the city's synth players don't mind getting a little spooky.
On Honey Insulation, goth group Trashlight, who stir deathrock, darkwave, and Smiths-style melancholic indie rock into their own midnight brew, combine chest-punch drums with layers of woozy synth. The vocals sound like they're coming from deep in the city's dungeon-like punk venues, reverberating off of walls and concrete floors while black-clad clutches sway and stomp.
Merch for this release:
Cassette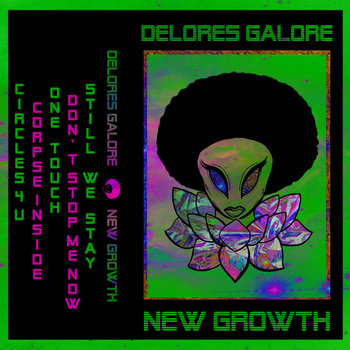 Delores Galore is the solo project of Sexy Dex & The Fresh's Gabrielle Washington. That might seem like cheating, but what makes a scene a scene is the way is musicians pop up in numerous acts, and there's simply too much talent behind that band's ampersand to be ignored.
Galore's debut New Growth is proof of that. "Don't Stop Me Now" sends synths skittering over disco drum beats. Lead track "$till We $tay" owes as much to '80s new wave as the sun-drenched chillwave of the late '00s, and "One Touch" is an update on "Don't You Want Me" with all the ickiness left behind. Washington has an entertainer's sensibility. The songs never stray too far from their earworm choruses and New Growth ends well before it could overstay its welcome.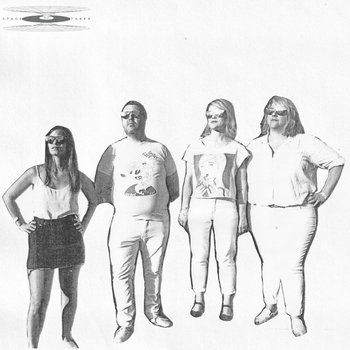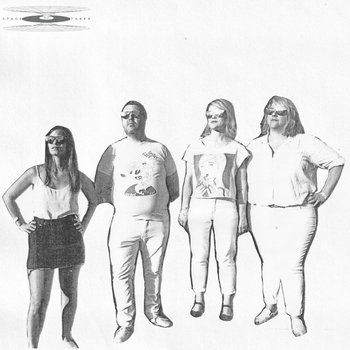 While the point of some synths is to recreate the sound of other instruments, the modern keyboard never quite gets there. It's always just a little off, ringing false even to untrained ears. Synth music is at its best when musicians lean into this, embracing the instrument's imitations rather than trying to pass it off as the real thing.
Pscience does this wonderfully on their self-titled debut. The four-piece, which includes members of garage rock stalwart Buck Biloxi, heightens the story of the synth's impossible goal. Their music sounds like a vision of a future that never was, ripped straight from the back pages of '50s comic books. B-movie alien sound effects swirl as the vocalists deliver pseudoscientific lines that wouldn't be out of place in The Blob. The synth paints a campy background of glowing labs and toxic waste, a world where the atomic age created superheroes.