SCENE REPORT
Tracking the Asian Dance Diaspora With Eastern Margins and Eternal Dragonz
By James Gui · January 07, 2022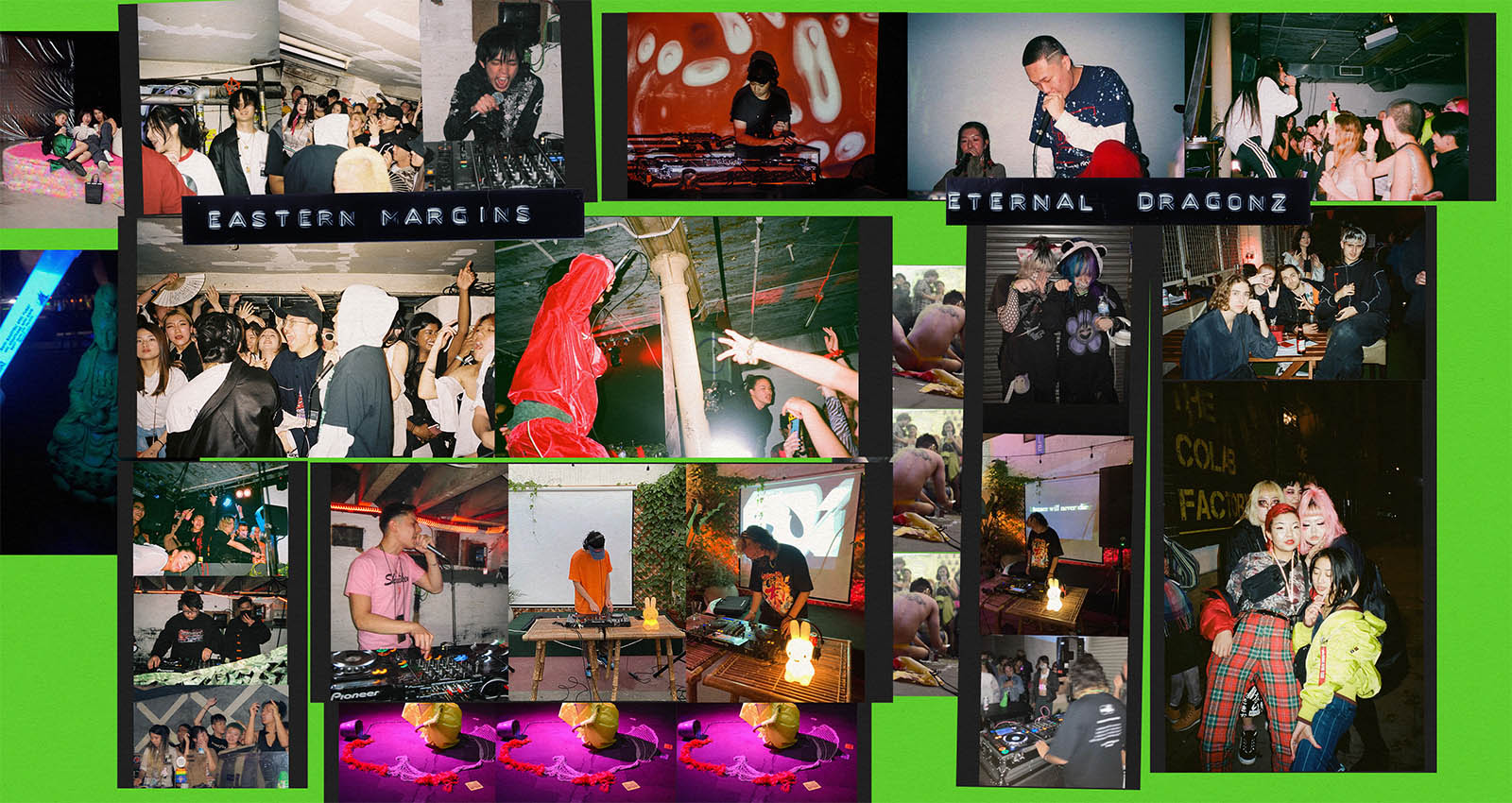 Regional identity is paramount in dance music. Take The Warehouse in Chicago, or New York's Paradise Garage; grime in London, gabber in Rotterdam—locality is part and parcel of the mythos and history of the rave. The contributions of what Paul Gilroy calls "The Black Atlantic" are ingrained in the DNA of dance music today; four-on-the-floor, dembow rhythms, the "Amen" break, and countless other snippets of artistry from the African diaspora have largely been responsible for the contemporary proliferation of electronic music styles. Colliding and combining with Latin folk rhythms, dance music genres have exponentiated into reggaetón, funk carioca, and the vibrant spectrum in between.
But Asian dance music is a bit harder to pin down. It is, in part, an issue of terminology; the term "Asian" is at once expansive and constricting. Used to encapsulate a broad swath of disparate countries and cultures, "Asian" is a descriptor that shifts its focus based on local histories of migration. In the UK, "Asian" mostly refers to South Asians; tune into BBC Asian Network and you'll mostly find programming from the Indian subcontinent. On the other hand, "Asian American" as a political and social identity emerged in the late '60s through the efforts of predominantly East Asian and Filipino activists inspired by and working with the Black Power movement. The nebulous construct of Asian identity is both myth and reality, as much imposed by the Western gaze as imagined by diasporic subjectivity. The same could be said, of course, about the African and Latin American diasporas, which are similarly fragmented and contested.
So the issue of picturing Asian dance music might lie elsewhere, from visibility of Asian genres (raise your hand if you can name a budots track!) to disjointed migration patterns. Entanglements with the West complicate matters, bringing up issues of Western cultural imperialism (see: Goa trance in the 1990s). But rather than sticking to a unifying idea of Asian identity or locality, the two collectives at the heart of this piece—Eternal Dragonz (EDZ) and Eastern Margins (EM)—define themselves more by their multi-locality, their fragmentation. They have their own niches and origins: EDZ, began in the mid-2010s as a tongue-in-cheek Facebook group recalling the "AZN pride" era of the '00s, and eventually morphed into a label releasing music and mixtapes; EM, started in 2018 as a Lunar New Year party in London, and became a prolific music collective that releases music and publishes editorial pieces, among other activities.
Merch for this release:
USB Flash Drive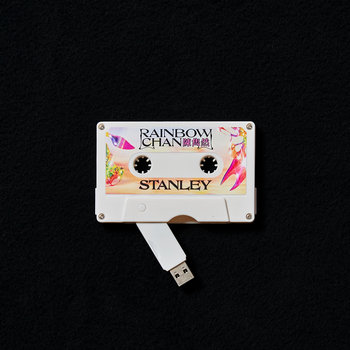 Both have a focus on East and Southeast Asian artists, but aren't prescriptive about what that entails. "I don't think that we are necessarily trying to make any claims about what Asian identity is. It's just a starting point for the artists that are a part of the collective to have the freedom and space to explore their identity," says Miles Ginoza, a DJ, producer, and writer for both collectives. EM's David Zhou, aka Lumi, agrees. "We don't wanna hem ourselves into the idea that our cultural identity needs to be constructed within certain boundaries. The chaos is part of who we are."
Chaos certainly characterizes one of EM's standout releases of this year, Redline Legends. A whirlwind tour of East and Southeast Asian club music mutations from funky kota to manyao, Redline Legends is a part of EM's mission to shatter traditional notions of both Asian and experimental music. "These are genres that would be frowned upon to be played at some clubs, because these are the sounds of internet cafes and tuk-tuks [rickshaws]," says Zhou. "There's such a rich layer of all these burgeoning and bubbling local scenes that sound completely, sonically mad. They sound just as experimental as anything else." From Jiafeng's mind-melting combination of nightcore warbling and throat singing on "Useless Cuteness" to Puppy Ri0t's mishmash of industrial sound design and bouncy vinahouse on "RaizeR," Redline Legends is an attempt to reclaim and reimagine what Asian club music can be.
In the United Kingdom, EM's home turf, there is, of course, a rich history of Asian club music of a different kind: the daytimer. Because of the painful history of British colonization and subsequent displacements, the South Asian population in the UK is the country's largest Asian demographic; the demonym "British Asian" ordinarily refers to South Asians. In the '80s and '90s, British Asians took local club genres like garage and grime and made them their own; students who weren't allowed by their parents to go out to nightclubs would go by bus load to dry "daytimer" parties that featured bhangra beats and Punjabi garage. These days, UK's Daytimers party collective pays homage to that history, and in November they joined forces with EM to throw a truly Pan-Asian club night. "I wanted to show the non-Asian community that maybe they need to critically think about what they know as Asian and realize how wide and vast it is," says Jex Wang, a writer and DJ with EM.
The party was an important learning experience as well. "Daytimers is the culmination of two to three decades of evolution, incorporation, and innovation," says Zhou. "To see them, how they approach that was super cool to see because, arguably, for us as East and Southeast Asians in the UK, we're at a much earlier stage of the evolution cycle in merging club culture and the cultures of our backgrounds." Zhou recalls an anecdote from the party: Dirty K of China's Genome 6.66Mbp discussing the influence of Indian classical scales on his work with Daytimers founder Provhat Rahman. "It's pretty hard to find Chinese-language material explaining Indian music theory. So for him to come to the UK and have a conversation with someone from that culture in a room together is one of the sickest examples of cross-pollination between different cultures."
With the Omicron variant surging, however, the feasibility of in-person events is once again in flux. Luckily, EM and EDZ are highly familiar with the connective tissue of the internet. Appearing together on talks, radio mixes, and livestreams, EM and EDZ have been in conversation with each other since EM's inception. EM's Elaine Zhao remembers the upsides to the livestream performance era: "It was a really cool way to include artists that we couldn't really afford to physically fly over in normal times." Wang echoes Zhao's sentiment: "I already spent a lot of time online, but because of the pandemic I spent even more time online, and that's how I connected with a lot of people based out in the U.S."
EDZ in particular is an internet collective through and through. With members in Sydney, Los Angeles, and other cities across the globe, their primary form of collaboration happens over the web. Both Andrew Hong (Andrew3M) and Miles Ginoza (DJ Oyasumi) discovered EDZ through online radio mixes and subsequently became members. "Eternal Dragonz has never really had a physical base," says Hong. The internet and its unique flavor of irony tinges everything that they do, from their Instagram posts to the DTLA party they threw earlier this year, lovingly titled (𝘽𝘼𝙎𝙎-𝘽𝙊𝙊𝙎𝙏𝙀𝘿) 𝙀𝙋𝙄𝘾 𝙁𝙐𝙍𝙍𝙔 𝙉𝙓𝘾 𝙉𝙄𝙂𝙃𝙏𝘾𝙊𝙍𝙀 𝘼𝙈𝙑 𝙍𝘼𝙑𝙀 𝘽𝙀𝙎𝙏 𝙌𝙐𝘼𝙇𝙄𝙏𝙔 𝙈𝙐𝙎𝙄𝘾 [240𝙥].𝙢𝙥4.
"I felt like people were taking both raves and identity too seriously, and I didn't want to self-orientalize like, 'Hey, you should come to this Asian rave, thrown by Asians,'" says Hong. "A lot of us came together through similar experiences of being Asians in the West, experiences with racism or white supremacy and imperialism and all of that stuff. But it's not fully just through connecting about oppression. It's also a shared love for club music and similar aesthetics," adds Ginoza.
Their label output reflects those aesthetics, with compilations featuring everything on the experimental side of electronics: deconstructed K-pop remixes, ambient anthems, and straight-up noise. They've also released film and game soundtracks, as well as traditional releases, not limiting themselves to any one format. But with the warm response to their Eternal Screw mixtape by ONY, alongside time and financial limitations, they're moving in a direction that emphasizes the storytelling capacity of mixtapes. "With a mix series, you have more time to build and expand, to create a kind of little universe," offers Hong.
Merch for this release:
Cassette
Eternal Screw is packed with narrative, a meditation on diasporic nostalgia both real and imagined, cloaked in a fog of reverb. ONY, based in London with Vietnamese heritage, compiled these songs by primarily East Asian producers, in memory of a recent trip to Vietnam, paying homage to Houston's DJ Screw; Houston itself is home to a significant Vietnamese enclave. It's a microcosm of the contradictions and contingencies of the Asian diasporic experience, the feeling of grasping at a home and heritage that shimmers in and out of reach.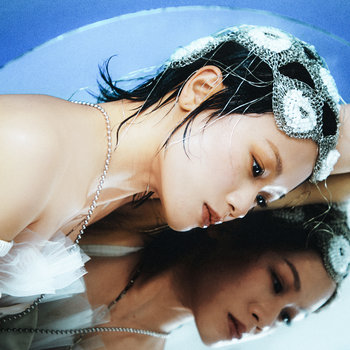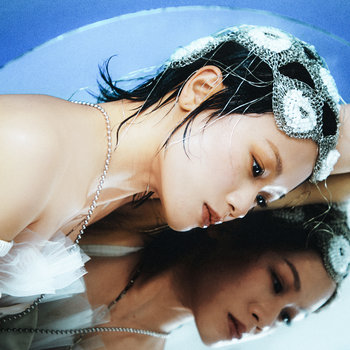 Ginoza finds a bit of solace in the expansive potential of thinking in terms of diaspora. "It's felt really freeing to find connection in, like, a larger Asian diaspora without necessarily being like, 'Oh, we are a hundred percent like the same,'" he says. To that end, EDZ is working on an upcoming podcast series in which artists discuss the mixes they've made for the collective. "I've always felt like a lot of the mixes that I've heard on Eternal Dragonz feel really special. They're full of different memories or different reference points to Asian identity," Ginoza points out.
Merch for this release: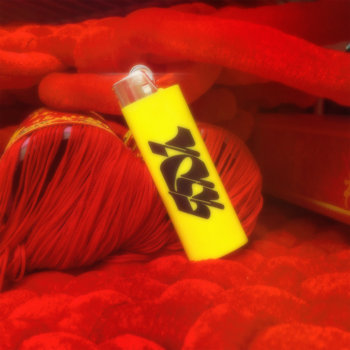 So what is this behemoth that we call "Asian identity"? At times a serviceable shorthand, at others a suffocating signifier, tirelessly discussed by the theorists—the Rey Chows and Arjun Appadurai's—it's something that brims with nuance. For their part, EDZ and EM are working it out in their own lane. Zhou closes our interview with a nod to the plethora of other Asian diaspora organizations that work toward similar ends: Chinabot, FunctionLab, The Bitten Peach, Daikon, Yeti Out, among others. "It's so important to recognize we're just one tiny node in this huge network," he says.