SCENE REPORT
New Adventures in Folkloric Music from Eastern Europe
By Andra Nikolayi · Illustration by Nufolklore Studio · July 15, 2022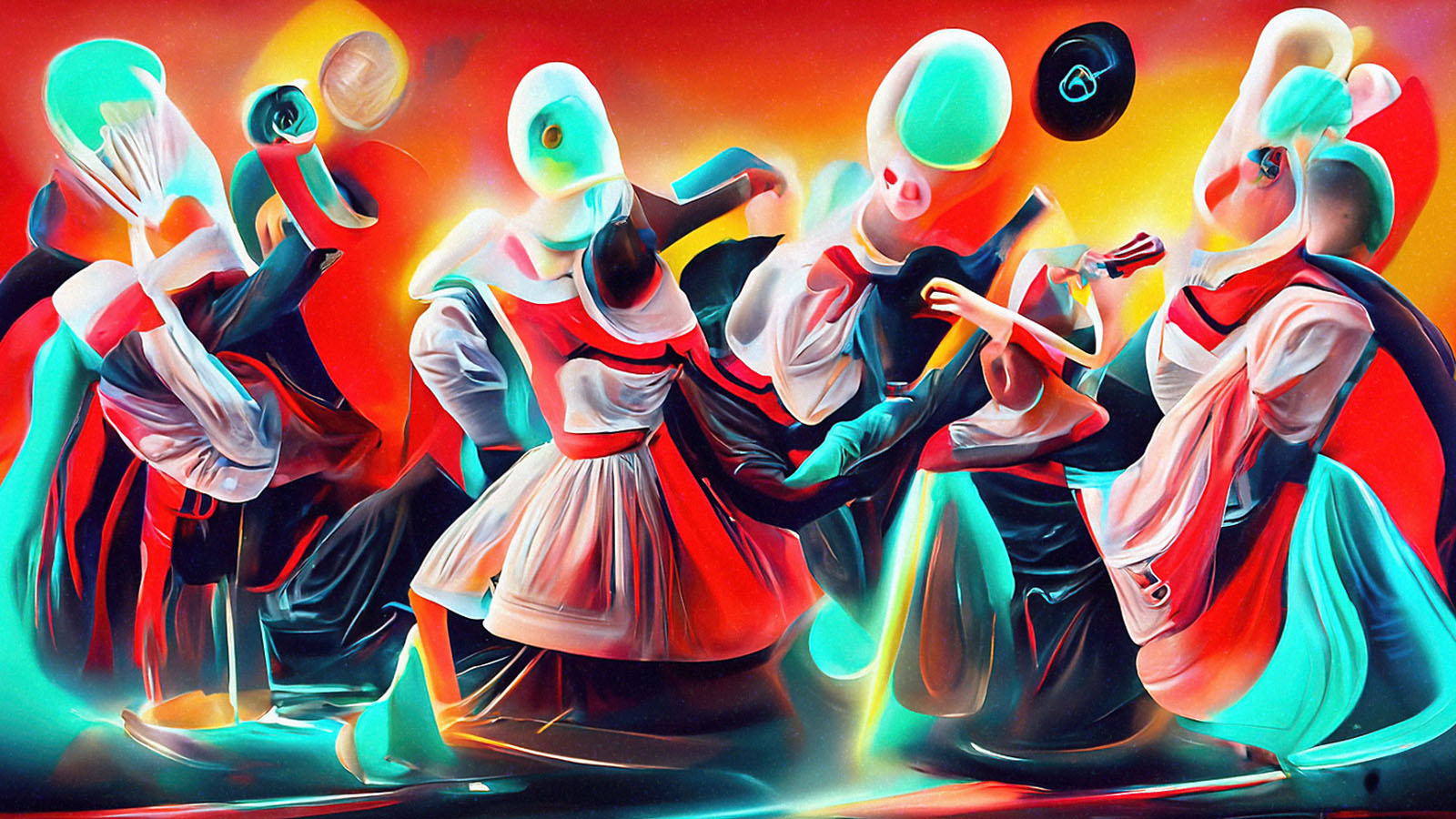 When one thinks of music from the former Soviet countries of Eastern Europe (known as the Eastern Bloc, or Eastbloc for short), the first things that may come to mind are female choirs, large brass bands, Bosnian composer (and international sensation) Goran Bregović, and fast-playing fiddles, with pop musicians often incorporating these folk elements into dance, rock, or even rap hybrids to various degrees of success. One simply has to look at previous editions of Eurovision to see the long, country-spanning tradition behind this year's winner.
Yet it wasn't until the late 19th century and early 20th century that folk music had much appreciation as a genre in those countries. As Romanticism brought on an interest in national culture, composers began exploring their heritage. Franz Liszt's Hungarian Rhapsodies is one of the most important examples of that era. In 1901 and 1903, respectively, George Enescu composed his most acclaimed works, the two Romanian Rhapsodies, which directly used traditional folk songs and instruments. In Hungary around the same time, composer Béla Bartók began documenting and recording folk songs across the Carpathians, later incorporating these elements into his own work. His efforts led to the creation of ethnomusicology.
During the Soviet era, folk music was seen as a propaganda tool used to aid the building of the Great Socialist Republic. Folk music and dance ensembles became part of the state-sanctioned culture, alongside Socialist Realism in visual arts—though the music here was reworked in a more bland, consumer-friendly form, stripped of its dissonant elements and high emotional charge.
The decades of state-sanctioned folk culture have ramifications that continue to this day, as these types of music and dances have been instilled with new nationalist agendas. In the last few years especially, many right-wing activists and artists have co-opted some of this symbolism.
Recently, a new generation of artists across the former Eastbloc has started to take back these symbols in order to create new, unique forms of musical expression rooted in their own traditions rather than copying Western genres. "There was a period of time when Eastern Europe was also exotified and started being part of these 'world music' festivals and compilations. I didn't like the idea of combining folklore and rock music, for example," Mary C, a musician, organizer, and founder of Synth Library Prague says.
2021's Liptov compilation, from Prague's label, collective, and radio station Punctum, features innovative uses of folk music. "It was partly organized by people who are originally from Slovakia and the aim was to work with…folklore songs recorded by Slovakian ethnographers in 1982," Mary C says. "It always felt like a force of nature to me—[these] collective [songs] about pain, longing, love and the appreciation of nature," she says. "For Liptov I chose to process [those] moving vocals; [I] made them time-travel and express anger in a way that would fit to how I see nature now dying because of us."
Merch for this release:
Vinyl LP
Released under her Andrea Breton alias, the track she's speaking of, "Suché Lúky (Drying Meadows)," starts as a powerful crescendo of swooping bass and babbling drones before the vocal sample kicks in, merging into howls as a rhythmic call to action. Mary C sees the album as an effort that helped the Punctum collective bring together their local community. "It showed us some appreciation for our heritage which [is] not often heard in our music because a lot of us are still inspired by Western electronic music concepts, but I think this is also slowly changing," she says.
Moving away from folk remixing, artists like Slovak singer-songwriter Katarzia and musician Isama Zing create highly personal experimental pop music that still draws from tradition. Producer and musician Oliver Torr has worked on both of their albums, released in 2021.
Merch for this release:
Vinyl LP
On Blurry AF, Zing creates a dramatic electronic universe where field recordings, folk samples, pounding drums, and contemporary electronic elements coexist. There's absurdist hyperpop wordplay ("Gone Earth"), dark electronic instrumentals that could fit into the deconstructed club genre ("Once upon a Midnight Dreary"), and convoluted noisy pop explorations ("Blurry"). "From traditional Slovak folklore, [there] is something called 'meadow songs'—songs that were originally sung during the work at the field, mostly by a small group of women. And I really love Roma folklore music—especially Roma halgato—slow balladic songs," he says. One of Zing's bolder conceptual choices is using fragments of traditional songs from Roma musicians Béla Pokuta and Irena Pokutová. He came across the archival material through his aunt Jana Belišová, an ethnomusicologist who has dedicated most of her life to collecting and releasing Roma music. "Both of these songs describe the hardship of life of Romani people", he says. Considering the discrimination and racism Roma people are still experiencing all across Europe, the choice was both aesthetic and political.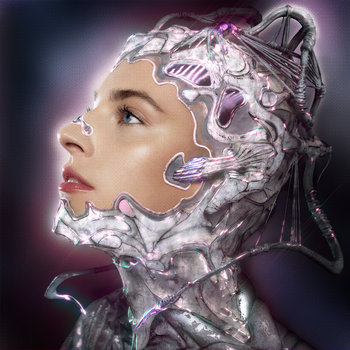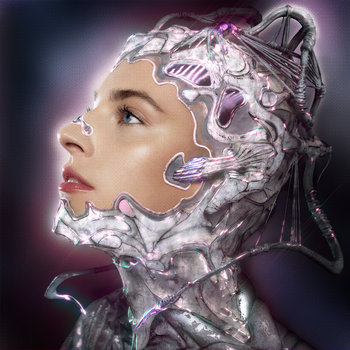 Merch for this release:
Vinyl LP, Compact Disc (CD)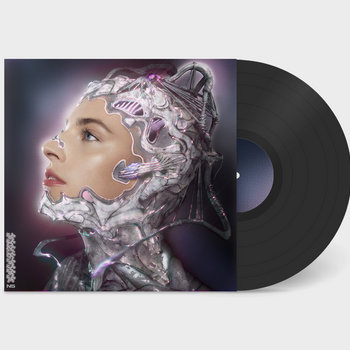 Growing up influenced by certain folk aesthetics, Katarzia is perhaps one of the first Eastbloc artists to make pop music deeply rooted in the experimental electronic underground. Her album n5 is baroque, futuristic pop that oscillates between powerhouse electronic numbers where her voice is flanked by oversized bass walls and piercing electronics ("smd") and quieter compositions like "pre seba," where minimal string orchestration centers her voice. She writes most of her songs in Ableton. For n5, Oliver Torr helped her with the sound design and fleshing out the album's sci-fi fairytale universe, where her emotional singing is often augmented with Autotune sparkles. "I play traditional instruments like flute or fujara, and I admire [traditional] clothing and music. Some [folk] songs are really beautiful," she says. "When I started making songs, 10 years ago, I was also performing in this traditional dress that I had from my granddad's sister." She soon moved away from that style, not wanting to be associated with prevailing values and ideas associated with traditional folk music—patriarchal, restrictive, and bigoted ideas about the world, often associated with the very conservative local Catholic Church. "The entire folklore culture brings this scent of [the] old world that I do not want to be a part of anymore," she says.
Slovak visual artist and musician Nina Pixel takes a more direct approach to fighting the conservative values associated with folklore by imagining a feminist, queer, alternate history of these traditions. Her project Ancestral Archeology is a video series created with artist Adrián Kriška where a sort of young, gender-bending queer rural utopia is imagined. There are also two accompanying albums under the banner Music from Ancestral Archeology. The first, Secrets of the Fern, explores a more supernatural side to the ancient Slavic myth of the blooming fern flowers. Whispered vocals, dissonant electronics, and pounding techno beats evoke dark forest rituals. The second, Difference and Repetition, centers on dances and daily activities, using more rhythmic electronic forms alongside traditional folk samples and instruments.
Continuing in this vein of sonic witchcraft, Polish musician Zosia Hołubowska, aka Mala Herba, uses folklore to imagine new personal mythologies. Their album Demonologia is described as "a study of demons, ghosts, spooks, and phantoms" and "dedicated to all non-binary beings exploring their powers." Mala Herba creates supernatural anthems—folk singing, superimposed vocal samples, and rhythmic synths express grief, joy, and wonder. While her synths have a strong '80s patina, Demonologia sits somewhere between ancient, goth fairy tale and retrofuturism.
Kraków label Tańce have made folklore their main concept, working with artists to create forwarding-thinking club music using traditional Polish instrument samples and rhythms. "Tańce is something that has been brewing for many years," says founder Łukasz Warna-Wiesławski. "When I started DJing as Rusałka in 2016, I really wanted to combine electronic music and Polish folk influences somehow. I instinctively understood that [the] things that are most attractive to me in dance music come from local scenes that are rooted in various traditions, that it's their rhythms and melodies that make the music special," they say. Two of the main instruments that Warna-Wiesławski is interested in are the burczybas and the devil's fiddle.
Tańce's first release in 2020 was Avtomat's Gusła (Human Rites), rooted in both ballroom and folk dance music and recorded in response to the artist's arrest during the protests against "the biggest crackdown on the LGBTQIA+ community in Poland," says Avtomat. He calls the title track "a ritual dance against the persecution of the LGBTQ community in Poland," born from a residency at the Centre for Contemporary Arts in Warsaw where the Oramics collective performed a healing ritual. "'Szeptucha (Hex Therapy)' is a continuation of that ritual in the form of an Eastern-Polish witch's hex and it was inspired by how the right-wing Polish government wants to govern female bodies by banning abortion," he says. "Stop Bzdurom (The Bad Gays)" has become an international riot anthem, being played at protests across Europe. "[It's] loosely based on the clambering rhythms of oberek and chodzony—traditional Polish dances—and contains samples of suka biłgorajska, a traditional viola, the name [of which] is also slang for a police van, and engine roars. It was created as a scream against police brutality, especially against the LGBTQ community. 'The bad gays' is a term me and my cellmates [came up with for] our little support group."
"Semprey's Balanga is the most playful [of Tańce's releases], sampling my girlfriend's nieces on the title track and featuring a euphoric tribute to the queer community in Poland—'Dobranoc,'" Warna-Wiesławski says. "Its trademark is the sound of burczybas—a Kashubian percussive instrument that makes the weird, bassy sound. Naphta's Dom strawiło is the largest exploration of folk themes so far, tackling both the folk identity and climate crisis at the same time. The latest, Ku Ku's two-tracker Za dużo / Od nowa, carries a special meaning, sampling the ominous devil's fiddle in the syrupy, psychedelic house music that is a perfect response to today's overload of senses."
Avtomat also has a side project focused on traditional polyphonic singing, Pleśni, with a repertoire of Ukrainian, Belarussian, Syberian, Georgian, and Serbian traditional songs. "The name of the project is a play on words—'pleśń' means 'mold' and 'pieśni' is 'chants'," he says. While the group has been on hiatus, they recently reunited to record "Oj Jasno Krasno," which he calls "one of the most heart-wrenching songs in our repertoire." It's based on a Ukrainian folk song and appears on the We Stand with Ukraine benefit compilation.
As more young and queer artists begin experimenting with folklore, there is still deep great untapped creative potential. "What I really like to see is more artists reclaiming the lesser-known histories," Mary C says. "Some Slovakian and Moravian artists explore the importance of the Slavic bohyně (goddesses), which can also be a new inspiration for our feminist thoughts and actions so that the connection with the heritage is not just an empty cliché, an ornament, or some foundation of xenophobic nationalist tendencies," she says.
"Tańce [is] really equally indebted to all the Black music genres, while the artists experiment with sounds and try to infuse club music with Polish sounds," Warna-Wiesławski says. "One day, maybe we'll make a genre of our own if we ever figure out how to make digital obereks that you can mix with something else, or maybe someone just plays live in 3/8 meter and doesn't care about the rest of the world. That would be nice too."