RESONANCE
I Feel As If I Might Be Vanishing: The Caretaker's "An empty bliss beyond this World"
By Matt Mitchell · Illustration by Joey Yu · October 11, 2021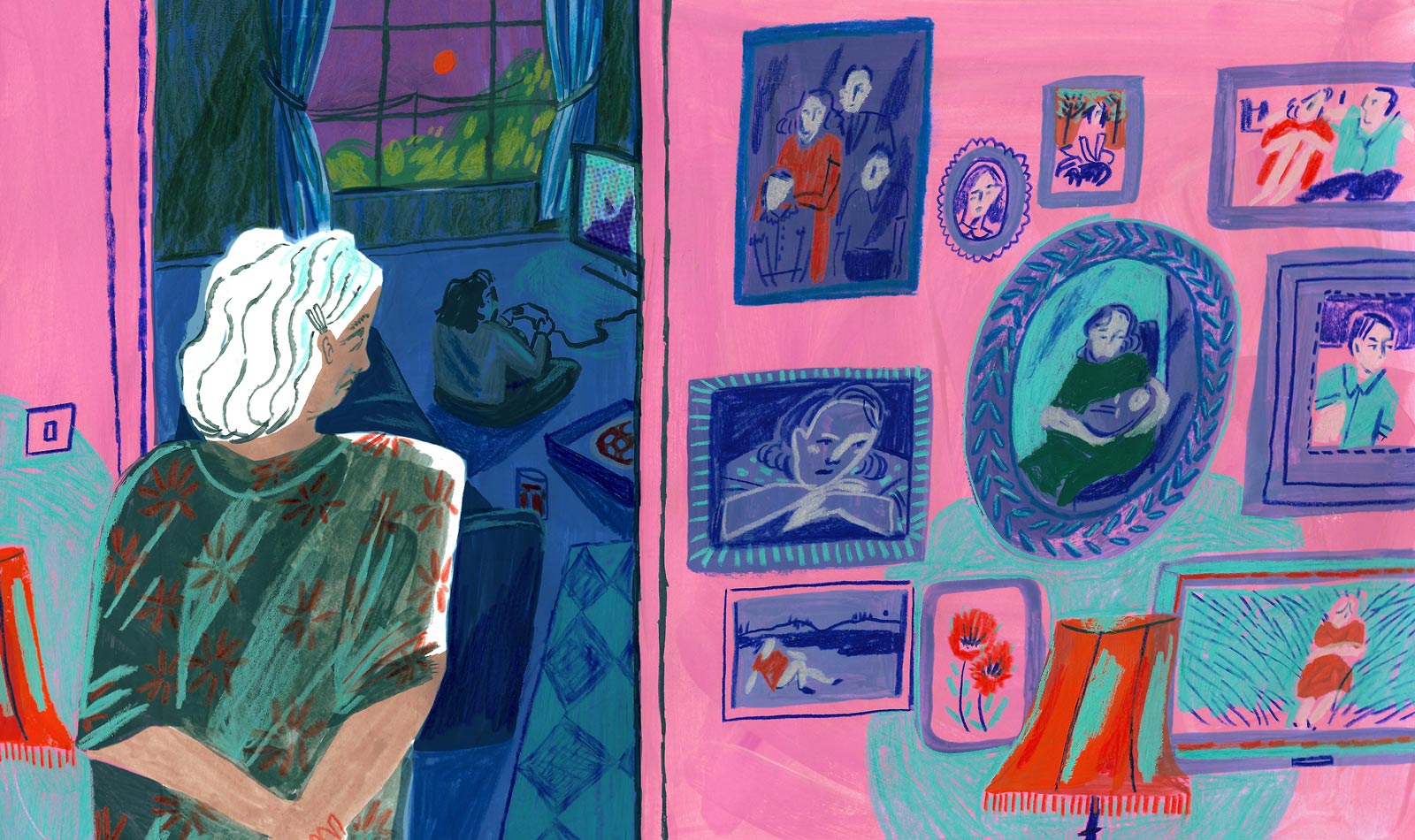 I am the grandson of a social butterfly who died because the cells in her brain stopped talking to each other, after which I was forced to watch starvation patiently strip away the parts of her that a decade-long bout with dementia hadn't. I don't know what was written on her death certificate.
As my parents buried my grandmother, I sat in the car, because I had already given her at least a dozen funerals. And perhaps it was not getting that closure that makes me still see her in so many places: the touches of wall patterns in the backgrounds of scenes on The Crown, Chicken in a Biskit boxes at grocery stores, the mannerisms of my aging mother. 
When I have to make the two-hour drive to Cleveland from Columbus on weekday mornings, I turn the car radio to AM and listen to a weather report bleed into ballroom music, just as I would with my grandmother on grocery runs. Sometimes, just before dawn, before everyone else has come alive for the day, I watch the faintest pink crawl up a wire of horizon and hear the mourning doves plume in a nearby oak while the wet grass curls towards the sky. And sometimes, I think I can smell frozen pizza baking in an oven in the distance. 
Hauntologist Leyland James Kirby's first record as The Caretaker was 1999's Selected Memories From The Haunted Ballroom, a debut of slowed down big band songs meant to mimic the swollen, ghost-filled ballroom in The Shining's Overlook Hotel, and his first attempt at building music from neurological triggers. But it's the songs on his 2011 album An empty bliss beyond this World—cut-up Depression-era dancehall numbers—that fully lean into replicating the symptoms of late-stage dementia, specifically a dementia patient's ability to recall sputters of song and melody, even in stage six (the severe cognitive decline phase before death). Being a product of Gen-Z, I have the unfortunate pleasure of only comprehending ballroom music through associating with elderly people, just as others are accustomed to assigning the existence of dementia to the same demographic.
.
00:10 / 00:58
I remember the way my grandma used to remember. Before the room was painted blue and full of empty frozen pizza boxes I would hide from her, there was a pink bedroom at my grandma's old house. That was where we slept, on a bed older than my mom, atop hardwood floors covered in pet dander. There used to be an archaic box television set that only picked up eight channels; a dish of Hershey's Kisses on the nightstand; a closet full of yellowing wedding dresses; a sword from World War II tucked away under the bed. We'd lie in that room together, eating frozen pizza and watching Two and a Half Men reruns with a rescue mutt sleeping between us.
After lights out, I'd stare out the window at the mercury lamp hanging above the neighbor's garage down the hill while my grandma would lie on her back, staring up at the popcorn ceiling, recounting her childhood and early adulthood. I loved listening to her, and I still carry the stories she told of  her old neighbor, future Ohio State fullback John Hlay, cheating at cards; the farm she grew up on; the time she fell off a horse; going to Cleveland baseball games with Uncle Dock the year they won the pennant; she and her dead husband's wedding. My grandma's memory was once remarkable. What she told me were things she surely told her own children years before telling me, when they were the same age. But in those moments, in the darkest stints of midnight, when it was only us, she willed those stories to me with the expectation that I'd never lose them. 
An empty bliss beyond this World is an album that is much less an ambient affair than it is an act of celebrating remembrance and archiving loss. Through preservation, listening to Kirby's work is not only an agreement to unearth familial trauma—just as Jack Torrence did in The Shining at the Overlook Hotel's ballroom bar—but an invitation to step into his version of Torrence, a Caretaker existing beyond the spectral plane of the film and acting not as a ghost, but as a diseased elder slowly deteriorating over the course of 10 records. 
As dementia ran its course in my grandma while I was in my teens, she saw me as many things: her grandson, a Marine sleeping on her couch, the stranger who kept opening her upstairs window, a cheat at cards, the stranger who knew how many coffee mugs she owned, her grandson, a face that felt familiar but couldn't be placed. I only saw her as my grandma and then dead and then actually dead. The last memory I have of us together is her slipping in and out of consciousness, humming "If You're Happy and You Know It" with her dried-out mouth agape, starving, with a pelvis full of shattered bones atop a Hospice bed in her living room. 
It is always this: there are our loved ones who die from complications of dementia and then there are those of us left with the obligation of remembering how the disease turned them into someone unrecognizable. 
The Caretaker's discography is a two-decade homage to The Shining, built off of the legacy of that pivotal scene where Torrence confronts Delbert Grady in a bathroom just off of the ballroom. It's the moment with the "You've always been the caretaker. I should know sir, I've always been here" line, the tipping point in Torrence's fall into disillusion. 
An empty bliss beyond this World is the predecessor to Kirby's 2016 magnum opus, the six-hour Everywhere at the end of time. There's a romance to Everywhere, where The Caretaker's sprawling and succinct plummet into memory loss ends cinematically with the character dying peacefully after two hours of brash, distorted static and noise. It's an elicitation mimicking years of deterioration culminating in some kind of ethereal catharsis; whereas An empty bliss is sequenced like a series of vignettes, instances of minute-long memories and triggers of familiar pleasantries and sensations.
The Caretaker's death is a scripted one, feeding off the ambiguity of The Shining's ending. Since its release, the film has sparked endless theories of what that ending is supposed to signify, why Torrence is in the 1921 photograph before the credits roll, yada yada yada. Despite the many Moon Landing hypotheses, child abuse allegories, and dreamscape fantasticals, Kirby instead took the mythology of Torrence's fictionality and turned it literal, using the ballroom music filling the halls of the Overlook as a vehicle for the hotel caretaker's own demise. 
"That's strange, sir. I don't have any recollection of that at all," Grady tells Torrence after being accused of always serving as the Overlook's caretaker. Dementia is tricky, especially in how, through forgetfulness, the person suffering from it can often manifest their personhood in things that aren't really there. My grandma once believed she'd been on the board that voted to make gay marriage legal in all 50 states. 
But the most unsettling part of The Caretaker's work is its intent on interrogating the ways in which a dementia patient's brain reckons with its own deterioration. Song titles come in under names like "I still feel as though I am me" and "The way ahead feels lonely." Though the tracks on An empty bliss beyond this World are relatively upbeat and more digestible in comparison to those on the record's successor, they each grow more desolate as the tracklist rages on—the horns and woodwinds becoming submerged beneath the murky static of wear and age; the inevitable resolution of being gone coming through a sudden halt. 
.
00:10 / 00:58
The summer before she died, I became my grandma's caretaker three times a week. I would stay at her house and make sure she didn't wander outside with her dog or leave the oven turned on unattended. My mom and aunt paid me 50 bucks a day to play Grand Theft Auto V and pig out while my grandma hid in her bedroom, scared of whatever version of me she decided I was on any given day.
But I remember vividly when, one afternoon, Turner Classic Movies played The Shining and we watched it together. Actually, she only watched parts of it, instead focusing on cutting pizza boxes into tiny squares and working on a newspaper word search from the previous week. But she was there and paying attention during the ballroom scene, when "Masquerade" by Jack Hylton and His Orchestra came swelling in. "I think they played this song at my wedding," my grandma said. The next morning she asked me when her husband was coming home. I didn't answer.
The Caretaker's albums often fall short in translating the most horrific parts of dementia into music, which isn't Kirby's fault. There's no soundtrack for starving to death, nor is there one that can effectively harvest the final seconds of a thrashing, lifeless brain. But I do think a lot about how a set of sounds can evoke the indescribable, how they beckon recollections of people and places from the past.
I sometimes think of my partner, whose own grandmother died of Alzheimer's, and how the memories she has are often flashes of the disease's later stages. I'm left wondering if it's luck that we still have access to those moments, or if it's a punishment that we can never go back and hold onto the good ones for just a while longer. That's why An empty bliss beyond this World works better than any other entry in The Caretaker's discography: it hinges itself on the act of remembering rather than the act of forgetting.
On my grandma's final day, someone inside of her had the urge to sing "If You're Happy and You Know It." She'd forgotten how to swallow, how to go to the bathroom, how to walk. But she remembered the music. So I held the hand her body put under my own, watched one side of her face sag from a recent stroke, and breathed in the smell of her unwashed hair. She couldn't remember the words, so I reminded her of them one last time.
The thing about watching your best friend die is sometimes they become a ghost. But, I suppose, to become a ghost, you must first be recognizable to the living.
Matt Mitchell is a poet and music critic in Columbus, Ohio. He writes for Pitchfork, Bandcamp Daily, Paste, LitHub, and elsewhere. He's the author of two books. Twitter: @matt_mitchell48.