RESONANCE
Image and the Style That You're Used to: Digital Underground's "The Humpty Dance"
By Tamara Palmer · Illustration by Joey Yu · December 09, 2021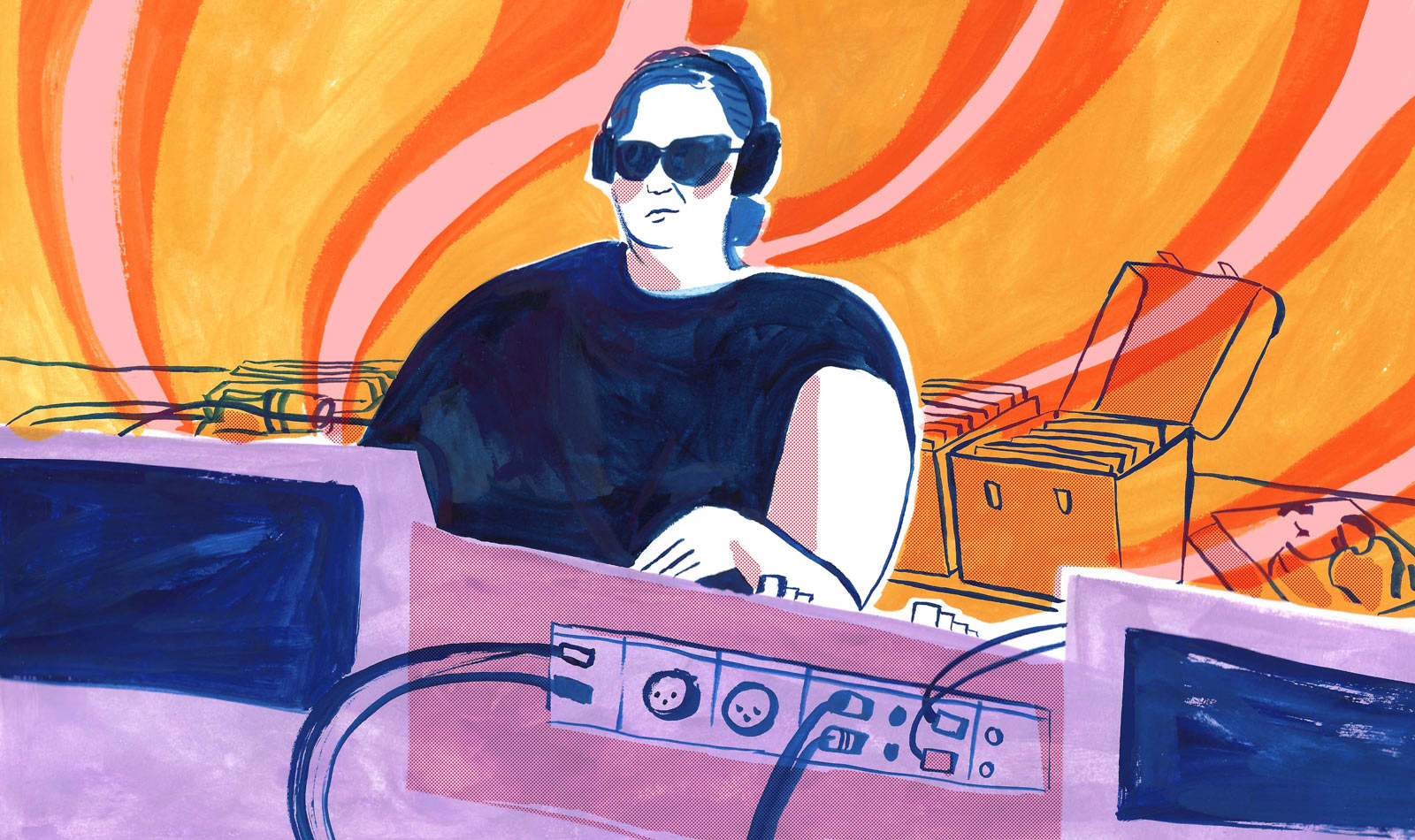 You always remember your first, and my first rap show—the Sizzling Summer Tour '90 with Public Enemy, Digital Underground, Queen Latifah, Big Daddy Kane, Heavy D, and others at Shoreline Amphitheatre in Mountain View, California—was ridiculously memorable, for reasons that were alternately wonderful and scary.
The scary part was that violence in the crowd during Public Enemy's closing performance sent a number of people to the hospital with injuries; we saw the skirmishes from a distance, and didn't know quite how bad they were. My friends and I hadn't sensed tension in the air until that point; instead, we'd spent the whole day singing along to the various acts—that was the wonderful part.
Public Enemy's Fear of a Black Planet and Digital Underground's Sex Packets were both released in the spring of 1990, and both got worn out in my cassette Walkman and bedroom boombox. Digital Underground frontman Shock G—aka Humpty Hump and the Piano Man, to name a few more of Greg Jacobs' aliases—later revealed in a self-released documentary that he, Money-B, and the rest of the Oakland-based group turned down a lucrative offer to tour with fellow locals MC Hammer and En Vogue, who were reigning stars in the pop charts at the time. Instead, Digital Underground chose to go on the road with Chuck D and Flavor Flav for a smaller fee.
.
00:10 / 00:58
I was thrilled for the opportunity to see Public Enemy and our local superheroes Digital Underground, but I think I was most excited that I would be a witness to a live performance of "The Humpty Dance." The song was a summer staple on the radio on KMEL and the California Music Channel, a popular local TV show that aired music videos after school—a blessing for those of us who didn't have cable growing up.
At the time, Digital Underground had gone to elaborate measures to try to convince the public that Shock G and Humpty Hump were two different people, and I was going to be looking out for that when they were on stage. But when the set started, it didn't take long to forget about my mission—or for the group to scandalize me by air-humping blow-up dolls on stage. (One of the humpers was a 19-year-old Tupac Shakur, three years my senior, but I didn't know who he was at the time.)
The Sizzling Summer Tour '90 cemented my love of rap concerts (and, later, of festivals). I wish I could have told my teenage self that I would start writing about music professionally a few years later, that I'd eventually get to interview both Chuck D and Shock G, and that I would even give Chuck D my autograph, on the inside cover of my own book about rap. I would have thought that those were some Wonder-Woman-level achievements!
"The Humpty Dance" was important to the development of my musical knowledge in high school, because it was a song that encouraged me to dissect it, and to listen to the songs that the group had sampled in order to make it. My intellectual curiosity was sparked by "The Humpty Dance" in a way that still excites me to this day. It was through "The Humpty Dance" and Sex Packets that I started to learn more about George Clinton and Parliament-Funkadelic—Parliament's 1980 song "Let's Play House" is heavily sampled in "The Humpty Dance."
Until then, all I knew about P-Funk was that I liked Clinton's colorful hair and his 1982 hit "Atomic Dog," which later would be referenced in Snoop Doggy Dogg's 1993 debut, "Who Am I (What's My Name)?" It was also because of Digital Underground that I knew it was a good idea to ask for Bootsy Collins' autograph when the Mothership landed on the rotating stage of my first job in 1991, at a legendary Bay Area concert venue called the Circle Star Center that went out of business a few years later.
"May the Funk be with you," Bootsy wrote.
I became a professional DJ in 1993, and "The Humpty Dance" remained in my play-out record bag for decades until I started performing gigs with digital files instead of 200 pounds of vinyl just a few years ago. I've played this tune in all kinds of interesting situations: Illegal outdoor raves, corporate conferences, and the annual art studios onsite at Coachella.
.
00:10 / 00:58
I asked Shock G in 2004 what he learned in the studio from George Clinton, the wellspring of the funk that spawned Digital Underground's underwater rimes. "Don't take yourself so seriously, and allow the bigger simpler messages of nature to flow through you," he wrote in an email. "In the studio George taught us to allow it to happen, encourage the best of the people around you, and then just trust it, sit back and watch it grow. Incorporate everything life throws at you into what you do, and don't block the magic. The magic is in the variety, the hookups, the unexpected. Trust the simple and plain, the weird, the different, the fun, the goofy, the nasty, the funk; trust life."
As Digital Underground was built on a P-Funk spine, so an astonishing swath of '90s artists sampled "The Humpty Dance" and used it as their sonic backbone, a fact that is not necessarily widely known. Listen to "The Humpty Dance Awards," a 1993 skit with Tupac, Shock G, and Humpty Hump as award presenters, to hear more than 20 of those tunes packed into an almost five-minute megamix, including '90s mainstays like LL Cool J's "Mama Said Knock You Out," "Warm It Up" by Kris Kross, and "Is It Good to You" by Heavy D and the Boyz.
Even in the years following "The Humpty Dance Awards," the tune continued to be sampled in high-profile songs, including Mark Morrison's still-ubiquitous international hit/perpetual DJ request "Return of the Mack" and "If U Can't Dance" from the debut album of the biggest-selling girl group of all time: the Spice Girls. "The Humpty Dance" is an unlikely choice to become the backbone of '90s music—when it was released, it almost seemed like a novelty hit. But its influence on hip-hop, pop, R&B, house, drum & bass, and beyond is undeniable.
.
00:10 / 00:58
Shock G passed away in April 2021, just over 31 years after the release of "The Humpty Dance." As I continue to grieve over my teenage superhero—the imaginary friend in my head who became an actual friend in my life—it's become even more important to me to take my role as music historian seriously, and to help capture what Digital Underground means to music and to the world, with love from the Bay Area. My experiences weren't meant to be kept to myself—and I learned most notably that from doing the Hump. Until the next time and space, I'll part with you the same way Shock sometimes signed his emails: Peace, luv, and a fresh ripe avocado to you & yours.
Tamara Palmer is a professional DJ and author of books on music and food. Twitter: @eatstreetfood.