LISTS
Five Essential Recordings from Technical Metalcore Forefathers Zao
By Ed Blair · October 08, 2020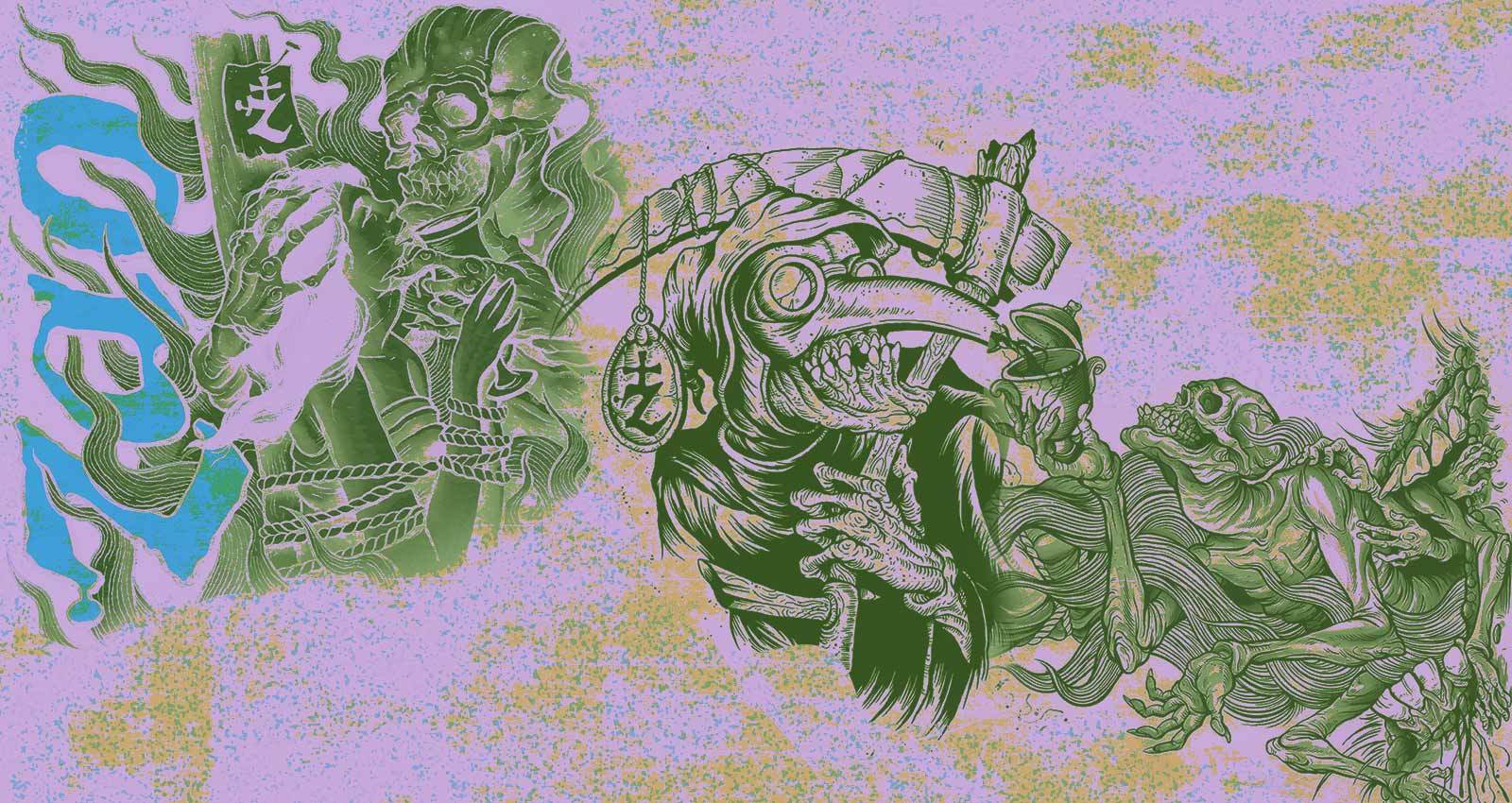 West Virginia's Zao embarked on their 27th year of existence in 2020. They've outlasted the heyday of Christian hardcore, Cornerstone Festival, and the majority of their secular contemporaries. They've stayed kicking through the death of the mid-'90s metallic hardcore scene that birthed them, and the rise and fall of the technical metalcore scene they helped create. And in spite of multiple dissolutions, reinventions, member changes, Zao continues, seemingly as unkillable as the villain in a horror franchise.
Zao was formed in 1993, with the intent of creating Christ-focused hardcore. Original drummer Jesse Smith made no secrets about the influence Unbroken had on him, and so he willed a non-secular option into existence with original vocalist Eric Reeder, guitarist Roy Goudy, and bassist Mic Cox. Hardcore as a genre tends towards the polemic regardless of subject matter, but Zao made their religious views inescapable: Altar calls and preaching as a stand-in for stage banter were hallmarks of the band's early live shows. Zao's second vocalist, Shawn Jonas (who replaced Reeder in 1995), can be seen intently declaring, "We come here to lift up Jesus Christ, to come into his presence," in footage from an early 1996 performance. For hardcore kids of a certain age, Zao occupies the same mythic realm as bands like Earth Crisis, a distillation of an entire scene at its imagined extremes, a reputation that has long outlasted reality.
When speaking to current drummer, and band manager, Jeff Gretz, the personal beliefs of the band didn't come up at all. Gretz is a long-time associate of the band, growing up in Greensburg, PA along with current vocalist Dan Weyandt. "I was always one of the older guys. They were all a little bit younger than me. Not much, but my original bands would take their bands under our wing when we would play shows," Gretz said. "The band has also never really held auditions. It's always been like friends or people from the same circle," Gretz explained, laughing, as he recounts the story of his recruitment to Zao, "One day I came in to teach kids how to play drums and the guy that ran the store is like, "Oh, there's a note for you." It said, 'Dan from Zao, we need a drummer.'" Two weeks later, Gretz was on tour in Europe and has stayed with the band since.
In addition to their reputation as passionate Christians, Zao also had a reputation for internecine struggles. This too, has gone by the wayside. "Different people left the band for different reasons and at different points there were feuds. We're at the point now in our career where we're all older, and no one's holding grudges," said Gretz, after proudly explaining how his first act as band manager was to clear up publishing registration for the many different members of Zao, so royalty rights were being distributed appropriately. Label contract woes have been a sticking point for the band for quite some time, and now that they self-release their music, and are completely in charge of their own destiny, Gretz wants the group to move forward as transparently as possible. "It's a big family at this point."
Truly, there's never been a better time to be a fan of Zao, regardless of what era—when Gretz joined the band in 2005, the line-up solidified, and hasn't changed since. They've never been more cohesive. Their original label, Steadfast Records, is releasing a compilation of early recordings, and an expanded edition of their debut record, All Else Failed, and Tooth & Nail just re-released two of Zao's most acclaimed records, The Splinter Shards the Birth of Separation and Where Blood and Fire Bring Rest on vinyl. Zao isn't just resting on re-issued laurels, though—Gretz lights up when talking about the future of the band. "Because we have a situation now where we trust each other, we tend to write a huge batch of material," he explains, "when we put out the Pyrrhic Victory EP in 2017, I think it came out? The day that came out. I was recording the drums for the album that's coming out next spring. So that's how far ahead we're working. We're always three releases ahead."
Here are five essential releases from Zao's Bandcamp catalog.
Merch for this release:
Vinyl LP, Cassette, Compact Disc (CD)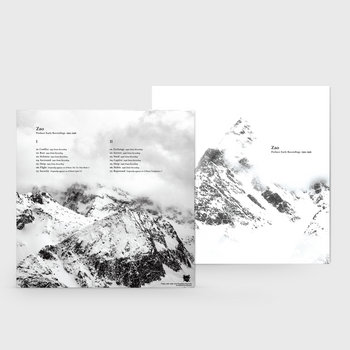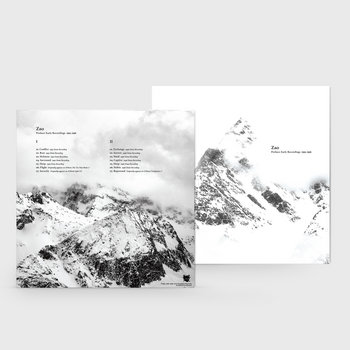 These glimpses at Zao's earliest moments show a band constantly honing their take on the bleak metallic hardcore that dominated VFW halls across America during the mid-'90s. Ominous intros and dirgey breakdowns are accentuated by the occasional thrashy lead riff, all of it designed to turn a church basement into a melee. Vocal duties on this compilation of demos and 7-inches are split between Reeder and Jonas. Reeder's standard vocal delivery is a declarative bark, but he howls his way into a striking high register when the spirit moves him. Jonas provides a more anguished take, swapping between ragged howls and fire-and-brimstone denunciations as the riffs demand. Zao's still obviously figuring out their sound here, but it's fascinating to watch the group grow by leaps and bounds between the various releases collected here.
Merch for this release:
2 x Vinyl LP, Compact Disc (CD), Cassette, Vinyl LP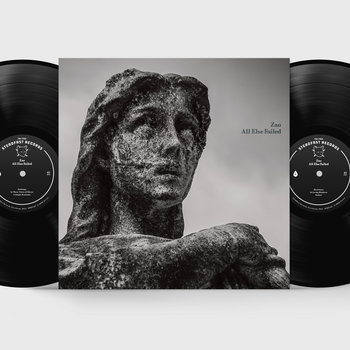 All Else Failed has been re-issued, re-mastered, and re-recorded numerous times, but finally, with this 25th anniversary release, Steadfast has released a definitive version. While Zao was still working almost entirely in the milieu of hardcore on their early demos and splits, opening track "Resistance," with it's blackened tremolo breakdown halfway through showcases the metallic influence that would come to dominate Zao's sound. The twinkly introduction to "Endure," complete with pained spoken word building to anguished collapse, is a classic emo trick pulled off with devastating panache. This line-up would mostly stick around for their next full-length, The Splinter Shards the Birth of Separation, but Smith would be forced to replenish Zao after Cornerstone 1997, when the rest of the band quit. Where Blood and Fire Bring Rest would bring a brand new sound, adding the technicality of bands like Carcass into their sound, and staking their claim in the burgeoning genre of technical metalcore. This would also be the first release with Weyandt and Cogdell.
Merch for this release:
Vinyl LP, Compact Disc (CD)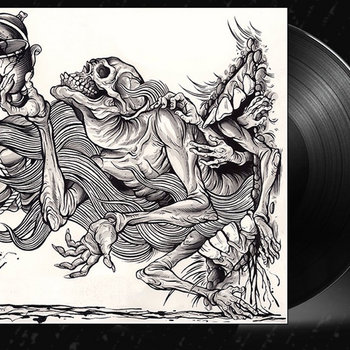 After 2009's Awake?, Zao's contract with Ferret Records ended, and the band took some time to ponder their next steps. Working with labels felt stagnant—attempts to broaden Zao's core fanbase (opening slots on larger tours, slick and expensive music videos) weren't working, so the group decided to take a more direct approach for their next record. "When we decided to start writing and recording music again, we had a bunch of leftover tour merchandise, from prior shows that we had played in the mid-2000's," Gretz says, "And we said, "Here's old tour t-shirts. All the proceeds of this are going to go to record new music." And we sold them out!" Zao used the proceeds to launch their own label, Observed/Observer Records, and release the Xenophobe/Fear Itself EP, which then also proceeded to sell out. These proceeds were used to complete The Well-Intentioned Virus. The record showcases Zao as a band who can adroitly skip between epics ("Observed/Observer," the hushed "Broken Pact Blues") and ferocious pit-igniters. "Xenophobe" finds guitarists Russ Cogdell and Scott Mellinger throwing start-stop riffage up against churning chaos, held down by bassist Martin Lunn and Gretz. Weyandt's vocals are as caustic as ever, as he eviscerates cowardly bigots. It's a barn-burner from a dialed-in group of veterans, still as furious as ever, even 23 years in.
Merch for this release:
7" Vinyl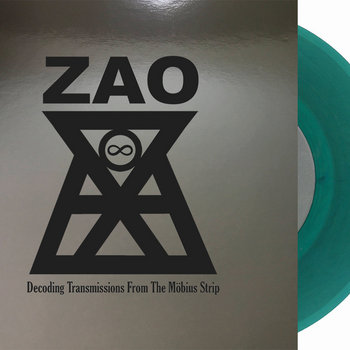 "We've always wanted to print a record cover on a reflective mirror board—and then, all of a sudden, Dan wrote a bunch of songs about reflections," Gretz says with a chuckle, explaining the genesis of this 7-inch. "We tend to write a huge batch of material. I'll lay down drums for 20 songs at one time," he continues, "and then we'll be like, okay, these 20 songs are going to turn into a ten song album, a five song EP, and two 7-inches. Then we piece them out and finish them based on that." The flexibility of self-releasing their work allows Zao to showcase two songs that might not fit into a larger release, instead of following a third party's schedule. "Transmission 1: I Saw the End," operates at a Neurosis-esque mid-tempo simmer, while "Transmission 2: I Saw The Devil" feels like a Stephen Brodsky tune funneled through Zao's darkness, with expansive and spacey clean vocals dominating the later half of the track.
The remix album has a spotty rep, especially in metal/hardcore. For every successful incarnation, there's an unlistenable aberration like Threat: Music That Inspired The Movie. Zao's entry into this not-very-crowded pool came about organically, after friend of the band, Joseph Milligan (of Anberlin) asked for the multi-tracks from The Well-Intentioned Virus. Later, when Zao found themselves facing unavoidable delays in the creation of their upcoming full-length, the band decided to expand on Milligan's work, and bring in other friends of the band for a full-length's worth of remixes, presented in a variety of formats, including a Nintendo cartridge and CDs packaged in hollowed out 5.25" floppy disks. "It was just like, oh, we're doing a remix record. Oh, let's put that on the Nintendo cartridge," explained Gretz, who mentioned that both ideas had been in consideration for some time, "Sometimes we'll pick up concepts of packaging before we even know what it would be for." Reformat/Reboot's curation showcases the same amount of care as the packaging. Makeup and Vanity Set bring a retro-future Blade Runner vibe to "Broken Pact Blues," Dave Hidek turns "The Weeping Vessel," into a sparse elegy, and Metavari provides a take on "I Leave You In Peace," that is equal parts Max Tundra-esque playful and Vangelis at his most ominous