LISTS
A Guide to Jazz Pianist Vijay Iyer
By Marshall Gu · March 01, 2022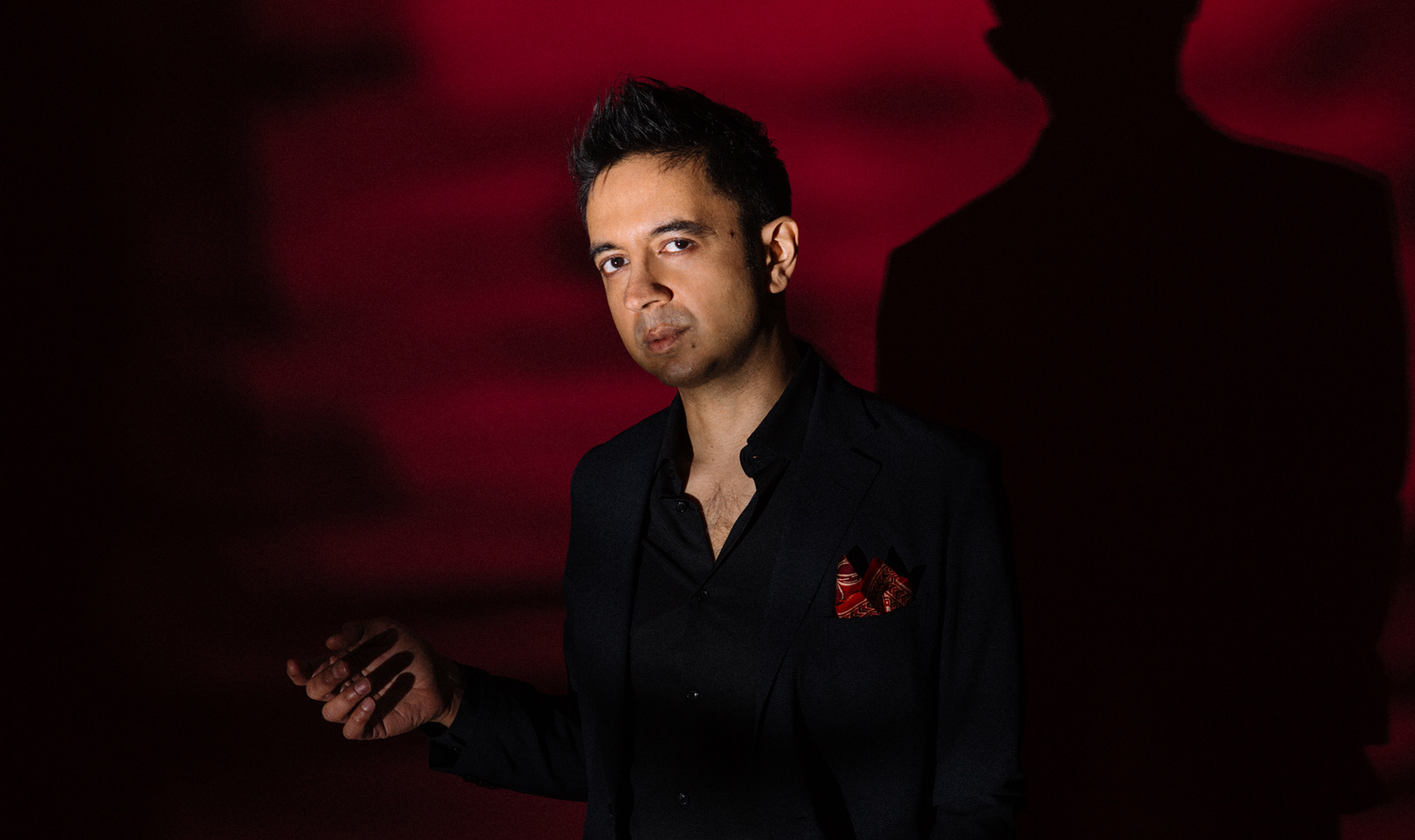 Few jazz artists have cast their net as widely as pianist Vijay Iyer in terms of song selection. Across his discography, Iyer has taken on his jazz heroes in Thelonious Monk and Steve Coleman to pop/R&B royalty in Michael Jackson and Stevie Wonder to modern glitch and hip-hop in Flying Lotus and M.I.A., often on the same album. To listen to a Vijay Iyer record is to hear the musical curiosity and omnivorous appetite with which he explores with different configurations, ranging from solo outings all the way to sextets.
Hailing from a long history of jazz pianists, one can spot different influences in Iyer's style: Andrew Hill, Bud Powell, Duke Ellington, and Thelonious Monk are all audible in his percussive and playful explorations while he continues forging forward with his own piano language. In Playing Changes: Jazz for the New Century, Nate Chinen notes that Iyer's playing expresses his Indian-American identity. Born in New York to immigrant Indian parents, Iyer would eventually investigate a style of Indian classical music called Carnatic music, and adopt its rhythmic cycles into his songs, which lends his songs a heartbeat-like pulse. Iyer's compositions are typically in a brooding minor key, but his improvisations are bright, making use of his incredibly dexterous, long fingers.
Hot on the heels of 2021's Uneasy, Bandcamp sat down with Vijay Iyer to go through some of his impressive discography.
---
When Iranian film director Jafar Panahi was wrongly detained between two international film festivals based only on his skin color, Panahi, in handcuffs, pleaded to fellow passengers, "I'm not a thief! I'm not a murderer! I am just an Iranian, a filmmaker. But how could I tell this, in what language?" That's the event that inspired Vijay Iyer and American hip-hop artist Mike Ladd to make In What Language?, wherein the two create a rich sonic backdrop of electronic and jazz for a revolving door of BIPOC wordsmiths describing their own experiences of the post-9/11 airport.
"I met Mike Ladd in the late '90s. I was mesmerized by his profound and unique sensibility. The aesthetic was not many things I've heard before. It was on the edge of what would be called hip-hop. He had come through the performance poetry stream," Iyer says.
Mike Ladd had written poems "based on interviews that he did in airports with different black and brown people on various sides of capitalism and globalization," and the words range from dryly humorous to deeply poignant. For example, "In the delicate distance/ Of brown, I sit on a bus" are the very first words on the record. Meanwhile, the instrumentals range from jazz rap ("In What Language") to bubbling Autechre-style beats ("Terminal City"). "Taking Back the Airplane" sees Stephan Crump laying down a thick bassline for gorgeous lounge-jazz melodies from Liberty Ellman on guitar and harmonized horns between trumpeter Ambrose Akinmusire and saxophonist Rudresh Mahanthappa and Iyer on piano. Despite the gamut of voices and styles, everything is presented in crystal clear production to convey the atmosphere of being inside an actual airport, the very thing that is being critiqued by the words.
Merch for this release:
Compact Disc (CD)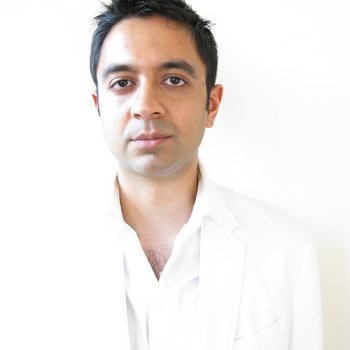 Even though saxophonist Rudresh Mahanthappa doesn't play on every track on Tragicomic, he still steals to the show with his bold playing. There is great synergy between Iyer and Mahanthappa displayed here, especially in the improvisations on "Macaca Please," where the two musicians of color respond to Virginia Republican Senator George Allen who used the racist slur during his campaign in 2006. Iyer's praise of Mahanthappa is endless: "By being among the first South Asian Americans in this area of music, we really had a deep bond. Musically, I was more chill than Rudresh was. He just had this fire-breathing intensity. Even though he's an alto player, he's very influenced by John Coltrane in the drive and these careening lines that would just light up the room."
Almost every song on Tragicomic is an original with the notable exception of a unique take on Bud Powell's "Comin' Up." Iyer's version of "Comin' Up" was inspired by a rhythm he heard after 9/11: "After September 11th, and the lead-up to the invasion of Afghanistan, there was these gatherings that would feature members of the Afghan community in the diaspora. I remember hearing this rhythm and seeing someone dance to it. I first tried to deploy it on Reimagining's "Cardio." It had this rhythm that was 7/8, divided into 3 plus 4. If you do that really fast, it sounds like a fucked up backbeat. It has this torque to it. It also kind of feels like reggae." "Comin' Up" is a testament to Iyer's willingness to pull identities and influences from outside jazz and blend them into his compositions.
Fieldwork
Door
Iyer formed Fieldwork, a collective trio with no bass in 2000. Door is Fieldwork's third and final album, with Tyshawn Sorey replacing original drummer Elliot Kavee. Door is Fieldwork's third and final album, with Tyshawn Sorey replacing Kavee. Immediately differentiating it from the previous albums is the fact that Sorey composed the bulk of the material. "Tyshawn took to it immediately and in no time at all, we were building music together. We'd all bring in material, but he kept bringing in more and more," Iyer laughs.
"Tyshawn's music is some of the hardest music I've ever played in my life. He was working with serialist techniques, not tonal harmony, which makes you listen differently. Between that and extreme rhythmic complexity, all I could do was strap myself to the mast of the ship and not get thrown off," is how Iyer describes Tyshawn Sorey's compositions. Iyer rose to the occasion nonetheless. "The way I tend to work is to forage access to the drums with the piano so we can really create a foundation together and stabilize the ensemble. And that means bringing up the bottom end of the piano to give it that kick and match the intensity of the drums." On compositions like "Of," you can hear what Iyer means: his left hand first assumes the role of the bass by starting with looming low notes before outright sparring with Sorey as the song progresses.
Vijay Iyer
Solo
Merch for this release:
Compact Disc (CD)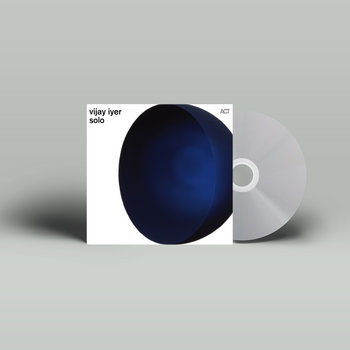 There is ultimately no better proof of Iyer's prowess as a pianist than when he performs unaccompanied, as on this solo record. "Black and Tan Fantasy" is an early Ellington classic that can be challenging for anyone to perform solo considering the original's power comes from the dark textures made possible by Ellington's band. Yet Iyer plays the song as if it were meant to be played alone, his left hand imitating the dirgy march of Sonny Greer's drums perfectly. He also tackles another Ellington song, "Fleurette Africaine," originally performed by Ellington with Charles Mingus and Max Roach. "I remember I started playing 'Fleurette Africaine' in the '90s with a bass player who is one of Charles Mingus's grandsons, Kevin Ellington Mingus," says Iyer. "We had a deep bond because of our mutual connection to Money Jungle. He knew that entire album by heart, so we used to play almost all of that music and every time we did that piece, there was a special resonance and tenderness. It just stayed in my heart. There was something autobiographical about that album, so I was revisiting material that had been meaningful to me."
Iyer's scope is demonstrated on the two different parts of "Autoscopy," the first part recalling Cecil Taylor before becoming a Philip Glass-esque piece in the second half. "Autoscopy is a term for an out-of-body experience, exiting your body and watching it from above," Iyer explains. "I've had certain experiences like that over the years, mostly in the course of playing. It's often fueled by something like adrenaline fatigue, and you're in a slightly altered state of consciousness. Many musicians have had similar experiences and you come to recognize it after a while. The front half of the song feels chaotic and the second half that feels lyrical and orderly and kind of flowing. Both of them involve, for me, a method of trying to induce an out-of-body experience in myself and recalling moments that have happened to me."
Merch for this release:
Compact Disc (CD)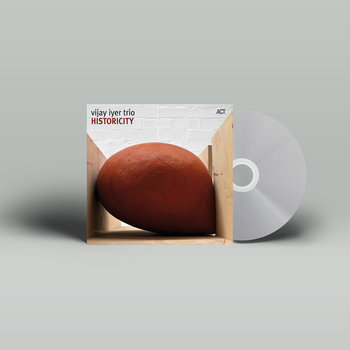 After opening with two sprawling, blazing songs, Historicity throws a curveball: a cover of M.I.A.'s "Galang." On that song, drummer Marcus Gilmore assumes the monolithic beat of a Roland MC-505 drum machine while Vijay Iyer's piano line is hooky, repetitive, and addicting like M.I.A.'s original vocals. In effect, the trio takes a thoroughly un-jazzy song as a dancehall/hip-hop fusion and presents it as if it were jazz. Fittingly, the song is subtitled "Trio Riot Version," and it actually does sound like a riot, an impression helped by its brevity, clocking in with a runtime that's even shorter than M.I.A.'s original. When asked what drew him to "Galang," Iyer says: "We were like 'Well this is impossible, let's try it." The pattern that's emerging here is 'How do we reach for something outside of ourselves?' As artists, we want to expand, we want to grow, we want something to rise to. We want to elicit something new from us," he continues.
"I liked the insurgent energy, the rhythm, the sound, the sonic textures, and I liked her energy as an artist and what she brought to the table which was certainly something new to U.S. music. Just that fact that someone like her, from the margins of South Asia, having this interesting trajectory, this cheeky art school sensibility, and that sonic palette. It hit me in the gut," he continues.
In addition to M.I.A., the trio take on an early Andrew Hill song, "Smoke Stack," which features yet another tricky rhythm. "There was a rhythm that Marcus and I used to play it all. I first heard it from this band from Cameroon called Les Têtes Brûlées. It's this fast 9-beat, another fucked-up beat, that sounds like 4 plus 5. It's 4/4-ish but there's a little bit extra but at a certain clip that you don't experience as odd: it just flows," says Iyer.
Hill's influence on Iyer is obvious, but Iyer describes having formed a special bond with him. "Andrew really cared about me, and embraced me as someone he could count on in this world. People form certain sensibilities around music and they find someone who is a kindred spirit. He heard me and he heard a connection: We feel the same way about music. I didn't realize the extent of it until after he passed away in 2007. When I went to his memorial service, the whole family knew me. They said, 'Oh yeah! Andrew always talks about you,'" Iyer remembers.
In 2011, trumpet player Dave Douglas released three albums under his Greenleaf Portable Series (GPS), each with a different band. Orange Afternoons, the second of this series, sees Douglas working with a quintet comprised of Iyer, Ravi Coltrane, Linda Oh, and Marcus Gilmore. The title informs the songs which are set to an unhurried pace, letting the improvisations shine. Ravi Coltrane may be best known for being the son of John and Alice Coltrane, but he's a formidable soloist in his own right. His solo on opener "The Gulf" is a curious mix of restraint and freedom, letting Iyer draw the lines before bounding over them. Douglas's solo on "Valori Bollati" is strange in its spareness, contrasting greatly with the solos from Coltrane and Iyer that follow. Iyer performs wonderfully. His solo on "Orologi" is full of chords that seem to bud and crash into one another. It's interesting hearing Iyer in a supportive capacity playing someone else's compositions; for example, it's Iyer's slow-burning chords that bring out the promised color of the title track.
Merch for this release:
Compact Disc (CD)
Like Historicity, Accerelando is another trio album with Stephan Crump on bass and Marcus Gilmore on drums, and is similarly a mix of covers and originals. "Between Historicity and Accelerando, in the arc of what I've done on this planet, those ended up being really pivotal because they set in motion this trio sound. We toured constantly with that band for several years, starting in '09 with Historicity, developing material and rhythms on the road, and developing a sense of what the trio could do and pushing the format. It was through that the trio reached what it is realized on Accelerando," Iyer says.
When asked about the covers, Iyer laughs. "The funny thing about these trio albums on ACT is that, until this point, I had almost entirely been recording my original music. And then when I signed to ACT, they wanted a piece of publishing. So I said 'Fine, I'm not going to give you as much as my music then!' So one of the reasons why I ended up doing so many covers on these albums—Historicity, Solo, and then Accelerando—is that they wanted a piece of it, and I didn't want to give up too much of my music."
The covers he selects range from are far-reaching in just the jazz picks alone: forgotten bebop pianist Herbie Nichols, avant-garde stalwart Henry Threadgill, and rounding off with another piece of Duke Ellington. But boldly, they also take on Thundercat's "Mmmhmm" from Flying Lotus's Cosmogramma. Iyer's elegiac treatment of "Mmmhmm" manages to re-create Flying Lotus widescreen space trip with only three acoustic instruments. Vijay has a long reach on the piano, spanning an octave and a half, which is the first sound we hear on his cover of "Mmmhmm. "That sound is doing something to me," Iyer explains. "The way it vibrates gave me a certain charge, a certain excitement. And then sounding that high part in tenths in my right hand, I was able to capture the grandness of the song. Sometimes the piano trio can sound a little puny. I didn't want to sound puny, I wanted it to sound majestic. I wanted to honor it."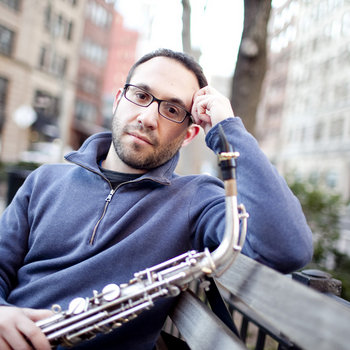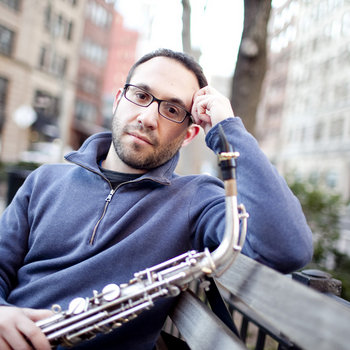 Pete Robbins is a New York-based saxophonist. His album Pyramid, which features Iyer on piano, is comprised of many pop and rock music covers including Guns N' Roses's "Sweet Child O' Mine," Leonard Cohen's "Hallelujah," Jimmy Webb's "Wichita Lineman," and Stevie Wonder's "Too High." Clearly, both Robbins and Iyer have an ear for pop songs, and it's interesting to hear how they approach "Lithium" as if the song were by a '60s band and not Nirvana, or how they bound off the indelible hook by Stevie Wonder as played by bassist Eivind Opsvik.
"I remember this one being really hard. I remember I was so stretched thin. I remember struggling with the arrangements because it was so intricate and it was so notated. Not that I can't read music, but every bar would be a different time signature. I love Pete, I think he's a great musician and that was a great band. I felt like the weak link in that record," Iyer says modestly. You wouldn't know it: Iyer bookends Robbins's solo on "Equipoise" with two gorgeous and elegant sections, while Robbins interestingly sits out for both the title track and closer, which then plays like yet another Vijay trio cut.