LISTS
Eight Essential Albums From The Heliocentrics on Bandcamp
By Marcus J. Moore · February 11, 2021
Over the past 14 years, critics have struggled to classify The Heliocentrics's sound, which pulls jazz, soul, and funk into one mix, traversing the spectrum of psychedelic library music. Though the band formed in 2004, their aesthetic lands somewhere in the mid '70s, when the tenets of these genres started blending to create a new, almost indiscernible vibration. Co-founded by bassist Jake Ferguson and drummer-producer Malcolm Catto, the group formed out of their respective solo projects. Ferguson helmed a collective called Nesta; Catto recorded under the name Popcorn Bubble Fish. Then one day, Ferguson asked Catto to play live drums on a track he'd been working on. It became a tune called "Winter Song," which was released as a seven-inch in 2005 via Jazzman Records. A stripped-down version of the track appeared on the Heliocentrics's debut album, 2007's Out There. Equally indebted to Can, Miles Davis, Sun Ra (the band takes their name from 1965's The Heliocentric Worlds of Sun Ra), contemporary classical, folk, post-punk, drone rock, and solo instrument/spoken-word records, one of music's most cosmically-inclined groups was set for takeoff.
Out There was well-received by critics and listeners, even if few quite knew what it was. By funneling disparate sounds into their music, they pulled more fans into their orbit. "Jake and I have always been very proactive over the years in finding and sharing any new inspiring music we have found, either from digging for records while on tour or by spending hours searching online via YouTube," Catto says. "So as the Heliocentrics, we drew upon all of our influences and incorporated them into our music, considering this the only way we could realistically come up with a sound that was fairly original, relevant, and that represented us."
The album's success allowed them to play a few live shows and record a live BBC Radio session for Gilles Peterson, the noted DJ, producer, and label owner. Out There arrived long before psychedelic rock and jazz was once again viable in the mainstream, and for much of their career, the Heliocentrics have operated just below the surface. But in an era where like-minded artists are breaking through, and challenging art isn't the sole provenance of the underground, the Heliocentrics's catalog is primed for broader discovery. They've always maintained a cratediggers's spirit, and more people are coming around to their music. "I guess if there is one lesson we have learned from our years of digging, it is that there is rarely any correlation between an artist's contribution and their commercial success," Catto says. "We have never courted popularity or tried to make what we do more accessible, and would probably make just the same music regardless of whether it was in the charts or if we were the only ones who liked it. I think writing songs and having a singer has maybe widened our appeal a little, but then again some people preferred us when we were strictly an instrumental band. As our tastes change, naturally, so does our music. And if a band doesn't evolve somehow then I question the point of them continuing to make music."
They've also done collaborative albums with a litany of legends in spiritual and Ethiopian jazz, highlife, and film. On each record, the band has tweaked their sound to accompany the featured artist, deferring to them without receding from view. Many of these recordings are on Bandcamp, except 2013's 13 Degrees of Reality and 2014's The Last Transmission with Melvin Van Peebles, but there's still plenty to explore. Here, Catto walks us through the making and creative focus of some of the Heliocentrics's solo and collaborative albums.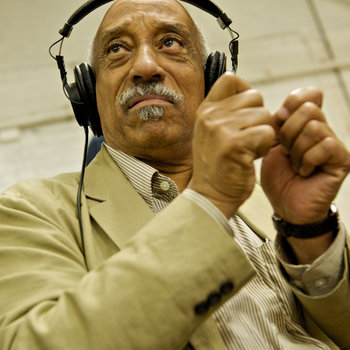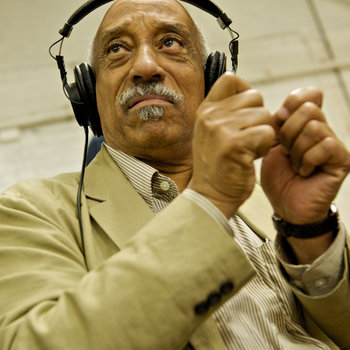 Merch for this release:
2 x Vinyl LP, Compact Disc (CD)
"The Mulatu album came about by sheer fluke when an employee of Stones Throw over here in the U.K. happened to play Out There in an office he was then sharing with promoter/producer Karen P. She was working on bringing Mulatu over to the U.K. for a one-off concert and looking for musicians to back him. After hearing our record, she thought that we should be able to do as decent a job of it as any other band around. Luckily we did, and after that first show we suggested to an elated Mulatu the idea of doing a record together, who, along with Quinton Scott—our friend and owner of Strut Records—were both interested in releasing a potential Mulatu/Heliocentrics collaboration. The resulting Inspiration Information album was the closest thing we have ever done which generated any hint of a 'zeitgeist' moment or of us being 'en vogue.' This was due mainly to Mulatu's '70s music just being featured heavily in a Hollywood movie, and we suddenly found ourselves going from playing to around 40 to 1,500 people. We toured that album extensively for several years (to the point where we can no longer listen to certain Mulatu tracks, such as 'Yèkèrmo Sèw,' as we have played it so many times live."
Lloyd Miller & The Heliocentrics
(OST)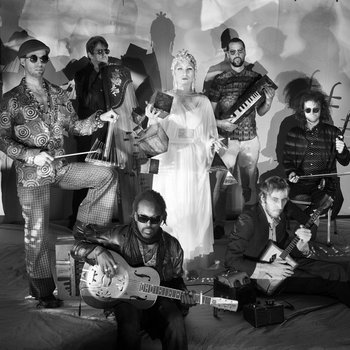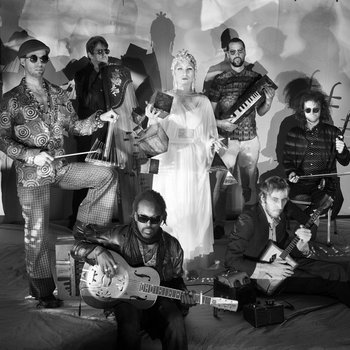 Merch for this release:
Compact Disc (CD), 2 x Vinyl LP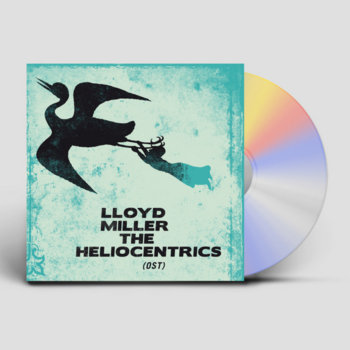 "This was at a time when new 'jazz' releases still suffered from '90s fallout and dodgy connotations with the fairly grim live 'acid jazz' scene, unlike now, where it is part of the mainstream and trendy again. We had worked briefly with Lloyd earlier for another Jazzman release and knew he was a super talented old-school jazz maestro who played a ton of interesting instruments. Unfortunately, we were slightly misled on how that session was to go down and were promised that Lloyd was super easygoing and would be open-minded to anything that we would come up with. Also for [label owner] Gerald [Short] to secure the session with Lloyd, he must have exaggerated our still-limited jazz chops, so much so that Lloyd initially had very high expectations from us. Jake and I soon realized we were in way over our heads when at first he wanted us to play straight-up '50s-Miles-Davis-influenced bebop. Later on, in an interview about that session, he would refer to us as 'London rockers.' Miraculously though, we did get something together out of that first session that was actually releasable; we eventually found some common ground between us through our mutual love of ethnic music and modal jazz. We also saw how quickly Lloyd could overdub multiple ethnic instruments on top of the three backing tracks we had managed to salvage and transform them into something considerably more alluring.
"Lloyd was always amusingly openly very critical of the album while we were recording it, but opened up a lot to us as the sessions progressed. Lloyd's pet hate is The Beatles, who he claims effectively ruined music in 1960, and for me, I think his funniest quote was about 'Mandala,' which is a kind of jazzy/psych track with sitar and a strong Indian influence. When I played Lloyd an early mix of it and asked him what he thought, his dry response was that 'it sounds like every Beatles record ever made played together at the same time.'
"Lloyd would not allow us to use any effects (besides some reverb) or any electric instruments on the album (referring to Ade [Owusu]'s guitar as 'slutty wah wah'), but because of this and Lloyd's strong personality, I guess it is a true collaboration in the sense that neither him or us are really happy with it."
Orlando Julius with The Heliocentrics
Jaiyede Afro
Merch for this release:
2 x Vinyl LP, Compact Disc (CD)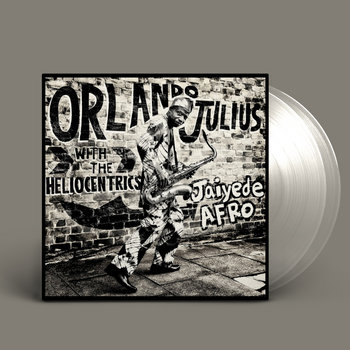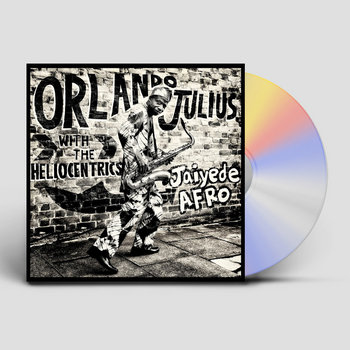 "Orlando Julius, by contrast, was the most easygoing, laid-back, humble man on the planet but no less talented. We always try to do the best we can (as self-taught players) when working with an artist out of 100% respect for them and their music. But unlike with Mulatu or Lloyd, I was not actually aware of Orlando's credentials or familiar with his music when Quinton first contacted me with the idea of the Helios backing him for a new album. After I checked him out and his '70s catalog, I of course took Quinton's arm off to do it. When we recorded Jaiyede Afro, we didn't really have a handle on the African swing/feel, but I think we finally got something much closer to it through touring extensively with OJ and getting to play alongside some of Fela's seasoned Africa 70 musicians and other amazing African players."
Merch for this release:
Compact Disc (CD), Vinyl LP
"From The Deep is basically an EP of various outtakes accumulated over the years that we liked but that didn't fit onto any of the Helios albums at the time, plus a couple of new tracks we had lying around."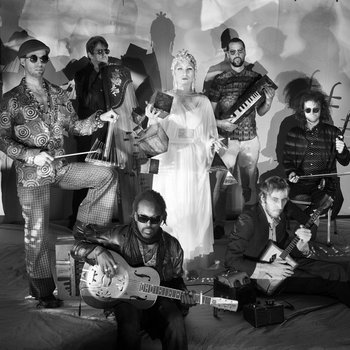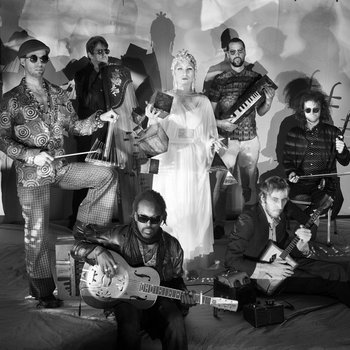 Merch for this release:
Vinyl LP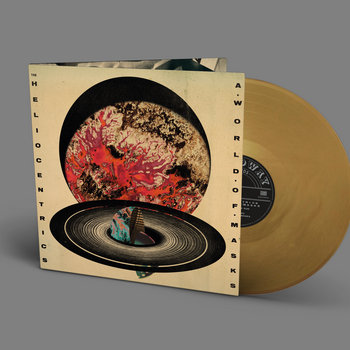 "A World of Masks was our first album with our singer Barbora Patkova and saw us starting to veer away from just purely improvising and start to form rudimentary songs. We had moved to the London-based Soundway Records for this release and it was to be the last album we recorded with long-term band members and friends Ade Owusu on guitar and Tom Hodges on electronics and second guitar, as they both left to pursue other projects."
Merch for this release:
Vinyl LP
"The Sunshine Makers was a film telling the story about the two main LSD manufacturers in late '60s California, Tim Scully and Nicholas Sand, and the very different personal motives they had for taking the risks they did. We had been told that we were in the running to do a soundtrack for this film very early on in the selection process, but then as equally early on, we were also told that we had been eliminated—I guess for sounding too psychedelic, as this was not what the producer was after at all. Then out of the blue many weeks later, we got a call from the music advisor for the film, Gary Welch, who had put our name in the hat originally. He asked us to come up with the music for the 'trip scene' of the movie where Tim drops his first tab of acid. The catch was that we needed to submit it the next day, so we worked through the night until 8 a.m. the next day—writing, playing, and recording the music for this long and important segment of the film.
The film's director, Cosmo Feilding-Mellen, generally wanted more composed pieces of music to match the mood that the scenes conveyed. Me and Jake had been playing improvised music nearly continuously for a decade, so we had to kickstart the other half of our brains to start coming up with some decent melody heads, etc. Anything too obviously psychedelic was passed over in favor of dark and moody acoustic tracks with strings. Although a real challenge, we really enjoyed it and it forced us to write together and made us realize that due to the complexity of various emotions or scenarios in a single scene, that you could have various seemingly unrelated segments in a single track. It also made a great change to get paid decently to just make music and come up with ideas."
Merch for this release:
Compact Disc (CD), Vinyl LP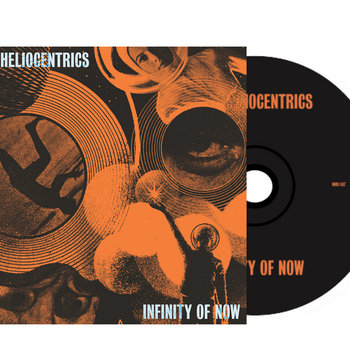 "Infinity of Now saw us with the same lineup as above, minus Sylvia Hallet on hurdy gurdy and sarangi, [delving] further down the path of written and structured material. The tracks are, for the most part, songs we had been performing live and constantly tweaking until we could live with playing them regularly at shows, and were recorded all together live without much in the way of overdubs. This album was also meant to have gone out on Soundway, but when I sent label owner and colleague, Miles Cleret, the finished tracks, he answered saying that he really liked some of the ideas on the demo and looked forward to hearing the finished thing—and P.S., are there any radio singles?
We took this to mean that perhaps he was not really feeling it, so it remained unreleased until one day when randomly [Now-Again Records owner] Egon [Alapatt] and Madlib swung by our studio unexpectedly, as they were in town. They asked to hear what we had been up to, so I played them the proposed LP and told them about Miles's initial response, to which Madlib casually announced that he would put it out on his new label and did."
Merch for this release:
Compact Disc (CD)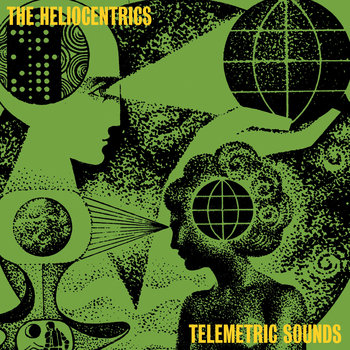 "The bulk of Telemetric Sounds was made up from one spontaneous improvisation during a recording session for the Infinity of Now album. It happened when Barbora and Jack went out for a 45-minute break to get a falafel each. We were all frustrated after doing take after take of a track on Infinity, and those left behind, in a bid for some group musical freedom, all launched into one evolving 45-minute mega jam from literally the moment they left until the moment they came back through the door—just as we struck the last notes of 'Left to our own devices.'"