LISTS
A Guide to (Nearly) Four Decades of Dutch Punks The Ex
By Jasper Willems · April 16, 2018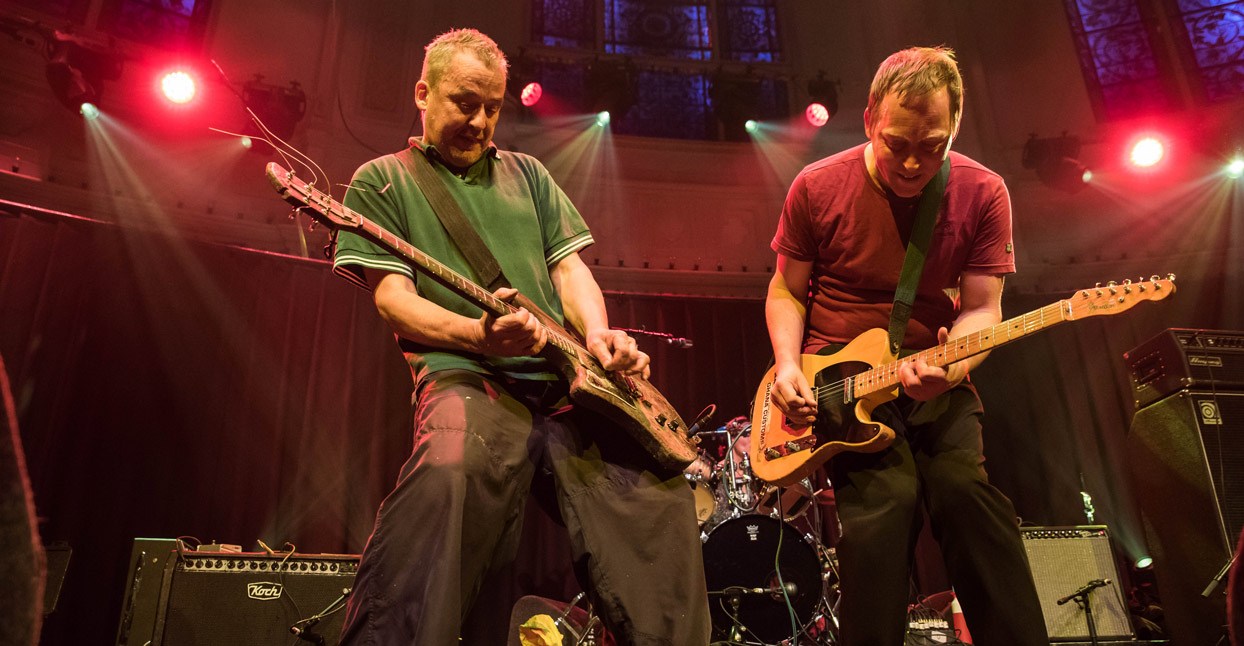 Though ramshackle and dusty, the White Villa in Wormer, Netherlands still stands proud and firm in the quaint pastoral Dutch meadowland. For 38 years, it's remained the spiritual home of The Ex, and the actual home of founding member and guitarist Terrie "Ex" Hessels. In this former bastion of the original punk explosion, Hessels and singer/guitarist Arnold De Boer are preparing for the release of their latest LP, 27 Passports. In the front yard, we spot the rusty husk of the van Hessels drove across Africa, during his only year-long hiatus from the band. A title like "This Car Is My Guest"—the album's second cut—would be apt: like many other objects scattered here in the Villa, this hunk of junk is now a cherished memento.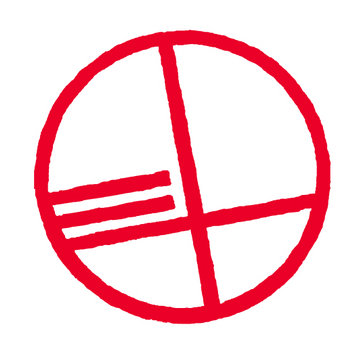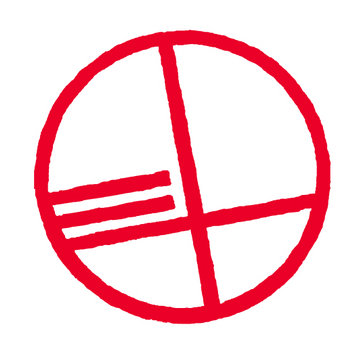 The aforementioned song contains a confluence of meanings depending on who you ask. De Boer shrugs: "It's partly about my uncle, who got into a hit-and-run car accident. When he was in the hospital, he joked that his car, which was trashed in a ditch, should come to visit him, too. That's kind of how it started, suddenly it takes on a life of its own."
De Boer, who took over vocal duties from G.W. Sok in 2009, has a different lyrical approach than his longtime predecessor. Sok's poetic wordplay was acidic and piercing, often with the stern quality of a manifesto. De Boer (who also performs under his longtime project Zea) is more wry and observational, often drawing inspiration from silly frictions in discourse, culture, and language. "We predominantly speak English in The Ex, because our [British-born] guitarist Andy [Moor], after 30 or so years, somehow still hasn't mastered the Dutch language," De Boer says in jest. "And Kat [drummer Katrin Bornefeld] was born in Germany, and she speaks both English and Dutch very well. But there's always a strange combination of customs and languages between us, and I draw a lot of lyrical ideas from that."
In their nearly four-decade career, The Ex have experimented with countless styles and ideas. They are revered by many of their guitar-wielding peers, notably Sonic Youth, Tortoise, and Steve Albini. But their overall M.O. remains singular, as much egalitarian as it is audacious. For a band so stubbornly adventurous, tirelessly independent and unconcerned about how people define them, The Ex have this strong impulse to document nearly everything they do. Those who immerse themselves long enough in their work will notice how they've cataloged all their recordings and concerts, right down to the absolute minutiae, even the most mundane of details, such as reasons why certain gigs were cancelled. One gig at Amsterdam's Paradiso in 1986, for instance, was axed simply because "we didn't feel like playing anymore, after an 'exaggerated retro-punk' publicity campaign."
Th Ex may have had a point, even back then. Though rooted in the anarcho-punk explosion of the late '70s, over the years, their musical purview has boldly mushroomed to the outer realms of folk, jazz, improv, and noise. Their artistry isn't driven by their past legacy, but by the many—often intuitive—ways music can traverse cultural and lingual frontiers. In 2002, The Ex were the first band to play loud guitar music in Ethiopia, a quest that strongly informs their work to this very day.
As we barge in, Hessels is packing for yet another trip. Almost half of the space in his suitcase is occupied by toys for the kids there. Fendika dancer Melaku Belay invited Hessels and his partner Emma Fischer, who designs a lot of The Ex's packaging and layouts, to a wedding. "If you can get a hold of a obscure cassette with Ethiopian wedding music," Hessels guffaws, "seriously, that's some of the most full-on punk music you'll ever hear!"
Over the years, The Ex's avid love for Ethiopia has become reciprocal. Their signature rousing guitar forays and Bornefeld's polyrhythmic pulse are strongly informed by the way Ethiopian Azmari folk rocks to the whims of everyday confab. And in turn, The Ex's proclivity for archiving things helped salvage some singular Ethiopian music before it was lost forever. In 2016, The Ex published a photo book documenting and celebrating the life of late Ethio-jazz legend and friend Getatchew Mekurya, from his days in Haile Selassie's house band to his newfound international fame. "This book is important for Ethiopia," Hessels says, "because there are still Ethiopian people wholly unfamiliar with these older photographs, the whole history behind them."
Though the infrastructure in Ethiopian cities is modernizing quickly, according to De Boer and Hessels, music there remains predominantly a folkloric activity. "The capital city of Addis Ababa had been rapidly changing the past 10 years," De Boer says. "Chinese companies are building roadways and hotels. And whole neighborhoods have vanished because of the so-called 'progress of the world.' There's this new middle class that wants to live like they see on TV in America. And something original always gets lost in the process." On 27 Passports's opening cut "Soon All Cities," De Boer launches a full-on diatribe on how the Western concept of prosperity contaminates the world: "Soon all cities will have the same accidents / Soon all cities will have the same monuments."
At one point, during our conversation, De Boer points to one of the many pictures taken by Andy Moor for the packaging of 27 Passports. It shows a majestic wooden building structure in Ethiopia, bound and built by human hands instead of crude machinery. It looks a bit different than the Wormer Villa, obviously, but stands similarly symbolic in its obdurate perseverance. Some original structures, though ramshackle and man-made, continue to survive and evolve, towering resplendently over their respective ever-transforming surroundings. Headstrong, kind of like The Ex. Here are a few of the many gems from their long and storied history.
This box set of four 7" singles is a heart-wrenching testimony to the closed Van Gelder paper factory in The Ex's hometown of Wormer. The music's plodding machine-like yomp—like an industrial version of Public Image Ltd.'s Flowers Of Romance—brilliantly evokes both the hardships and the defiance of the factory workers. Some of the material was recorded in the factory's abandoned ruins. During the World Wars, the Germans were unsuccessful in usurping and relocating the paper factory, as employees were clever enough to sabotage and hide essential equipment. Though war couldn't break the spirit of the union, a combination of dangerous working conditions, outdated machines, and corporate exploitation led to the factory's demise in 1980. The poignant cover photo pinpoints the exact moment the workers heard they'd been fired.
The huge void left by the beloved Wormer paper factory, however, correlated directly with The Ex's burgeoning DIY ethos. Shortly after the factory's demise, the band squatted the abandoned Wormer Villa. Through much strife, survival, stubbornness, and self-education, it remains a place where cultural chasms are straddled and alliances are forged. "At one point we lived for a whole year without power," Hessels remembers. "But we were quite a nuisance; we wrote letters to the government. And the occasional stone through a window. [laughs] But more importantly, we always had the support of the village."
1985's Pokkeherrie (Dutch slang for "filthy racket") is the first The Ex LP driven by Bornefeld's incredible drumming. This record presents the root of The Ex's signature sound as we know today. Right off the bat, Pokkeherrie's sheer immediacy lives up to its name: Bornefeld's hypnotic tom pattern on "Nurse" is ambushed on both sides by razor-edged guitars and G.W. Sok's sharp wit. This level of intensity immediately ranks up there with the most visceral noise excursions of Big Black, Swans, and Sonic Youth. It's a record that attacks Dutch decadence head-on: from faceless industry types to authoritarian white liberals.
Bornefeld actually joined the band on an audition, which strangely diverts from The Ex usual alliance with like-minded musicians, often through chance encounter or mutual friendship. "Before she started playing with us, she had never heard of The Ex," says Hessels.
This seems to be the one constant of The Ex and their ilk: obliviousness is bliss. When The Ex played a show at CBGB, some unassuming guy named Steve—Steve Albini, who would later helm Starters Alternators (1998) and Catch My Shoe (2011)—helped them haul gear inside. As a self-taught sax player, Getatchew Mekurya wasn't the least familiar with the rich jazz aristocracy of Albert Ayler or John Coltrane, much less a bunch of lumbering Dutch punks calling themselves The Ex. And it doesn't matter. The less you know or understand about your collaborators' M.O., the more fruitful and combustible the music often becomes. And Bornefeld's introduction on Pokkeherrie was no different.
Scrabbling At The Lock is the best selling Ex record so far, and upon hearing the first  intense notes of "State Of Shock," it's easy to grasp why. The late New York-based cellist Tom Cora adds a new layer of grace and gravitas to The Ex's firecracker sound. Cora's arresting staccato pounce on the Bornefeld-sung rendition of Hungarian folk song "Hidegen Fujnak a szelek" ("Cold Winds Are Blowing") is truly something to behold. "Total Preparation" combines classical minimalism, dub cadence, and heavy metal riffage, defying any easy categorization. Thanks to their work with Cora, Scrabbling At The Lock and its predecessor And The Weathermen Shrug Their Shoulders definitively put The Ex on the radar of free jazz circles.
Hessels on how they first met Cora, which, of course, happened in typically impulsive Ex fashion: "He came to see The Ex when we first played CBGB. We were still relatively unknown back then, so they treated us horribly there. After 20 minutes, the sound technician was cutting our set short, because there were about six or seven other bands playing. But Tom Cora wasn't having it; he walked back up to the PA guy and turned the volume back up himself. We figured, 'Wow, this guy should be doing our sound from now on.' Turns out he also played the cello, which was bit of a bummer." [laughs]
Picking just five records from The Ex's discography is a maddening quandary. Including the Brass Unbound project or Joggers & Smoggers wouldn't exactly be a bad look. But it's hard to deny The Ex's riveting stage synergy with the iconic Getatchew Mekurya on Moa Anbessa. "Often times, Getatchew wanted to play a wedding song," Hessels chuckles. "But the problem is, they don't have song titles in Ethiopia. They're movements about running into a family member, or about certain times a day. To him, it was all so seamless, but the four of us were fumbling to look everything up. Getatchew would always decide to play something differently, to accommodate the situation. It's not as cast-iron as over here. It becomes this delightful mess, I mean, where do you start?"
And to add to that, how do you select and catalog music that's never performed the same way twice? "Well, yeah, that is a bit difficult. We do it a bit on our own gut feeling. For Ethiopian musicians, capturing music on a record isn't as self-evident as here in Europe. For them, it's weird to categorize music like that. The music is much more free-thinking," says Hessels. A big reason Hessels releases these CDs on his label Terp, is so artists can have physical merch to sell whenever they play abroad. Every now and then, Hessels travels to pay the artists: "I would be downright ashamed if I earned money from it myself." The goal is simply to get all this music out into the world.
"It's all done on a small scale," De Boer, who runs a similar operation with Makkum Records, adds. "Some African musicians put their stuff out on tape as a form of promo, to get invited to the next wedding. To give some vague indication of how they sound and perform."
"Kind of like The Ex!" says Hessels with a laugh.
Which brings us back to The Ex's new album 27 Passports, recorded at Amsterdam's Electric Monkey studio. The rousing "New Blank Document," which meditates on maintaining your innocence, is emblematic of the group's headspace today. The band decided to forgo their usual trajectory of recording the songs on their albums once they're extensively honed and developed live. 27 Passports is the inverse of that approach: recording music that's still in its embryonic state, which is an exciting change of pace. "It's very fun to record without falling back to routine," says Hessels.
"The next time you will see us live, you'll find that the songs have become radically different," adds De Boer.
The only "old" song on 27 Passports is "Four Billion Tulip Bulbs," which was partly informed by the Dutch tulip goldrush of the 17th century. "I once worked at a flower auction, which was one of the worst jobs I have ever had," says De Boer. Not surprisingly, the meaning is never clear cut. The conversation promptly shifts to the Dutch bulb farming business in Ethiopia. "It's hopeless, the way they take over entire crops of land. It's the only crop there polluted by dangerous chemicals. So the whole land becomes infertile. So horrible!" Hessels says, visibly downcast.
De Boer adds: "The Dutch are allowed to use chemicals there which are banned in the Netherlands."
"They're ruining so much over there. Prior to that, the agriculture in Ethiopia was very clean. Dutch people can be so crude…so maybe we need to add another verse to 'Four Billion Tulip Bulbs,'" says Hessels.
Once a punk, always a punk.
–Jasper Willems