LISTS
A Walk Through The Doppelgangaz's Melodic, Static-Caked Hip-Hop
By Phillip Mlynar · May 21, 2018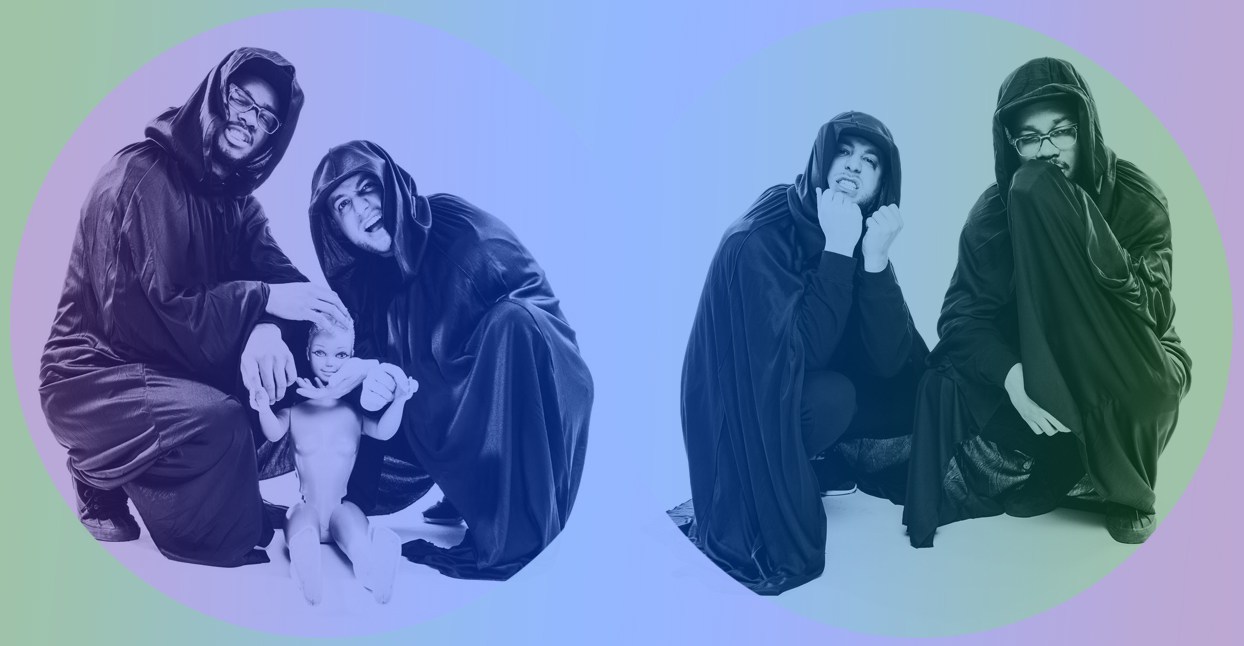 Since the release of The Ghastly Duo EP in 2008, the Doppelgangaz have been steadily building one of the most beguiling worlds in rap. Based in upstate New York—which they dub "Parts Unknown"—group members EP and Matter Ov Fact don full-length black cloaks as their sartorial calling card, and preach to a committed fanbase who call themselves the Shark Nation. In their lyrics, Dopp Gang reference kooky medical conditions, cop to off-kilter sexual habits, brag about gourmand-level food situations, and offer encouragement to those who feel like they've been shunted to outsider status in society. Their lyrics are usually paired with production that's anchored in dusty, static-caked beats—though, on later releases, the duo has increasingly embraced melody.
AAAAGGGHH is the newest installment of the The Doppelgangaz chronicles. EP says the 11-track project is sonically inspired by Dr. Dre's work—although, in true contrarian spirit, he adds, "We're pulling from like '96, '97 Dre that people don't like—the Firm, flop-type Dre. G-funk was kinda fading, and they were figuring out what to do next, but there's the remnants, and it's a little dark." The album details the intricacies of the black cloak lifestyle ("B.C.M.T.F.O."), offers up benevolent pleas to the rap gods ("Highly Favored"), and considers how phone addiction regularly makes everyday situations sexual ("Screen Fatigue"). As Matter Ov Fact puts it, "It's like watching try-on hauls with a chick getting a whole bunch of outfits to put on one after the other—it's for other women to see, but, real talk, everything gets perverted eventually."
We met EP and Matter Ov Fact at a bar in Astoria, Queens, where they gave us a tour of their discography, beginning with their most accessible album, and then tackling their back catalog in chronological order.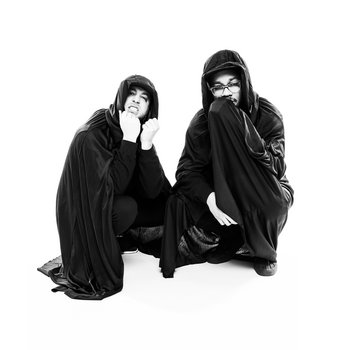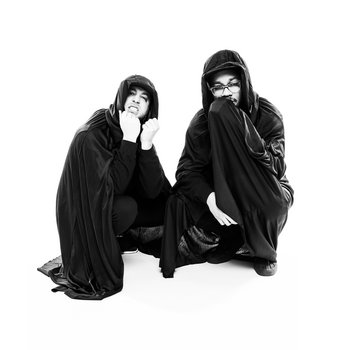 EP: I would say Peace Kehd is a good introductory album. It has one of our biggest songs on there, 'Holla x2.' The album's shorter, so you can get right to the meat and potatoes of it.
Matter Ov Fact: I knew 'Holla x2' was gonna do well. He showed me the sample and the beat he was messing with, and when I'm hype, I can put myself in the listener's seat.
EP: You were like, 'Give me 10 minutes, I'm out of here, I've gotta write some shit.' I knew something was going down, but I actually struggled; I think I wrote three verses. I felt like I psyched myself out. But it's a good pressure. I also like that the song also doesn't have a real chorus on there—it's us talking shit, and then the 'Holla holla' thing is there. The production is a weird combination—this piano loop with this Middle Eastern dude saying 'Holla holla,' but the sample is not saying that—I chopped it from the end of the word.
Matter Ov Fact: Peace Kehd has this relaxed vibe.
EP: It starts out with this super peaceful beat, then there's bombs going off: It's a representation of life—like, when things are going well, that's when things can get fucked. We also have 'Live Rugged' and 'Ungodly'—just look at the titles, being not of god!
Matter Ov Fact: Peace Kehd is heavily influenced by [entourage member] Big Josh, like he was telling us about some chick who was telling him that what he does is not 'Of God.' Big Josh will just call you up on something, and it makes you want to write. Every time I talk to him, I have to write something down. I have a million Big Josh quotes that have to manifest into rhyme one day.
Matter Ov Fact: I saw Avengers: Infinity War the other day, and it made me think how we wanted our first project to be our Ironman. We wanted to start the Dopp Gang audio universe with this.
EP: Get you acquainted with us and our world.
Matter Ov Fact: We knew how seriously we wanted to take things. It's a nice little introduction. We put that out when MySpace was around. I remember that night like it was yesterday: Josh took those pictures at a bus stop in our old neighborhood. We were excited for the future. It was the foundation, the beginning. I think Robert Downey Jr. was somewhere involved.
EP: I remember it being a time where the future was so unknown. I remember us just saying, 'Let's get a collection to put out to get our name out there and then we can start working on an actual full length.' At first, Ghastly Duo was released as a Mediafire link!
Matter Ov Fact: We didn't even sell it.
Matter Ov Fact: With the album title, I think we were just obsessed with the world ending—there was a Mayan calendar thing at the time. It was playing off of that. People dead-ass thought that was about to happen.
EP: I had a whole post-apocalyptic cellar of canned goods.
Matter Ov Fact: It reminded me of Y2K all over again.
EP: He alludes to that on the album, having a survival kit, canned goods, and bottled water. We were obsessed with it, because we thought it was ridiculous. Also around that time we really got into ball powder. People make powders specifically for your nuts. It was big for us to talk about that. We would ask ourselves, 'Did you throw on powder today?'
Matter Ov Fact: 'How hot is it? You need powder?' That kinda inspired the song 'Good Hygiene.'
EP: The production across the album is cool, man. For me, there were so many years where we didn't know about sampling. It was a bunch of years leading up to these projects so it was all about original beats [at first], and this was us just having a field day with a lot of samples. This album was us going digging. I mean that loosely—we don't go searching for $400 records—but these are our first experiences with seeing what we could find in dollar bins. We had a couple of local spots plus we were doing a lot of open mics in the East Village so we'd dig there. This is the beginnings of us really going hard with samples.
Matter Ov Fact: Sometimes you get lucky and find some weird local stuff and you know you're the only person on Earth listening to that right now. That's beautiful.
EP: We haven't changed equipment since then, although the Numark USB turntable just died on us. Reason is still the software, and we have an Akai MPK25, just a really small pad and MIDI controller. Speaking of equipment, there was an original version of 'Smoke Mics' that we lost, so if I could go back I'd like to find that. Also, before 'Here We Go' there's an interlude with the same sample, and I really like that beat—I would rap over that right now.
EP: This is the album that got us attention. At the time, we didn't feel like anyone gave a fuck.
Matter Ov Fact: I would say we were hyped in the process of making Lone Sharks. We had some of the coolest samples and weird shit and ideas we were working on, and we were extremely excited. To us, you couldn't tell us we weren't signed to Atlantic—we were locked in like this is about to be poppin'.
EP: The crazy thing is, a lot of these beats we started with inspired the song ideas, but then we scrapped them and made the real album. Only 'Rap $ Unemployment' remained unchanged. It was because we got new records [to sample]. We got a nice batch. 'Doppel Gospel,' which is the most sought-after sample we have, we got that from a local spot that's out of business, and it's a home recording—this is a self-release that this dude did and I will leave it at that.
Matter Ov Fact: Pretty much every time we made a song, we would listen to the 'Suppository' beat afterwards and say, 'Oh, I can't wait to work on this.' We had it in the stash, but we held off on that.
EP: Before we recorded 'Dumpster Diving,' I remember reading a lot of articles on people dumpster diving. It was a real craze, and it inspired us to talk about that. I remember in the Bay Area, a lot of people were doing it not just for home use, but they were saying people were trying to do pop-up restaurants using food from the dumpsters.
Matter Ov Fact: 'Dumpster Diving' just describes how we were living, and the mentality. At one point, we were all about having the hottest shit that just came out; I thought I was Juelz Santana in 12th grade. I used to work at laser tag, $6 an hour, and I'd spend the whole check on one jersey from the NBA store. I worked two weeks just to buy one jersey! So it was making that switch to wearing some plain hoodie, some shit you got for less than $10.
EP: A big mentality switch. In the 'Doppel Gospel' video, we were wearing those Fruit of the Loom T-shirts. I'm wearing one now! But that was the goal, to introduce the black cloak lifestyle. It was about taking control: We realized if you want to get anything done making music, you've got to sacrifice everything.
Matter Ov Fact: Hark has 'Barbiturates,' which is our most successful song. We never chose it to be a single, but people were hitting us up about it. We shot the video five months after the album came out. These days, listeners dictate what's a single. You hear about artists investing wild money into a song, and it kinda falls on deaf ears. Then you hear about, like, song number 13 on the album that everybody loves, and they make a video of it.
EP: 'Antidote' by Travis Scott wasn't even supposed to be on his album—people just loved it.
Matter Ov Fact: My initial thoughts about writing to the 'Barbiturates' beat was not morbid, but that it would be on the line—like it could go either way. My verse isn't a sad verse, but I'm talking about how to improve your situation. When I heard it and started writing to it, I took it as a prompt to try and make things better. There's that angelic voice [sampled in the track].
EP: My dad seems to think it's the female voice in there that everyone likes. He tells me, 'You need more female voices in there!'
Matter Ov Fact: Every song from here on out!
EP: This album has our most successful song but also the most polarizing song we've ever made, 'Skin Yarmulke.' It's because of the amount of static sampled on the song—and I love the idea we inserted more static! It's a dilapidated, nasty record, so that's what it is.
Matter Ov Fact: We made that song at the end of everything. We were just messing with the record and we heard these notes we liked and we wrote this shit quickly. When we do that song live though, it goes over good.
EP: It's ominous, it has a nice intro feel. I feel like at the show, the bass takes over. I never hear anyone complain at the show—it's at home and listening through headphones, that's the reason people fight over this song. I think it's texture, it's another element to listen to. I never thought it was that problematic. People are like, 'Cool song, but can you just tone down the static?'
EP: We got Jim Jones on 'Jail Weight.' It's an old connection we've had. When we were in high school, we were big Diplomats fans, and we'd read a lot of credits, and when Cam'ron dropped S.D.E., the main producer on there was Darrell 'Digga' Branch, who also did 50 Cent's 'Many Men.' Digga was forward-thinking enough to put his website as his album credit, and this was like 2004. So we checked out the website, saw what he looked like, and we actually saw him in a mall but I didn't approach him. I wrote him an email, and two months later he responded, said he liked our beats, and sort of mentored us. We've had connects with him since then, and we were able to hit him up and asked if we could get Jim on the track. He helped make it happen. We've had connects with him since then, and we were able to hit him up [via his manager Salt] and asked if we could get Jim on the track.
Matter Ov Fact: We always loved Jim Jones's voice.
EP: We said, 'This is the premise of the song—do you think Jim could talk some shit?' Say no more!
Matter Ov Fact: On Parts Unknown, I always knew the 'Scintilla' beat was gonna be poppin'. I mention George Westinghouse school [where The Notorious B.I.G., Jay-Z, Busta Rhymes, and DMX went] because I was thinking about all the talent passing through that one building.
EP: We're infatuated with the rap industry pre-social media, like how all these guys know each other and run in circles with each other, and in a matter of a year can go from best friends to beefing. It's so interesting, so crazy. Also, the cover photo [by Alexander Richter] is actually shot on an iPhone. It ended up being such an epic shot.
EP: To me, this is a statement piece. It's us getting our music right, us getting our business right, us getting out mindstate right. It's a power switch. It's the beginnings of us getting everything just right in our life, hence why we made 15 songs, no interludes. Also, this album made it by the grace of God—we could barely bounce the mixes, the computer was dying, man!
Matter Ov Fact: If AAAAGGGHH is the resurrection, this is the sacrifice right here. We had to do a lot to get this shit made.
EP: Petting the computer to bounce the mix, hoping it would work. It was an iMac from 2009. This album made it out by the grace of the rap gods.
Matter Ov Fact: I think this is the sacrifice for the new life and we let it all hang out.
EP: We actually thought maybe fans wouldn't like it but it was so well-received.
Matter Ov Fact: We never assume anybody's gonna like anything, but we were surprised by the instant praise we got. Like 'Rapamycin' is one of our more popular songs right now. It's a lot of different styles on here.
EP: 'Rapamycin' is the song to get you into Dopp Hopp. I remember being in Australia and the song wasn't fully finished and we were thinking about teasing it. I remember the overwhelming feeling of, 'We like this song so much, and it's not even done yet.'
Matter Ov Fact: 'Olympics' and 'I've Been' were played on Dr. Dre's radio show The Pharmacy. We asked our distributor how that happened, and they didn't know.
EP: I think Dre chose it.
-Phillip Mlynar