LISTS
The DJ Smokey Guide to "Cloud Rap"
By Vance Brinkley · March 19, 2018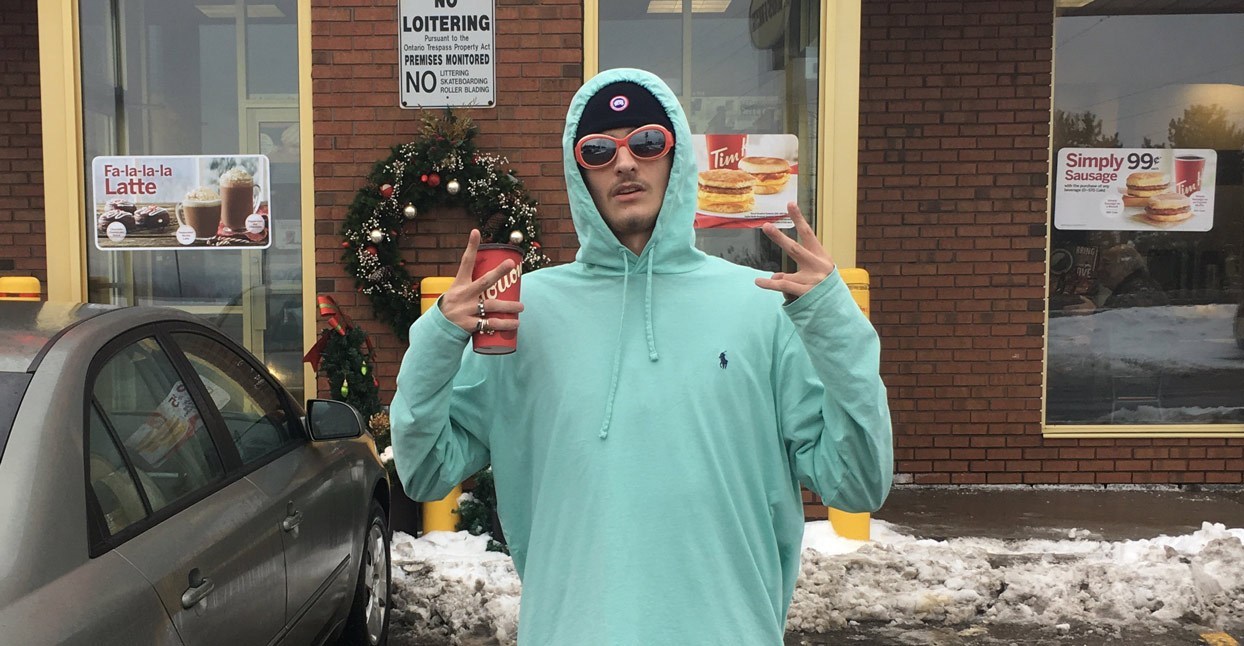 The West and East Coasts may have been running hip-hop in the '90s but, thanks to acts like Outkast, UGK, and Geto Boys, the South was quietly establishing itself as a rock-solid "third coast" during the genre's formative years. The city of Memphis, specifically, was experiencing its own private "golden age," with a thriving local underground tape scene made up of artists who were slowly giving the city its own dark sound.
Memphis rappers incorporated a healthy helping of horror into their music, spiking their catchy hooks and bass-kicking beats with skeletons and satanic imagery, creating what was arguably the earliest incarnation of what would become trap music. Those days would see the rise of several artists who would change the conversation around Memphis rap, whether national acts like Three 6 Mafia or local legends like DJ Zirk and Tommy Wright III.
In 2011, the Memphis take on Southern rap was revived by a younger generation of artists, whose aims expanded beyond simple '90s nostalgia. The result was a bracing new sound. A$AP Rocky's Live.Love.A$AP was the first album to reintroduce the classic sound to a mainstream audience; one of that record's producers, Miami's SpaceGhostPurrp, soon formed his own musical clique, Raider Klan, which completely remodeled a classic sound for a new audience. Though their music owed a clear debt to the early sound of Memphis hip-hop, both Raider Klan and A$AP Mob completely rebuilt it, relying on lo-fi production and clever flips of samples from songs like "Lock Em In Da Trunk" and "Crazy Off Da Bud Sack."
This new kind of music was quickly dubbed "cloud rap," and it paved the way for producers like DJ Smokey. Smokey had become a fan of underground Southern rap in high school, after his buddy Stan made a connection through online gaming. "He just so happened to meet this guy from Texas, who sold him a ton of drugs and shit," Smokey says of his friend. "He learned a lot about the Texas culture through [him], and then he taught me about it from that guy."
This was during a time when Smokey was producing for the sheer love of it, gaining a reputation as a beatmaker in high school. His fanbase grew when he moved to college and began uploading his beats to Bandcamp. His two first tapes, Da Smoke Tape and Purple Diamondz, contained early mixes of beats he'd made in the past, and provided a glimpse into the young producer's future. Smokey's love for Southern music would evolve, but his college days were cut short after getting caught with a quarter-pound of weed in the first semester of his second year. "I could've gotten a felony charge," Smokey recalls. "Never would've been able to go out of my country and shit."
After paying nearly $3,000 for a lawyer to defend him in court, Smokey committed himself to making a mixtape that would be his breakout.  He had already made connections with artists from Raider Klan, and was supposed to collaborate on a mixtape with member Ethelwulf (now known as the single act Xavier Wulf), but it didn't come to pass. So instead, he kept those beats for himself, and Evil Wayz was born. The album gained popularity for its weird yet nostalgic approach to trap music. Most of the beats consisted of samples from old horror movies and classic songs, yet each had a unique flip that would change its source material entirely. Many artists were attempting the same maneuvers around this time, but Evil Wayz was the first to do it right.
In the five years since Evil Wayz, the Canadian producer has become one of the longest lasting producers of the cloud rap era, working with artists including Lofty305, Yung Lean, Tommy Kruise, and Yung Simmie, while also building a cult following as an independent act. A$AP Yams reportedly loved his production, and had plans to throw some of his beats in A$AP Mob's rotation before his death. "Yams literally told me that [he] bought all of my albums on Bandcamp, and I was like, 'Seriously, bro?'' says Smokey.
The two had a close relationship, with Yams hoping to bring the producer on to more projects with A$AP. "He was talking to me about some other stuff on the terms of how he wanted to meet me when I went to L.A. He also said he was going to set up some studio in Houston and try to get a bunch of producers together to do that shit." Unfortunately, those plans were cut short by Yams' untimely passing, closing a door to future collaborations with A$AP-affiliated members, like Playboi Carti. A year later, the Mob added his beat for the track "Young N***a Living" on the Cozy Tapes Vol 1., which was a tribute to the founder of the now mainstream music clique.
It's easy to be caught off guard by Smokey's digital-psych album covers—Yoshi Emeraldz, for example, blends Nintendo characters with Goosebumps-inspired fonts and No Limit-esque poses—but Smokey's sounds are never anything less than deftly-layered and complex. Underneath the hard beats are beautifully-crafted samples that surprise, every single time they appear. He's been independent for six years and continues to release a steady stream of. With 16 music projects Bandcamp alone, it's a lot to take in all at once. Here are eight songs that serve as an entrypoint to Smokey's extensive library.
"Freaky Hoes"
From Smokey's more recent project,  Yoshi Emeraldz, this track follows a smoother route compared to others in his repertoire. Sure, the structure of the beat has that same bounce you hear in a typical DJ Smokey production, but it's fascinating to hear him use Project Pat's "Twerk" as a backdrop to the melodic chorus of TLC's "Silly Ho." Smokey's flip gives what was a 2000-era song produced by Dallas Austin a trill twist with heavy bass.
"Souljaz From Tha Northside"
This track, from Codeine Demonz, includes a wavy sample of the instrumentation from the classic Teddy Pendergrass single, "You're My Latest, My Greatest Inspiration." Who would've known that this beautiful love ballad could be so easily blended with "Soldiers From The Northside" from Juicy J's solo debut album, Chronicles of The Juice Man? The beat flip in the middle is hypnotizing, leaving you wanting more as the song fades away.
"Duck N Creep"
"Duck N Creep" is the equivalent of walking through a treacherous neighborhood in the middle of the night. This flip of Tommy Wright III's 1995 song "Runnin-N-Gunnin" is slowed down and somber, Wright's opening lyrics flowing through slow-knocking bass. Originally used in another song off of the Codeine Demonz project, the beat for "Duck N Creep" was beloved by many when it was first posted as a single in 2013, right before the release of Evil Wayz. Five years later, it still resonates as a standout song in Smokey's repertoire.
"Do I Hate Ya"

Both of Smokey's Evil Wayz projects begin with a relatively calm intro track; the second track is when he reaches out and grabs you, and from that point on, you're fully immersed in his smoked-out, trippy land. The second song off the sequel to Evil Wayz, "Do I Hate Ya" brings a unique perspective to DJ Smokey's beatmaking. The song originally appeared in a teaser for Evil Wayz Vol. 2, but the 10-15 second sample was so strong it was hard not to wonder how it would sound stretched out to proper length. The result doesn't disappoint. "Do I Hate Ya" includes the chorus from a 1994 track of the same name by Little Jules, another Memphis rapper from the underground tape era of the '90s. The sampled piano gives the song a weird, chilling tone, like it was lifted from a horror film in the 1930s. With a more upbeat tempo, a refined hook, and the psychedelic vibe associated with most DJ Smokey productions, "Do I Hate Ya" gave a bleak track the flair it needed to touch the internet generation.
"Ride Clean"
This beat is probably one of the best in Smokey's catalog. From his cult classic Evil Wayz, "Ride Clean" flows off of a sped-up version of "At Your Best" by the Isley Brothers, turning the slow jam on its neck with a wild bassline. The first bars of Kingpin Skinny Pimp's verse from Three 6 Mafia's "Pimpin & Robbin" appears as the chorus, and you hear more of that song the beat flips during the final minute. The repeated phrase "pimp them sluts, break them hoes, ride clean, smoke your dope" could be a bit much for listeners with sensitive ears, yet in "Ride Clean," it fits natural with the song's randy bass and tone, similar to exuberant Three 6-produced tracks like "Int'l Players Anthem" and "Poppin' My Collar."
"Double My Cup"
Compared to Smokey's banger-heavy albums like Codeine Demonz and Da Smoke Tape, Smoked Out Dance Party felt different. The beats are still hard, and still implement samples of trap music, but the tempo is switched up to give the songs a house-type vibe; that's what made "Double My Cup" a favorite for many on Smokey's 2014 project. With a sped-up version of Les McCann's jazzy "Go On and Cry" and a repeated hook by Gucci Mane, who demands you to "double-cup [his] styrofoam," the three-minute track is a standout on Smokey's most experimental mixtape.     
"Smoked Out Positive Squad"
"Smoked Off Positive Squad" is yet another dance song from the 14-track Smoked Out Dance Party, complete with a hilarious video that mixes both Smokey's signature weirdness with viral clips of people dancing and twerking to the song. The beat is fire, blending a bar from Juicy J's verse on Wiz Khalifa's "Bob Marley" with upbeat piano chords, and keeping the positive vibe going for five minutes. "Smoked Out Positive Squad" was the first song to mention the name of Smokey's clique, who eventually branched out to projects Positive Squad the Soundtrack Vol 1. and Positive Squad Adventures Chapters 1 & 2.
"Evil Wayz Intro"
Of all the songs DJ Smokey created in his seven years of production, this is his"quintessential" track—the one that introduced him to the world. "I always listen back to that song, and that [one] always makes me feel nostalgic; I remember when I made that shit," says Smokey. "I remember putting it together and finding the sample. Shit, just everything clicking, and I had a good feel with it." Evil Wayz was the masterpiece that made Smokey one of the most promising young producers in 2012, and the album's intro served as a slow dive into what may be one of the best albums of the "cloud rap" era.  
-Vance Brinkley