LISTS
The Endless Highs of the Termanology Catalog
By Phillip Mlynar · January 12, 2023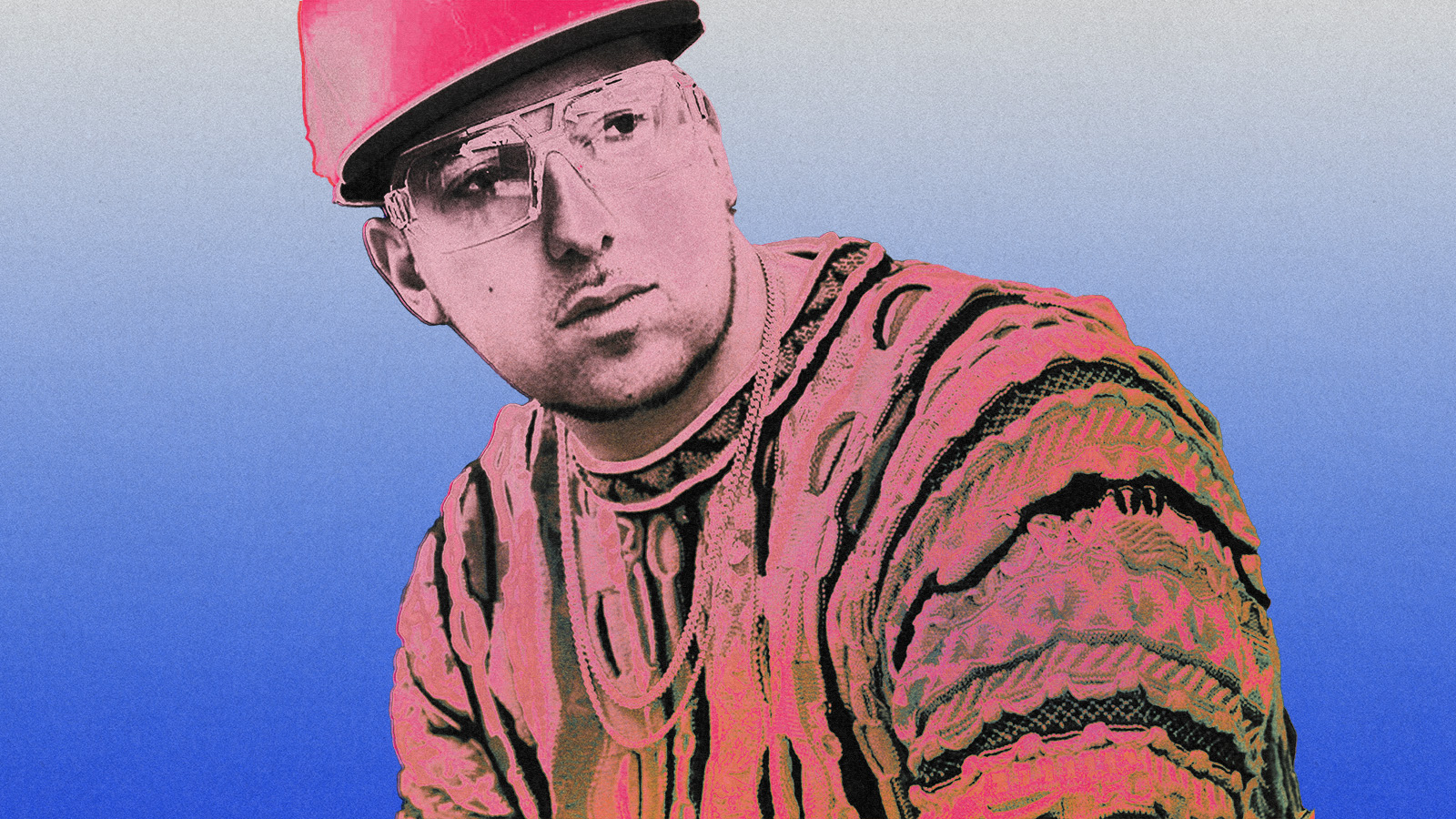 "The start of my love of hip-hop was very 'early '90s,'" says the prolific Massachusetts MC Termanology, talking about the music that first ignited his love of the genre. "Those were the most influential years to me—artists like Dr Dre, Snoop, Cypress Hill, Kriss Kross, House of Pain…Superstar rappers that exploded onto the scene."
Instantly smitten with hip-hop's fashion and slang, Termanology began charting his own path into the music industry when he was still a teenager. Originally operating under the MC moniker Danny C—a nod to his birth name of Daniel Domingo Carrillo—he eventually re-cast himself as Termanology. The hardscrabble city of Lawrence that he called home was an early influence on the sound of his MC voice.
"Lawrence is the poorest city in Massachusetts," he says, "which means it's one of the poorest cities in the United States. Growing up during that time, with the drug epidemic, with crack cocaine, living in poverty, and then hearing this stuff in the music and seeing it outside my building—it was like they were making songs about my everyday life."
Merch for this release:
Compact Disc (CD)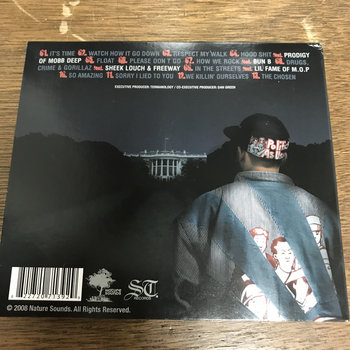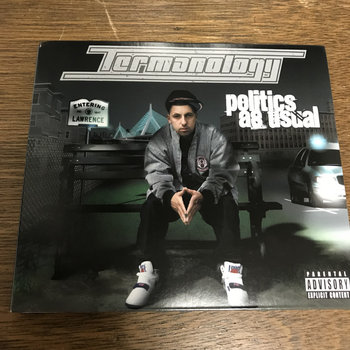 The aspiring rapper also found inspiration in the way MCs exercised their lyrical carte blanche. "People being on the microphone and being able to say whatever they wanted was an influence," he says. "Little kids want to say whatever they want to say."
Crucial to Termanology's breakthrough was the release of 2006's "Watch How It Go Down," which was produced by hip-hop icon DJ Premier. "That moment changed my life," he says. "It took me from being a relatively unknown artist to somebody making a lot of noise on the rap scene. It led me to tours and record deals." The collaboration was facilitated by Termanology's friend and creative spar Statik Selektah, who suggested to Premier that his friend's fluid-but-chiseled flow would be a smart fit for the brooding menace and dramatic strings on the beat Preemo had cooked up. "I see myself as the holy resurrection of Pun/ If I ain't that, then you name one," raps Termanology, before unleashing his trademark mix of composed braggadocio, motivational mantras, and political commentary: "I'm living in poverty plus I'm a minority/ Plus all my priorities fucked in this economy/ Rap music is probably not the best career you could choose/ But hearing my views like hearing the news/ So fear me if you skepticize, homie, but it's clearly the truth."
Since blessing the world with "Watch How It Go Down" (which appeared on 2008's Politics As Usual), Termanology has amassed a discography some 46 projects deep, most of which pair the MC with a single collaborator, including albums recorded with M.O.P's Lil' Fame, Ruff Ryders production powerhouse Dame Grease, and Houston rapper Paul Wall.
As Termanology inches closer to his 50th official music release, we offer his hand-picked guide to getting familiar with his vast body of work.
---
Merch for this release:
Compact Disc (CD)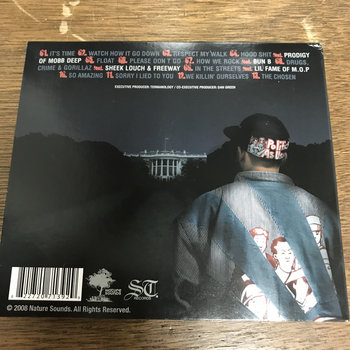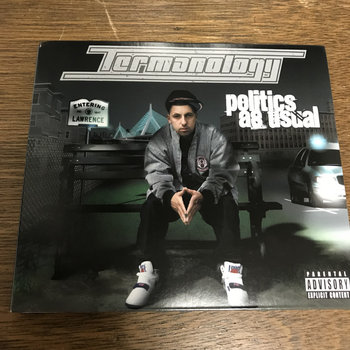 2008's Politics As Usual makes for a powerful introduction to Termanology's body of work. The MC enlists a production roster that reflects his mighty healthy '90s rap influences: Large Professor serves up a slinky backdrop for the confessional "Sorry I Lied To You," DJ Premier notches a trio of credits that include key single "Watch How It Go Down," and Mobb Deep's Havoc conjures eerie impending danger for closer "The Chosen." "Man, I love that album," reflects Termanology. "It was such a big moment for my state, for Boston, for Lawrence, all the places I represent. There was such a void that wasn't being filled in the New England scene. With people like Mobb Deep and Alchemist and Preemo involved, it was a moment in hip-hop. And I was a fresh new artist, and I was coming out with a golden-era sound. I set a standard straight out the gate."
Merch for this release:
Compact Disc (CD)
The nostalgic spirit of the collaborative project between Termanology and producer Statik Selektah is introduced in the latter's spoken introduction to the album: "The year was '82, Lawrence, Massachusetts, the same year as the Air Force 1, Wild Style, Michael Jackson's Thriller. It's a good year. And, you know, seeing that we grew up off that Gang Starr, Pete Rock & CL Smooth, Kool G Rap & Polo, I think hip-hop needs a new duo." True to that opening gambit, Termanology points out that, "Statik has that DJ Premier, Pete Rock style. So we took the foundation and blueprint from people like EPMD and Gang Starr and became like a two man group." Harnessing the album's warm throwback feel while also spotlighting Termanology's fondness for conceptual writing, standout cut "The Radio" pays tribute to the role of radio broadcasts in hip-hop culture over a beat constructed from wistful piano chops and thumping percussion. "Made my life the shit, thank you Preemo," Term raps, "'Cause this shit we do always on the radio."
Merch for this release:
Compact Disc (CD)
The unapologetically hardcore Fizzyology unites Termanology with amped-up M.O.P. member Lil' Fame (who also contributes the bulk of the project's production under his alias Fizzy Womack). "It was definitely a case of having to match Fame's energy," explains Termanology. "It was very hard, because Lil' Fame is one of the best rappers in the world, and there are all these legendary moments he's had. So there was a lot of pressure. But it was really more fun than pressure—we were in the studio together, so we were hanging out, cracking jokes, drinking, listening to other music." Besides the title track, which lurches with restrained menace courtesy of The Alchemist's angular piano chops, the album's rugged core is encapsulated by the tag-team closers "Crazy" and "Thuggathon." The former adds Fame's M.O.P. partner Billy Danze to the aggressive session, while the latter is anchored by prowling sub-bass that allows Fame to air out some patented lyrical gun-fu: "That 187 is the hometown's favorite/ Inhale the gun smoke, that's the fo'-pound fragrance."
Merch for this release:
Compact Disc (CD)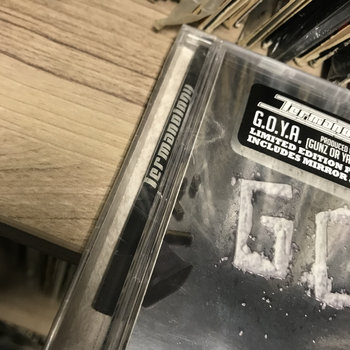 "It felt like the real me," reflects Termanology, summing up the heart of 2013's G.O.Y.A. Recorded at Termanology's house after he'd moved back to Lawrence from New York, the release salutes the MC's Latino heritage. "It felt like I was back home—it wasn't Termanology from the music industry, it was me," he says. "Me being Puerto Rican, saying 'Goya' and bringing it into hip-hop, it was representing our family heritage." Termanology's verses across the 17-song outing are bolstered by production from Shortfyuz, an old childhood accomplice. Syncopated snatches of congas herald the arrival of "Judo"; a warped Latin jazz vibraphone riff flickers through "Compra" (which also features mixtape icons Doo-Wop and Tony Touch); and the pensive "American Dreamin'" coasts along with subdued keys and clipped drums. "Every time I get some C.R.E.A.M., it seem like it ain't enough/ Used to rock some dirty Timbs, now I ride Mercedes trucks," raps Termanology on the latter, before combining life goals with family hopes: "So I guess I made it, huh, but I ain't satisfied/ I'm trying to give my kids a billion before their daddy die."
Merch for this release:
Compact Disc (CD)
Released in 2017, Anti Hero pits Termanology against gnarly Boston spitter and La Coka Nostra member Slaine. "I can't remember whose idea the project was, but it was a strange atmosphere because it was so much competition," recalls Termanology. "We'd both come in and try to have the best verse every day, but in the end, the project came out so amazing." Alongside guest vocal spots from Buffalo brawler Conway (on the piano-led "Came A Long Way"), Brooklyn firebrand Ill Bill (who embraces the sinister simmering funk of "Apocalypse"), and West Coast lyrical veteran Ras Kass ("Blink Of An Eye"), House of Pain's Everlast and UGK's Bun B light up the brassy DJ Premier-crafted title track. "That's one of our best songs," says Termanology. "I grabbed Bun B and Slaine grabbed Everlast—it was legendary for Massachusetts rappers."
Merch for this release:
Compact Disc (CD), Cassette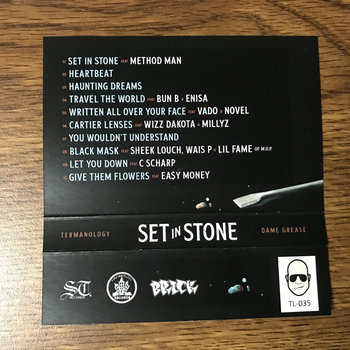 "Golden era flow, all I've ever known," brags Termanology in the title track to his 2019 collaboration with Dame Grease—a producer renowned for his work sculpting the rambunctious sonic sound of the Ruff Ryders crew. "Even though they've tried to dead it/ Nah, I never let it go, unforgettable/ When I put the pen onto the scroll/ Might be underrated to you/ But I'm a legend though, let alone/ When they speak of my rep it's set in stone." The MC is similarly defiant across the rest of the compact LP, which is powered by Grease's blend of gritty drums and subtly melodious loops. "I love Dame Grease," explains Termanology. "He produced pretty much all of DMX's It's Dark And Hell Is Hot, so that was my motivation to make something classic."