LISTS
A Guide to Screaming Females' Freewheeling Punk
By Brad Sanders · March 14, 2023
In February, Screaming Females staged their annual Garden Party at Jersey City's White Eagle Hall. The long-running punk band headlined a weekend that included rising hardcore crew Gel, hard-hitting hip-hop duo Armand Hammer, and a half dozen other acts from across the stylistic spectrum. The tradition predates the official nomenclature; this was the third Garden Party, but for nearly a decade, the band have participated in similar February showcases in their home state.
"At some point, we realized that we had just been doing it for a few years, so we might as well give it a name," drummer Jarrett Dougherty says. "And every year, it's grown slightly. It started out at [WFMU's] Monty Hall, which fit maybe 150 people. And this year, we did two nights at White Eagle Hall, which fits 800 people."
The size of the venue has changed, but in their 18 years together, the mission of the band has not. Dougherty; singer and guitarist Marissa Paternoster; and bassist Mike Abbate started Screaming Females in New Brunswick, New Jersey, in 2005. It all started with a short-lived student group called Record Label Club—essentially a scheme to get Rutgers University to cover the cost of pressing CDs. Dougherty, who served as Record Label Club's treasurer, fell in love with a pair of songs on one of the club's early comps. He was blown away when a friend told him both tracks, by the projects Surgery on TV and Noun, were submitted by Paternoster. He'd meet her for the first time soon thereafter while helping deliver CDs.
"I just wanted to say 'hi' to Marissa because I thought her two songs were really cool," Dougherty recalls. "And I was like, 'We should hang out sometime.' And she was like, 'Do you play drums?' [laughs] I was like, 'Yeah.' And she said, 'Do you want to play drums?' And I was like, 'Okay!' We definitely had different intentions in that first meeting, but that's how it got started."
"I was ready to go," Paternoster confirms. Abbate, who had played with Paternoster in Surgery on TV, joined on bass, despite still being in high school at the time. Screaming Females was born. The trio started to develop a sound centered on sharp songwriting, tight playing, sticky melodies, booming vocals, and ripping guitar solos. They hopped on bills in basements and punk houses around New Brunswick, quickly becoming stalwarts of a wide-ranging scene that also featured pop-punk misfits The Ergs, garage rock weirdos Hunchback, hardcore wreckers Seasick, and many more.
"We played with all different kinds of bands," Paternoster says. "There was a very eclectic group of musicians in New Brunswick because there weren't a lot of us. Everyone would kind of go to everyone else's shows. There wasn't, like, a New Brunswick sound, I would say, from our era."
The freewheeling spirit of New Brunswick DIY circa 2005 lives on in Garden Party, which has become a kind of punk rock homecoming weekend for the proud New Jerseyites. This year's edition was also a celebration of Desire Pathway, the band's fiery new LP. Paternoster, Dougherty, and Abbate recently took some time to reflect on all eight Screaming Females studio albums.
---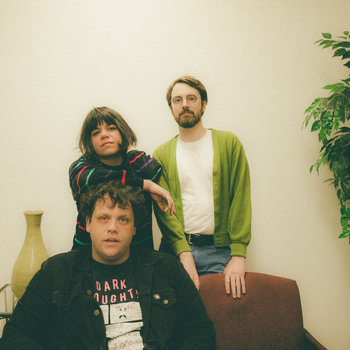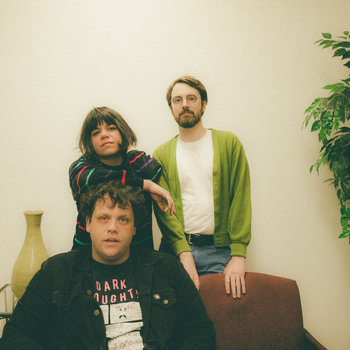 Merch for this release:
T-Shirt/Apparel, Compact Disc (CD)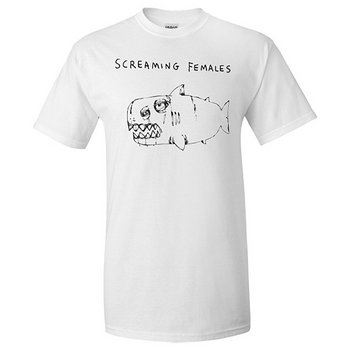 "We had no idea how to put out a record, or how you were supposed to get in contact with help recording it, or anything about it," Paternoster says of Baby Teeth, Screaming Females' raucous 2006 debut. "We recorded it to Cubase—which I'm not sure if that still exists—on Jarrett's desktop PC in his attic."
The track list for Baby Teeth was a mix of recycled Surgery on TV tunes and songs the still-new band had been playing out at New Brunswick house gigs. Despite how green they were, the trio's raw power comes through on the album. The songwriting would tighten on subsequent albums, and the performances would improve, but the core of the Screaming Females sound is all there on Baby Teeth. Dougherty recorded and mixed the record—including overdub sessions at his dad's home studio, fueled by his mom's famous spaghetti squash—but the band asked prolific engineer Alan Douches to handle the master.
"I remember driving home from that mastering session with the initial master and putting it on in the car and thinking 'I will never have a greater accomplishment than this right here,'" Dougherty says.
Merch for this release:
Compact Disc (CD), T-Shirt/Apparel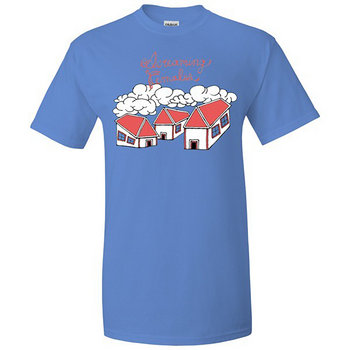 Fortunately, Screaming Females didn't peak with Baby Teeth. A year later, they returned with the live-to-tape gut punch of What If Someone Is Watching Their T.V.?
"When we put out Baby Teeth, we had played like eight shows," Dougherty says. "By the time we put out T.V., we had played probably close to 100 shows. We had toured a little bit, little weekend tours. So the idea with that record was to capture what we were starting to do live much more."
The resulting album crackles with the live-wire energy of a great punk show. In contrast to the overdub-heavy Baby Teeth, the band did almost no overdubs for T.V., while Paternoster started to experiment with gnarlier guitar tones and a more ragged vocal style—putting the "Screaming" in Screaming Females. More than anything, T.V. feels like a time capsule of the band who dominated those New Brunswick basements.
Merch for this release:
Compact Disc (CD), Vinyl LP, T-Shirt/Apparel
Both Baby Teeth and T.V. were self-released; being in their early 20s when they made those records, Screaming Females naturally knew everything and didn't need any help. "I fully believed there was absolutely nothing a label could possibly do for us," Abbate remembers.
A fellow New Jerseyite named Joe Steinhardt with a label called Don Giovanni Records kept showing up at gigs anyway. "Every time he would show up, I was like, 'Who is this man?'" Paternoster laughs. "He showed up so many times. I could not remember who he was for the life of me. Now, I know." His dogged persistence paid off, and he eventually convinced the band that securing press and distribution was actually a good thing. Steinhardt signed the band in time to release 2009's Power Move and reissue the first two albums. Screaming Females have been on Don Giovanni ever since.
"Before Don Giovanni approached us, there had been other labels and manager-type people who had come to us, and they always just seemed like a bunch of fucking clowns," Abbate says. "Wanting us to jump through hoops or trying to impress us with their big jars of weed or something. Joe was somebody who was actually in our community."
Power Move sounds more assured than Baby Teeth and T.V., though the band hesitates to call it a turning point. They were gaining steam, but their growth was intentionally gradual and sustainable. Still, it soon became clear that the label muscle behind Power Move was helping it reach new ears. "At the time, I was doing [mail order], and I was getting orders in the same week from Henry Rollins in Los Angeles, California and Joseph Mascis in Amherst, Massachusetts," Dougherty recalls. "That was kind of like, 'Whoa, I guess this is getting out there in a way that it hadn't been previously.'"
Merch for this release:
Vinyl LP, Compact Disc (CD), T-Shirt/Apparel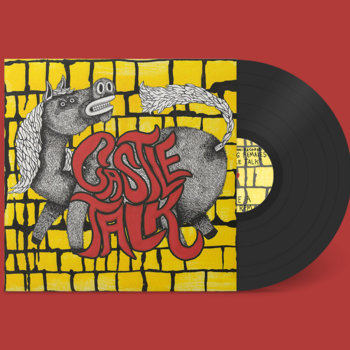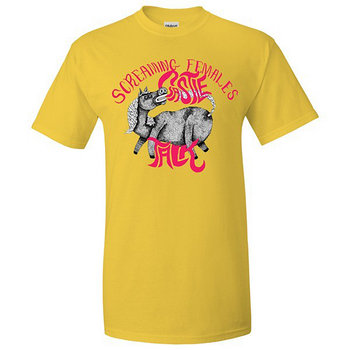 The band followed Power Move with the abrasive Castle Talk, though some of the album's abrasiveness was unintentional. They recorded it at Hunt Studio, the same New Jersey facility where Paternoster worked and where they'd recorded Power Move. A tape machine broke, a console caught on fire, and all hell broke loose.
"The Castle Talk era of Screaming Females is probably the most we toured in our career," Paternoster says. "We toured like crazy. So I was just absent from the studio for the bulk of whatever prep had to get done with the tape machine to prepare to make that record, and when we got there, it just was not ready."
Castle Talk certainly boasts an idiosyncratic mix, with oddly quiet drums and persistent tape hiss, but the songs were some of the band's strongest up to that point. Yet it was the touring they were doing around the time, including dates with Ted Leo & the Pharmacists and Dinosaur Jr., that proved most crucial in their development. "It felt like it really connected us to a lineage, and you got to see how people operated through all the trials and tribulations and ups and downs of doing independent music in a way that we hadn't been exposed to yet," Dougherty says.
"It was impossible for [all the touring] not to affect us, because we were also seeing new bands every night and going on tour with our peers and talking about music with them and what their lives were like," Paternoster adds. "It was a moment where Screaming Females became so deeply ingrained in all of our individual personas. It just became impossible to imagine life without it for me."
Merch for this release:
2 x Vinyl LP, T-Shirt/Apparel, Compact Disc (CD)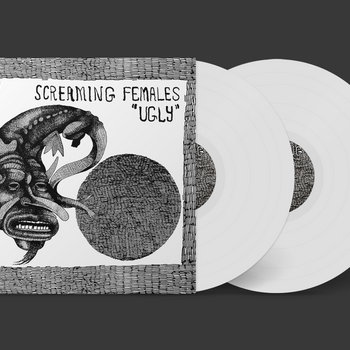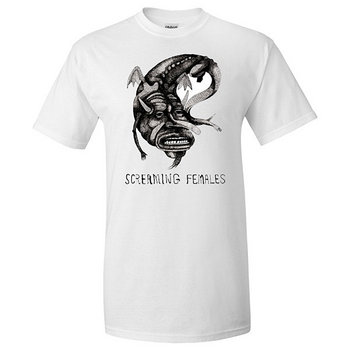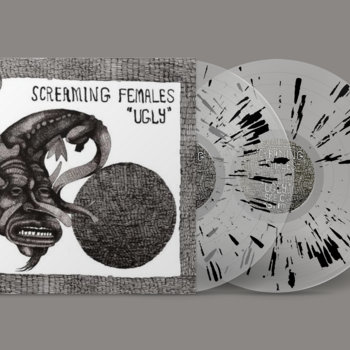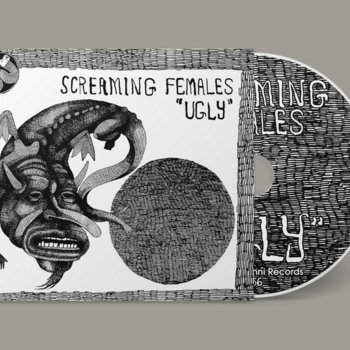 For the follow-up to Castle Talk, Screaming Females decamped to Chicago to record with Steve Albini at Electrical Audio, fulfilling a dream from the early days of the band. Albini's legend status is undisputed, but the band worked with him for Ugly because they knew he would "engineer the shit out of it," in Dougherty's words. It wasn't because they thought he was going to sprinkle magic dust on it. That didn't stop people from projecting.
"People were like, 'Wow, you went and had a record produced by Steve Albini…What did he do?'" Dougherty recalls. "At the time, we just really wanted to be like, 'He set up the microphones and hit record, and he did a good job of it.'"
He did a great job of it, in fact. Ugly is the crown jewel of the Screaming Females' discography. Everything clicked, from Paternoster's confident vocal performance and searing guitar work to Abbate and Dougherty's locked-in groove to Albini's beefy production. At 54 minutes, it's easily the longest Screaming Females record, too, and not a moment of that time is wasted. The supersizing of the album might have been Albini's biggest artistic contribution.
"I very distinctly remember the conversation. We were in the control room, and we were starting to argue about what songs we were gonna have to cut," Dougherty says. "And I remember [Albini] turned around, and he goes, 'You're not doing anyone any favors by cutting good songs off a record.'" The rest was history.
Merch for this release:
Vinyl LP, Compact Disc (CD), 7" Vinyl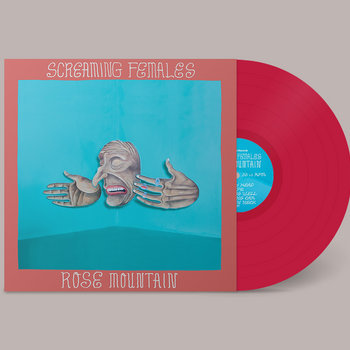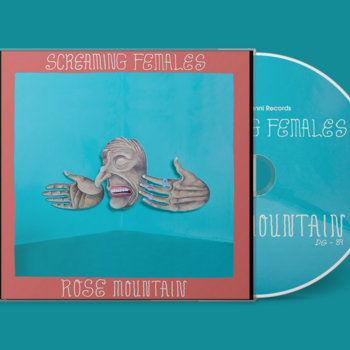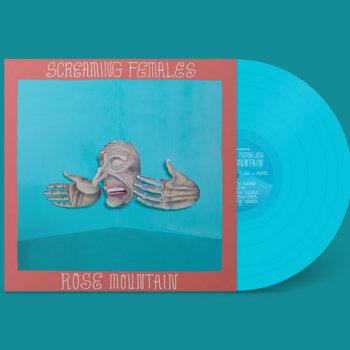 Ugly was a creative breakthrough and instant fan favorite, and if life or rock 'n' roll were fair, it would have led to a world-conquering tour. Instead, Paternoster got sick with mononucleosis and was sidelined indefinitely. When she recovered, the band agreed they needed to shake things up for the next record.
"We were of that Albini mindset, where the band knows the songs and how they should be better than anyone in the world," Dougherty says. "So we were like, 'Well, what if we challenge ourselves?' And a way to challenge ourselves is to do something we said we were never going to do. What if we got a producer?"
After a rigorous search, the band settled on Matt Bayles, the Seattle producer who had made his name working with forward-thinking heavy bands like Botch, Mastodon, and Isis. Having a fourth creative voice in the room was a revelation, and Rose Mountain bears the fruit of what Paternoster calls Bayles's "extra color." For her, the fact that the album existed at all felt like a huge victory.
"I had just been sick for over a year, and I was just really happy to be making a record again. I just remember being really blissed out the whole time we were recording Rose Mountain," she says. "Except for this one day when a bird flew into a window and died. I was bummed out for like 15 minutes, but then for the rest of it, I was just so happy."
Merch for this release:
2 x Vinyl LP, Compact Disc (CD)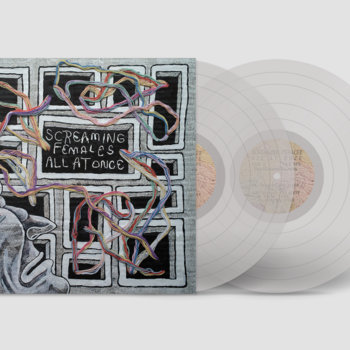 The most ambitious Screaming Females release to date is undoubtedly All At Once, an album whose maximalist aim is right there in the title—and a full four years before a certain Michelle Yeoh movie. The idea for All at Once began when the band found themselves writing some atypically short songs. They felt more like vignettes than typical Screaming Females songs, but they also felt finished. Having those shorter tunes encouraged the band to think about sequencing in a new way.
"We basically had three different batches of songs," Abbate explains. "We had the big ones, the medium ones, and the small ones, and we wanted the big ones to be surrounded by smaller ones so that if you were looking at the songs visually—which you can't do because they're songs—you would get the full scope kind of at once, you know what I mean? All at Once."
Paternoster compares the approach to the salon-style hanging popularized in 17th and 18th-century art galleries: "You would hang all kinds of different-sized works on the same wall, and then when you stepped back, you could look at them all at once, or you can move in closer and analyze them closely."
As a self-proclaimed "skip-around-the-record kind of lady," Paternoster seldom weighs in on sequencing. The salon-style approach of All at Once was less about the specific track list and more about the zoomed-out view. But she did have one request regarding the stomping "Glass House,: which led to perhaps the smartest sequencing decision the band ever made. "I think that's the only time I've ever weighed in on sequencing, ever," she says. "I said, 'Can this song please be the first song?' And that was it."
Merch for this release:
Vinyl LP, Compact Disc (CD)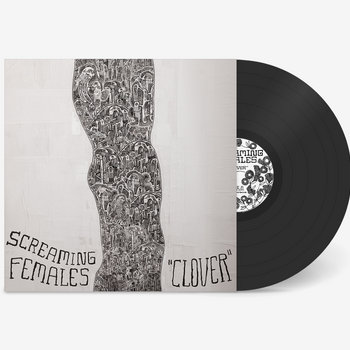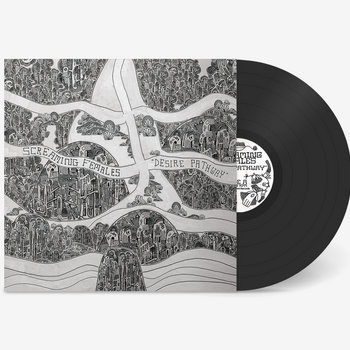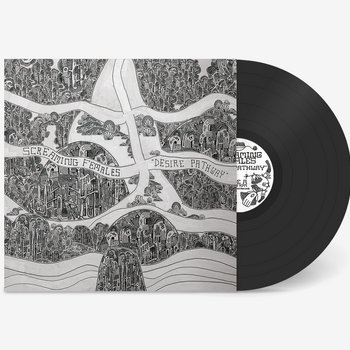 The band started working on Desire Pathway shortly after the 2018 release of All at Once, but the constant lure of the road followed by the brick wall of the pandemic meant it took them five years to finally get it out into the world. In contrast to the conceptually towering All at Once, Desire Pathway gets in and out efficiently. At 33 minutes, it's the shortest record Screaming Females have ever made. (Clover, a physical-only companion EP taken from the same sessions, came out last year.)
"We just wanted to make a good, solid, straight-to-the-point, rock record," Dougherty says. "We've done a lot of other stuff, and we've had multiple double LPs. We just wanted this one to hit."
It hits, alright. After a brief drone synth fake-out, album opener "Brass Bell" bursts into the room with Sabbathian swagger. "Desert Train" and "Mourning Dove" are lean and muscular hook-delivery devices, while deep cut and surefire cult favorite "Ornament" swells to a climax that's legitimately exhilarating. Even the ballads—if you can call songs so sinewy and to-the-point "ballads"—are an awesome force to behold. Paternoster, Dougherty, and Abbate were forced to write remotely in the early pandemic for the first (and, they insist, the last) time. That did nothing to take away from the live-in-the-room thrill of hearing one of the world's great rock bands operating near their absolute peak. Desire Pathway exists as part of a lineage, but no prerequisites are required.
"I'd been thinking about how I hope people appreciate and take this as part of a long history and a catalog of recordings," Dougherty says. "That's how I was hoping people would approach the record. But then, at the shows we played last weekend, there were multiple people who were like, 'I'd never heard of your band until like a month ago, and this new record's fucking amazing, and I can't wait to listen to the old stuff!' And I'm like, 'Hell yeah!'"
"That might be the better perspective, rather than thinking of it as this massive catalog. If our new record can just impress people who don't know shit about rock history, then that's awesome. Fuck it."