LISTS
Four Decades of Organized Mayhem: The Story of ONO
By Jim Allen · November 17, 2022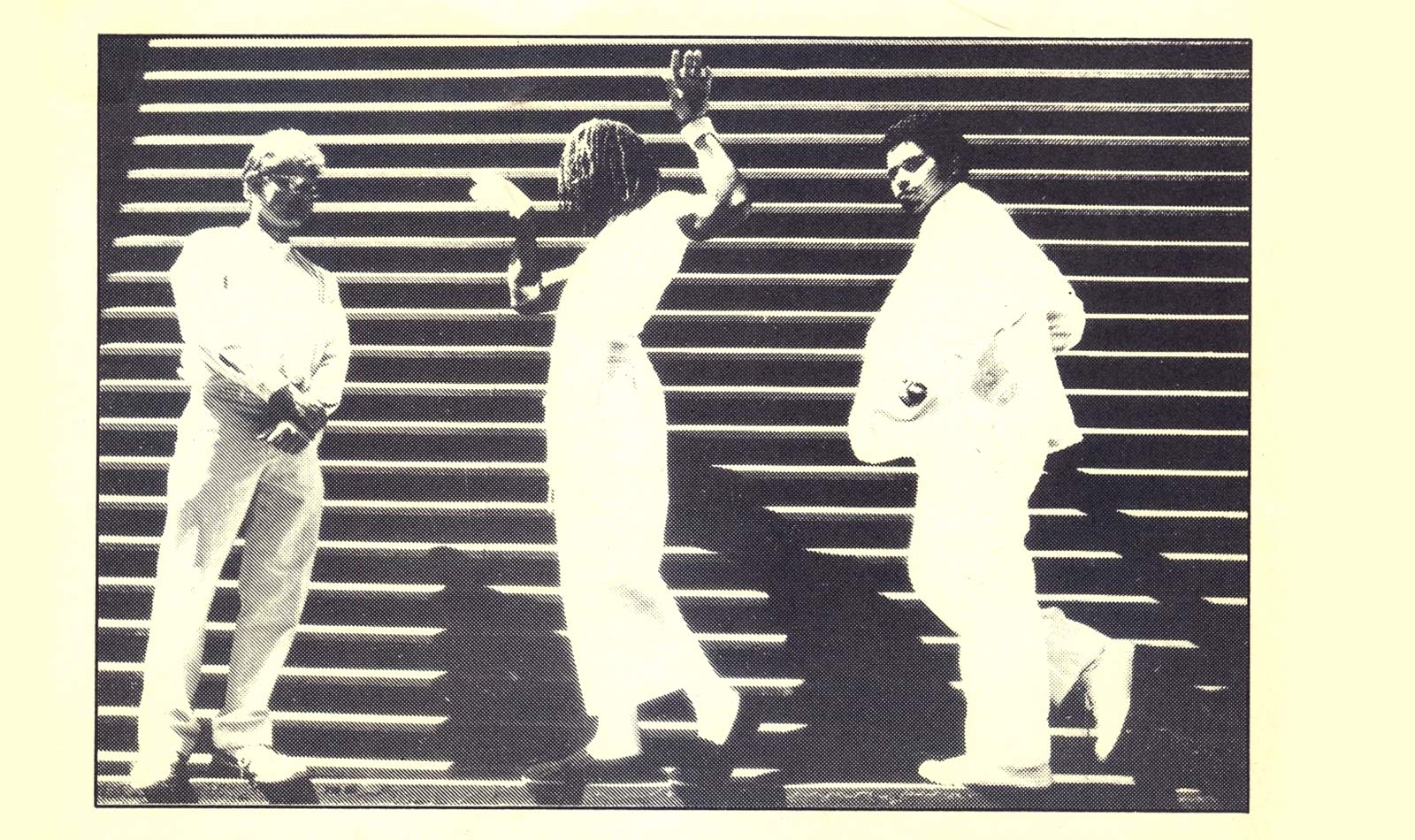 "I want more exploration," bellows ONO's travis mock-dramatically, in a voice thunderous enough to make Hollywood reconsider its casting for the next Thor saga. P. Michael merely smiles, partly because he's been hearing his bandmate's dramatic pronouncements, both playful and deadly serious, for more than 40 years, and partly because he knows there's scarcely anybody more exploratory than ONO.
Imagine Gil Scott-Heron fronting a jam session between Einsturzende Neubauten and The Art Ensemble of Chicago. The sound in your head still won't approximate the socially conscious, poetically art-damaged sound paintings of ONO, but at least you'll have tried.
Vocalist/poet/bassist travis (always stylized in lowercase) and multi-instrumentalist P. Michael started ONO in Chicago in 1980, but travis was a tough sell on the whole band thing. "I don't like music," travis explains matter-of-factly. "I have no patience and no taste for it. I was studying religion; I was a kundalini seeker on the way for my last vows and stopped in Chicago. The idea of a band was put to me by Michael and I said 'No, I'm not at all interested in music.' Michael kept pursuing it that entire summer while I was doing poetry readings at Northwestern [University] and up and down Lincoln Avenue. Eventually I said, 'Okay, but it must be named ONO for onomatopoeia.' I wrote a statement of purpose: 'experimental noise and industrial poetry performance band exploring gospel's darkest conflicts, tragedies, and premises,' and if it couldn't be that then I'm not in. He agreed, and out of that came all of this noise."
Sounds and words were only part of ONO's provocative arsenal. Early on, their very existence pushed against people's ideas of what a band that often appeared in front of rock audiences, however alternative, ought to represent. Between their mix of races, genders, and sexual orientations, they went against the grain even in the Chicago underground of the '80s.
"I think of Shannon [Riley, ONO saxophonist]," says P. Michael. She was 'take no prisoners.' It was sexist, very Chicago male working-class…in Chicago they were punk rock, but they were punk rock Chicago."
"The woman who introduced Michael to me [original ONO member Kathy Hallene Brooks] was also rowdy," adds travis "in the sense that she carried weapons! Mama didn't take no mess. But there had always been, for me, issues of gender on the ONO stage in terms of my presentation…here's this Black male onstage who's going through costumes galore. travis does not perform, there is a character that performs, always. It means I can also be a vehicle for folks who are not represented. For instance, the trans person. How do I let them know, 'I respect you?' And this was one way. I may begin that performance in full military attire and at midpoint wear a 100-foot evening gown and at the end of it, I'm in silk panties. And it does not trouble me at all. It makes me feel real good about myself."
The relationship between travis and art began in Itawamba County, Mississippi, where he grew up singing in church. "Folks where I came from were kind of weird about music," he explains. "There was no such animal as art music. I grew up in an environment where there was nothing. The schoolhouse is only feet from the church. What you learn at the church crosses over into the school, so there is always this deep relationship of spirituality. I had learned in Mississippi about how you touch people with a sound, how a phrase has deeper meaning than the words attached to it." Christian iconography would become a permanent resident of travis' art too, a fact underlined as he speaks from his Chicago home in front of a wall display of multiple crucifixes.
After travis served in the Navy from 1963-69 as a communications specialist in Vietnam, Cuba, and elsewhere ("I saw a lot of very bad, ugly stuff," he says), his spiritual and artistic explorations led him to Cleveland. There he studied poetry performance with renowned avant-garde poet Russell Atkins and met the members of Pere Ubu while they were still Rocket from the Tombs. He delivered his poetry as an early Pere Ubu opening act before making his way to Chicago in 1976. "It gave me a deep feeling for what the performed word could do when brought together with sonics," he recalls.
Chicago native P. Michael was a pre-med student when he met travis, but music was in his blood. He grew up hearing his jazz saxophonist father practicing at home. "His notes and his books were what we used to study scales," says P. Michael. "He would come down and talk to travis about his bass playing. He had a heavy influence on what we did during the early days, he provided that background for us to learn how to improvise."
Like travis, P. Michael had a deep connection to gospel. He played bass for the band at the historic Pilgrim Baptist Church, a place with a crucial role in the development of gospel music via artists like Rev. Thomas A. Dorsey and Mahalia Jackson. "I definitely know how to play gospel," affirms P. Michael, "and you'll hear it in ONO, you'll hear the gospel walk and all that." He also played bass in a burlesque show, where he gained the "Peaches" nickname that lends the initial to his moniker, so his background is as streetwise as it is saintly. "So, ONO has the stripper beat," he says.
There's been a lot of action on the ONO front recently, too, beyond the re-release of their first album Kate Cincinnati. "We just went into the studio in July to record our next two releases," says current member Jordan Reyes. And it sounds like the band is as committed to exploring new vistas as ever. "On the next one we wound up doing background vocals as a choir," reports P. Michael "we're doing this weird, dystopian doo-wop."
There's a lot of ONO archival material in the vaults that might be ripe for release. But in the meantime, they continue a decades-long process of discovering their truest voice. For travis, the heart of ONO's journey focuses on the fundamental questions. "How do I find myself? This idea of being on the margins of society…How does the sound of my voice expand beyond what language means to America?"
One positive sign for the future is that the old punks and industrial rockers who shared bills with and came to see ONO back in the day are now expanding the band's audience. "They are bringing their kids to ONO shows," travis says. "It makes me feel good that these are values that these white, suburban men will bring their sons and daughters to digest, what ONO is doing."
Below, we explore ONO's prodigious discography.
---
Merch for this release:
Vinyl LP, T-Shirt/Shirt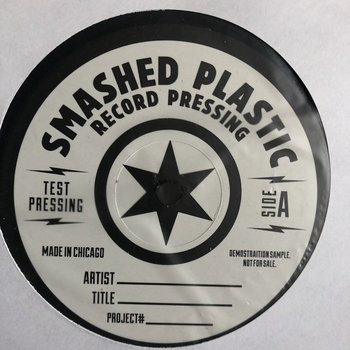 In 1980, travis finally acquiesced to P. Michael's entreaties and ONO began. After an initial demo recording, they crafted the 1982 cassette-only Kate Cincinnati, with travis on vocals, bass, and lap steel guitar (on which he was willfully untutored); P. Michael on keyboards, electronics, and percussion; and Ric Graham on horns and guitar, with all members contributing found sounds.
"Found objects were everything," says travis. "We'd go into the underground of the subway or into buildings and record these sounds." P. Michael recalls, "We had metal objects, rocks, chains, garbage can lids… sometimes Ric would play a tape recorder with found sounds on it, so we would hear that coming through."
The words of the 21-minute title track, delivered in travis' deep, declamatory cross between gospel mass, opera recital, and avant-garde theater, were inspired by his encounter with an elderly woman who verbally and physically assaulted him when he moved into a Chicago building that functioned partly as an artists' residence.
"As I'm walking in," remembers travis "this woman comes out, white woman with an umbrella, starts beating me on the head and body and calling me all sorts of nasty n—er names, and 'What am I doing in this building?,' and 'Get out, get out!' That was Kate. She was the first person to rent in that building. I was the violation of everything she believed in, including Christianity. My way of dealing with it was to write an operatic form that respects her more than she could possibly respect me."
The album's second half was occupied by the similarly epic-length "Oppenheimer," inspired by Heinar Kipphardt's In the Matter of J. Robert Oppenheimer, a book travis read in the Navy. "It's a full-length play looking at the father of the atomic bomb and the trial where he is explaining the position of science and is being asked questions," he explains.
Anomalously bridging these two aggressively abstract avant/industrial pieces is "I Wonder Why," a deconstruction of Chic's "Good Times." P. Michael says, "We knew that 'Oppenheimer' and 'Kate Cincinnati' were very, very heavy, so we wanted to give a little pause for the audience, to have a little bit of happiness. People knew Chic at the time, and 'Good Times' was a hit. We just took it and funeralized it. I used an old-style R&B James Brown/Otis Redding chord progression, it was a gospel progression, and travis would croon it, and he would purr. It wasn't disco. People liked it because it was pretty, but it was very bleak at the same time."
For the last 40 years, Kate Cincinnati existed only in its initial run of 300 cassettes, becoming a rare collector's item. But current ONO member Jordan Reyes' American Dreams label has released it in digital and vinyl formats for the first time, the latter including the original libretto/zine that accompanied the cassette, plus additional content.
Being an underground '80s phenomenon in Chicago with a confrontational quality, ONO was bound to cross paths with the industrial Wax Trax! Records scene centered around bands like Ministry and My Life With the Thrill Kill Kult. "We were known for opening for all these bands," says travis. "That was fun. We could make more racket [than them] in 10 minutes and then just leave. We did noise festivals, we did all of that, it was really quite rowdy."
Circa 1983, ONO sax player Shannon Rose Riley was in a relationship with Ministry frontman Al Jourgensen, who produced the band's second release Machines That Kill People. But P. Michael remembers, "When it came time for her to sign the release to appear on the record, she didn't want to, so we had to take her off. So, it ended up being Ric, travis, and I." Jourgensen approached Wax Trax! founder Jim Nash about releasing the record, but it was too outré even for him. So, Jourgensen reached out to SST Records' Joe Carducci, who unleashed it through his own Thermidor label. Carducci's renowned 1990 book Rock and the Pop Narcotic reproduces travis's letter of response to Carducci's interest. P. Michael remembers travis asking Carducci, "'Just what are your intentions, pray tell?' It was so good that Joe had to publish it in the book."
"With that contract, there comes the possibility of touring," says travis. "The problem is nobody knew what to do with ONO. Who do you match them up with? We've got this album and people are writing us from everywhere about it, but how do you tour with that?"
Amid the experimental electro-acoustic assaults, ONO switches things up on the slinky, sleazy "O Jackie O," its creepy bump-and-grind coming off like an American equivalent to The Birthday Party. "I started thinking, 'Suppose I fell in love with Jackie Onassis,'" explains travis. "A love that can never be." P. Michael adds, "The arrangement of it, it's a stripper song. He was playing his version of Mississippi blues, and I said, 'Let's give it the Etta James treatment.' I was thinking of Etta James doing 'Seven Day Fool,' and Ric gave it that hoochie-coochie, honky-tonk sax."
Merch for this release:
Vinyl LP
ONO's second Thermidor album Ennui is an unvarnished snapshot of where the band was at circa '86. "We just played our live show straight through and that was it," says P. Michael.
The gospel thread running through the band's work is at its most overt on the opening track, where the traditional spiritual "Were You There When They Crucified My Lord" is wedded to the sound of an industrial apocalypse. "It was our interpretation of gospel mixed with Jimi Hendrix," says P. Michael. "We did Gregorian chants together in a tunnel and Ric just played the tape in the studio live and that's how we ended it. But it went through all these changes so it was big and dramatic."
"Erudite Transvesteen" was ONO's ode to the larger-than-life Kathy Brooks, who was part of the band's embryonic lineup and remained a presence in their lives. "She would show up at my house at 2:00 in the morning and pound on my bedroom window with a machete," remembers travis, "'Get up! We're going dancing!' She was this outrageous Black woman with lots of strawberry blond hair and nobody dared say anything to her. She punched holes in the walls of the punk club La Mere Vipere with a machete and nobody stopped her."
After Ennui, the band broke up while travis and P. Michael returned to school to finish their degrees. P. Michael moved around to different parts of the country before coming back to Chicago. And travis created performance pieces that were part of the ONO continuum even if they weren't performed by the band. He and P. Michael remained connected, occasionally performing together outside the ONO context.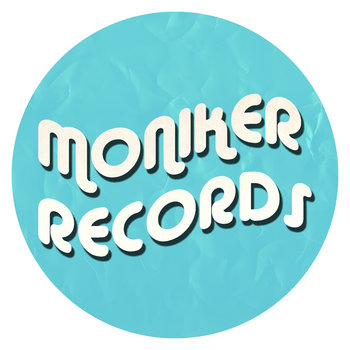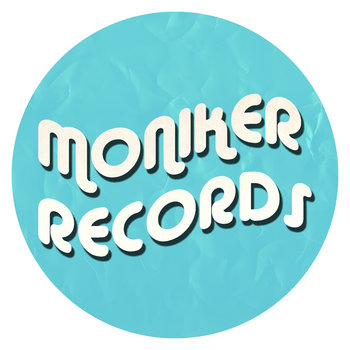 In 2007 Chicago underground impresario Steve Krakow (aka Plastic Crimewave) contacted ONO for an interview, having searched for them endlessly online. He then invited them to play his Million Tongues festival. P. Michael and travis assembled a new crew of co-conspirators. Eventually, they decided to make another album. "It was a different kettle of fish," says P. Michael of 2012's Albino. "It was sort of rock, but it wasn't the kind of rock you'd really want. It was still damaged."
In a move similar to adapting Chic for Kate Cincinnati, they recorded a cover of the Velvet Underground's "All Tomorrow's Parties" that makes the original sound like it was performed by Josie & The Pussycats. "We have to remember that people need that break because ONO can be very oppressive or heavy," explains P. Michael, "So we decided that here and there we would throw in something for the kiddies that they can enjoy."
Merch for this release:
Vinyl LP, Cassette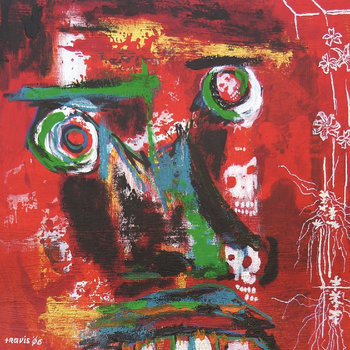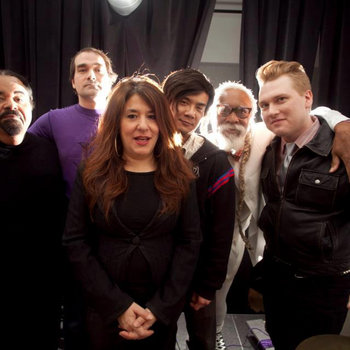 The second album by ONO Mk. II retains the "damaged" rock of Albino while addressing old-school ONO themes like racial and global politics. "We had 'BLACK POWER.MOVE,' says P. Michael. "There's pieces that are even more upfront, in-your-face political. We were doing all that political stuff live already, we just hadn't recorded it."
The whisper-to-a-scream "CQCQCQ" is based on one of travis' traumatic military experiences. The title means "secure circuits" in radio code. "If anything requires the shutdown of communication systems, you then issue this ID," he explains. "On 'CQ' on Diegesis, I'm now living in 1967. It was on the eighth of June 1967 at 1400 hours that the Israeli defense forces attacked the U.S. Liberty. When our ship, the U.S.S, America arrives, [the Liberty's] got a gaping hole. Here's this ship and the communicators for the most part dead. It had a profound impact upon my being at that moment, and 'CQCQCQ' comes out of that. 34 men dead."
Merch for this release:
Vinyl LP, Cassette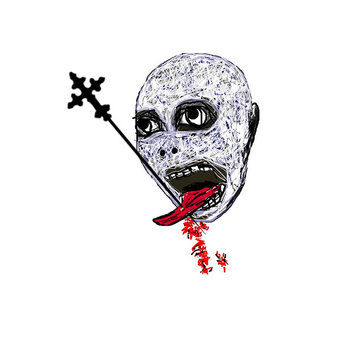 The 2015 double album Spooks marks the point where multi-instrumentalist Jordan Reyes, who would also wind up being ONO's label guy and business manager, joined the band. They all met at an ONO show and bonded over—of all things—their mutual love of Samuel R. Delany's dystopian 1975 science fiction novel Dahlgren. "From that conversation, we became super tight and our lives are interlocked at this point," Reyes says.
"Spooks was originally called The N—er Queen," reveals P. Michael "which was this piece that travis showed me when I met him, and it was mind-blowing. The record company said 'How are we gonna get that on the radio, how are we gonna get that promoted, how are we gonna get that in magazines?' So, we made it worse: we called it Spooks. That's even worse when you think about it, because Spooks don't have nothing to do with Halloween. They may know what it means, but they don't want to know what it means."
"Spooks, to me, is the release in which ONO moves further into synthesizing funk and rock," says Reyes. "It's an experimental record, it's an industrial record, it's a gospel record, but there's also this aggressive, almost punk energy to it. Like P. Michael always says, ONO is industrial with a pig foot in it. And it does have this element of gumbo that's in it."
P. Michael adds, "It's the weirdest record too. The band was almost 10 pieces at that time. To record something like that would be a big feat. The night before we went in, I wrote out charts, I divided the band in half, so there was five pieces on one side and five pieces on the other side. I told Cooper [Crain, engineer], 'Half the band is gonna hear a certain side of what's going on and the other half is gonna hear a different side.' When it got mixed there were two bands going against each other backward."
Recorded live at independent Chicago music hub The Hideout, Your Future is Metal takes its title literally and figuratively. On one hand, Reyes, who released the album on his American Damage label, says, "There's always been aggression and noise in ONO but this was when P. Michael and me first started thinking to incorporate elements of metal, basically." That said, don't expect any Judas Priest-style jams—ONO is still as out there as ever. Musically, the metallic aspect is mostly felt as a tonal quality.
"The title is from Tetsuo: The Iron Man, which is a holy grail Japanese cyberpunk film," Reyes adds. "It's very homoerotic. It also interjects transhumanism. It's what a lot of travis' words are wrestling with."
Merch for this release:
Compact Disc (CD), Vinyl LP, Vinyl,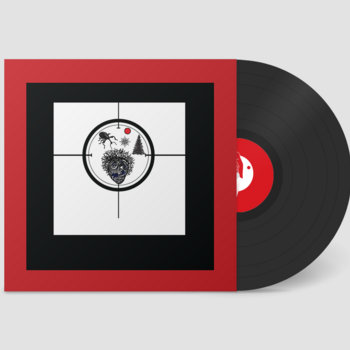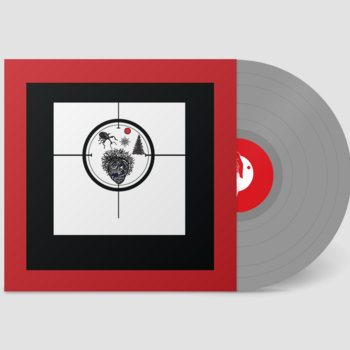 Ono's most recent release arrived in 2020 on Reyes' other imprint, American Dreams, but it was actually recorded five years earlier. "When it came out people thought it was crazy that it reflected the times," says P. Michael, "because it talked about the violence, the pandemic, but it was recorded five years before all that happened."
Red Summer partly takes its title from the widespread white supremacist violence that occurred across America in 1919, which was given that name by civil rights leader James Weldon Johnson. The album addresses racial issues in the U.S. through a wide historical lens, from their beginnings to the present.
"Red Summer takes the listener from 1619 to 1919, and from 1919 to 2019," says travis. "It is in 1619 that we get the ships bringing a cargo of Black bodies [to America], and by 1919 there is pushback because there's no justice, no freedom…in 2019 there is an even bigger issue. What about the Anthropocene? Life is radically changing in our time. So much is happening that we haven't balanced the problems that came with [the original] Red Summer."