LISTS
The World According to Noël Akchoté
By George Grella · May 23, 2023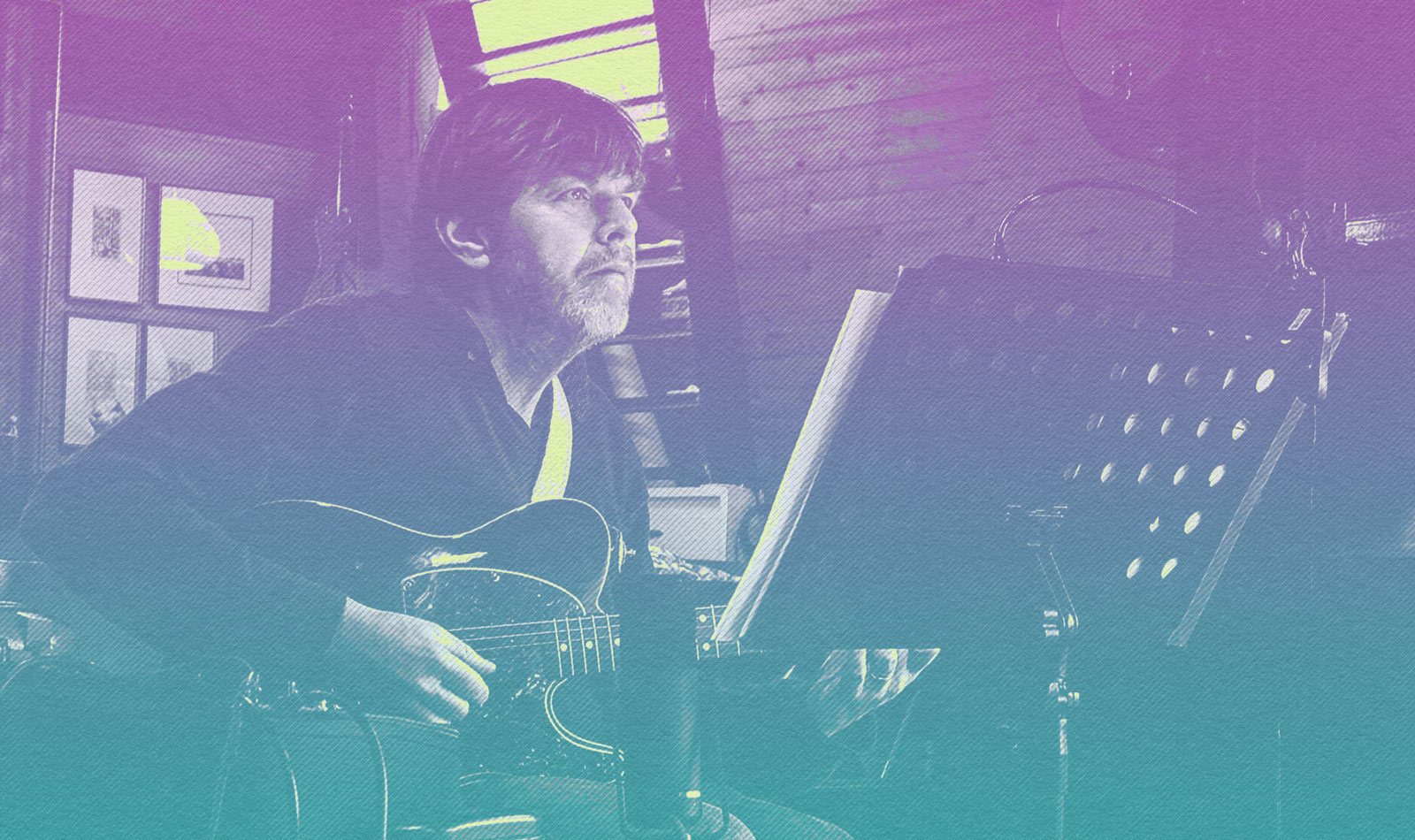 The best way to comprehend a discography that exceeds 500 recordings is to perhaps start with some ancient wisdom. In the Indian parable of the blind men and the elephant, a group of blind men each touch and describe a different part of the enormous creature, and while none of them has an inkling of the whole, each one's impression fills in a key part of the picture.
The elephant in this case is French guitarist Noël Akchoté, and his discography on Bandcamp is not just huge in terms of numbers but also scope. (Subtract the books of technical studies, sheet music, and tablatures—and their accompanying tuning pitches—and even the singles, and there's still more than 500 full albums or EPs.) The parts of this whole include the kind of music one would expect from a guitar player, with some jazz, some rock, some blues, some folk, all both electric and acoustic—and even substantial free playing—all of which dovetails with his bio: Akchoté taught himself to play and started performing publicly at an early age, learned from jazz greats like Tal Farlow and Philip Catherine, and developed in a scene that included leading European improvisers like Derek Bailey and Lol Coxhill.
But there's much more to this than simply being prolific. Akchoté seems to be on a path to play every kind of music that exists, at least in the Western canon. He plays Django Rheinhardt and Charlie Christian, B.B. King and Robert Johnson, yes, and also compositions by Anthony Braxton, Terry Riley's In C, La Monte Young's The Well-Tuned Piano. There's the "Monk's" (Thelonious and Meredith) and then there's the "John's": Johnny "Guitar" Watson, Johnny Cash, John Williams, John Cage, Johannes Brahms, Johannes Ockeghem, Johannes Ciconia…in other words, on dozens of steadily accumulating recordings, he is playing through—via his own transcriptions—the history of Western art music from the Medieval era through the post-WWII American and European avant-garde. Oh, and there's also playing commercially available technique books, collections of national anthems, pop music tribute albums, one-man-band sessions, live recordings, film scores, and other things that barely have a name.
Such an approach could be seen as compulsive, if not maniacal, if it weren't all so thoughtful, well done, and so often witty. There's a combination of curiosity and pleasure in all Akchoté's recordings, and a basic sense of fun in making music even when the music itself is serious and challenging. It is also all incredibly original, not just considering the quantity, but how so much of it is Akchoté playing music first made by others while making it sound new. This is due to the guitar itself, which he said in an email conversation is "a pretty rudimentary instrument" that is also "totally American—it came along with the whole domestic '50s life."
Explaining the music and the kind of musician Akchoté is and finding a way to start listening without getting lost in the sheer number of both selections and directions means looking at the whole of his work via the details of his approach to his instrument and through a selection of individual recordings—but not a small one. Akchoté says he learned from avant-garde musician Luc Ferrari that a composer is someone who "'thinks of the whole world'…I am a player who expresses the same totality. The guitar has no orthodoxy, the way you play is the way it's played." This is how Akchoté plays the guitar.
---
Roots
Here is Akchoté in his early years as a musician, figuring out what he can say on the guitar, working through influences and styles, finding that elusive but essential thing, a personal voice. One part of that voice is there from the beginning: the enormous range.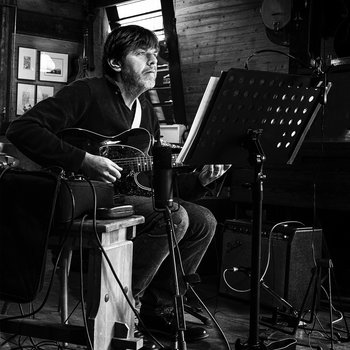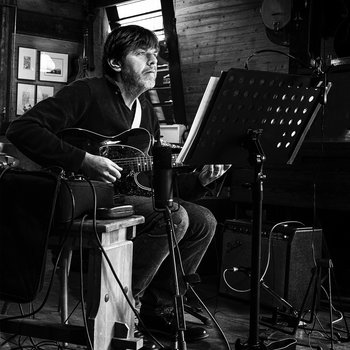 The first demos here date from when Akchoté was barely into his teens, and already a more than decent guitarist. He's already exploring a huge breadth of styles, from be-bop to bossa nova, Gorden Jenkin's pop ballad "Goodbye," and Ornette Coleman, specifically Ornette's electric Prime Time band music, something that would be a guiding line through many projects to come.
Post-Prime Time (covers of Coleman's "Dancing in Your Head" and "Air Ship" are central) funk fusion with a tight backbeat, horns, and vocals—and there's even a rap. Akchoté's guitar isn't the central voice here as much as he is on other recordings, this is ensemble music, but he is the bandleader, and this is a fully formed and exuberant statement of modern music.
This collection of live tracks from Akchoté's band Unit is not just a fine album but a fascinating look into the guitarist working his way through the predominant late 20th century guitar influences of not just Prime Time but Pat Metheny and Bill Frisell—how to make sound, articulate notes, play phrases. An artist in progressive transition.
---
Freedom(s)
Playing free improvisation is an easy step when you grow up playing Ornette Coleman, and the existential challenge of free music is to find and express, yourself. Akchoté threw himself into opportunities to play with the leading practitioners, and from the mid-1990s, free music has been at his core and constitutes some of his most exciting music making.
Akchoté says he "came from swing," and while still a teenager met as many jazz musicians as he could. To him, jazz came to mean "the most advanced instrumental discourse, each being a whole galaxy of difference." That's the basic connection between Duke Ellington and Cecil Taylor. Derek Bailey was to the guitar in free music as Taylor was to the piano: a towering figure, a lodestone, and a great collaborator. The exciting concentration of playing and purpose shows how comfortable Akchoté is when everything is made up on the spot—the only way to know who is playing what on this tremendous session is that Bailey is in the right channel, Akchoté the left, but both are as one here.
Tom Cora, Noël Akchoté, Alfred Spirli
Paris (1997)
This is a fine companion to the above recording, and features the late, pioneering cellist Tom Cora and percussionist Alfred Spirli. This is improvising with space, lines, the players working together toward a sense of form. It's full of delicate moments, explorations of timbres, and overall imagination.
Sam Rivers, No​ë​l Akchot​é​, Tony Hymas, Paul Rogers, Jacques Thollot
Lyon 29​.​03​.​1997
Another free music collaboration, this is Akchoté playing with saxophonist Sam Rivers, a leading musician in his own right and one of the founders of the 1970s Loft Scene in New York City. The audio is far from professional, but the playing is top notch, and everyone flows as easily as Rivers does through his masterful command of freedom and form, and the places they meet and separate.
The Recyclers is a trio composed of Akchoté, pianist Benoit Delbecq, and drummer Steve Argüelles, and this could almost be an ECM album. There's free interplay and also lovely melodies, Akchoté sliding between sonic washes and keening, searching soloing. The moods and atmospheres evoke a joyful appreciation of Norwegian guitarist Terje Rypdal.
Akchoté has played in duo with Bailey and other guitarists like Christy Doran and David Grubbs. He also has several collaborations with Mary Halvorson, in duo and with larger ensembles. This 2016 studio session is an ideal introduction to their music-making and arguably the best of the bunch. The 20 tracks are often aphoristic, consisting of originals and the standard "All The Things You Are." The contrast between Halvorson's shimmies and Akchoté's pinpoints is part of the pleasure.
---
Solos
This is where it all comes together; there's no other voice than Akchoté's, and whether free, folk, funk, or funny, that voice is his own.
It's when Akchoté is by himself on record, albeit often with multiple instruments and tracks, that his musical world expands to an extraordinary size. Rockastination is all Akchoté originals; he plays all the instruments, and what comes out is funk, rock, surf music, punk, fusion, all channeled through those Prime Time vibes.
Prime Time was a fusion band of a special kind, and it's natural for a musician to both dig them and other types of fusion—not just free but commercial. Akchoté takes it all along the spectrum here, from the Coleman-ish opening of "Uptown Glowny" to the smoothness of "Main Square"—check out that bassline—and back again.
If a guitarist contains multitudes, surely one of those is John Fahey. All acoustic, all with that Americana primitive/roots sound, all sounding like something both familiar and brand new. All lovely.
Contemporary indeed, with more of that Bill Frisell sound and style returning. The tracks and grooves can be propulsive and on the rock side, like with "Flood," or the off-kilter, fractured drum machine funk of "Deluge." There's a stream-of-consciousness quality to Akchoté's solo projects that often seems to lurk just under the surface; on this session it pushes up and out into some mysterious paths.
---
Interpretations
For as much music as Akchoté has made as a solo artist or playing in ensembles, working with improvisation and original material, the largest sections of his discography comprise two related sets linked by the same idea: interpreting the music of others. And this is also where things get really, really wild and really, really wonderful. The guitarist is selecting music that is meaningful to him, playing it both for himself and so that the listener can hear the beautiful, joyful things he himself finds within it. And what he finds beautiful and joyful is continent sized.
The music of Ornette Coleman has been there since the beginning for Akchoté.
Electric soul music played solo on acoustic guitar, and it's extremely soulful.
Yes, that Michael.
With Akchoté, there's no kitsch. No matter how unexpected the source of the music may be, good music is good music.
Morricone was a master of melody and atmosphere, and hearing some of these Western themes on a lonely acoustic guitar is right in so many ways.
Christmas songs—"Jingle Bells" and more—played dub style. Your new seasonal favorite.
The bottom line is that Akchoté clearly loves melody and harmony, and where else to find those in concentrated form than national anthems. This is the middle of a three-volume collection that extends to most of the globe.
---
Transcriptions
Different from simply interpreting songs on the guitar, transcriptions are taking music meant for other instruments—like the piano or ensembles, a chorus or an orchestra—and rearranging them for a six-stringed instrument. Akchoté told this writer he has been "haunted by early music…I saw musical texts as a huge universal corpus of music to be read and made alive."
Looking at every piece of sheet music he could get his hands on, he came out thinking that things like medieval composer Guillaume de Machaut is "no doubt the father of it all, and I mean Bob Dylan as much as Bach or Xenakis. All his chansons are the blues, it's all about 'My baby left me, and I'm so badly broken.'"
Akchoté has so far created and recorded around 250 different sets of transcriptions, and with them seems to be playing his way through the entire history of Western music, from Gregorian chant to Minimalism, Stockhausen, and Xenakis. Every one of these recordings is fascinating in its own right, even if just for the means by which the likes of Renaissance polyphony and the extremes of the post-WWII avant-garde can be translated on the guitar, and much of this music is simply beautiful.
The roots of modern classical music arguably start with this abbess, who made some of the first surviving music dramas in Europe and wrote her own chants. Without the drone—but with more than a little twang and whammy bar—this might be medieval country music.
Gesualdo's music is full of dissonance and unusual harmonic movement that sets him apart from his Renaissance contemporaries and makes him intriguing to modern composers. Akchoté recorded all of Gesualdo's Madrigals (Akchoté first heard the music at age 16 on a French radio program about Italian poet and filmmaker Pier Paolo Pasolini), but for a compact taste of this marvelous music and the transcriptions, start here.
Madrigals—short, complex songs for multiple voices—were the core of Renaissance music, and composers like Gesualdo and Claudio Monteverdi wrote multiple books of them. But none equaled the great master Luca Marenzio for logic, complexity, and compactness, qualities that translate wonderfully to the guitar.
Downland may not have been the first singer-songwriter in the modern sense, but he was the first great one, and the proof is how his songs have survived to this day. Sting sang them, sure, but there's nothing like the purity of Akchoté playing them.
Akchoté has transcribed several string quartets; this recent example shows how far his craft has come and is an exciting performance of the emotional intensity and drama of Brahms.
Akchoté's playing of avant-garde 20th century music is impressive both technically and conceptually. He sees the music as "very coded and stamped by its times. The scores themselves need to be translated somehow, peeled from their very dogmatic gestures." Morton Feldman, he says, "is unique, forever in a way." Feldman's Triadic Memories was written for solo piano, with its sustain and support of multiple contrapuntal lines. Rather than try and play it straight, Akchoté slices it up into dozens of tiny etudes, then puts them back together into a mosaic that captures Feldman while being something distinctly different. It's emblematic of how Akchoté is not just playing through all the music he can find, but making it into something his own.