LISTS
Monte Booker's Hip-Hop & Soul Productions Are Based in Found Sound
By Vance Brinkley · January 04, 2019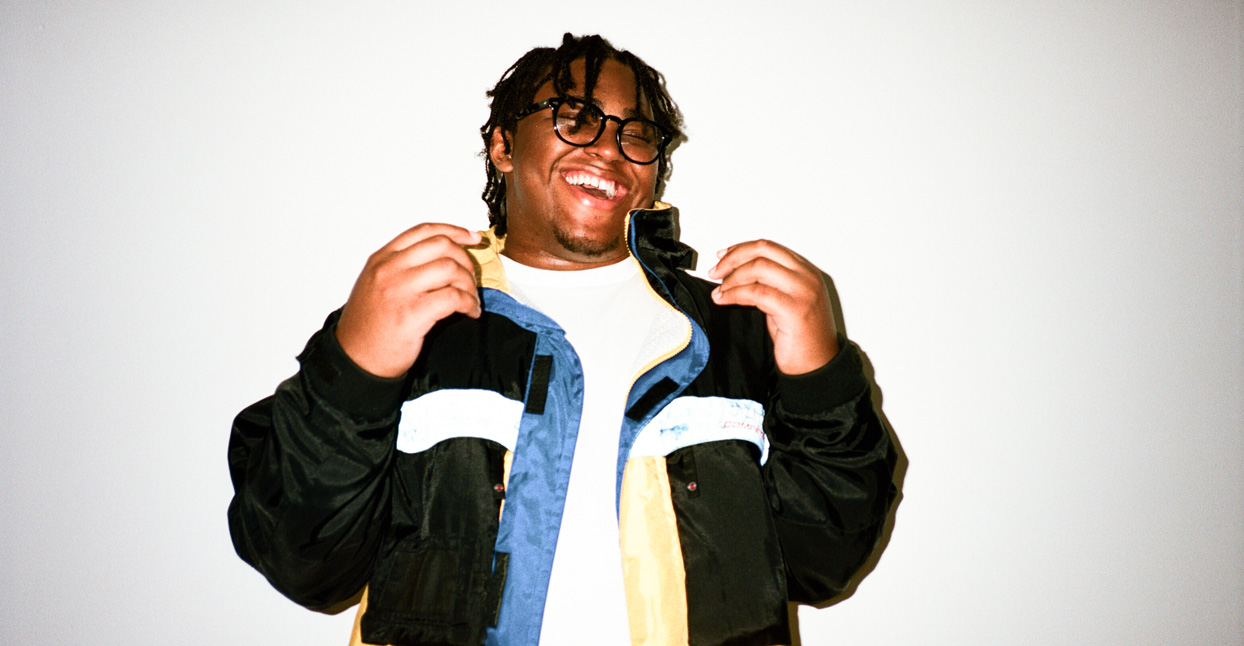 In February 2018, Chicago producer Monte Booker posted a Snapchat story in which he created a beat using the noises made from items in his old home. Using his trusty Tascam DR-44WL recorder, Booker recorded himself shaking a bottle of water, a pepper grinder, and an empty box of crackers. He also recorded the sound of the faucet running, the two glasses clinking together, a faulty radio transmission, and the sound of his finger tapping a bongo. Then, he loaded the clips on his MacBook Pro, reworked them with his OP-1 Synthesizer, and made a beat from the collection of ordinary sounds. This is part and parcel of Booker's work—other producers use drum kits and synths to build songs; Booker uses the sounds around him. That unique approach has made him a valued member of the Soulection community, and a critical part of Chicago crew Zero Fatigue's success.
Born and raised in the South Side of Chicago, Booker's career in music began as a hobby. When he was young, his tastes included everyone from Andre 3000 and Gucci Mane to Radiohead and Coldplay, but it was Pharell, Timbaland, and Flying Lotus who inspired him to make music of his own. "What [they were] doing with music kind of inspired me to incorporate my influence to make it my own type of vibe," he says. Booker didn't have a computer at the time; instead, he would go to his friend's house to learn how to make beats using Fruity Loops. One Christmas, his mother, wanting to encourage his musical aspirations, bought him a $300 laptop, and it was then that his career began in earnest. Because he didn't have any experience with live instrumentation, Booker would build his songs from sounds he found online. That worked for a while, but eventually, Booker got bored of searching for beat kits. "It started to get to me when it wasn't inspiring to be going through those sounds," he says. "They didn't sound human."
In search of a new direction in his production, Booker began making beats from noises he recorded himself, first on his iPhone, then switching to his DR-44WL. "I've been [taking this approach] since kind of the start," he says, "but I'm heavy into now." Booker still searched for beat kits online, but looked for the sounds that would fit his new style. "If everybody's using a hi-hat or an 808, let me try to get a ping or something," he says. "Let me get a different texture, you know, add a little edge to the music. That was always the goal." To keep things minimal, Booker decided to use different shades of color for his album art. Each color represented his interpretation of the song he made, making his album visuals very simple yet oddly appealing. Booker's beats gradually began to find an audience online, but some local rappers were skeptical. Booker remembered hearing from critics that his beats were great, but they didn't think they could rap over them. That changed when he went to his manager Chris Classick's studio and met St. Louis rappers Jay2, Bari, and Smino for the first time. Not only were they able to hold their own over the producer's beats, their talent helped build a friendship that would continue to grow as the four would rise to prominence with projects like blkjuptr.
Bolstered by his new collaborators and his deepening love of music, Booker became a member of Zero Fatigue. Through this new collective, he would build his catalog through solo and featured tracks, producing a majority of Smino's projects as well as the rapper's debut album, blkswn; he worked with Ravyn Lenae, and became a member of Soulection in 2015. With a hefty catalog of music and a bright future ahead of him, this is the perfect time to look back on the work of one of music's most idiosyncratic producers.
There are two reasons Booker loves "Pour Out": It's one of the first songs he ever uploaded to his Bandcamp page, and it was the first time he learned the value of working with other artists. In 2015, Booker was a fan of Canadian producer Kaytranada, and wanted to make a beat that was similar to the sounds he heard on songs like "At All." "After hearing Kaytranada I was inspired by what he was doing but I made like a deeper house-tone," he says, "At first I made the beat, I was just like, 'Damn, this was a dope beat, but what if I got a vocalist to sing?" That vocalist was Chicago-based singer Lomac, who's later sampled in the song "Homealone" off of the Soulection White Label Series EP. Although the song bears a heavy influence of house music, Booker adds a personal touch, with a complex beat flip and a subtle piano breakdown to keep things interesting.
In his collaborative work, Booker builds his beats to complement the vocals of whichever artist is gracing his track. But, as "2009 Flow" proves, he shines just as brightly when he's on his own. Menacing keys hover in the background, and the bass drum stutters arrhythmically, surrounded by vocal chops and split-second samples that appear and, just as abruptly, disappear. "2099 Flow" is short—it clocks in at 90 seconds—but its crashing wave of sound demands repeated listens. Though the track was released in 2015, it continues to stand as a striking representation of Booker's vast sonic palette.
Ravyn Lenae's musical career grew by great leaps after her song "Sticky" was played on the season premiere of the popular HBO series Insecure. But "May" is arguably one of the best songs from her early years. It was also the first song that Soulection host and co-founder Joe Kay heard from Booker, which attracted fellow labelmates like Sango and Carmack to seek him out. "May" continues to be a gem, thanks to a suave intro by Lenae and an eruptive flip by Booker. Lenae's vocals are enchanting, but the lyrics in her verse are darker than they initially seem, telling the story of a family with an absent father, and a mother seeing their child growing up, but possibly alone.
Aside from the Soulection White Label Series EP, Booker has yet to release a proper album. There were rumors about a project in 2017, bolstered by the success of "Kolors," but Booker mainly released tracks as a solo act or with other artists. "Kompany" was the first single that offered a hint of what to come. The track features a chorus by Phoelix, a Chicago singer who previously worked with artists like Noname and Saba. His high-pitched harmonies pull you into his chorus, while Booker's bass provides a heightened atmosphere. Finally, Smino brings everything together with his charming, off-cadence wordplay. Booker has said his next project may be released in 2019; in the meantime, he's focused on working with labelmates Jay2, Bari, and Lenae on their debuts.
Booker's new relationship with the Soulection resulted in travels around the world to play his music, and production for Smino's debut project, blkswn. He decided to make a beat to celebrate the moment. "I kind of felt like when I dropped the White Label [EP], my life kind of changed." says Booker. "It was kind of like the start for me as an artist. People knew me through the work of Smino, but to be able to get my own fan base… that was kind of the start of it." "New Chapter" was also one of the last songs Booker made that was clearly rooted in electronic music. "I definitely kind of laid a little low on super electronic music. I wanted to get back into more hip-hop or rap instrumentals instead of electronic. This song was kind of like the last of that wave for me at the moment."