LISTS
Meet the Artists Ushering Traditional Greek Music Into the Present
By Megan Iacobini de Fazio · August 03, 2020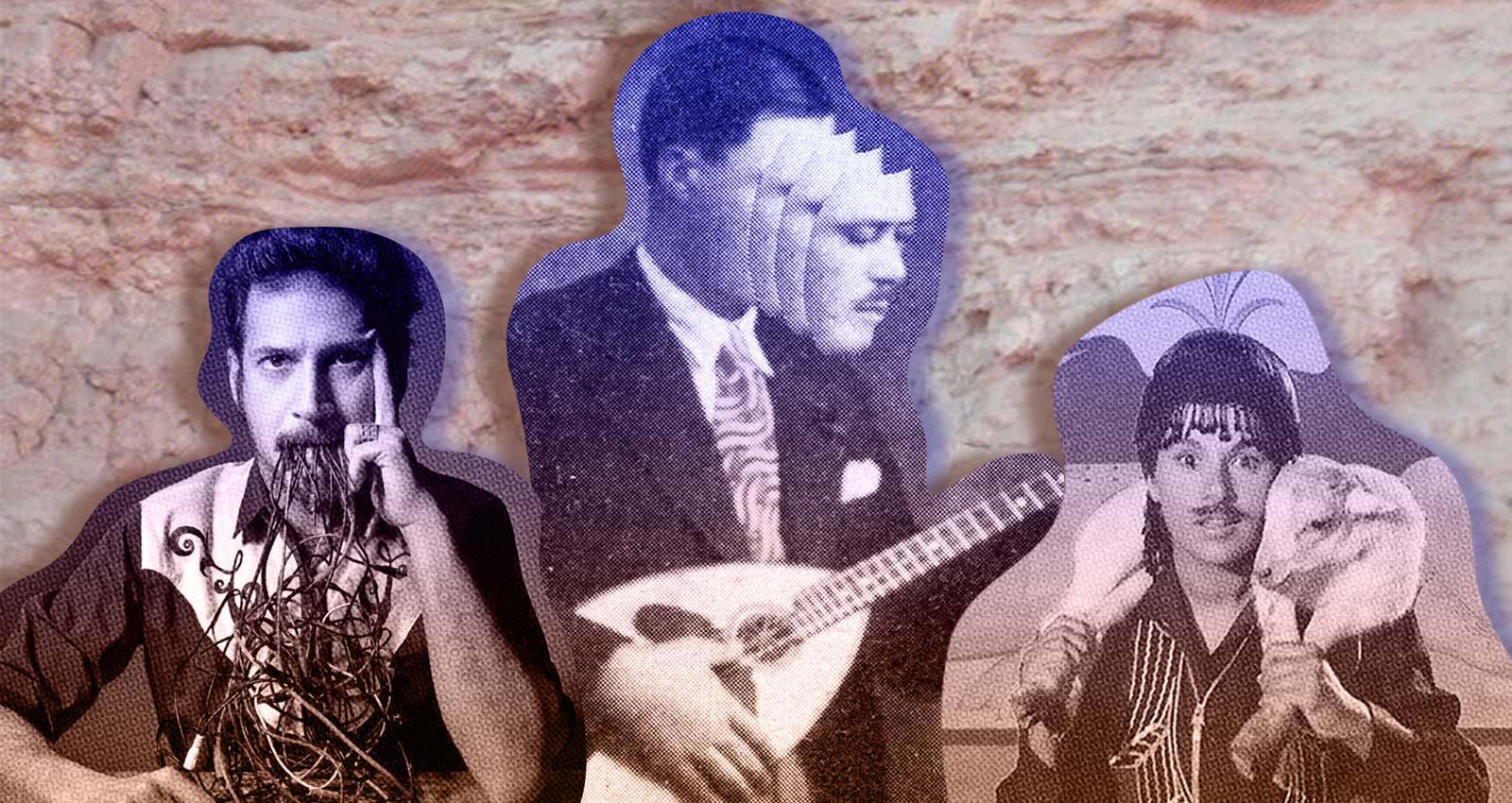 In 1923, as part of the Lausanne treaty, which ended a WWI-era border dispute, approximately 1.5 million Christians of Turkish citizenship were forced to move to Greece. They had few possessions, but what they did bring with them were the dances and melodies of Asia Minor. These sounds fused with local Greek styles to contribute to the birth of rebetiko, the popular music of the urban lower and working classes—and arguably the defining sound of 20th century Greece.
This is a familiar story in Greek music: the meeting of cultures, the assimilation and reinterpretation of musical traditions either giving birth to new art forms, or ensuring that traditions survive, albeit in new versions. For one example of this, look to Crete; the island lies at the intersection between Europe, North Africa, and the Middle East, and different customs have mingled there over the course of centuries, creating a rich and diverse musical landscape. To this day, music is a part of everyday life on the island. Thracian folk music has not only survived, it's thriving, despite the fact that Thracia no longer exists as an independent region.
Perhaps it is the capability—and the willingness—to adapt to change that has ensured that Greek traditional music still plays such a large part in Greek life. "Music is not necessarily like a museum object or frozen in time. It's actually alive, a living process," says Tasos Stamou, a Greek electroacoustic music composer and performer, sound technologist, and creator of alternative electronic music instruments. "You realize that traditional music can have value, especially when it's formed into a more contemporary value. My interest is not exactly to revive it, but to maintain it by refreshing it in a way."
It's this mix of old and new that also inspired Adamantios Kafetzis to explore Greek music further. His label Teranga Beat initially focused on reissuing West African music, but he has recently released three Greek projects. "I was fascinated how West Africans have mixed their traditional music with Western instruments and I always found the hybrid result unique," he explains. "I thought, 'Why not try to work this with my country's music as well?'"
Here are some artists revolutionizing traditional Greek music, while carrying on the legacy of the old guard.
Merch for this release:
Compact Disc (CD), Vinyl LP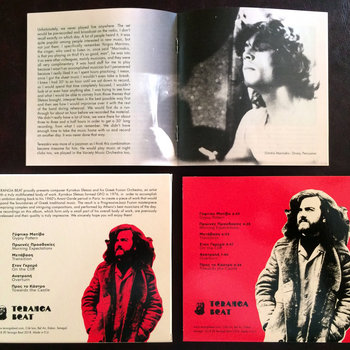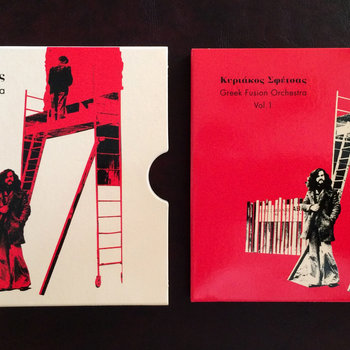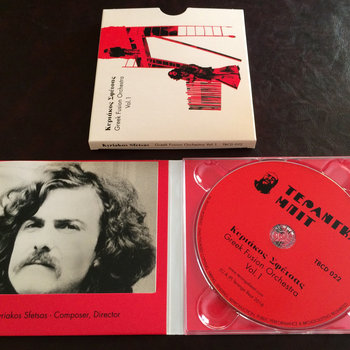 Arguably the first artist to reinterpret traditional Greek music, Kyriakos Sfetsas is a composer and musician from Lefkada. While studying classical music, he maintained a genuine connection to the island's folk traditions—especially typical clarinet music. In 1976, after being influenced by his time spent in 1960's avant-garde Paris, he formed Greek Fusion Orchestra, intending to create "a piece of work that would expand the boundaries of Greek traditional music." 
"It started as a program on the radio to create a jazz fusion progressive orchestra playing traditional music tracks" says Kafetzis. They compiled and released Greek Fusion Orchestra Vol.1 and Vol.2 on his label Teranga Beat. "Every week, they would have to produce 30 minutes of music. He would go and find old music in books, and bring it to the musicians just before the show started, and they would only have a small rehearsal before going on air."
The project only lasted one year, but the Orchestra produced dozens of hours of music. The first collection comprises material based on traditional rhythms or traditional songs, whereas the skews towards modern complexity. Both are excellent.
Merch for this release:
Vinyl LP, Compact Disc (CD)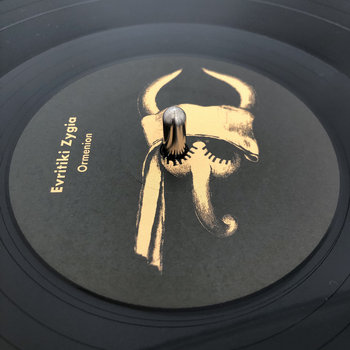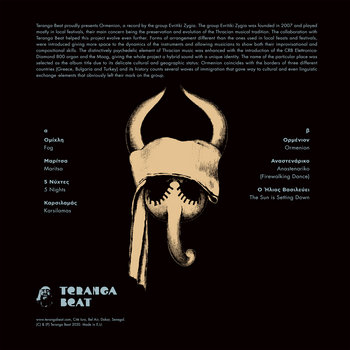 Teranga Beat's latest collection of Greek music features a present-day band, but is still rooted in tradition. Evritiki Zygia have been playing at weddings and village fetes for over a decade in their region of Evros, which is home to a large community of ethnic Thracians from parts of modern-day Bulgaria, Greece, and Turkey. When the young band members started playing traditional Thracian music, they were the only ones doing so—and they feared the music would soon be lost. "They were hardcore traditional" says Kafetzis, "they were going to villages, talking to old ladies, conserving music. They recreated a fashion for this music, lots of other bands have come up since then."
But their international crossover only came with Ormenion, their most recent album, as well as the first produced by Kafetzis himself. After being blown away by their performance at a cousin's wedding, the label founder and producer began working with the band to bring their sound into the present, while staying true to their traditional soul. He started by slightly altering the band's instrumentation, swapping the accordion for an electric organ, and later adding a Moog to the popular kaval ensemble, Thracian lyre, davul. The result is a wild, psychedelic ride that transports right amid the feasts, all-night festivals, and feverish dances, flush with relentless percussions, passionate lyre solos, and breakneck melodies.
Ormenion is a testament to the idea that to conserve tradition doesn't necessarily mean to mimic it but rather to make it one's own. It's also a record that celebrates diversity, highlighting the richness that ensues when cultures are allowed to mingle.
Merch for this release:
Vinyl LP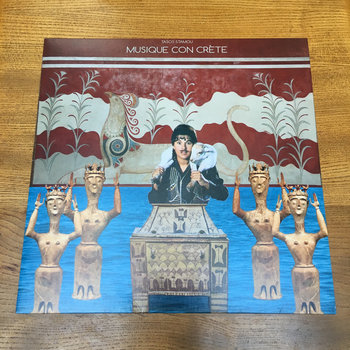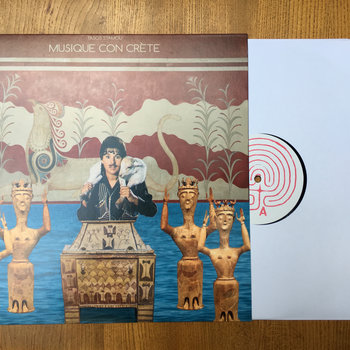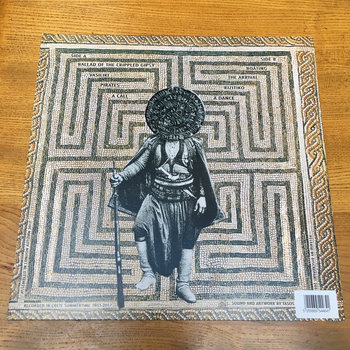 Until recently, Stamou's creations have been abstract, without clear geographic or traditional influences. After years of living in London, he began missing music from his native Greece, and began exploring the traditional sounds of his country. What started as a bit of "just a thing to do with friends" has morphed into a primary passion, and three different projects influenced by Greek tradition.
He was able to further explore his new interest during an artist residency in Crete, where a broken arm meant he was suddenly unable to work on the sound sculpture projects he had planned. "I came up with the idea of doing something closer to electronic music inspired by the '60s version of it, which was called musique concrète [a type of music composition that utilizes recorded sounds as material, then modifies them through various manipulation techniques]."
As Stamou found out, music is still very much alive on the island. He was able to visit traditional fiestas, as well as, "some sort of ancient ritual in a village in the south where people were singing and performing ancient poetry." This ritual gave the name to his project Koura, in which he layers recordings of the zither and the chord organ to create two extended compositions. While Koura is only abstractly influenced by Cretan tradition, Musique con Crète incorporates urban and rural field recordings, studio sessions with local musicians, improvised live sessions, and excerpts from old tapes he found in music shops during his visits to Crete. The result is a fascinating, sometimes folkloristic and traditional, occasionally experimental record that is both a personal account of his journey and a piece of ethnographic work.
He also combines personal and traditional on D.A.D (the name is in honor of his Dad and the commonly used tuning on the Greek Bouzouki, D-A-D), where he merges field recordings and electronics to create 'new traditional' sound.
Tasos Stamou joins fellow Greek multi-instrumentalist Thodoris Ziarkas for this acoustic duo project that reinterprets rebetiko music by cutting it and expanding it into more improvisational, avant-garde territory. "We decided to be clear, and just use the original orchestration of the rebetika, which is just a guitar and a Greek bouzouki [a sort of long-necked lute]" says Stamou.
"Some parts might sound more experimental now, but this style was established in the 1930's through discography, and there was a very limited time to play on a 78″ record, maybe four minutes" explains Stamou. "Maybe we're trying to explore what maybe what could be happening in real kind of life gigs, where songs would have been much more time to be expanded and could be played in much more of a free in a way."
That's why playing live, watching the audience's reaction, and indulging in extended improvisations are vital to the duo. The musicians were especially curious to find out what the Greek audience would make of them chopping up such a popular music style, so they embarked on a Greek tour: "It was way more challenging because people even know the tunes. The rebetiko music is extremely established, in its form, and especially in its aesthetics," Stamou says. While the reactions were mixed, as they expected, the duo managed to elicit curiosity and engagement, and later, as the audience warmed to the new sound, to recreate the "atmosphere of a Greek taverna, with people drinking and and getting high, but at the same time listening seriously."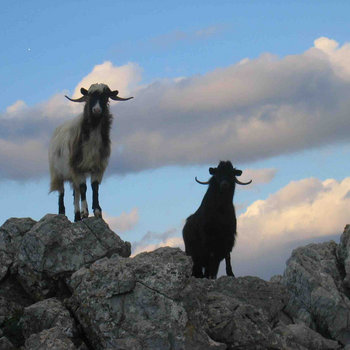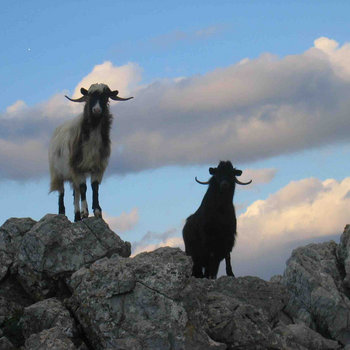 Merch for this release:
Vinyl LP, Compact Disc (CD)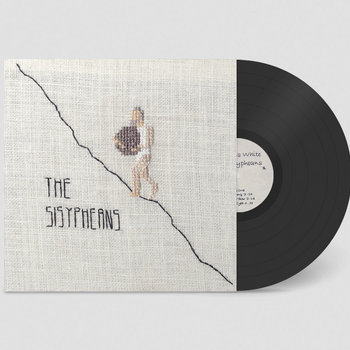 Giorgos Xylouris was born into what is perhaps Crete's most famous musical dynasty. His father, Antonis Xylouris, also known as Psarantonis, and his uncle Nikos, nicknamed Psaronikos, were successful singers and players of the lyra, the traditional bowed string instrument of Crete. In contrast, his uncle Yannis was a virtuoso laouto player.
Giorgos recalls long summers in Anogeia, the mountain village where he grew up when music was an intrinsic part of life. "Poetry, dancing, music. It's a strong tradition. There were fiestas in the square, weddings, men would serenade ladies under their balconies." He remembers watching his uncle Yannis in awe, his plectrum floating over the laout's strings: "every time he was playing there in the square, I was seeking that, I was on the ground looking at his feet and listening at the way he was playing, it was magic."
They may have been playing traditional folkloristic music, but the Xylouris family never shied away from experimenting with their sound and "knocking down the walls of tradition." Like his father and uncles before him, Giorgos has kept the tradition alive but has given it a new life. On his project Xylouris White, he unites with Australian Dirty Three drummer Jim White to create music that is essential Cretan, while also being jazz, psychedelia, and rock.
For Giorgos, this doesn't change the essence of his music: "I love the tradition of music. Every day, every moment, that's what makes me move in different directions. So to me, this music is no different."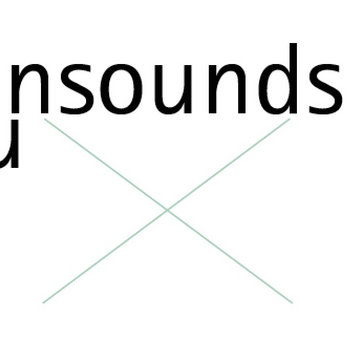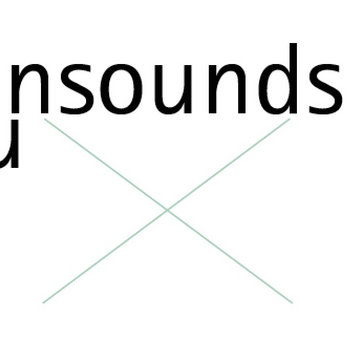 Rebetika and Life in a Billion Heartbeats are two of the albums to come out a long friendship and collaboration between Andy Moor, Scottish post-punk guitarist and member of the Dutch band The Ex, and Yannis Kyriakides, a classically trained Cypriot composer and sound artist. Released on the duo's label, Unsounds, both albums explore the "golden era" of rebetika music of the 1920's and '30s by deconstructing and reassembling some of their favorite tracks. "On some tracks, it's more or less a cover, so Andy might just play the melodies, then on some songs I would sample from original recordings. But sometimes it would only be a bear thread of a reference to a song" explains Kyriakides, "starting from a riff and building something totally new around it."
Kyriakides was born in Cyprus but moved to the UK as a child and grew up there. At 18, he returned to Greece for a visit and came into contact with Ross Daly, "who is like the godfather of the Greek traditional music revival, or what they call […] the Byzantine style." He learned how to play the oud and delved deeper into the Ottoman and Byzantine roots of Greek popular music. When he moved to the Netherlands, he teamed up with Andy Moor and other musicians to play Greek music "traditionally," but he knew it would take something else to connect to the music.
Chopping it up and reassembling traditional Greek sounds, he says, was a way of dealing with the distance he felt from his Greek heritage. Many songs deal with the immigrant experience, because many records were made in the States by Greek immigrants circa the 1920's. "My identity as a musician is not in that world," he explains, "so this is simply trying to find our own way to relate to it."