LISTS
A Guide to Low's Haunting Discography
By Cam Lindsay · Illustration by Natalie Foss · September 10, 2021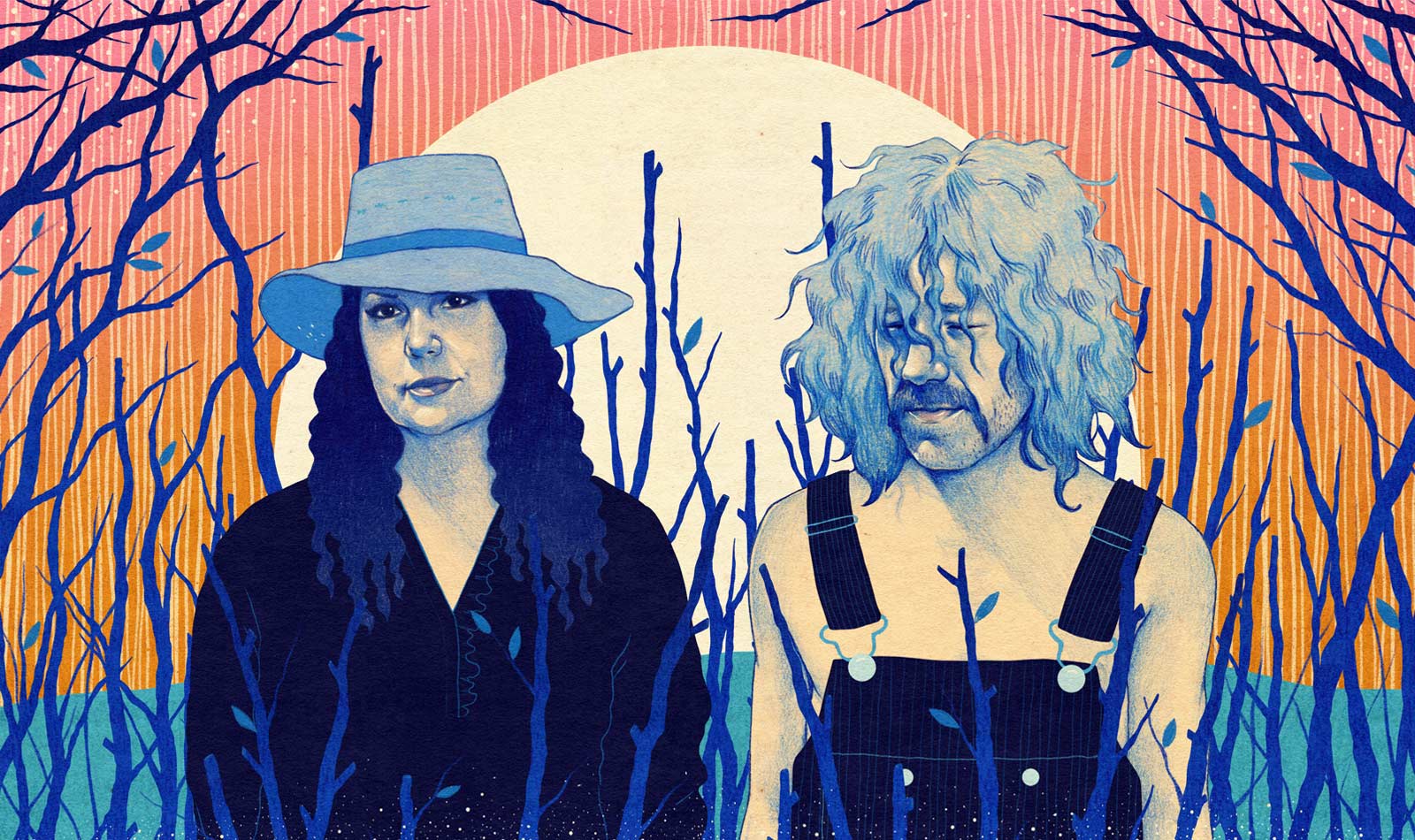 For 28 years now, Low has been the musical partnership of married couple Mimi Parker (drums) and Alan Sparhawk (guitar and vocals). Over that period they have relied on a revolving cast of bassists to help stretch the band out as a trio, but right now and for the foreseeable future, Low is operating as a duo.
After most recent bassist Steve Garrington decided not to contribute to the band's 13th studio album, HEY WHAT, Parker and Sparhawk found themselves in an unfamiliar situation. "We've always had collaborators. It's never just been the two of us," Parker says. "And it's probably better for us to have a third person to give a different perspective. But this is alright. We're excited to venture down that path."
With producer BJ Burton on board for a third straight album, however, Low seems to have found a kindred spirit to help fill any void left by Garrington's absence. "It was weird to be a duo," explains Sparhawk. "It's nice to have other people you trust around, and other people contributing, like surprises. We're doing that with each other, but obviously our relationship with BJ is close, so it does feel like a trio."
Low has always preferred to work within a minimal framework. They emerged out of a no-scene town—Duluth, Minnesota—in 1993, with music that was tremendously sparse and languid. Living up to their name, the arrangements were desolate and austere, consisting of the couple's haunting tag-team vocals, delicate bass lines, limpid guitar strokes, and a measured beat from Parker's humble kit of tom, snare, and cymbal.
Their first three albums—I Could Live In Hope, Long Division, and The Curtain Hits The Cast—were released by the Virgin Records subsidiary Vernon Yard (The Verve, Acetone, The Auteurs), which earned them accolades and put them at the forefront of a movement dubbed "slowcore." To this day, they are still trying to negotiate for the rights to those albums.
"They own them forever," says Sparhawk. "It's very possible something might be worked out so we can control our own releases, but it would depend on someone doing us a favor. That's just the way it goes. Some things you can fight, some things you can't."
But Low quickly moved on from that era, enjoying a fruitful period with kranky before signing with their long-term home of Sub Pop. In working with distinguished names such as Steve Albini, Dave Fridmann, Jeff Tweedy, and Burton, they've continued to evolve their sound, from minimalist chamber pop to maximalist noise experiments.
To coincide with the release of HEY WHAT we discussed some of the standout moments from Low's devastatingly quiet catalog with Parker and Sparhawk, beginning with the EP that signaled a new chapter for them.
Merch for this release:
Vinyl LP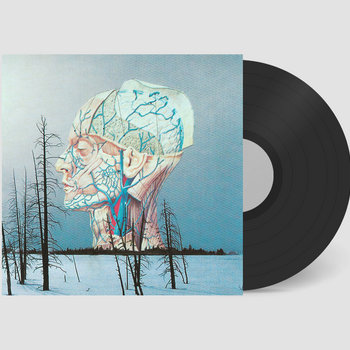 Having left the pseudo-major label world behind them, Low took solace in joining the Chicago-based kranky, a label that encouraged the kind of artistic freedom they were searching for. "It was perfect timing because we were experimenting, trying to find our legs in making the kind of music we wanted," says Sparhawk. "That feeling was very empowering, and they were cheering us on."
With an opportunity to test new waters, Low made their real first venture into DIY recording on Songs For A Dead Pilot. They decelerated the tempos even more, while opening up their arrangements to allow for more unpredictable moments. "Born By The Wires," for example, barely exists in parts of its 13-minute life, clawing and crawling its way to a surprisingly hushed end.
Says Sparhawk: "I remember recording in the basement and putting the microphone in the washer and dryer, just banging on things. We'd gotten to the point where we'd played these first records and realized the songs were pretty slow. But we realized as we played the songs were getting slower and slower, and our tolerance was getting longer to play slower. It made sense because we were always pushing ourselves closer to the edge. Some of these songs I listen to now and think, 'Holy fuck, they're so slow!' Like five breaths in between each beat."
Merch for this release:
Compact Disc (CD), Vinyl LP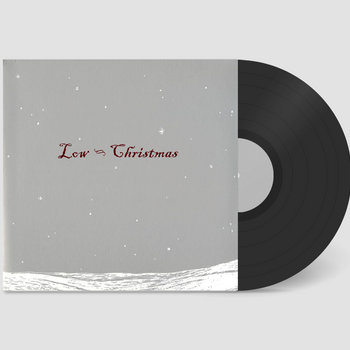 Even though Parker and Sparhawk are well-known followers of the Mormon faith, Low never seemed like the type of band to release a holiday album. And yet 1999's Christmas mini-album remains to be their most accessible and popular release to date. Despite the seemingly anti-festive nature of their music, the songs resonated with a wide audience that was looking for more out of their seasonal soundtracks. To that point, newfound holiday favorite "Just Like Christmas" became the poppiest song they'd ever put to tape, while their droning rendition of "Little Drummer Boy" earned itself placement in a popular GAP ad.
"It was pretty common to have tour EPs, just extra stuff for fans," Sparhawk says. "So originally it was just something we could have on tour for the fall that year. But Tugboat Records in England liked it and wanted to put it out. And then John Peel really liked it and he got the daytime BBC DJs to play it, which was a pretty big deal. It really surprised us."
Adds Parker, "Honestly, that Christmas record might be my favorite record. It kind of speaks to everyone. I have friends in town who tell me the first thing they do at Christmas time is put on that record. And it's something you can give your mom or grandma."
Merch for this release:
Vinyl LP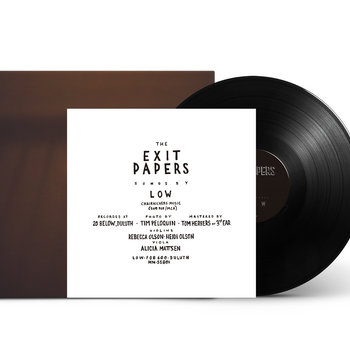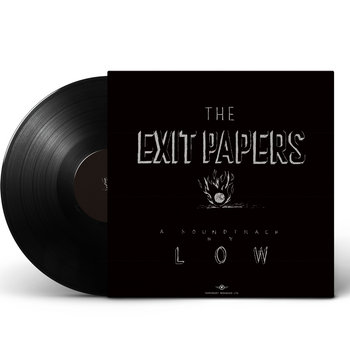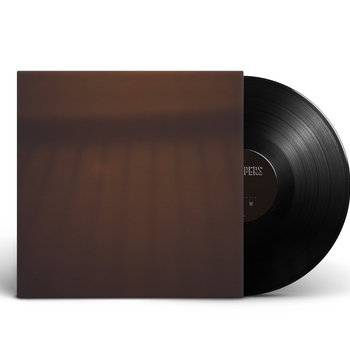 Low had tinkered with the idea of scoring films, even recording some music they sent out to various filmmakers to see if any would bite. "We came up with this idea to do a fake soundtrack to a movie called The Exit Papers," Sparhawk says. "We could have been more thematic about it but some of it was us trying to show what we could do. Like, 'Is anybody interested in hiring us to do a soundtrack? Because this is what we can do!'"
Instead, they offered six self-recorded instrumentals to indie label Temporary Residence, who had approached them about a release for their Travels In Constants series. Completely improvised and skeletal, they used scant instrumentation and disjointed pieces to establish a haunting, cavernous resonance. "It was fun because instead of it being songs, we treated it like a soundtrack," adds Sparhawk. "I think there's one thing on there that we could call a song. The rest is more for the background music."
Fan favorite Things We Lost In The Fire saw Low return to Chicago and record once again with Albini, who engineered 1999's Secret Name. This time they upped the ante with a more calculated attempt at making something more elaborate and direct. By utilizing richly layered harmonies with strings and brass, the arrangements captured the poignancy of songs like "In Metal," which expresses their anxieties and wonderment of becoming parents for the first time.
"We went into that trying to make a pop record," explains Sparhawk. "I remember spending a lot of time about every detail in the frame of a pop song structure, like a classic song. We'd hear these albums around us being made that were amazing and it was this drive to get better. Trying to stretch ourselves a little and prove we were more than just a band that played slow. But it wasn't a heavy agenda. We were just listening to a lot of Pet Sounds."
Merch for this release:
Vinyl LP, Compact Disc (CD), Cassette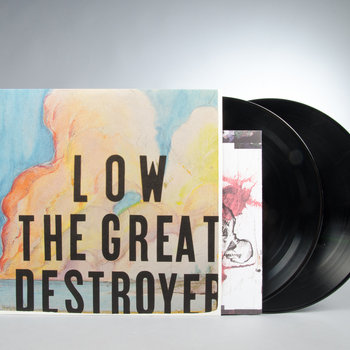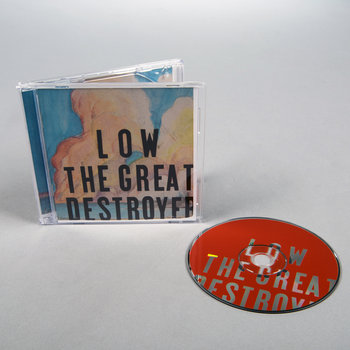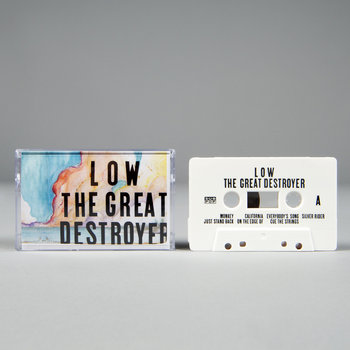 Low had never really demonstrated an urge to become a full-on rock band until they hooked up with Fridmann, best known for his work with Mercury Rev and the Flaming Lips. But The Great Destroyer (their first album for Sub Pop) lived up to its name, abolishing any assumptions that Low was strictly limited to making slow and quiet music. Single "California" is frank about its guitar-oriented alt-rock lean, giving them a chance to reach radio rotation. But it's "When I Go Deaf" that perfectly join the two sides's dynamics: halfway through, Low's composed stillness is hijacked by Fridmann's thunderous volume.
"Live, we were stretching out and becoming more dynamic, louder, experimenting with different instruments," says Sparhawk. "The Great Destroyer was definitely Dave meeting us where we were at. We were really on a train barreling forward in the way we were approaching songs at that point, so that record was sort of us crashing into a psychedelic wall of goo. I felt we really hit the ceiling and were able to present where we were headed there."
Returning to Tarbox Road Studios to work with Fridmann again, Low wanted to make a radical change in the way they made music. With Drums And Guns they basically threw everything they knew out the window and started over. Focusing more on textures and fragmented structures, they left their comfort zone, resulting in an album of protest music—not only lyrically, in attacking Bush's war in Iraq, but musically, in how they were functioning as a trio.
"There's not a lot of rest on that record, but it was fun to make," Sparhawk says. "We were stepping into the possibilities of what Dave could do. We had started to work with Fridmann and get his vibe, see what was possible, hear things that were cool that he would bring in. We wanted to get away from the normal instruments that we use and build with other things. He had kind of been hinting at that when we did The Great Destroyer."
Merch for this release:
Compact Disc (CD), Vinyl LP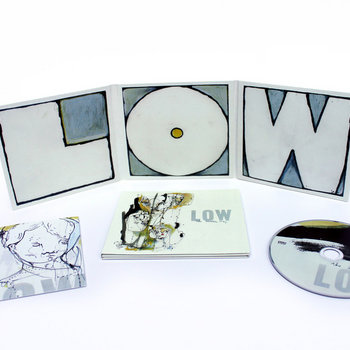 There was already a connection between Low and Tweedy before they began working on The Invisible Way. Low had opened up some shows for Wilco, and were friends with guitarist Nels Cline, so they jumped at the chance when Tweedy suggested the idea of producing their next record. Whereas Drums And Guns found Low in their coldest, darkest place, The Invisible Way focused on bringing in some warmth, stripping the music down to its simplest, most organic form. Tweedy's influence is felt in just how much it feels like a singer-songwriter's album, making it perhaps the most divergent release in their catalog.
"We were starting to find a certain vibe with the piano and certain acoustic sounds," explains Sparhawk. "I think the fact that we had been to this extreme before gave us some confidence, like, "We can embrace this now. I can play acoustic guitar on the record, even though it's not normally my vibe, because this guitar sounds great!' So we decided to work in this realm to see what we could do."
Low isn't really known for their covers, but they've attempted quite a few of them over the years. Some are predictable (Spacemen 3, the Velvet Underground), while others are complete surprises (OutKast, Daft Punk, Funkadelic). One of the few they've released commercially is a stunningly stripped-down version of Rihanna's hit ballad, "Stay." And while one would expect Parker to lead the way, it's Sparhawk's raw performance that steals the show.
"It was my idea," admits Parker. "I just heard that song on the radio and loved it immediately and thought, 'Man, I can sing that song!' I'm no Rihanna, but it's kind of in my wheelhouse. It's the key I sing in for Low."
"That was a surprise," adds Sparhawk. "I remember feeling like I was a little out of practice with that recording. I had to work very hard. I always do have to work very hard, but it was a challenge. It's not a showy vocal part, and it sounds effortless, but when you try and do it you go, 'Whoa! Whoa! There is some movement here that is hard to stay on top of.' So it took a while."
Merch for this release:
Vinyl LP, Compact Disc (CD), Cassette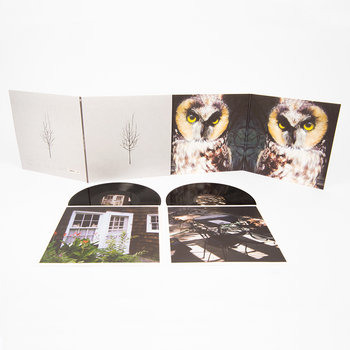 After playing it safe with 2011's C'mon and 2013's The Invisible Way, Low felt it was time to take another creative risk. While producing an album by fellow Duluthers Trampled By Turtles in 2014, Sparhawk found a sonic soulmate in engineer Burton. Low and Burton met up at Justin Vernon's April Base Studios in Wisconsin to make Low's next album, Ones And Sixes. As with Drums And Guns, the band entrusted their curiosity to lead them in the right direction. In working with Burton, they discovered bold new musical paths utilizing his unique digital production skills, helping them balance their conflict between beauty and noise.
"It was kind of a similar thing as with Fridmann," says Sparhawk. "There were a couple of songs where we were like, 'What? How did you make this sound so awesome? How did you make this idea I had hit the way it needed to hit?' After Ones and Sixes we realized that the stuff that was most satisfying was the stuff where we really went out and let go of the way we play live or the instruments we normally play. So that was essentially the kicking off of a new way to build a sound or a song."
Merch for this release:
Vinyl LP, Compact Disc (CD), Cassette, T-Shirt/Apparel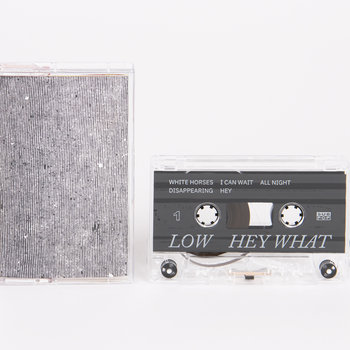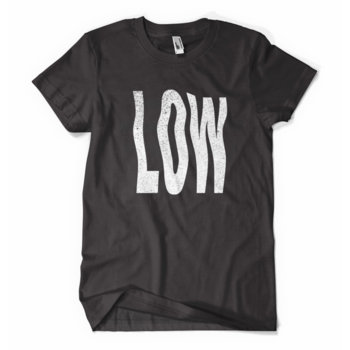 With 2018's intrepid Double Negative, Low were basically inventing a new language to work with, finding beauty in broken compositions and discordance with rumbling, distorted pulsations and humming drones. "We would say, 'What the hell is this? Is this something? Is the end of it for us? What are people gonna think?,'' Parker says.
HEY WHAT continues this journey into the unknown, using the confidence they gained with Double Negative to reach new extremes in their sonic investigations. They mimic whooshing industrial fans on "There's a Comma After Still," warp blissful harmonies with distortion on "Days Like These," and push closer "The Price You Pay (It Must Be Wearing Off)" to the brink of destruction till its very climax.
"The way we built it, we'd already been working that way with Double Negative," says Sparhawk. "There were a few things that started happening when we began recording, that we started using as guides throughout the process. COVID meant we had limited contact, but it worked well with the way we were operating."
Despite collaborating with Burton for a third time, Low doesn't view the albums as a trilogy, nor do they see HEY WHAT as a final chapter. "I don't feel like the albums have a connected flow," adds Sparhawk. "It's so pliable and open. And I think even if we wanted to shift gears and make an album using only ukuleles, BJ would still be the right person to do it. We still go down and work on stuff every few weeks with him, so, we'll see."