LISTS
A Guide to the Discography of Synth Wizard Lisa Bella Donna
By Charlie Heller · February 24, 2020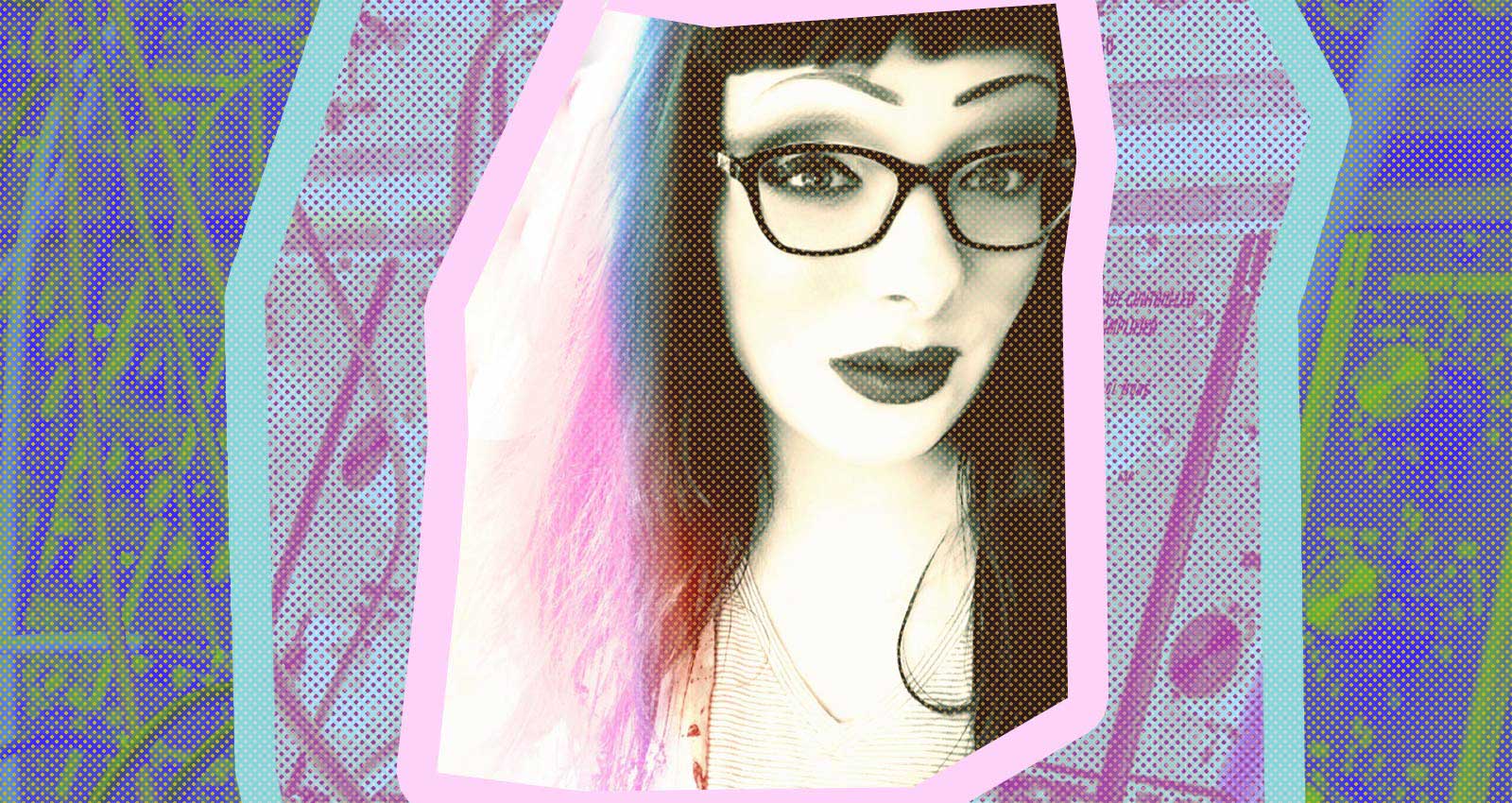 Since her solo debut in 2016, composer, clinician, and all-around synth wizard Lisa Bella Donna has built a crate's worth of electronic odysseys that, were they a few decades older, reissue labels would be ecstatic to unearth. In 2019 alone, she released 10 full-lengths, each of which bubble forth with magma-warm, analog goodness. This prolific release schedule is the product of a lifetime of musicianship that began with a job at a jingle studio at age 15. Since then, she has spent the last two decades as a session musician, producer, musique concrète sound installation artist, and a player of jazz fusion, death metal, and psychedelic prog, alike.
A standard Lisa Bella Donna album credit might read something like, "ARP 2600 & Moog Modular Synthesizers. ARP & Moog Sequencers, Minimoog, Polymoog, Mellotrons, ARP Odyssey, ARP String Ensemble, Prophet 5, Farfisa Organ, Reel to Reels, Gongs, chimes, & Bells," which, for any fan of classic, analog synthesizer-based, electronic music, is a very promising sign. That she's the face of gear demonstrations produced by Moog itself, is another.
Each of the 10 albums that she released last year explores different auditory environments through an approach she calls "instant composition," a mostly improvisational approach that is performed and recorded live from musical sketches and sequences in response to her surroundings. But wherever Bella Donna's soundscapes seek to bring you, they will bring you. "I like to be able to take the listener into a space," she says. "If I'm doing my job right they forget about the music and just get into their own state of mind, wherever they're at."
Merch for this release:
Compact Disc (CD)
Created over a year, Destinations is an ideal introduction to Bella Donna's work. Its four tracks offer a concise overview of her sonic signatures—a base of morphing arpeggios, layers upon layers of deep, glowing pads and vintage tape swells, quaking multi-timbral bass, and the role of soloist filled by the glowing elastic leads that dance over it all. Highlight "Green Rivers to Blackwater Canyon," is a melancholy dirge lit ablaze by a searing neon synth solo, while "Mystery Rituals," written for a Moog demo video, is about as close to a classical electronic music single as one gets.
Merch for this release:
Compact Disc (CD)
Another more condensed and composed album, Circulus' first track "Kohouték" was created outside on Bella Donna's back porch in the Appalachian mountains. Meant as a shorter piece she could perform while opening on tour for Boris in Japan, it conjures a dark, mystical soundscape with a pulsing beat (a relative rarity for Bella Donna), an array of gooey leads, and a huge plucked sound that, whatever instrument it is, sounds like it was strung in Hephaestus's forge. The two tracks that follow are longer, cinematic adventures with on-the-spot compositions equally inspired by the Appalachian setting. "Storm-Weaver" sounds just like its name, and "Kanawha Falls, West Virginia" moves through each of its grand phases like a time lapse through the seasons.
Omnipresence's title is fitting, as it's one of the most varied displays of Bella Donna's enormous range as a musician. Its opener wouldn't be out of place on a '70s Genesis album and the arpeggios propelling "Touch" aren't synths at all, but an acoustic guitar accompanied by an electric whose fretboard she shreds as tastefully as she does any keyboard. Bella Donna even breaks out an upright bass over the cosmic mellotron strings of "End of the Line." The bittersweet "Red Veils" is one of Bella Donna's best tracks overall, bringing in electronic drums to underline a blazing synth solo.
Synths are often associated more with urban musical experimentations, given their technological forwardness, but Bella Donna believes "some of the most authentic country music is created by modular synthesizers and string machines." Inspired by her move home to Appalachia, the two track album digs into "way deep 70's ambiance and beyond" to celebrate the rural surroundings.
On the A-side is "Carolina Pines," a soundscape filled with echoing bleeps that evokes a journey through dense thickets and the expansive skies above, slowly gaining new elements until reaching a harmonic-rich critical mass that seems to open the earth up for Bella Donna to unleash one of her most expressive solos. The mellow "Early Morning October" expresses the sounds of nature more literally, combining field recordings with glistening arpeggios and a showcase of the Fender Rhodes; her impressionistic playing here is akin to early Weather Report.
Merch for this release:
Compact Disc (CD)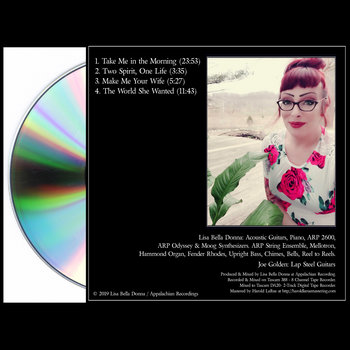 Bella Donna's virtuosity is not limited to synths—her guitar playing is just as skillful and just as adept at building vast, immersive soundscapes. On the "travelogues" of The World She Wanted, Bella Donna draws on a more acoustic palette with guitar, dulcimer, upright bass, and even regular old acoustic piano creating most of the sonic canvas, with an atmosphere fans of 70's prog-folkers like John Martyn would appreciate. And when the synths do come in, they too are especially 70's, with a tone that sounds like the platonic ideal of fusion leads.
The juxtaposition is delightful, especially on "Make Me Your Wife," which beautifully weaves together fingerpicked acoustic guitar, lap steel (from guest Joe Golden), and balletic melodies on an 1975 ARP Axxe (augmented with subtle overtones from an ARP 2600 and Moog Grandmother). And it might be a stretch, but do some of Bella Donna's metal roots show through, too? The title track sounds just a bit like an acoustic Opeth interlude unpacked into a worthy full-length song.
Night Shift is, unsurprisingly, one of Bella Donna's darker sounding journeys, and maybe even evokes a bit more of an '80's atmosphere. "Flight Over Lyseførd" brings together circuit squawks, tension-building strings, and overloaded bass squelch, making it the perfect soundtrack for anyone prepping for (and/or executing) a techno-heist in some future cyberpunk metropolis, while the burbling "October Gathering" provides an equally potent comedown for your crew's hazy dawn helicopter ride home.
The last release of Bella Donna's prolific 2019 was actually composed and recorded back in in 1994, during a period in which, she says, she was essentially a hermit, living in a tiny shack packed mostly with synths. The "monochromatic tone poem" uses only synths from classic manufacturer ARP, whose early synths can be heard in Edgar Winter's "Frankenstein," Herbie Hancock's "Chameleon," and R2D2's voice. There's certainly a kinship with that last one on the wildly atonal "Correlative Moons," while "December" and "The Albatross" mix together all manner of classic weird electronic sounds and distinctly sci-fi leads. In a true full-circle moment, the 26-year-old master tapes were remastered and released in collaboration with the recently launched Alan R. Pearlman Foundation, which seeks to build on the ARP founder's legacy through artist education and support.
No mature artist is complete without at least one live album, and this one offers a glimpse of what it's like to experience Bella Donna's "instant composition" in person. Culled from several solo performances, the album includes videos of its first two spacey explorations, "Nightfall" and "Conclusions," so you can watch some of the sonic alchemy in real time. But you might still marvel at how both the minimal "Shapeshifter," which puts a single monophonic sequence through a sonic gauntlet of modulation, and the multi-part synth-prog epic "Fjørds" could both be created live by a single person.
If you've been having Tangerine Dreams since you could first hold headphones or your Bach has been Switched On since your first listen, and especially if you were the one who taught all your friends how to properly pronounce "Moog," you'll particularly enjoy the pure analog goodness of this Moogfest-celebrating double LP. The first three tracks alone are titled "Thankful Diodes," "Paraphonic Praeludium," and, yes, "Starchild Warrior Cats." ("Thankful Diodes" sounds almost as if the listener is immersed in the crackling circuits themselves.) There's also a 26-minute sound effects excursion ("Abhilasha") and a 27-minute synth symphony ("Atagahi, of the Great Smoky Mountains"). If you really want to dive into old school synths, this is your advanced immersion course.