LISTS
The Story of Leroy Burgess, Godfather of Disco Boogie
By Andy Thomas · October 17, 2022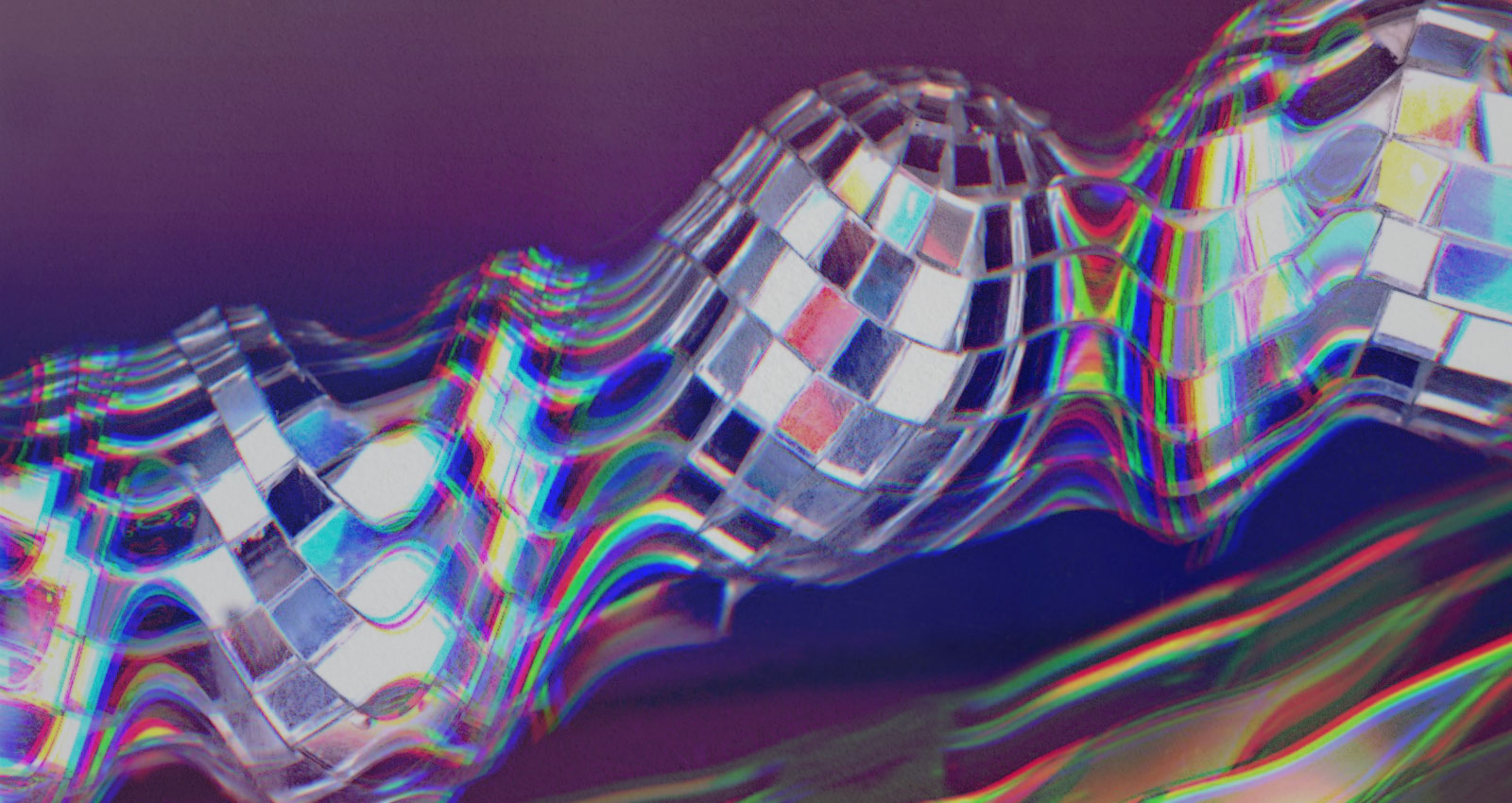 "If James Brown is the godfather of funk then surely Leroy Burgess deserves the same title for his badass disco boogie." So declared London DJ/producer Ashley Beedle in the liner notes to Leroy Burgess: The Anthology, Volume One released on Soul Brother Records in 2001.
That long overdue two-part compilation showcased Burgess' genius not only as a singer, keyboardist, and producer but also as a writer and arranger on a tall stack of legendary club records. Working under an array of pseudonyms, often with cult producers/songwriters Patrick Adams and Greg Carmichael, Burgess is best known for the synth-laden, mid-tempo productions of the early to mid-'80s that became known as boogie. He remains prolific today, through collaborations with younger producers who were raised on his music, while his classics are given a new lease of life with reconstructions like Louie Vega's recent take on Burgess' 1981 hit "Let's Do It"
Born in Harlem in 1953, Leroy O'Neil Jackson Jr. got the music bug early. "It all begins with the voice of my mother, Myrtle Bell Jackson-Burgess, a classically trained contralto," Burgess says. "At around age three, I began singing along with her. This led to my interest in learning to play piano, and by the age of six, I was learning everything I could about music."
In the summer of 1968, when he was just 14, Burgess was invited to join his friend Larry Newkirk's group The Mellow Souls as its lead singer. Newkirk didn't see a future for the group, but Burgess did, recruiting Stuart Bascombe and Russell Patterson. Before he left, Newkirk told Burgess that his sister Gail was dating a producer by the name of Patrick Adams. "She kindly asked Patrick for an audition for us, but when the time came, he called to inform us that he couldn't make it," Burgess says. "I was singing 'Can You Remember' by the Delfonics in the background when he called, and Patrick heard me. He immediately arranged another audition. Patrick took immediate notice of my skills as a vocalist and fledgling keyboardist and became my mentor."
At the time, Adams was working as A&R for Perception Records and had just set up its soul offshoot, Today Records. He took the group under his wing, changing their name to Black Ivory and inviting them to Sigma Sound Studios to record an LP, which included Burgess' first composition. "I composed the music and melody for 'You and I' during my off-periods, on Dodge Vocational High School's auditorium piano in 1968," Burgess recalls. "Stuart Bascombe later wrote the amazing lyrics. The end result was the seven-minute epic arrangement and production with Patrick Adams."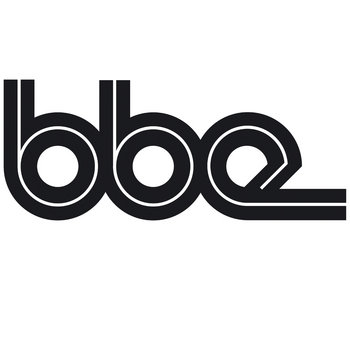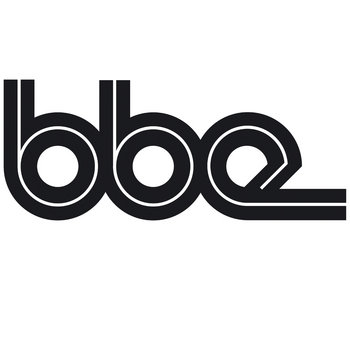 Merch for this release:
Compact Disc (CD), 7" Vinyl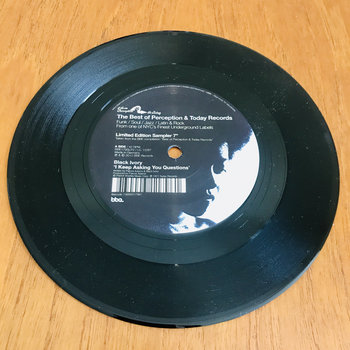 By around 1977, Burgess was starting to become disillusioned. "Black Ivory was largely typecast as a slow jam group, and to continue my growth as an artist in a changing musical landscape, I needed to discover who Leroy Burgess was," he says. "Upon my hiatus from Black Ivory, I returned to my mentor for work. Initially, Patrick brought me in as a background vocalist and vocal arranger. But soon he embraced my skills as a keyboardist and music arranger."
Through his label P&P out of Harlem (which he'd founded with Peter Brown), Patrick Adams had already produced, arranged, and released a string of cult-ish disco records such as Cloud One's "Atmosphere Strut" and Four Below Zero's "E.S.P." One of his many aliases was Phreek, a studio group made up of the cream of New York's disco musicians and singers, who Adams had recently helped to get signed by Atlantic Records.
"In 1978, Patrick approached me to submit songs for the forthcoming Patrick Adams Presents Phreek on Atlantic," Burgess says. "The groove for 'Weekend' came to me in a dream, which immediately woke me up and sent me to my Fender Rhodes piano." It was 5am in the studio where Burgess had been working on songs with Black Ivory bassist James Calloway. "I began to bang out the chords and groove to the song, waking up my brother James. Sleepily, he began to construct the bassline. We recorded a quick demo of the two of us playing with a small drum machine and I wrote the words shortly after that."
Patrick Adams loved what he heard, and invited Burgess and Calloway to Blank Tapes the legendary recording studio of engineer Bob Blank, where the Phreek project was evolving. "That's the first real moment that Patrick entrusted me with the conductor's baton," Burgess says. "Upon delivering the completed demos, Patrick gave me some money and told me to go up the block to the Juilliard Store to purchase blank score sheets and manuscript paper and to go home and write the charts for the musicians. At the sessions, he stepped back and told me to run the show."
Recorded with singer Christine Wiltshire and released as a 12" on Adams' label PAP, "Weekend," later recorded by Class Action, was not only one of the great disco records of the late '70s, it solidified Burgess' position as a member of Patrick Adams' group of studio musicians known as PA System. It also introduced him to the engineering prowess of Bob Blank. "Working with Bob Blank in his outstanding Blank Tape Studios was a producer's dream," Burgess says. "He was immensely gifted in the craft of audio engineering. As much as was possible, I requested Bob himself to engineer my sessions after that."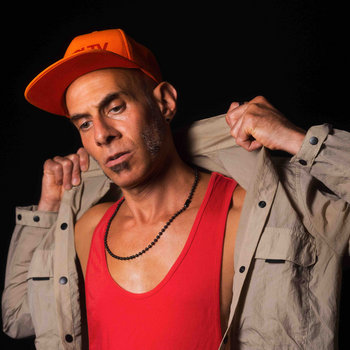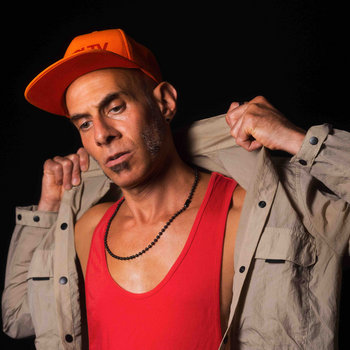 Adams reunited with Black Ivory for their third LP for the label Buddah. This yielded the group's huge disco hit "Mainline," which was written and arranged by Burgess. Released in 1979, it was a prophetic record, with a drum break that anticipated the arrival of house music in the mid-'80s. It became a huge anthem at Paradise Garage. "The funny thing was, neither the team nor I spent a lot of time at Paradise Garage besides the performances we did there," says Burgess. "But we always found it to be one of the freest, inclusive, and least judgmental clubs in New York City."
After the success of "Mainline," Burgess and Patrick Adams hooked up with fellow arranger and producer Stan Lucas, who had played guitar on the Phreek LP, for one of the great disco LPs of the late '70s, Dazzle's self-titled release for De-Lite Records in 1979. "Having solidified my place in Patrick Adams' core production team, he assigned the Dazzle project to Stan Lucas and myself, as its primary producers," says Burgess.
Bringing along two of the musicians he had recorded with in both Dazzle and Phreek—James Calloway and Sonny T Davenport—Burgess began his next fruitful partnership, this time with Greg Carmichael. Founder of the leftfield disco label Red Greg Records, Carmichael had already released a string of underground classics under the names The Universal Robot Band and Bumble Bee Unlimited with his regular production partner Patrick Adams.
Carmichael invited Burgess, Davenport, and Calloway into the studio to record the rhythm tracks of one of his songs. "We finished that in around an hour, but Greg had booked the studio for the entire night and suggested we use the time to create a new song," Burgess recalls. "By the time the sun came up, we'd finished the entire production…rhythm, synths, vocals, and all." Released under the name Convertion for Sam Weiss' legendary Sam Records, "Let's Do It" was first placed in heavy rotation by Frankie Crocker on WBLS before reaching Larry Levan's Paradise Garage. It became an all-time boogie classic—though at the time, this slower, groovier post-disco sound didn't have a name.
The term "boogie" has been traced back to London DJ George Power, who would use the term "boogie boys" to describe the best dancers at the legendary Soho club Crackers. Coming into use at Spats in the West End in the early '80s through DJs Dez Parkes and Trevor Shakes, by the middle of the decade the term was common parlance in London's club scene, thanks to DJs like original boogie boy Paul "Trouble" Anderson and Norman Jay on pirate radio Kiss FM. "Before we knew it, boogie became a genre all its own, and I was being heralded as its 'King' thanks to records like the LOGG album and 'Let's Do It'," Burgess says. "This was the music we were used to uptown in Harlem—not as hyper as disco, somewhere between 95 and 110 BPM." These post-disco records from 1980-1984, were huge stateside at the time of release, but it would take many years for the term "boogie" to become recognized outside of the UK.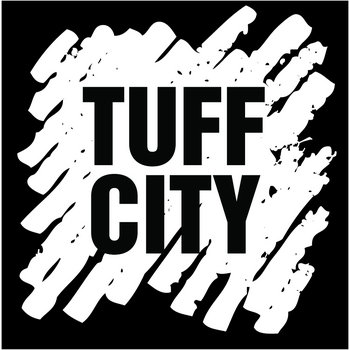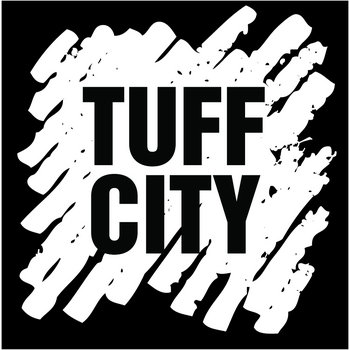 Merch for this release:
Vinyl LP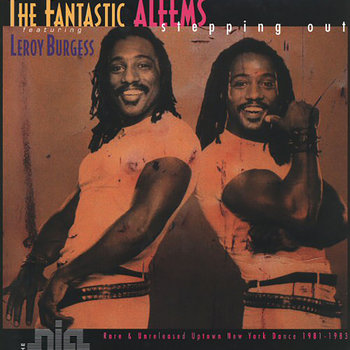 After learning that Sam Records had no budget for Convertion, Carmichael approached Ken Cayre at Salsoul Records. Now renamed LOGG and featuring Burgess on vocals and keyboards and rounded out by Calloway, Davenport, and Willis Long, the group released one of the greatest boogie records of all time. Produced by Carmichael, LOGG's self-titled 1981 LP included the boogie classics "You've Got That Something" and "I Know You Will," mixed to devastating effect by Larry Levan. The Salsoul connection led to Burgess working as an arranger for Inner Life's 1982 hit "Moment of My Life," with vocalist Jocelyn Brown and releasing the killer 12" "Heartbreaker" under his own name, and mixed by Shep Pettibone.
Burgess was involved in so many projects that he started using pseudonyms. One of those was Caliber, which he first used on a 12" by a new group founded by TaharQa and Tunde Ra Aleem, who lived in the same Harlem apartment block as Burgess. The twin brothers went by the name Aleem, and the record was "Hooked on Your Love." Originally down as just an arranger and keyboardist, Burgess gave one of his finest vocal performances, with a young Luther Vandross and the great Ullanda McCullough on backing vocals.
It was followed by the monumental boogie/electro-funk "Release Yourself" from 1985, a bona fide classic at Paradise Garage where DJ Larry Levan rinsed every bit of drama out the vocal breakdown. "Starting with 'Release Yourself,' the Aleem twins arrived at a new type of energy in their production techniques," Burgess says. "[They used] a digitally-generated music track and mostly electronic drums, percussion, and synthesizers rather than traditional acoustic/electric instrumentation. This prompted the follow-up single 'Get Loose' and 'Confusion'."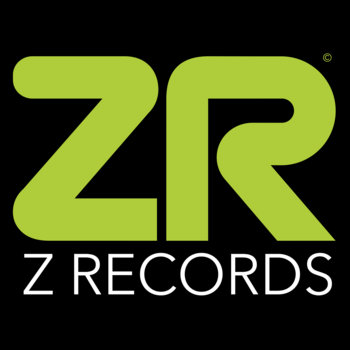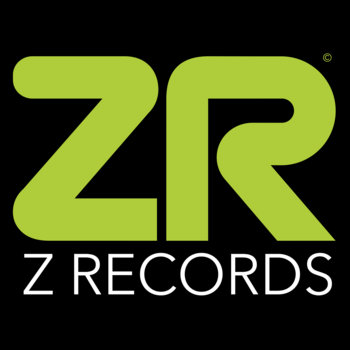 These club hits resulted in a deal with Atlantic, where Aleem released two albums Casually Formal and Shock! from 1986 and '87. Disillusioned by an industry consumed by hip-hop a genre he admits that he never really understood, Burgess stepped away from making music. But his legacy continued—thanks, ironically, to being sampled in hip-hop songs like "Eric B For President" and "Criminology" on Raekwon's legendary album Only Built 4 Cuban Linx.
In the early '00s, Burgess began recording again, first with Philipe Zdar of Cassius on their album Au Rêve. He then teamed up with DJ/producer Chez Damier on the track "Your Love" and he hasn't looked back since, working with a raft of producers on a range of projects.
Here, Leroy talks through a few of his classics as well as more recent work.
---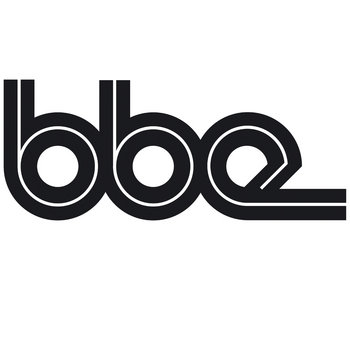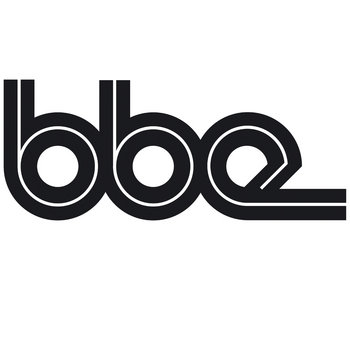 Merch for this release:
Compact Disc (CD), 7" Vinyl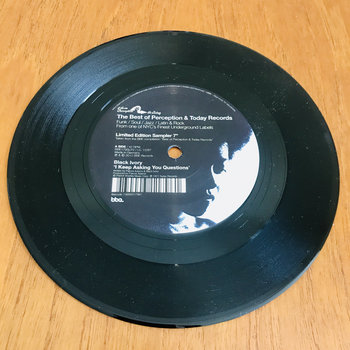 "This was the B-side of Black Ivory's first single 'Don't Turn Around,' collectively composed by Patrick Adams, Stuart Bascombe, Russell Patterson, and myself. It was also the first up-tempo record we recorded. It was later sampled by Raekwon for his song 'Criminology 'and featured on his certified-platinum Only Built 4 Cuban Linx."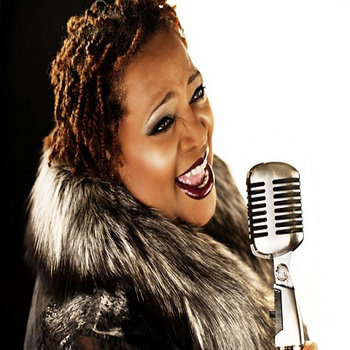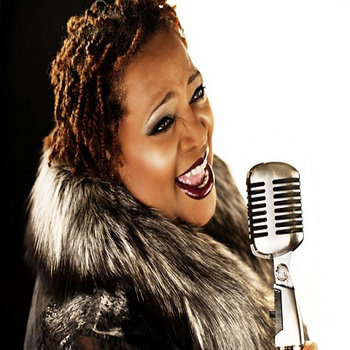 "Stan and I submitted three songs [for the Dazzle record] respectively, and combined the teams of musicians from the PA System with my team, bassist James Calloway and drummer Sonny T. Davenport. 'You Dazzle Me' was one of Stan's compositions, which featured Stan dueting with the immaculate vocal stylings of Ms. Jocelyn Brown."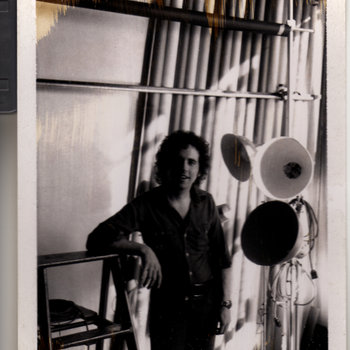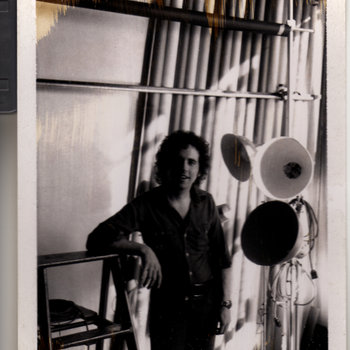 "Calloway, Davenport, and I recorded this song as a demo through the gift of some free studio time at our friend Bob Blank's Blank Tapes Studios. He then submitted the demo to Vanguard Records for use by one of their artists. That artist was Ms. Fonda Rae. At Bob's behest, we agreed to hear Fonda's work on the song and found it to be amazing. The rest is history."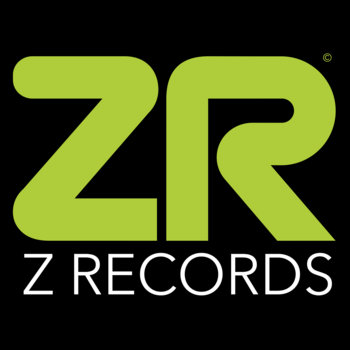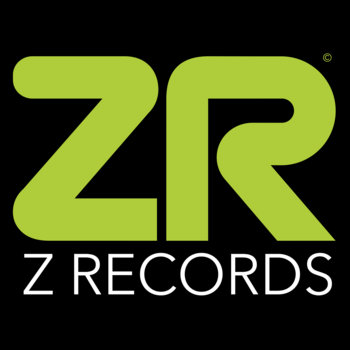 "Having had the pleasure of working with Venus on the Phreek album, I was seriously happy to be a part of her solo project, Nightrider. 'Shining' was one of two songs I submitted. What's cool is Dave Lee's brilliant idea of using my demo vocals from the original multi-track to create a duet with Venus' vocal lead. It was so nice to hear us singing together again."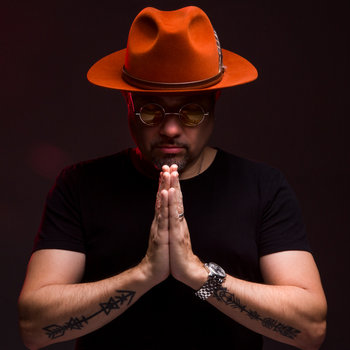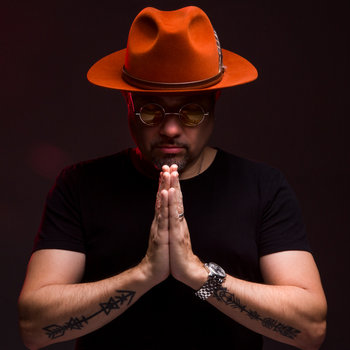 Merch for this release:
Compact Disc (CD)
"When Louie Vega approached me in 2015 to revisit the original SAM Records classic, the main reason I agreed was that he was at the helm. Louie's musical vision and production expertise had always been seriously impressive, so I knew I was in the best hands. He did not disappoint, creating a distinctly unique version of the song, which paid true homage to the integrity of the original record."
Chez Damier feat. Leroy Burgess
"Your Love"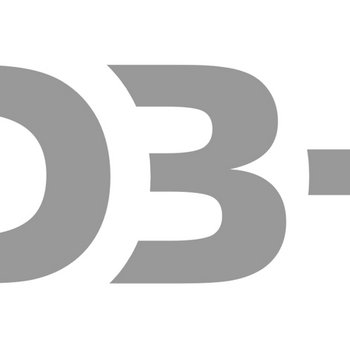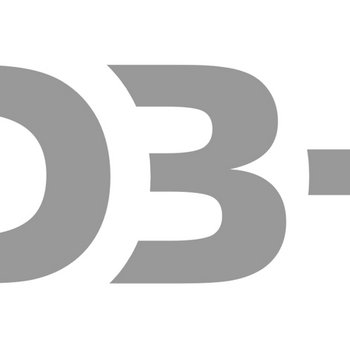 "This began with an invitation from the label Nite Life Collective Records in Chicago for Patrick and I to work with DJ Glenn Underground. This led the label's president to suggest other collaborations with other leading Chicago DJ producers. Chez Damier was the final project. The song itself is an allegory and statement of reverence to that which we believe to be our Higher Power disguised as a love song."
Merch for this release:
Vinyl LP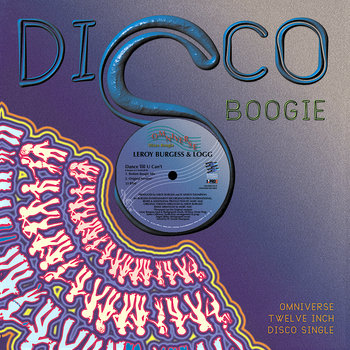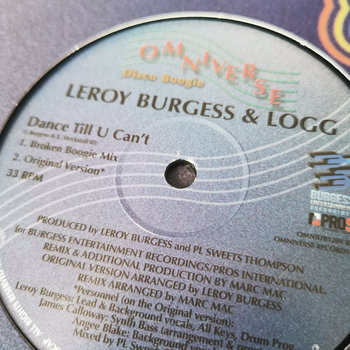 "'Dance 'Till U Can't' is the first of a series of productions which will comprise the forthcoming LOGG II album, a partnership between Marc Mac of Omniverse Records and my company, Burgess Entertainment Recordings/PROS International," explains Burgess. "Ultimately, we intend to release all six compositions of new material, recorded by the surviving members of the original LOGG group."