LISTS
A Guide to All 20 Volumes of Kompakt's "Total" Series
By Michaelangelo Matos · August 26, 2020
Kompakt's Total series, which just reached its 20th volume, began as an easy-use repository for the Cologne techno label's 12"s—just like every other dance-label compilation series in existence. But as Kompakt itself became a touchstone, the Total series became more like a state of the nation address.
"Minimal" was the sound and style with which Kompakt made its initial mark—music that was melodic, airy, and swooningly pretty. When it charged, it did so with a sinuous drive that left behind the bombastic elements of both house and techno, concentrating instead on the details. As with any label that sticks around a while and expands its roster beyond its initial circle, the "Kompakt sound" gradually became more of a conglomerate of styles that cohered around that blueprint, but just as often diverged sharply from it—not least of all courtesy of the men who founded it.
The label's roots are in Delirium, a mid-'90s 12" shop opened by Jörg Burger and Ingmar Koch. Soon Jürgen Paape and siblings Wolfgang and Reinhard Voigt joined them. "At that time, Wolfgang and I had already released about 400 records," Burger told Todd L. Burns in his oral history of Kompakt.
Michael Mayer, a local DJ, came in the first day and complained about the stock; soon he was the store's first buyer. "It [was] just a small record store that specialized in electronic music," Mayer told me in 2012. "We were already operating a handful of labels at the time. Quite quickly a new sound crystallized from this group of people, and we thought it would be important to create a proper forum for the sound, because it got increasingly more difficult to describe what we were doing, where we come from. The parties were called this, the record store was called that, the labels were this and that and that and that. It was a jungle of pseudonyms. So we decided to cut all the names and brands and labels to one."
They chose the name Kompakt to symbolize the process of reduction. "We also liked it phonetically, and the way it looked. We thought it was a strong word in any sense," Mayer said. In 1999, they issued Total 1. "That was in our first year," Mayer said. "We felt it was time to do a little overview of the artistic personnel we had gathered around us." The cover art—an artfully arrayed series of dots in bold color schemes—expressed both the label's minimalist leanings and its sense of delight.
Besides, Kompakt was never only a "minimal" label. As Mayer told Burns, "We started to explore ways of combining the idea of minimal dance music with different sounds, other colors." There was always a pop sensibility buried in its releases—Mayer and Wolfgang Voigt, in particular, were in thrall to '80s synth groups like Pet Shop Boys and Scritti Politti, and Michael also brought in a crucial disco flavor.
"We always understood Kompakt as somehow a pop label under the circumstances of techno," Wolfgang told Burns. "Fifty-one percent has to be four-to-the-floor bass drum, the rest don't have to fit. We were really techno from the bottom of our heart, but the pop attitude was a different attitude and this was important for us."
As minimalists tend to, the sound of the Total volumes would expand significantly over the years. So would its contributor list—though one reason for Total's overall cohesion is that so many of its contributors have kept returning, the label's founders chief among them. Hence, it's as easy to hear a track from a recent Total and recognize it instantly as belonging in the series as it is to recall the early volumes through a scrim of nostalgia. On both ends, through great periods and lesser ones, the Total series' throughline is fascinating unto itself. (At nearly 40 hours long, it has to be.) Here's one listener's assessment of how they've held up.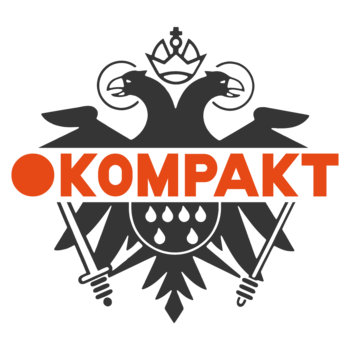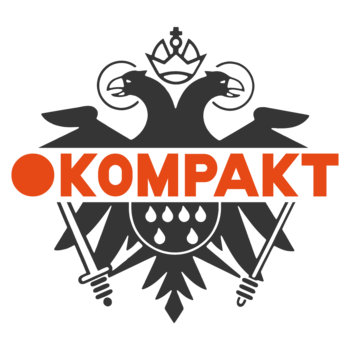 The early Kompakt "minimal" sound was sharp and lithe, almost modest—sexy, in a brainiac way, which remains a dividing line. When I played some early '00s Kompakt for a latter-day aficionado of the harder stuff, the incredulous reply was, "That's techno?" Not quite—not house, either, but a slightly different beast than both. Total 1 is still tentative in places, but it's marked by bold strokes, such as the scratchy, striated pulse of Jürgen Paape's "Triumph 1" and the decisive swerve into the gurgling undertow of Dettinger's aural watercolor finisher, "Blond." For listeners familiar with at least a few of the 400 records the label's founders had already issued, it had an ease and elegance that felt as new as intended.
BEST TRACK: Dettinger, "Blond"
Merch for this release:
Vinyl LP, Compact Disc (CD)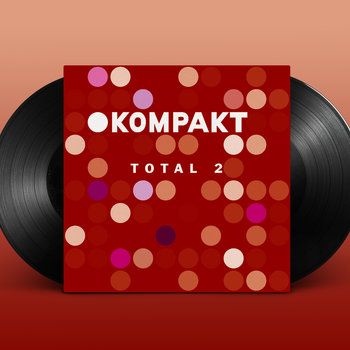 Brighter and punchier than its predecessor, and with heavier beats, Total 2 showed Kompakt meant business, especially on the dance floor. The grooves have steel springs in them (Dettinger's "Lemon"); they blossom into gaseous overtures (Lawrence's "Gilbert"); they evoke mid-'80s New York freestyle (Michael Mayer's "Amanda"). But the kick drum was the least important aspect of the arrangement of Closer Musik's "One Two Three (No Gravity)"—the curling guitar, floating bass line, and becalmed vocal ("Floating free/ No gravity") stood up proudly with the floating worlds of the early Orb—who themselves would eventually sign to Kompakt.
BEST TRACK: Closer Musik, "One Two Three (No Gravity)"
Few compilations have the effortless weave and flow of Total 3. Its timing was perfect—this volume crystallized the label's cult following in the States—and the label's artists had never been, and would never be again, so completely in sync in terms of sound and sensibility. Even when it steps out rhythmically (The Modernist's "Abi '81" struts like it's made of glitter), the whole thing is just so fuzzy and cute—no wonder techno hard-liners sneered. But in the ears, where it belongs, it's a fully realized artistic entity—the mix of pure atmosphere and sublime pop of Brian Eno's Another Green World, only with luscious kicks and the friendliest filter sweeps you'll ever hear.
BEST TRACK: Jürgen Paape, "So Weit Wie Noch Nie"
A strong follow-up to a wall-to-wall classic, Total 4 makes up for not being miraculous by containing several of Kompakt's greatest hits. Superpitcher's proudly silly cover of Brian Eno's "Baby's On Fire" is so right, it's ridiculous; Kaito's "Beautiful Day" foresaw the label's mid-decade move into near-trance; but the second half is a neo-rave throwback for the ages. And Closer Musik's "Maria" remains the greatest closing number of the series, a true dawn-over-the-horizon classic.
BEST TRACK: Closer Musik, "Maria"
Merch for this release:
Compact Disc (CD)
Released at the chronological peak of Kompakt's early prime, Total 5 feels as streamlined as 3, but in a different way. This is a state-of-the-art minimal techno collection, a time-stamped snapshot—the music has a firmer core, but its conceptual edges are starting to soften; still, the grooves sparkle bright and hard. Which, when Justus Köhncke's "Homogen" emits its concentric-circular pull, or the slow, gleaming chug of Joachim Spieth's "Nie Mehr Allein" and Mikkel Metal's "Nepal," is plenty.
BEST TRACK: Justus Köhncke, "Homogen"
Merch for this release:
Vinyl LP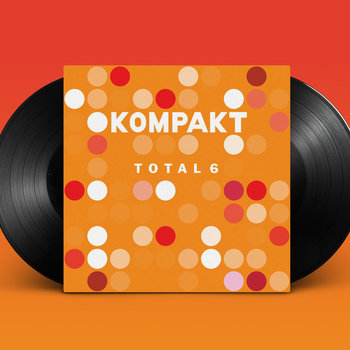 The series' first double CD, Total 6 marks the beginning of the bloat years—the strong sense, especially with the next couple, that Kompakt was offering a little too much of a good thing. (Every volume thereafter, apart from 12, has been a double CD.) Yet time has been very good to it—even if the best stuff could fit on one disc, the two together have a boldness and unity, and I had to change my best track pick three times. Runners up, in running order: The MFA's "The Difference It Makes," a far prettier version of epic trance for rave grandparents; Kaito's "Hundred Million Lightyears," a disco snow globe; and the Field's "Action," which rinses the intro of the Four Tops' "Reach Out (I'll Be There)" until it comes out tie-dyed. But really, who could resist the charmer that won out?
BEST TRACK: Rex The Dog, "I Look Into Midair"
Merch for this release:
Compact Disc (CD)
For its second double CD, Total 7 neatly divided its selections into two distinctive, almost contradictory halves. The first half is the most purely wallpaper-like disc of the series, almost confrontationally so: You think Kompakt is background music? Just you wait. Yet while the early tracks have held up better than you might expect, the second half still raises questions. A lot of those tracks are built on needling, monotonous riffs (Jürgen Paape's "Take That" is as cloying as the boy band of the same name) reminiscent of ticky-tacky handbag house and hi-NRG. Michael Mayer had always assiduously accounted for his roots in pop and mainstream dance music, but here it falls flat. The major exception is Supermayer's trance-tastic remix of Gui Boratto's "Like You." It was worrying, though, that Boratto had both the best songs here, the other being his slinky "Arquipelago."
BEST TRACK: Gui Boratto, "Like You (Supermayer Remix)"
Merch for this release:
Compact Disc (CD)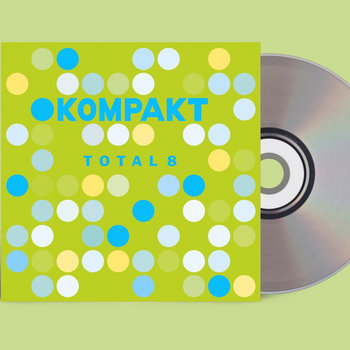 Blandsville, meet Cologne: only two tracks on this loss leader—two—have really stuck, and both of them are by the label's co-founders. Jörg Burger's "Polyform 1" is an instantly charming techno stepper with a bloopy-loopy central riff and a definitively pert Kompakt bass line. And in a better world, [Tobias] Thomas/Mayer's "Über Wiesen"—it flounces, it swings—would have scored the Summer Olympics.
BEST TRACK: Thomas/Mayer, "Über Wiesen"
Merch for this release:
Vinyl LP, Compact Disc (CD)
What a turnaround: Total 9 was almost defiantly all over the place, a proud step into wider terrain that was perfectly in sync with the increasingly freeform DJ culture whose sense of history was, because of the Internet, broader than ever. The vocal tracks are uneven—the best is the New Romantic cosplay of Jonas Bering's "Can't Stop Loving You." But since that new interest in dance music's past began with disco, Kompakt thrived: see Justus Köhncke's "No Thanks for the Add" (echo-chamber funk grind), Supermayer's squiggly "Hey Hotties!" (were they reading Vice that week?), and Superpitcher's "Disko! (You Don't Care)," which mischievously pits a cooing En Vogue sample against a pitch-shifted sine wave and insistent bass. There are gauzy comedowns like Burger/Voigt's "Wand Aus Klang," pin-spot electro-house like Dubshape's "Droplets (Early Night Mix)," and Gui Boratto is aiming for the techno-festival main-stages with the dry rush of "Anunciación." There's much more. But the peak comes from DJ Koze, who'd begun contributing to the series with Total 6, with a dank, woozy, utterly alien shuffle that cemented his rep as dance music's maddest genius.
BEST TRACK: DJ Koze, "Zou Zou"
Merch for this release:
Compact Disc (CD)
Total 10, aka the volume with Gotye on it—that's right, the "Somebody I Used to Know" singer has a track on Kompakt's tenth installment. Supermayer's remix of his "Heart's a Mess," dominated by plucked strings and brushed drums, appeared here a mere two years before "Somebody" ate the world. Gotye isn't the only pop-star appearance: Pet Shop Boys, long a Kompakt lodestone, produced Sam Taylor-Wood's lambent cover of post-punkers the Passions' "I'm in Love with a German Film Star"; here, that song gets a properly turbo-charged Gui Boratto's remix. But even with those sorts of outliers in place, this is the most genuinely unified volume of the series since Total 5—the production, very infrared and hi-def and spangly and of its time, helps make that happen. So does the material's zest.
BEST TRACK: Sam Taylor-Wood Produced By Pet Shop Boys, "I'm In Love With A German Film Star (Gui Boratto Remix)"
Merch for this release:
Compact Disc (CD)
The spangles are gone and the sound is splitting up again, but instead of producing agreeable friction, there's a sense of routine to this collection that suggests things are running aground. There are way too many vocal tracks, and the instrumentals feel more one-note than usual. Things brighten occasionally—the fluttering, hand-drum-enhanced stomp "Helix," by Jatoma, Mugwump's galumphing electro "The Losing Game," Soulphiction's train-rhythm rework of Thomas Fehlmann's "Wasser Im Fluss"—but not often enough.
BEST TRACK: Jatoma, "Helix"
Merch for this release:
Vinyl LP, Compact Disc (CD)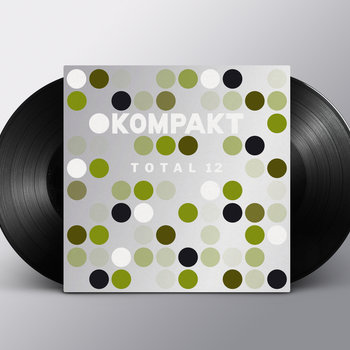 A single disc at first scans as an admission of defeat—particularly in hindsight, since it was the last volume before a long hiatus. But Total 12 is actually fairly strong; the tracks' divergences play off one another here in a nicely relaxed way, like the way COMA's hypnotic neo-trance "Playground Altona" is followed by Wolfgang Voigt's "Frieden," which builds from utter delicacy to a kind of ghost opera. In the midst of all this digi-pastorale, Michael Mayer's "That's What I Told Sanchez" is like a long build-up to a shoot-out—maybe his hardest, most arresting track.
BEST TRACK: Michael Mayer, "That's What I Told Sanchez"
Merch for this release:
Compact Disc (CD)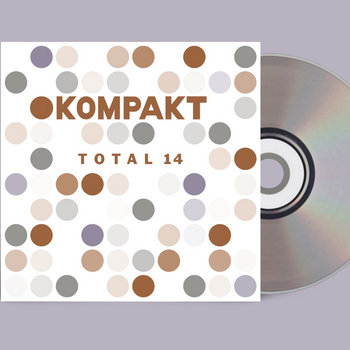 Kompakt skipped three years and one number (banishing the unlucky 13) on the Total project, but when it came back in 2014—the series' numbers now matched their year of release—it did so with a swagger unheard in years. There's an agreeable wooziness to many of these tracks that seems akin to the K-house sound that the label's old friend DJ Koze specialized in. But the range remained enormous. Thomas Fehlmann's "Eye (Short Version)" has a droll title—it's 10 minutes long—but its krautrock chug speeds by in seemingly no time. Capping the whole thing off is "Heuriger," in which Jürgen Paape goes all the way into, yep, schlager—a prancing Euro tune set to prancing Euro strings atop prancing Euro rhythms. And like all the best Kompakt, it's done so lovingly it can melt you. It's certainly the label's best recording to feature a tuba.
BEST TRACK: Jürgen Paape, "Heuriger"
Merch for this release:
2 x Vinyl LP, Vinyl LP, Compact Disc (CD)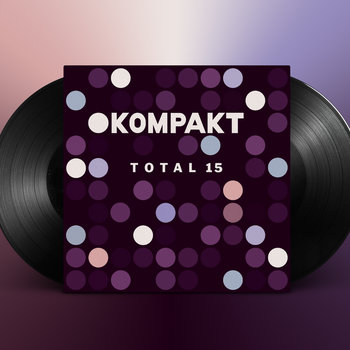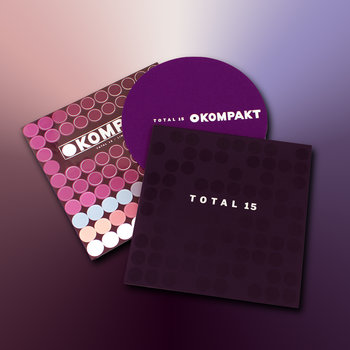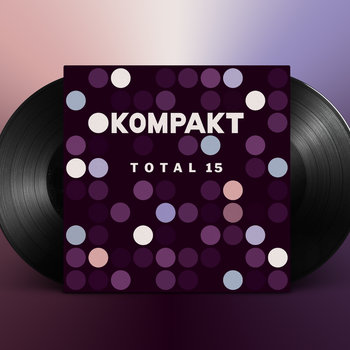 Think of the latter-day Totals as the soundtrack years—there's a lot of orchestras (or simulations thereof) on 15, and plenty else seems otherwise film-ready. Michael Mayer's "The Stickler" is a theme song looking for its matching sci-fi thriller; "Gimme Some (Hunter/Game Mix)" by Weval begs to be utilized for a dream and/or chase sequence—maybe both. (It's also an old-school trance throwback—specifically, it nods to Jam & Spoon's 1992 remix of the self-titled track by the Age of Love, back when the arpeggiations came from the machines and not from the classics). Even the sleek, Sensurround disco of Jürgen Paape's "Manipuri" seems ready for a big screen.
BEST TRACK: Weval, "Gimme Some (Hunter/Game Mix)"
Merch for this release:
Vinyl LP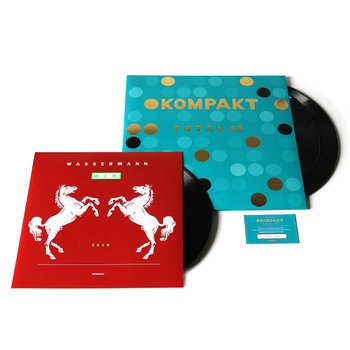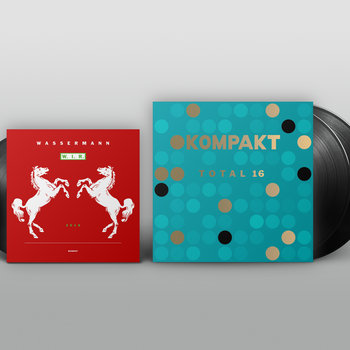 Although Kompakt shares its lifespan with the turn-of-the-'00s laptop "glitch"—a home-listening style using audio bursts and mistakes as a compositional tool—and the rise of late '00s chillwave alike, neither style marked the label's comps much until Total 16. Both approaches yield dividends—this is easily the best of the series' latter-day volumes. The brightly fritzing tones and smeared vocals of Kaitlyn Aurelia Smith's remix of the Field's "Reflecting Lights" open it up in fine style, a definitive callback both to 4AD-style sad, Goth pop and splintered digital composition, while Jonas Bering's remix of the Silent Ones' "Magical Party" serves its '80s pop redux through a blobby digital scrim. But the loveliest track on 16, L.A. producer John Tejada's bright, bubbly "Integrator," is also the most trad—Detroit techno remains one hell of a blueprint.
BEST TRACK: John Tejada, "Integrator"
Merch for this release:
2 x Vinyl LP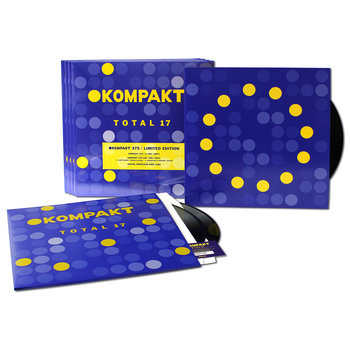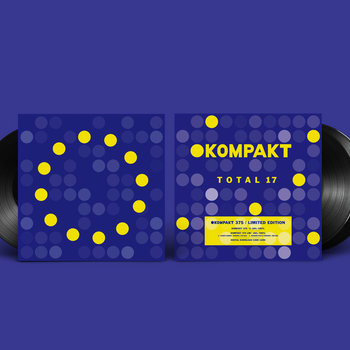 Another volume split down the middle—Total 17's front half is poppier and housier, its back half leans trance-ward; it's the second disc that really moves here: "Out of Time," by Sasha feat. Poliça (the latter a Minneapolis synth-pop group) sounds like a surefire Ibiza-sunset kick-off tune, while Demian's "Milestars" is a gradual linear surge—subtle, of course, in that time-honored Kompakt manner.
BEST TRACK: Demian, "Milestars"
Merch for this release:
2 x Vinyl LP
"The more things change, the more they stay the same," Philip Sherburne wrote in his Pitchfork review of Total 18. He was referring to the opening track, Jürgen Paape's "Well, It's Paape," but he also meant the whole thing, suggesting the comp's agreeable chug could have been called Well, It's Kompakt. The limited edition version of Total 18, like its two predecessors, also features some bonuses: a pair of Kompakt classics that hadn't appeared in the series before. It's no crime to say Matias Aguayo's "Minimal (DJ Koze Remix)" (oh, that sparkling disco guitar) and Heiko Voss' "I Think About You (Geiger Mix)" (the anchor of Michael Mayer's Fabric 13 mix CD) outshine everything else here in passing—they'd have done so for nearly any other volume of the series as well.
BEST TRACK: Matias Aguayo, "Minimal (DJ Koze Remix)"
Merch for this release:
2 x Vinyl LP, Compact Disc (CD)
They ebb and flow, the Totals do, and here they ebb again. The exceptions are darker than usual, with Raxon's "Dark Light" aiming for the rafters at Time Warp, the Mannheim techno fest, while Thomas/Mayer's dulcet, mid-tempo "Total Anders" has a faded-London-sunset feel to it. And Voigt & Voigt's "Der Schwarm" is a gloriously grey-scale prismatic bass throb, like factory gears grinding in perfect tempo—the most attention-getting new Total tune in half a decade.
BEST TRACK: Voigt & Voigt, "Der Schwarm"
Merch for this release:
Compact Disc (CD), 2 x Vinyl LP
Maturity has always been one of Kompakt's salient features, and their latest go-round wears it well—the glinting paddlewheel chug of Robag Wruhme's "Calma Calma" could have been on the first volume, even if the 3D bass tones that bestride many other tracks could not have, Michael Mayer dots "Agita" with firework-whistles like glitches of old, and on the examples go. Total 20, then, is stately like a hotel suite, and it fits—these selections have more depth and gravity than usual, and better yet, a first-timer could get the gist from it—and be curious for more.
BEST TRACK: Michael Mayer "Higher"