LISTS
(Not) Shouting Into The Void: Instrumental Doom 101
By Jon Wiederhorn · Illustration by Jordan Warren · February 13, 2023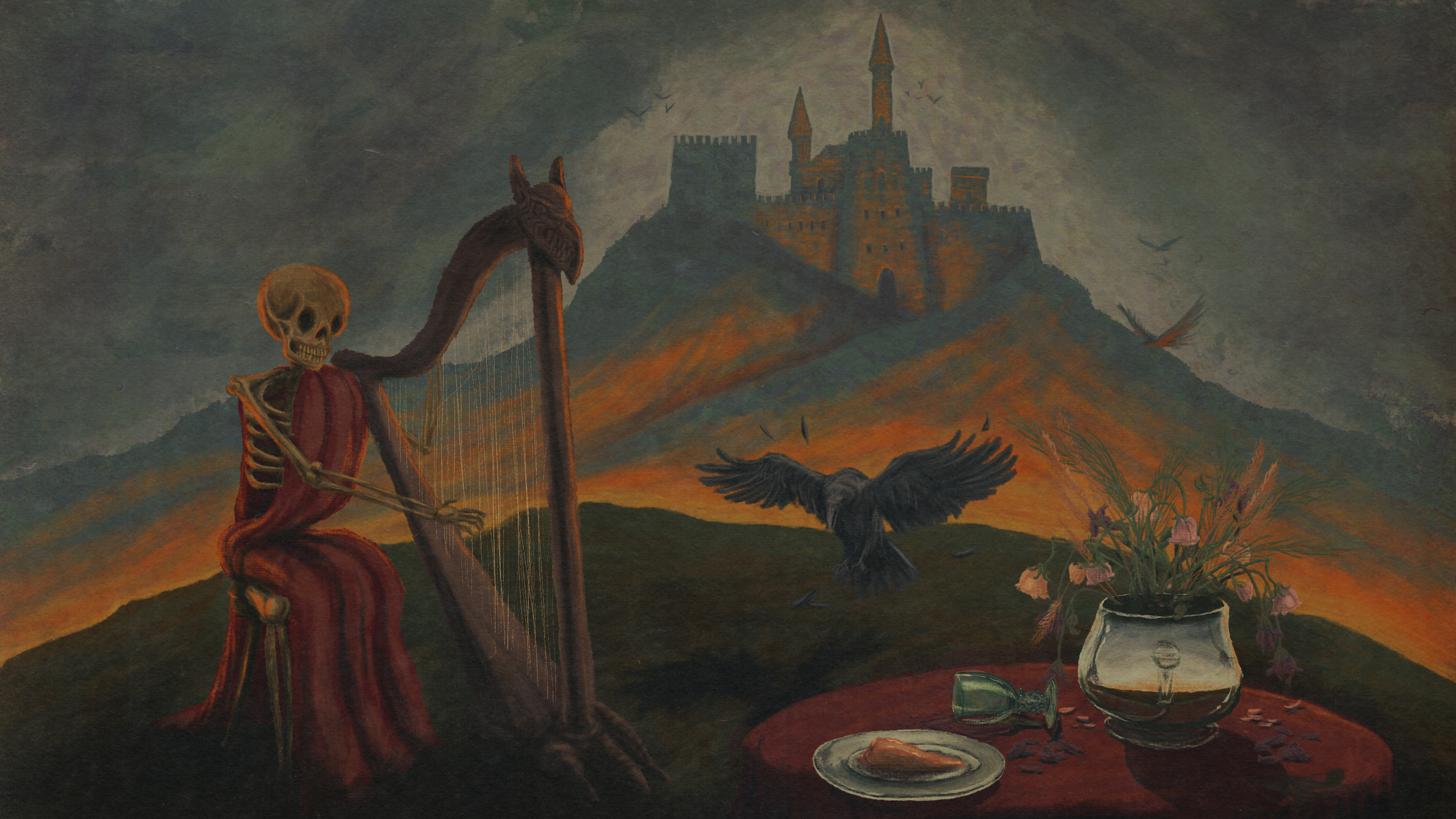 With their droning, heavy-lidded aesthetic, stoner/doom bands rely on slow-to-mid-paced, minor-key guitar-driven passages to keep their rhythms lumbering like prehistoric, THC-consuming beasts. While their music surges with fuzzed-out riffs and meandering asides, most great doomslayers—from Black Sabbath to Pallbearer—anchor their songs with tight, entrancing passages that create a launch pad for the vocals, whether nasal and tuneful or growled and atonal.
Lately, however, a growing number of musicians are recognizing that the most trenchant parts of doom songs are often the intros, mid-section jams, and solo passages—the regions where the vocals drop out, and everyone else lets their hair down. To that end, they're eschewing vocals altogether and writing long creative instrumentals.
Seattle-based Earth (named after Black Sabbath's original moniker) were one of the first established bands to play instrumental doom. Fronted by Dylan Carlson, a close friend of Kurt Cobain, the drone-and-sludge-obsessed outfit formed in 1989 and while they expanded far beyond doom in the late '90s, they remained influential to a new crop of musicians, including Japan's eclectic, experimental Boris, which launched in 1992, and minimalistic drone-mavens Sun O))), which went supernova in 2000. In the early aughts, several instrumental acts, such as Pelican and Russian Circles, entered the fray. While they were as influenced by post-rock and shoegaze as by metal, they still made an indelible mark on the instrumental scene. But it was San Diego, California's Earthless who first combined stoner metal, krautrock, Japanese psychedelic metal, and classic rock freak-outs into a potent, pungent brew that spawned a new renaissance of vocal-free metal.
Without lyrics to draw from, other bands like Bongripper, Belzebong, and Dozethrone (a reference to Electric Wizard's groundbreaking third doom album Dopethrone) used occult and drug-related imagery alongside their soporific sonic journeys. Ironically, Earthless, one of the stoniest of the batch, don't even get high. "Maybe we'll chug some iced tea or something before we play," said drummer Mario Rubalcaba. "We're pretty boring in that respect. We just have a really unique musical connection that's almost like telepathy. It's kind of unspeakable as far as being able to read someone and how they play and being able to know where things are going to change."
Here are nine notable albums from bands across the globe who have defined, and continue to shape, the face of instrumental doom.
---
Initially released in 2007, this two-track, forty-plus-minute-long mindblower made Earthless's career goals clear: to tap into the transcendent sounds of Black Sabbath, Jimi Hendrix, Cream, Japanese psychedelia, and krautrock and to play droning, dazzling songs that went on forever. The trio brought intense musicality and a healthy vocabulary to their trade. Guitarist Isaiah Mitchell played with Nebula and Drunk Horse; drummer Mario Rubalcaba was in Rocket From the Crypt, Hot Snakes, Off!, and others; and bassist Mike Eginton co-owned an indie record store with Mitchell. Both songs on Rhythms From a Cosmic Sky, "Godspeed" and "Sonic Prayer," are rooted in propulsive riffs,  jazz-inflected drumming, and counterpoint basslines. There's enough rhythmic variation to prevent the songs from sounding too redundant, but it's the abundance of (inter)stellar, effect-laden guitar solos that provide the rocket fuel that propels the music far beyond that of most monochromatic, drone-based bands. Prepare for blast off!
Merch for this release:
Compact Disc (CD), 2 x Vinyl LP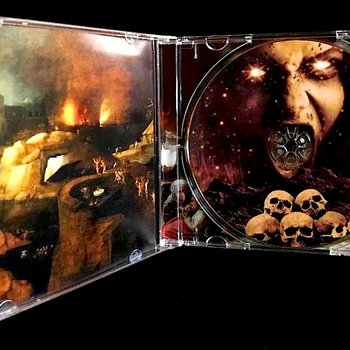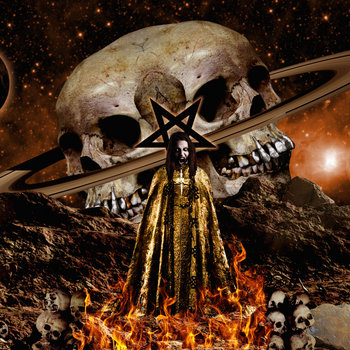 Naming themselves after the 1995 Flaming Lips album Clouds Taste Metallic, the prolific Clouds Taste Satanic put a sinister spin on their tunes, incorporating demonic pedal effects, ebb-and-flow dynamics, and plenty of rhythmic variation. The band's fourth full-length The Glitter of Infinite Hell is driven by a love for four decades of trudging sludge, from Pentagram to Bongzilla, but it also injects the poison riffs of Eyehategod, the mesmerizing buzz of Black Angels, and the post-rock atmospherics of early Explosions in the Sky. On The Glitter of Infinite Hell, Clouds Taste Satanic include more rhythmic shifts in their music than many doom bands, yet there are fewer guitar solos. Instead of being escapist or pyrotechnic, the band's leads complement the main riffs, adding dimension to the songs. More like crafted compositions than expansive jams, all four cuts on the album are thematically linked to deadly sins ("Greed," "Wrath"). And though it's hard to match the titles with the content, there's no shortage of musicality or diversity in these infinite death spirals.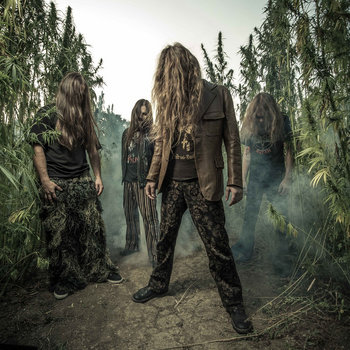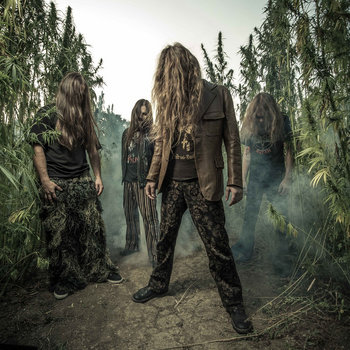 Merch for this release:
Cassette, Vinyl LP, Compact Disc (CD)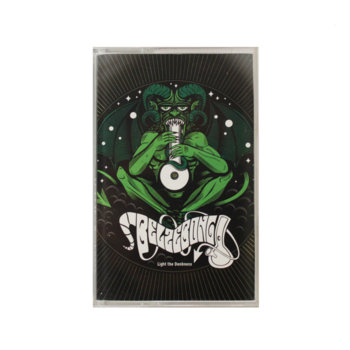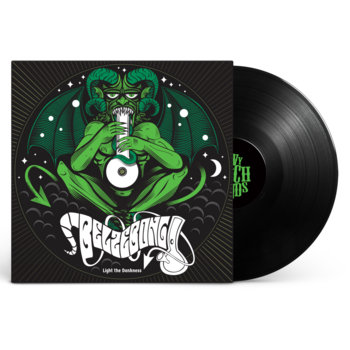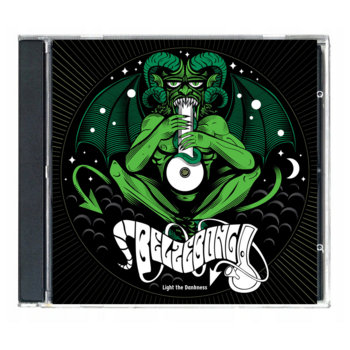 These four Polish potheads raid the catalogs and Ziploc baggies of Sleep circa Dopesmoker and "Sweet Leaf"-era Black Sabbath to write slow, groove-heavy songs that shudder with menace and smell like an Amsterdam cafe. At the same time, the band exhibits a playfully pungent sense of humor, treating "The Bong of Eternal Stench," "Pot Fiend," and "Doperganger" with film snippets referencing weed and the devil. And they earn extra points for going it Ramones-style, all using the same last name—Dude—and for titling their 2021 live album De Mysteriis Dope Sathanas, a spoof on Mayhem's black metal opus De Mysteriis Dom Sathanas. Belzebong even used the same purple and black color scheme for the artwork. If the band's musical skills didn't match their juvenile weed references, their songs would fizzle like the last toke of a roach. Still, guitarists Alky Dude and Cheesy Dude tastefully complement one another's metal riffs and melodies. Even if they're a little single-minded, they play endearingly slow songs with a tight grip that should impress even sober-minded doomers like Earthless.
There's a sordid, exploitative side to Chicago-based Bongripper that they exhibited on the 2007 filth-and-noise experiment Heroin and the hardcore-influenced 2011 seven-inch "Sex Tape/Snuff Film." But the quartet is at its best when it downplays shock value and taps into the gaping abyss of despondency. The three sludgy songs on 2014's Miserable exemplify this through their sequential song titles: "Endless" "Descent," "Into Ruin." Miserable is devastatingly bleak, but instead of latching onto a particular vein of doom and riding it out to the apocalypse, Bongripper find multiple ways to present their endless descent to ruin without resorting to interminable repetition, samples, or even guitar solos. The wrecking-ball riffs of Miserable are booming and as effectively hooky as a serrated knife. Bongripper are capable of droning like Sunn O))), resonating a harrowing ambient decay, and they regularly shift timbre and tempo. Sometimes they even bring their songs above a desperate stagger. For another tormented bout of misery, check out Miserable Live at Roadburn 2015.
Merch for this release:
T-Shirt/Shirt, Vinyl LP, Compact Disc (CD), 2 x Vinyl LP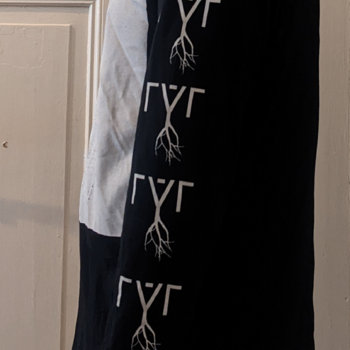 Less ham-fisted and artsier than most doom outfits, Berlin, Germany's rýr captures melancholy and desperation in equal measure by juxtaposing traditionally thundering riffs with plenty of post-rock shading. Ambient washes of sound, spectral guitars, and tribal beats echo through the five longish songs on the band's second album transient, creating palpable levels of dread, sadness, and discomfort. "Derisive" balances a staccato rhythm and fluid metal guitar lines with rapidly picked, shimmering guitar notes and soft, clean melodic tones. And the title track unravels in multiple colors as it contrasts angular guitar harmonies with choppy rhythms and simple chiming hooks with warbling siren-like sounds. Fans of Sigur Rós, Isis, and jesu should find as much to enjoy here as followers of Orange Goblin and Electric Wizard.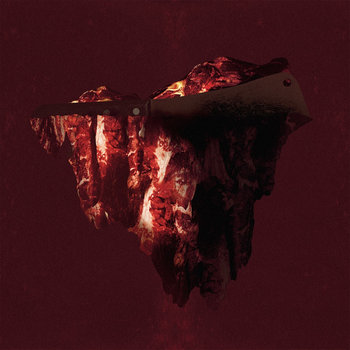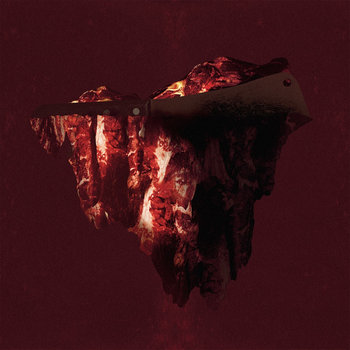 As motivated by blues-based psychedelia as by doom, Brazil's Red Butcher are a fuzzy-headed hybrid of Down, Kyuss, Cream, and Led Zeppelin. Aside from the nearly nine-minute album opener "Magnás," which combines the bulldozer-crush of '90s Tad with the cosmic noise and sound effects of Monster Magnet's Tab, Red Butcher's self-titled EP is a velvet-lined psych-doom album augmented with elements of classic and Southern rock. There's a discernible twang in "O-doom," and the big drum displays between the string-bending solos of "Kith is Dead" are unstoppable. Whether locked into the mesmerizing electric blues jam of "Demon Troubadour" or taking a self-indulgent side trip to Nashville with the finger-slide-guitar frills of "Yellow Dog Blues," Red Butcher excel at escapism.
Merch for this release:
Cassette, Button/Pin/Patch, T-Shirt/Shirt, Vinyl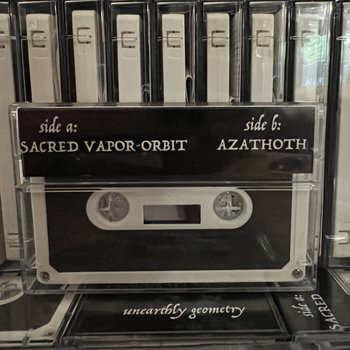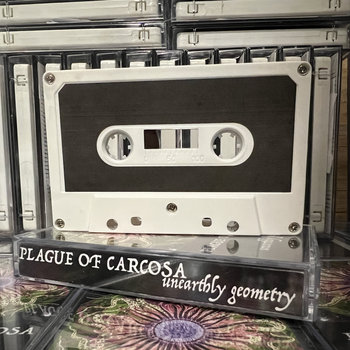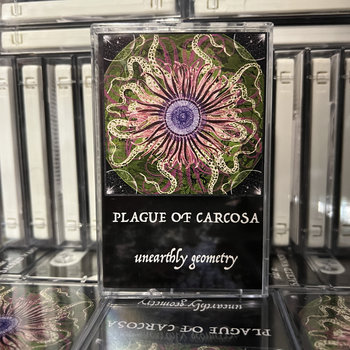 First put to paper by Ambrose Bierce in 1886, the city of Carcosa gained prominence in the work of astral horror fiction writer H.P. Lovecraft, which is where this Chicago noise-doom duo come in. Since 2016, Plague of Carcosa have referenced all things Lovecraft, from their releases The Color Out of Space, Dream Quest of Unknown Kadath, and Rats in the Walls, which were named after books, to songs about Lovecraft characters. Last year's Unearthly Geometry features two ten-minute-long tracks that continue their exploration of Lovecraft's Cthulhu Mythos. "Sacred Vapor-Orbit" creates soporific terror with tribal beats and expansive feedback trails that build in volume and intensity before congealing into a rumbling, gradually shifting riff that sounds like Neurosis crossed with Sunn O))), eventually fading into an unnerving buzz. "Azathoth" skews less structured, a discordant beat-free mélange of bowel-shuddering feedback and murmuring half-speed vocals. Like many Lovecraft titles, Uneathly Geometry will leave the faithful hungering for more.
Not to be mistaken with Montréal, Québec's Sleep-worshippers Dopethrone, Dozethrone is a Singaporean duo that doesn't let its recreational activity interfere with its productivity. Since forming in 2019, Dozethrone has released eleven full-lengths and four EPs. The band's latest, The High and Mighty, is a sprawling collection of slow, tar-bathed songs comprised of raw, down-tuned riffs that repeat for a bit before shifting back to an earlier passage in the music or smashing into oblivion with a brand new section. The tools are simple: rudimentary beats, heavily distorted guitars, and the occasional wriggling solo or basic arpeggio. Devoid of vocals, studio production, or technical touch-ups, the songs are basically demos stripped down to the bone. All three songs on The High and Mighty (especially the 32-plus-minute-long "Don't Remember Where I Was") sound unsettling; everything that keeps Dozethrone from sounding traditionally "good" (the lack of vocals, fragmented riffage, monochromatic tempos) actually works in their favor, making The High and Mighty simultaneously atonal and appealing. For those seeking something less excoriating, the band's side project Astrochemists tone down the rancor by adding drifting guitar passages and melodic keyboard lines to a batch of leftover Dozethrone songs.
Merch for this release:
Compact Disc (CD)
Considering that metal maverick Philip Anselmo has an affinity for doom and has partaken in many side bands (including the sludgy Down), it would be understandable to mistake Black Phillip as the work of Pantera's frontman. The songs on the band's debut Rise of the Goat have a morose, gloomy vibe that dig into the skin like swamp leeches. But all the infernal compositions on Rise of the Goat are the work of the Polish gentleman Grzelu who handles everything from musicianship to production and artwork. He's not quite as good at drumming as he is at laying down trudging rhythms and shivering, shuddering riffs. But there's a charm to the loose beats, making the music seem more ugly and underground. Despite the memorable Sabbathian hooks, Black Philip doesn't want to rock out. He wants to steal your soul. Even with the lack of lyrics, it's clear every song, including "Come to Us, Satan," "Black Hymn," and "Children of Satan" stems from blasphemous intent. There's nothing tremendously novel here, but the way Black Philip situates his riffs in between horror film snippets and frightening sound effects is nonetheless deeply enjoyable, allowing him to wear his victim's shredded hearts on his bloody sleeves.