LISTS
Enter the Groovy World of French Psychedelic Soundtracks
By Ana Leorne · Illustration by Jess Ebsworth · June 18, 2020
In the late '60s, French alternative cinema was shifting from the social sarcasm of the Nouvelle Vague into more engaged and politicized territory, while trying not to lose sight of the export possibilities offered by an international market. An example of this is Jean-Luc Godard recruiting The Rolling Stones for One Plus One (otherwise known as Sympathy For The Devil), a film that combined footage of the band rehearsing and recording Beggars Banquet with scenes illustrating the May '68 uprisings and Black Panther Party symbolism.
Pop music was changing as well: yéyé, France's response to the Anglo-American invasion, was rapidly declining in popularity. Its frivolity seemed to become démodé when compared to the increasingly complicated times. The desire to explore the world (a theme linked to the emergence of psychedelia) along with the post-colonial remains of the Algerian War created a perfect storm for the emergence of music from previously occupied North African and Near-Eastern territories, which influenced both household names like Serge Gainsbourg as well as emerging prog-rockers like Magma, the Franco-British Gong, or Greek collective Aphrodite's Child, whose 1972 album 666 would be recorded at the legendary Europa-Sonor studios in Paris.
This shift also influenced the French underground film industry—directors less visible than Godard—which was trying hard to keep up with the new international movements by promoting the relationships between its main auteurs and the psychedelic countercultural explosion in the UK and the U.S. From Pierre Clémenti's Visa de Censure nº X (soundtracked by collective Delired Cameleon Family) to Philippe Garrel's Le Lit de La Vierge (featuring Jim Morrison's Paris acquaintance Zouzou and soundtracked by Nico, Garrel's girlfriend at the time), these sound-and-vision experiments were welcomed as a way of pushing a new French aesthetic further, playing with the possibilities made available by new technology.
But while Godard's attempts at socialist evangelism might have felt too artsy and abstract for a country growing weary of the poetics of the Situationist International, and experimental underground films were, well, too underground to reach a considerable audience, the true French romance between film and psychedelic music blossomed mainly through exploitation genres like crime, horror, and erotica. The links established between the French film industry and other European markets like Italy, Sweden, and Spain allowed for many fruitful partnerships between musicians and filmmakers, often resulting in recordings with greater significance and endurance than the images they were supposed to be serving in the first place. These soundtracks have been progressively re-discovered over the years, with several labels re-releasing the hard-to-find scores and even gathering (supposedly) lost recordings in their very first official print; here are some gems from that golden era.
Serge Gainsbourg & Michel Colombier
Le Pacha 
Merch for this release:
Vinyl LP, Compact Disc (CD)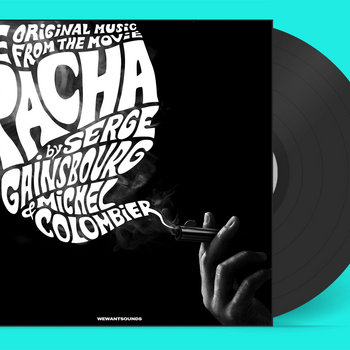 By the time Serge Gainsbourg teamed up with Michel Colombier for the soundtrack to Georges Lautner's Le Pacha in 1968, he was enjoying one of the most inventive and prolific periods of his career. Bonnie & Clyde and Initials B.B. had just come out, showcasing his remarkable ability to cross more traditional styles like jazz, chanson, or mambo with psychedelic pop. This wasn't his first time collaborating with Colombier either, since the composer had arranged several Gainsbourg hits ("Bonnie & Clyde," "Harley Davidson") and the two had worked together on the soundtracks for L'Horizon, Si J'Étais Un Espion, and Anna (all three from 1967). Featuring Gainsbourg's famous hit "Requiem Pour Un Con" and Colombier's entrancing "Batucada Meutrière," Le Pacha's soundtrack is a brilliant example of rhythmic mastery and vivid atmospherics from two people acquainted enough with each other musically to stretch out a little. Particularly special are the two versions of the psych-funk tune "Psychastenie," which presages Gainsbourg's collaboration with Jean-Claude Vannier on the soundtrack for Les Chemins de Katmandou the following year.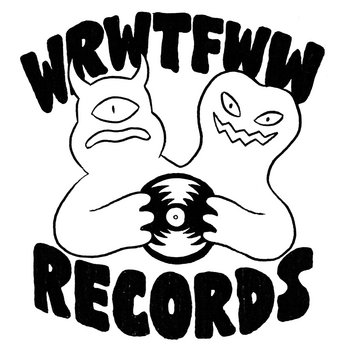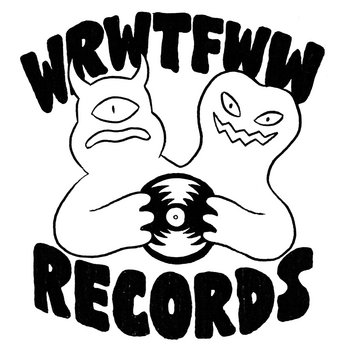 Merch for this release:
Vinyl LP, Vinyl, Compact Disc (CD)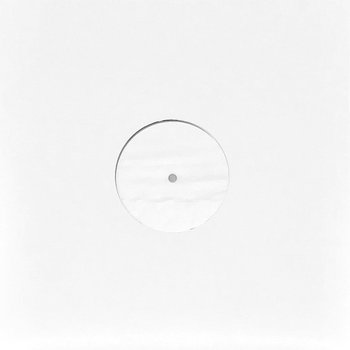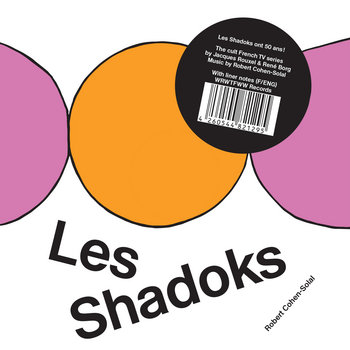 In the mid '60s, Algerian-born, Parisian composer Robert Cohen-Solal joined the Groupe de Recherches Musicales, a group of musicians, technicians, and researchers pushing the limits of sonic experimentation and exploring its social dimensions. It was almost inevitable he'd incorporate that innovative spirit into his work for Les Shadoks, the cult animated series that ran on French TV from 1968 to 1973. Mixing musique concrète, dadaism, classical, proto-electronic music, and jazz with more accessible styles like traditional java (a French dance from the early 20th century) and acid pop, Cohen-Solal managed to create an impressive alternate musical universe that fits the series's absurd plot (the adventures of bird-like creatures inhabiting a two-dimensional planet whose ultimate goal is building a rocket to reach the Earth) like a glove. The 50th anniversary release contains the soundtrack in its entirety for the first time, directly from the original reels, and was duly supervised by Cohen-Solal himself.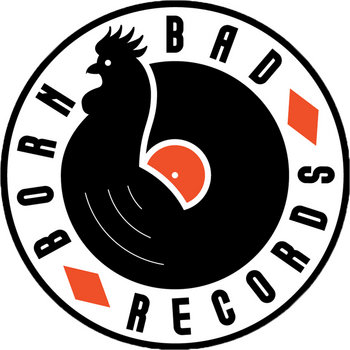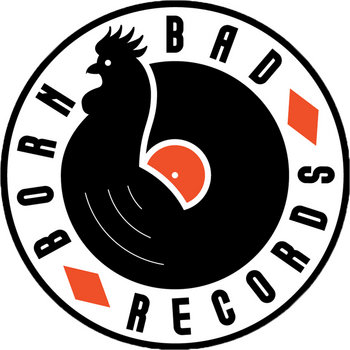 Merch for this release:
Vinyl LP, Compact Disc (CD), T-Shirt/Apparel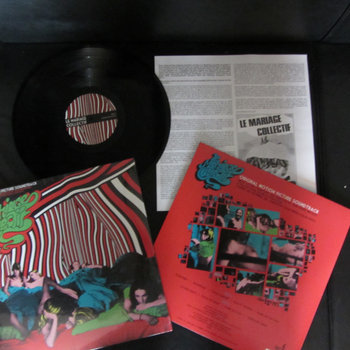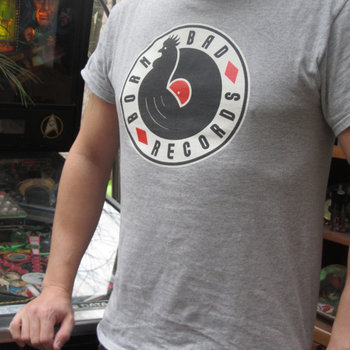 Another former member of the Groupe de Recherches Musicales interested in expanding his somewhat-traditional background, Jean-Pierre Mirouze nurtured from the very beginning of his career a close relationship with the world of cinema. Several trips to Africa not only influenced his approach to "world music," but also propelled him to film a series of documentaries in the former French colonies of Tunisia, Algeria, and Egypt, with French filmmaker and anthropologist Jean Rouch becoming his mentor. But it wasn't until his work on the variety show Dim' Dam' Dom' that he got the invitation to provide the soundtrack for Swedish, hippie-erotica fantasy Le Mariage Collectif (1971), the filming for which was happening in France. From jazz-funk gems "Sexopolis" and "Ulla et Georgie" to more contemplative tracks like "Tivoli Garden" or "Scène du Port," Mirouze's score for Le Mariage Collectif encapsulates some of the approaches taken by a generation on a quest to find itself. Since only a 7-inch single containing "Sexopolis" and "Together" was released in 1971, Born Bad Records' 2012 release actually constitutes the first time the soundtrack is available in full—the original reels were found in a dumpster back in 2010.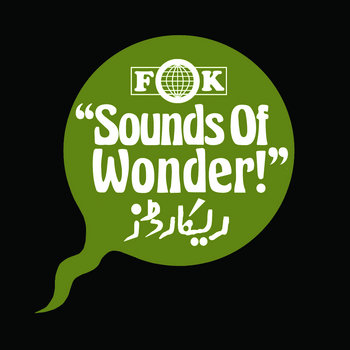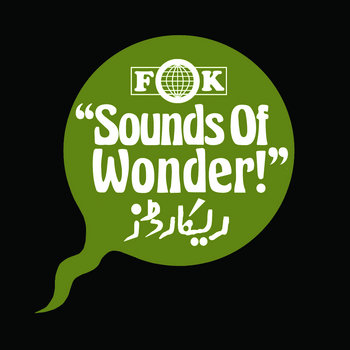 Merch for this release:
7" Vinyl
Vampire erotica director extraordinaire Jean Rollin had been making his own unique bite marks on French cinema since 1968's Le Viol Du Vampire—in spite of the poor reviews his films received, including frequent accusations of Americanization (a grave insult for a French director). As he began to film his Requiem Pour Un Vampire (1971), he put Pierre Raph in charge of the score. The composer was already familiar with the extremes of French erotica (he had just finished the soundtrack for Jean-François Davy's La Débauche), and the pair ended up working together on a handful of projects, Jeunes Filles Impudiques being one of them. Released in 1973 to the customary bad reception Rollin's previous projects had been met with, the film features a superbly heterogenous soundtrack that ranges from the fun freakbeat track "Gilda & Gunshots" (complete with whip sounds in the background) to the folky main theme, passing through the uncanny marriage of piano landscapes with electric guitars of "Jewel Thieves." Raph even takes a slight yéyé turn on "Schoolgirl Hitchhikers." Rollin and Raph would work together one more time on 1974's Les Démoniaques before parting ways.
Merch for this release:
Vinyl LP
In 1973 Spanish director Jesús Franco had already established himself as one of the most respected names in European exploitation films, having worked with an impressive number of composers like Bruno Nicolai (Count Dracula and Marquis de Sade: Justine, among many others) to Syd Dale (Paroxismus) and Manfred Hübler (Vampyros Lesbos, She Killed in Ecstasy). And just as he was preparing his latest horror-erotica fantasy Les Démons, French composer Jean-Michel Lorgère, aka Jean-Bernard Reiteux, was releasing his debut instrumental psychedelic pop LP Trafic Pop, making him the ideal candidate for the score to Franco's new film. Featuring prog-jazz undertones that perfectly fit both the frantic title track and the enchanted trance of "Three Serpents To Karen's Dwelling," Reiteux gathers an immensity of musical influences of his time to deliver an impressively diverse soundtrack with touches of acid rock ("A Witch's Daughter"), pastoral folk ("Kathleen Writhing"), and soul-funk ("Kathleen and the Horses"). Reiteux would work again with Franco on La Comtesse Perverse and Le Journal Intime D'une Nymphomane, before releasing Homere Instrumental Série Nº1 and 2, and a self-titled LP with his group Harlem Pop Trotters that remains a sought-after vinyl rarity.