LISTS
In His Expansive Guitar Compositions, Expo '70 Explores Galaxies
By Ned Raggett · June 18, 2018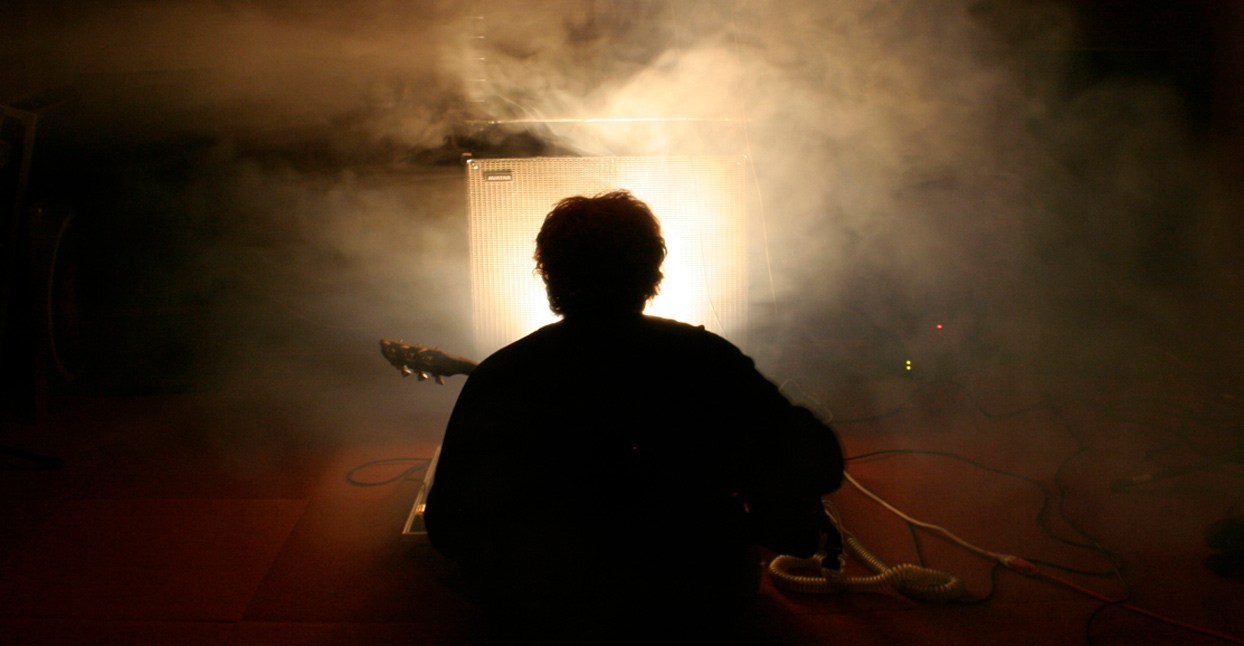 Speaking by phone from his home of Kansas City, Justin Wright outlines his early inspirations to become a musician in a calm, friendly pace. "My dad had an old reel-to-reel collection down in our basement, and I got curious about what they were. [He] showed me how to set it up. The first albums I ever heard [that way] were Black Sabbath's Paranoid, Led Zeppelin II, Woodstock. When I became a teenager in the mid-to-late '80s, I got into more aggressive and hard music. Around then, I knew I wanted to start playing guitar. I always had that passion."
Where Wright took that passion, though, went further beyond thrashing things out in a garage. After very early participation in the bands Coalesce and then, after a move to Boston, Isis, he then went to California, joining in other bands and collaborators there. Since the early 2000s, Wright has performed and recorded under the name Expo '70, building on his increasing interest in the work of experimental guitarists and electronic artists, with a particular eye to European and Japanese musicians. His now vast discography under that name—as well as the intentionally distinct Expo Seventy, where he performs in a trio—makes for a rich listen, with Wright's love of drones, improvisation, and pushing the limits of his instruments.
Complementing the music is Wright's fondness for cryptic, intriguing cover art, which often suggests forgotten 1970s science fiction films. "What happens is after the music's made, I start thinking about ideas," Wright says. "I'm a self-taught graphic designer, but when I've got the vision, listening back to the songs and what they remind me of, that's what I try to translate it to the artwork. That became the aesthetic for the project—kinda spacey and psychedelic."
Earlier this year, Wright suffered a major injury, almost losing two fingers in his left hand in a table saw accident, and is currently in long-term physical therapy to restore his ability to work the frets on his guitar. He speaks about that process with determination. "As it stands right now, I'm not really able to play guitar at all," he says. "I gotta work everyday at stretching [my tendons] out." In the meantime, he's temporarily shifted to playing on synthesizers only, and his friends have launched a GoFundMe to help offset his health care costs. Below, he speaks about seven of his albums that are particularly important to him. All of them are well worth a listen.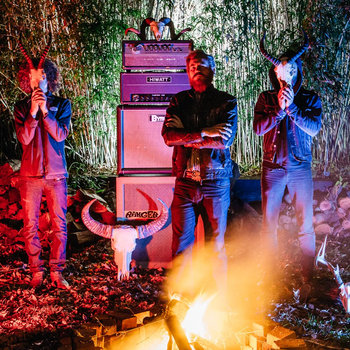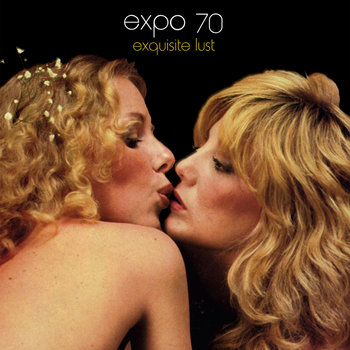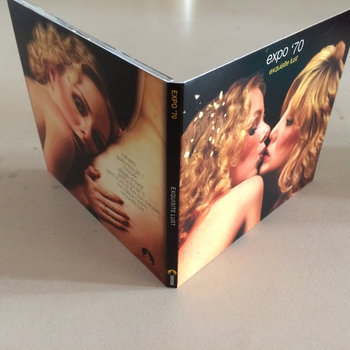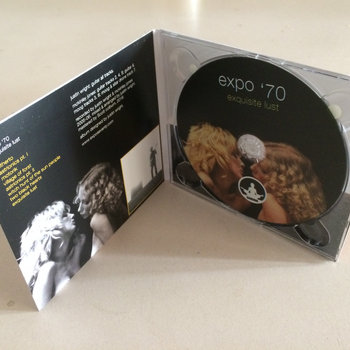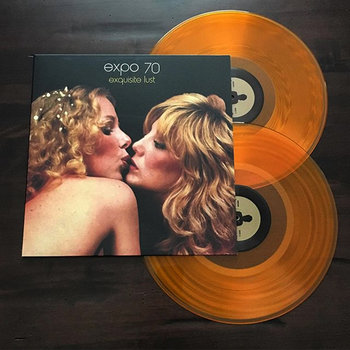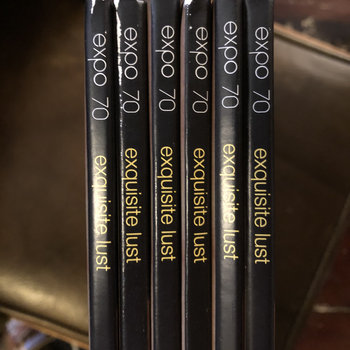 .
00:10 / 00:58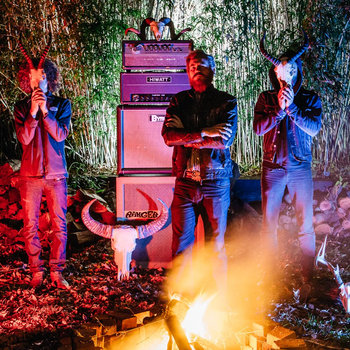 Merch for this release:
Vinyl LP, Compact Disc (CD)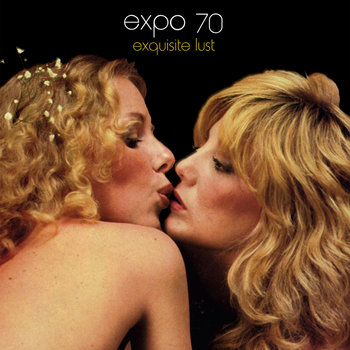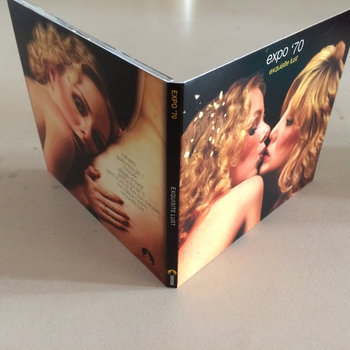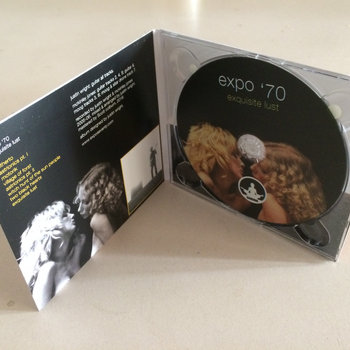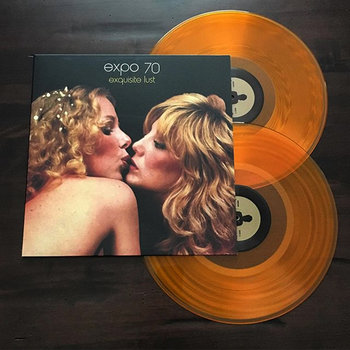 One of Wright's earliest releases under the Expo '70 name in 2006, Exquisite Lust is a classic example of open-ended electric guitar exploration, at once trippily psychedelic and serenely floating.
"It was originally just going to be three tracks, each trying to create the same flowing ambient improvisation. I initially had a concept to do a couple of improvised takes, a building of a drone, layering and adding textures. I thought that would be a neat minimalistic approach to doing an album. My friend who recorded it decided to blend all three tracks together, and that became the title track. It only made the music 19 minutes, and I didn't feel that was any kind of cohesive album, and as I was able to play on my own, I had to start fresh. The other tracks were improvised and layered, influenced by Popol Vuh, Fripp & Eno, and Kawabata Makoto."
The first formally released Expo '70 CD, consisting of a series of pieces that were almost subterranean in sound, with near subharmonic murmuring drones and distant guitar textures.
"This is still, in my mind, the turning point for what I was trying to accomplish for Expo '70, trying to separate myself from my influences and current artists. Back in the earlier days, everything I did was sort of pro bono—I made a ton of CDRs, and would give them out to everybody. Aquarius Records in San Francisco had picked up on it, and they started writing some really stellar reviews. Back then it was really hard to get a record store to sell your CDRs! After that, I was offered to do an actual CD. Those sessions at the time, I was living in a house on the second floor. I didn't really arrange anything, it's always been a kind of experiment of 'if I did this, how would it sound?'"
2009's Awakening found Wright in a contemplative space, with two long tracks slowly building up from near skeletal arrangements or silence to rich guitar serenity and mood.
"After flying to Bordeaux, France for the IAO festival in 2008, I returned to record this album for Sloow Tapes. I'd met Bart De Paepe, the head of the label in France and he offered a release to me. This was the first recording that had a set time for a cassette: 25 minutes a side. I decided to record side-long meditative improvisations. I [didn't want] to do just throw anything together, but to present the cassette like they were straight performances live. That was still earlier on, when I was into not facing the audience, sitting in front of my amp. I think the song titles—'Prisms Adrift Luminous Sunbeams' and 'Descending Celestial Moon Odyssey'—reflect that, because a lot of times when I play live, I'm not really paying attention to anything else going on except how I'm going to transition to, say, utilizing the drum machine, or adding textures, and where to manipulate the sound and take it somewhere else."
.
00:10 / 00:58
Four tracks that would have easily made a classic double-album back in the '70s, with one of Wright's most cryptically fascinating album covers to go along with it.
"Recorded on tour in 2010 at Black Dirt Studio, which is located in the Black Dirt region of southwestern upstate New York. Matt Hill from Umberto was on tour with me. I never really expected Expo '70 to just be a one-man band. It definitely started [in L.A.] as two friends talking about music. Kansas City is a way smaller town, so I was definitely on my own when I moved back. [Matt] had been going to the Berklee College of Music in Boston, really into experimental music like Steve Reich, Terry Riley, and he moved back to Kansas City after the first couple of albums I did. At the time, I knew Matt was wanting to do his own thing, and I was egging him on to do the whole Goblin-soundtrack horror movie stuff. I knew when we got into that studio that would be the last time we would ever record together. We decided to utilize a piano, which Matt plays on with myself on synthesizers, [the song] 'Transgressing Outward Which is Inward' was the outcome. I was heavily influenced by Klaus Schulze at this time."
.
00:10 / 00:58
One of the earliest formal Expo Seventy releases featuring the trio lineup. Hearing the initially gentle live percussion first emerge on the half-hour long meditation-into-mindmelting "Figures in Black Turn Night Back Into Day" shows how Wright's music can take on newer forms as a result.
"The whole concept for Expo '70 was really to be a collective, but the way my life has transitioned, I keep experimenting on my own. Incorporating other musicians is something I've always wanted to do with the project, and for so long, it was either me solo or one other person. Being in a band for so long in Los Angeles, I kinda missed that connection with a drummer and a bass player. I had met Aaron Osborne, the bass player, very early on when I reached Kansas City. We had played with another drummer around the same time I did Animism, but it just didn't feel right. I left that idea dormant for a while, but then I got the bug again. Before the first Kansas City Psychfest in 2012, we [now including drummer Mike Vera] decided to record our set in the room above where the Psychfest was being held. The local paper only mentioned a couple bands in the write-up and then said the rest of the acts were 'virtually from the unknown.'"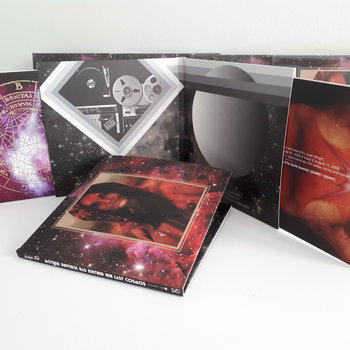 .
00:10 / 00:58
Merch for this release:
Vinyl LP, Compact Disc (CD)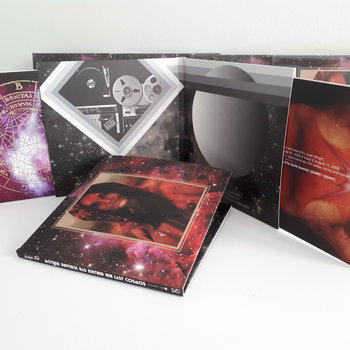 Openly taking inspiration from Manuel Göttsching's famed classic of exploratory space rock from the 1970s, E2-E4, Wright focused on a combination of adding percussive loops and creating guitar parts in tandem. Originally released in 2009 and rereleased in a variety of forms with differing tracklistings earlier this year, the digital package also includes "Ostara," another three-inch CDR track, and the amusingly titled "You And Your Dreamcatcher Should Take a Hike."
"We [Wright and Matt Hill] took the concept of adding layers of rhythmic loops and improvised along with them. It's a more playful longform track, similar to what we were trying to achieve live. I'm definitely no schooled musician, but I've been listening to music pretty much my whole life, and a lot of it was major label 'here's a song, here's how you have to listen to it, and this is the way we're presenting it to you.' You watch music videos the same way. It wasn't until I started seeing live music that I realized there could be such a difference in the way that people played music versus it being recorded and produced. I started realizing that there was no way that you could do things live without it being manipulated or falsified in ways. It took me a long time to understand jazz, free jazz, and things like that. I didn't warm up to it until I got into krautrock, where they were breaking down rhythms, playing them longer than they needed to be, the sounds were very unusual. You hear those things in all aspects of music but when you take the element of vocals out, you start to hear more of the sounds of the instruments."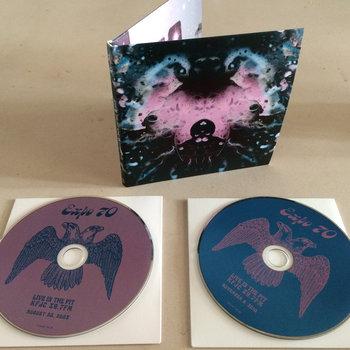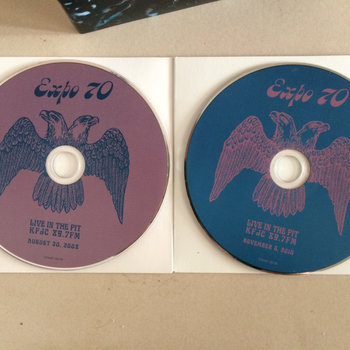 .
00:10 / 00:58
Merch for this release:
Compact Disc (CD)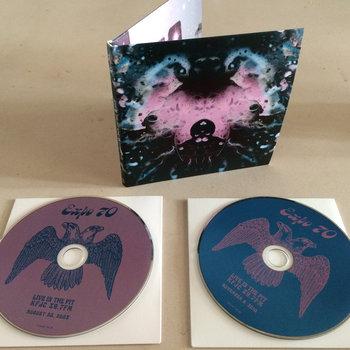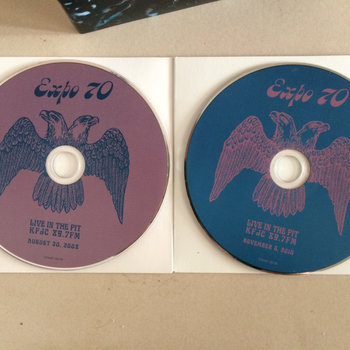 The two live sessions on KFJC featured here—the first featuring Wright and Matt Hill, the second with Wright alone—are nearly an hour long each. As demonstrations of Expo '70's full reach out to the furthest exploratory edge, they're intensely brilliant in each of their separate ways.
"DJ Cy Thoth (Phil Hertz, R.I.P.) contacted me about playing at the KJFC studio at Foothills College in Los Altos Hills, CA while on tour. The college is a majestic piece of architecture, resembling a neo-Japanese garden. Cy Thoth would call a lot and leave me messages about playing on the show, asking in his large, booming voice what kind of sandwiches and beverages we'd like. He was a little overwhelming at the beginning. He definitely had an aura about him. The pit is a large room where all their vinyl is stored, a half level down from the control rooms. It's hard to do the the music that I do live, because a lot of times I only have 25, 30 minutes. To go into an environment where people are all, 'You can play for as long as you want,' we were like, 'Awesome!' That's very relaxing, and we can really explore our instruments and soundscapes that we're doing. It was really nice to break that up on tour and show up somewhere where it's very casual, where we started whenever we wanted, 20 minutes or you could play an hour. And in my mind, an hour's a pretty good time to unwind, get relaxed, and really feel out what we're going to do live."