LISTS
Exploring the Crossroads of Country and Soul
By Brooks Long · Illustration by Natalie Foss · February 01, 2022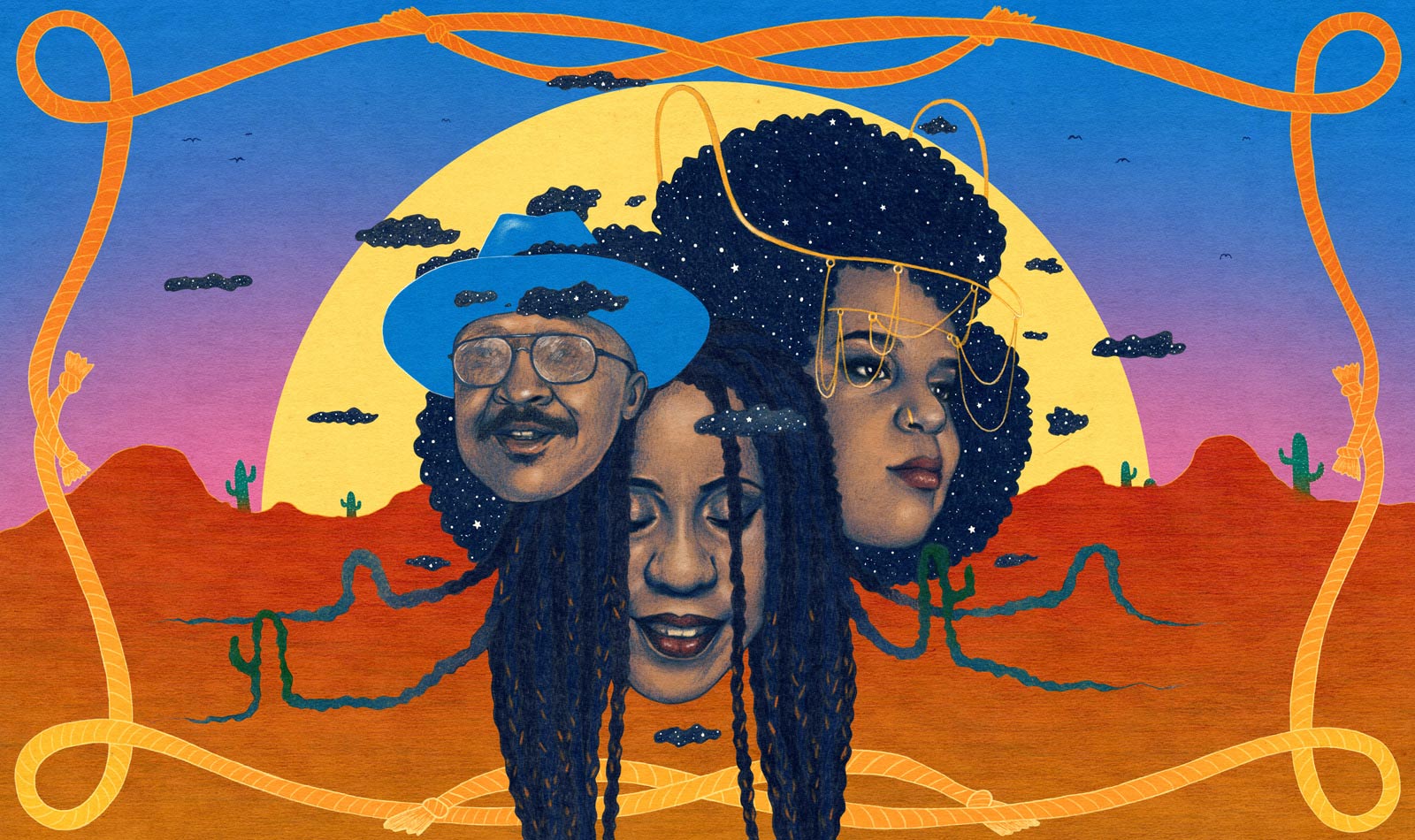 Right now, we may be experiencing a moment in music history that's been a long time coming. Maybe—just maybe—country music is on its way to sustaining several Black stars at the same time. Until now, the Nashville powers-that-be appeared to allow just one per era, focusing their attention on just one person at any given moment. In the beginning, there was DeFord Bailey, followed by Charley Pride, Linda Martell (briefly) and, in more recent years, Darius Rucker. Today, there's folks like Kane Brown, Jimmie Allen, Mickey Guyton. Of course, no one turned the mainstream spotlight on Black people in country quite like Lil Nas X—who, in 2022, has gone the way of Elvis Presley in 1956, which is to say he's packed up and split for the city.
Country music has never been far away from Black Americans: artists who are highly respected in blues circles, such as The Holmes Brothers, are just as country as anything else. My former teacher, Wendell Holmes of The Holmes Brothers, would reminisce about tuning into the legendary country radio show The Grand Ole Opry with his family every Saturday; my great-grandmother hardly missed an episode either. Surely, they enjoyed the white stars. Just as surely, they heard the heavy influences of their own culture in such a segregated music scene.
In time, several popular artists in the R&B realm, who grew up listening to country, found ways to mix aspects of the genre into their music. Ray Charles, Otis Redding, and Al Green made significant contributions to what's today known as country soul—with "soul" referring to "Black folks doing their thing." In 1979, James Brown even played The Grand Ole Opry, not that they dug papa's bag. We find such instances surprising, but they shouldn't be. Black people engaging with country can be found everywhere, and Bandcamp is no exception. Here are just a few of the many country soul artists on Bandcamp worth checking out.
---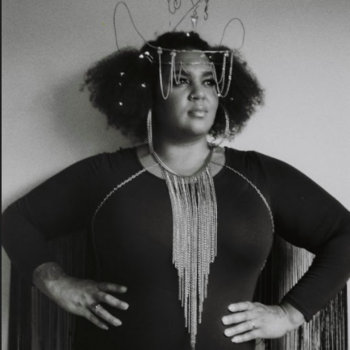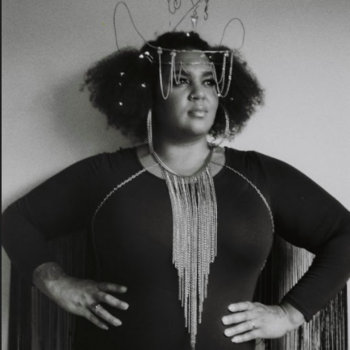 D'orjay The Singing Shaman's 2020 album New Kind of Outlaw opens with the title track, which is forceful because it has to be. Over a country-tough groove with slide guitar and banjo—you know, the African instrument—she soulfully sings, "I love country music/ Will country music love me?" It's a hell of a thing to love something that's been reluctant to love you back. Consider the song a challenge to the country music scene to make room for D'orjay. But at the same time, consider how the Canadian singer is making room for herself and the fellow Black female country singers she shouts out. That space-making songs like "New Kind of Outlaw" must exist is exasperating, and yet they must.
D'orjay uses the space carved out by "Outlaw" to great effect. The wistful "Grandma Luvy's House" is steeped in the sweet nostalgia of the country tradition, but its reggae one-drop rhythm is very different and very welcome. "One Day Closer" is the product of honky-tonk lineage, but you've never heard it sung quite like this. By the album's end, D'orjay has proven her mastery of modern country, but also her unique gift for imbuing them with heart, as well as serious vocal power. So with nothing else to prove, why not end with a Wallflowers chestnut stripped down to a soul groove and interweaving dobro and banjo?
Annie Mack is best known as a blues singer, and her name appears in the book 50 Women In The Blues alongside artists like Etta James and Mavis Staples. Much like those two legends, the artist we hear on the Testify EP is certainly bluesy at all times, but is also more of a songster, belonging to the "not-quite-this-or-that" genre known as Americana. The swamp-gospel of the title track struts down the aisle like the deaconess board on Sunday morning. The soulful rock of "Get On The Train" evokes the Freedom Train found in Civil Rights sermons, as well as songs like "People Get Ready." It has a real sense of motion. This undercurrent of hope courses through the rest of the EP, from "Shadows of a Kingdom," a story of female self-actualization," to "Judge and Jury," a sho-nuff outlaw country tune written in the wake of George Floyd's murder in Mack's hometown of Minneapolis. When Mack sings, "Busy praying for a flood/ So you can drag me through the mud/ So you can hide my humanity/ You're not the judge and jury of me," we can dig it. Testify as a whole is a powerful and assured statement from a pro.
Eddie Floyd is a soul-survivor from back when Southern soul and country were close cousins on the songwriting side. The big differences generally lay in the beats (spry versus sly) and in the vocals (twang versus grit). A great example is "'Til My Back Ain't Got A Bone," which found its way to great singers like Esther Phillips and William Bell in the '70s before returning home to Floyd, its co-songwriter. The 2008 album Eddie Loves You So marked Floyd's own return to the legendary Stax Records, where Floyd penned hits for his friend Wilson Pickett and scored his own immortal soul classic, "Knock On Wood." "Since You Been Gone" feels like Western-styled pop that could have come from The Everly Brothers as easily as Solomon Burke. Floyd's baritone singing on tracks like "I Don't Want To Be With Nobody But You" sells songs with that solemn baritone passion that recalls both Brook Benton and George Jones. His triumphant, ultra-danceable version of  "I Will Always Have Faith In You" is great as well, with a song structure that invites "what ifs"; if the man was ever to perform a slower, stripped-down version, the audience would collectively burst into tears. Eddie's been in the game a mighty long while, so good on the producers for passing on any "updates." Would you "update" a mint condition 1965 pink Cadillac?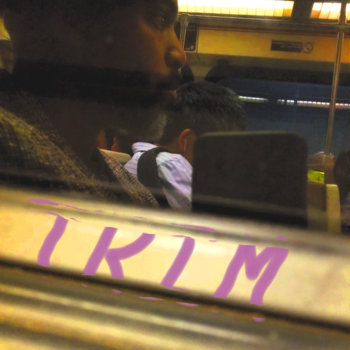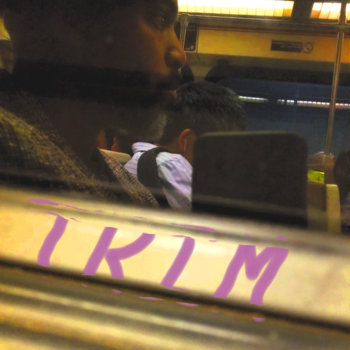 A tune that's possibly about the pitfalls of meeting expectations that aren't your own, "Falls (violet)" is damn near a country song, reaching for the ineffable until the end, when it finally grabs on fully and floats away. Van Hunt proves that he could make a traditional country song if he chose, but that's not where the song wanted to go. As a Lamar Jackson fan even before the green suit at the 2018 draft, I'm for those of us who embrace our underestimated uniquenesses as a superpower. Since his classic self-titled debut album, Hunt has sounded like he could win the World Series playing hockey. That album managed to be both wide-ranging and well-mannered while staying grounded in the soul and funk that is his birthright as a native Ohioan. Over the years his genre weaving has morphed into something weirder. And even better. "Falls (violet)" comes from his first indie, What Were You Hoping For? after his third and final label album, Popular, was shelved by dummies. Both are among the best I've ever heard though the unfamiliar should start with his personally curated retrospective fifti.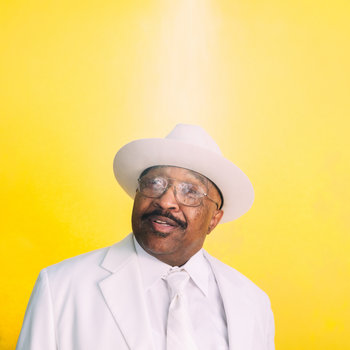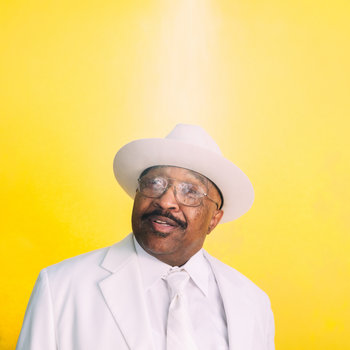 Speaking of unique people, legendary outsider soul artist Swamp Dogg's recent album Sorry You Couldn't Make It is dedicated to country soul. It's also real good. In addition to two songs recorded with John Prine prior to the icon's death in 2020, it features Swamp's version of "She's All I Got," which was a hit for Johnny Paycheck. It's uncharacteristically reverent (see: 2014's "God Ain't Blessing America"), the kind of album so lovely, it merits a full evening of undivided listening. But the peculiar poignancy of Jerry Williams's alter ego Swamp Dogg  is fully realized on the country tune "When He Was No One (I Knew Jesus)," where the narrator remembers hanging with Jesus back when no one cared about Him. Country songs mention Jesus all the time, but not in this light—and they certainly don't make the bold prediction that Jesus's audience will fade eventually, as Swamp does here. The song references The Beatles, whose John Lennon less thoughtfully predicted the same thing.
Perhaps the song is a critical examination of celebrity, or maybe a celebration of friendship. If country artists often like to sing "What A Friend We Have In Jesus," this is about being a friend to Him no matter what—the Cliff Booth to Jesus's Rick Dalton, if you will. There's also the personal interpretation. In a lot of ways, the Jesus story is a lot like that of the archetypal cult artist. You know the one: Person/group with a unorthodox style and/or message pursues a mission destined to keep them broke, attracts some other outsiders, and if lucky, becomes super hip following death/disbandment/becoming a real estate agent. Why would anybody take that path? I'd wager it's the same reason some Black artists express themselves through country music traditions. It ain't because they too might be "more popular than Jesus" someday. They do it purely because they feel called to somehow. Now that's some faith for yo' ass.
"Startups, they can't pay right now/ But maybe one day," sings versatile Baltimore-based songwriter Queen Earth on this country-styled slice-of-life track that suggests that sometimes the hardest work is actually trying to find a job. Optimism and diligence—can't have one without the other. Neither comes easy to almost anybody, and when you're Black, that stuff costs extra. Not that we don't pay up. It's hard to imagine us peoples even existing today without those who came before believing in a better day through hard work. They had to, at least most of the time. But we still keep a skeptical eye out for the okie-doke—especially in white spaces, whether that space is an office job or a music genre. "One call back from a team/ I'd be the only one with this skin," she sings.
Her voice is both smooth and piercing: "The good ol' boys have a box to check, they're trying to put me in/ Passing judgment as I walk through the door, saying I'm articulate." Simply and beautifully, QueenEarth paints a picture of what it's like to keep believing in yourself amidst weird evaluations and the pressure to appear presentable. Whether striving for the office or the stage, it can get hard to believe "the check's in the mail." But then, one magical day, it may actually show up. Keep pushing.
2020 NEA Heritage Fellow William Bell's debut song, 1961's "You Don't Miss Your Water," is the sound of soul soaked in a slow country lament. It was the first among many classics he's penned, including a few on his Grammy Award-winning album This is Where I Live. His best tracks have always radiated guilt and loneliness, feelings central to a certain style of country writing. The first song, "The Three of Me," thrives in that downcast mood, Bell's deepest regrets on open display. "There was the man I was, the man I am, and the man I want to be/… It took losing your love to make me see/ Oh, there ain't no room for the three of me." If The Man In Black was still around, he couldn't have sung it any better—though he would've tried.
Weary wisdom abounds on This Is Where I Live. Where Kenny Rodgers thought you could, "know when to hold 'em, know when to fold 'em," William says: "You may take a couple of rounds, but the house always wins." Bell's warm voice and musical choices, which feel lived-in and surprising in the right measure, keep the pace smooth, offsetting any dreariness. His reading of "All Your Stories" almost makes you forget how cold the Jesse Winchester song is, while the chord changes of "Mississippi-Arkansas Bridge" and the vintage 1970s sitar-guitar of "Walking On A Tightrope" carry serious mojo. At 77 years old, Bell dropped a low-key stunner.
Brooks Long is a singer-songwriter, DJ, and music aficionado from Baltimore, Maryland. He is the host of the radio show "6 Degrees of Soul," which runs 9 PM-12 AM EST every Saturday on 89.7 WTMD. His most recent album, The Songster Part 2, was released in 2015, and continues to be updated with new tracks. Long is also a recurring guest on the rock 'n' roll podcast Let It Roll.