LISTS
Story of a Song: Country For Syria
By Liz Pelly · May 22, 2017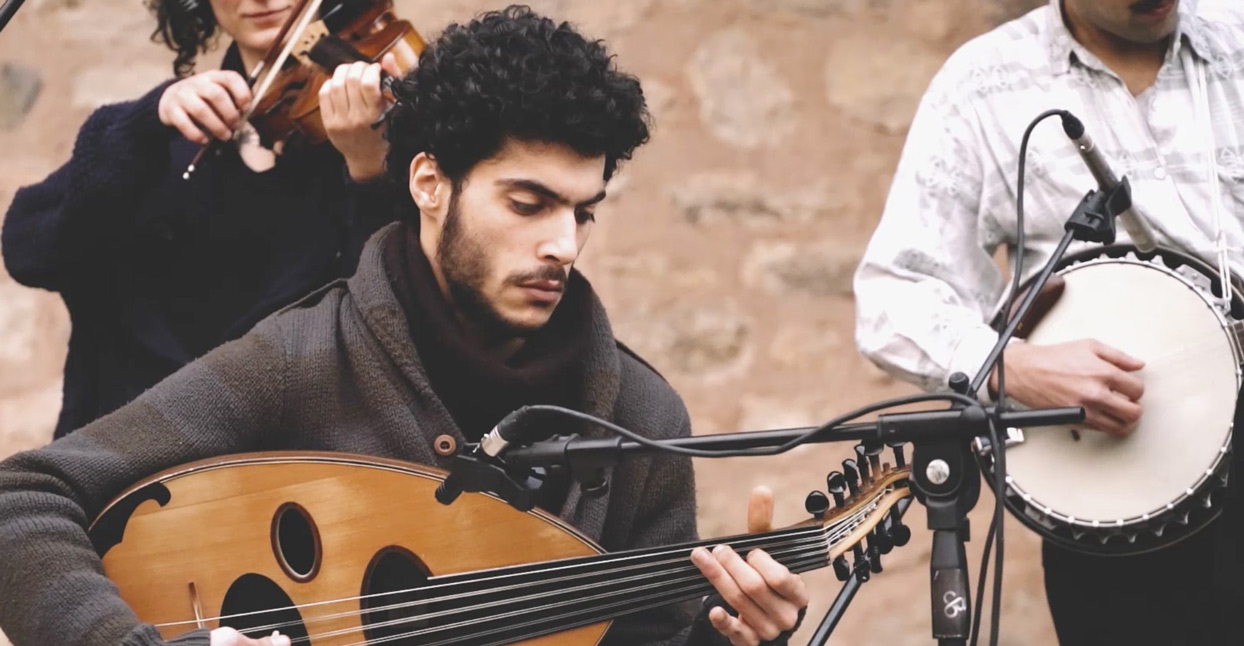 "In The States" was meant to be a fairly simple song for Country For Syria, a "vacation song" of sorts, explains the Istanbul-based country music collective's co-founder, Owen Harris. After the sprawling group, whose members are American, Syrian, Turkish, Czech, French, and Iranian, returned from a tour to the U.S. last year, they began to write the song processing the experience. For most of the band, it was their first time to America. But after Trump's inauguration and Muslim ban executive order, they felt compelled to rewrite the lyrics.
.
00:10 / 00:58
"After the ban, everything changed," says guitarist and vocalist Bashar Balleh, who is from Syria, and co-founded the group with Harris, who is American. "We knew that if Trump won, things would change, but not as fast [as they did]. It was the first thing done, banning Muslims." Balleh and his wife, who is American, currently find themselves stuck in a state of limbo, unable to visit either of their families together. Three other members of the band have been affected by Trump's travel ban as well, including two undocumented Syrian refugees currently in Turkey who find their future uncertain.
"In The States" opens with a traditional Arabic riff, played masterfully on an acoustic guitar by Balleh. The melody is bolstered by ominous strings, and eventually the song breaks open with full-on country swing: accordion, banjo, horns, violin, cajon, and ukulele inventively combining two genres not often heard together. There are verses sung in English over a classic country, 1-2 stomp-clap rhythms, interspersed with verses sung in Arabic and careful melodies in the style of maqam, which is used in traditional Arabic music. There's also oud, a pear-shaped stringed instrument used in Middle Eastern folk music for centuries, as well as saxophone and clarinet.
For the members of Country For Syria, blending traditional American and Arabic sounds, as well as bilingual lyrics, serves as a form of cultural diplomacy. They use their music to fundraise for specific refugee families and those affected by conflict, and have regularly made trips to play for refugee camps. "We try to actually avoid being too political as a band," says Harris. "For example, we don't take a specific position on the war in Syria. We want to use country music to appeal to the more classic country demographic, which is conservative and rural people. But in the case of the Muslim ban, we felt personally attacked and personally affected by that policy."
On "In The States," which will appear on a full-length album later this year, Harris sings of the "orders [tearing] families apart" and "the paperless people, the ones who belong the most," of the obstacles that need to be overcome to gain access to the U.S., the meetings and interviews and hours at airports.
In the verses sung in Arabic by Balleh, the lyrics express his confusion about being in America, and just wanting to live in peace. "I'm talking to myself, like, 'Look where the world led me,'" Balleh explains. "This is not a thing that I ever wanted, immigrating to the States, and leaving my home country. Also, there's one [line] about talking in different languages on airplanes. Whenever I speak Arabic on airplanes, I feel like I'll be thrown from the airplane because it's a disgusting language for racist people."
Balleh, Harris, and their bandmate Basak Oktay, who sings and plays ukulele, agree that music is a powerful way to connect across cultures. Oktay, who is Turkish, explains that the nativist attitudes often associated with American racism and stereotypes against Arabs are found in Turkey as well. "I could not say that the Turkish are really friendly with Arabic people," she explains. "In Turkey, we have also prejudices against the Arabic language itself. You can understand a speaker's opinion with the way he uses languages."
"So much of our interactions with people from other countries as Americans or as Syrians or as Turks is mediated by government," Harris says. "It's mediated by international relations, by diplomats, and armies…. The best way to get together and create meaningful exchange is through direct cultural connection, through hanging out, and being together, making music together, eating each other's food."
That is part of what makes Country For Syria so important, both politically and personally, for its members. "Just because we get together and do this, doesn't mean that we're in 100% agreement," Harris says. "We actually have different religious, political, and cultural opinions within the band. We have people who support one side or another side in the Syrian civil war. We have people who believe some things very strongly religiously, some people who don't. How friendships should be, how relationships should be. We disagree and we agree, but it doesn't make us enemies. Which is what people often think, that if we have different religious beliefs, we have different political beliefs, we are naturally enemies. We're not."
—Liz Pelly