LISTS
A Guide to Chrome's Dark, Dense Discography
By Joseph Gentile · July 19, 2022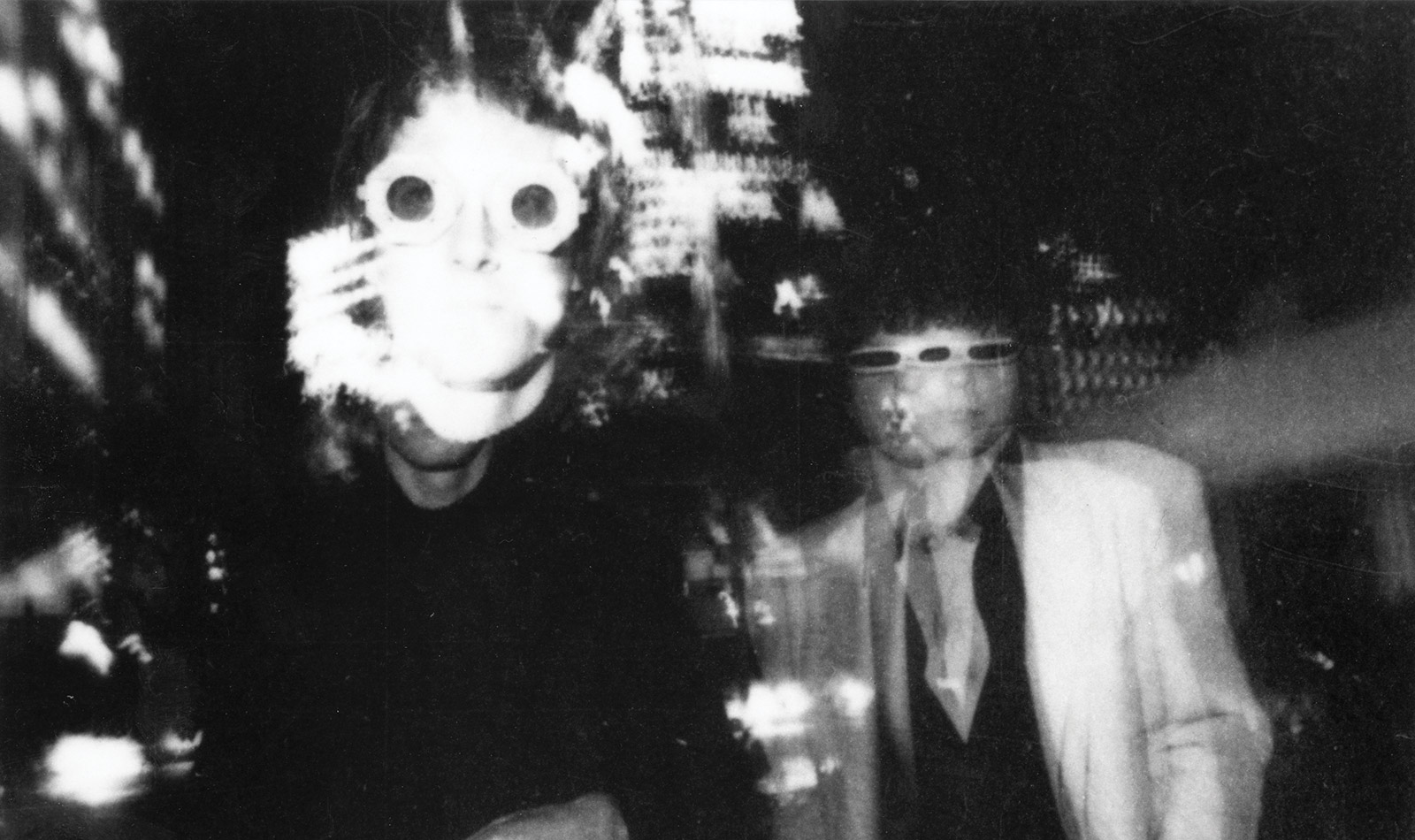 Before there was industrial, there was Chrome. Before there was goth, there was Chrome. Before there was noise rock, there was Chrome. Before there was death punk, there was Chrome.
Despite their groundbreaking work, the San Francisco band remains a cult fixation to this day, unknown by most and revered by a select few. Chrome's unheralded work mixed punk with psych and prog, wiring all of that together with samples, tape loops, drum machines, and…a lot of LSD tabs. The result was a menacing and mysterious band who, while only ever playing two shows during their original run, released records that could be described as "HP Lovecraft does Bladerunner."
The story of Chrome began with a tall, solemn American returning back to California after a stint in North Africa. At the time, he was called Thomas Wisse and he was a big fan of Stooges' proto-punk and experimental acts like King Crimson. But after returning from his journey, he decided to rechristen himself as "Damon Edge" for a more interstellar aura. From the ashes of an avant-garde group called Ba Ka Da, he formed a band that fully embraced the sci-fi and darkness touched on by the contemporary English prog bands. After some trouble getting the concept off the ground, Edge linked up with fellow weirdo called "Helios Creed"—a six-foot-six, impossibly thin guitarist that loved to jam on the instrument incessantly. Once those two locked into a groove, Chrome took off into the stars…
Because the Chrome discography is so dark and dense, and so out there, we put together a guide to walk you through their early, pioneering work, with some galactic guidance from Helios Creed himself.
---
Merch for this release:
Vinyl LP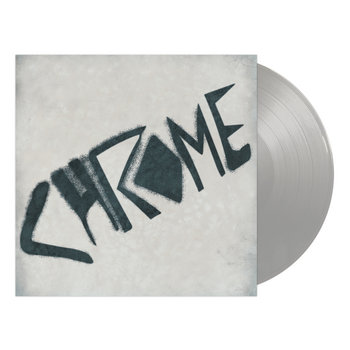 Chrome's first album hardly resembles the super dark, super trippy albums to come. 1976's The Visitation could easily pass for a long-lost King Crimson or Emerson, Lake & Palmer record. At the time, the band featured Mike Low on vocals, John Lambdin on guitar, Gary Spain on bass, and Edge on drums.
The release bent blues-influenced rock around a prog-core with Low singing mostly about hippie-dippy kinds of things, albeit with a slightly spooky vibe. Despite the album's progressive chassis, "Return to Zanzibar" was the sole track on the album that found the band referencing Edge's Stooges influence, with its low-swinging, sledge hammer riffs. Not coincidentally, it's also the only song on the LP with Edge on vocals, wherein he adopts a Detroit-tough-guy affectation. While the record featured hints of Edge's vision—warped vocals, tape effects, hidden voices—they were buried beneath the music's overall more contemporary sound, barely suggesting what was to come.
Edge submitted the record to Warner Brothers. An A&R person responded that the record sounded like a "messed up Doors album" and passed on the release. Edge then pressed the record himself and hand spray painted the cover, which merely had the word "CHROME" written across the front.
Although Return to Zanzibar now is a highly vaunted (and very expensive) collector's item, at the time, the record came and went with little more than a whimper while Edge went from shop to shop selling whatever copies he could.
And then Damon Edge met Helios Creed.
Merch for this release:
Vinyl LP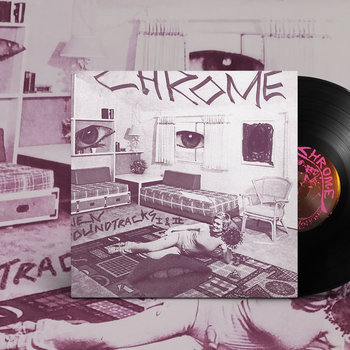 "I listened to the first record and something inside me knew that they needed me, whether they accepted me or not," guitarist Helios Creed says of his introduction to Chrome.
"Helios Creed is the spaceman," says Tom Hazelmyer, who, as head of Amphetamine Reptile Records, would release Helios Creed solo records in the '90s. "There's no doubting that when you meet him, he goes places that few people can go; that's an essential part as to why the second Chrome album was such a landmark."
Creed continues: "The whole band was breaking up due to the flop of the first record, and I knew it was a calling. I asked Gary, who did production work on the album, to let me meet Damon Edge. Damon came over and found out I was interested in auditioning, and we immediately began to work on Alien Soundtracks." Meanwhile, original guitarist Lambdin had been committed to an institution for, what was at the time, known as "Amphetamine Psychosis," making space for Creed to join Chrome.
Coincidentally, around that time, Edge had linked up with San Francisco porno magnates the Mitchell Brothers. As reported by journalist Neil Martinson in Ugly Things Magazine #59, Edge inked a deal with the Mitchell brothers to write a soundtrack to be played at the first live sex show in North America, in the "Ultra Room" at the O'Farrell Theatre in San Francisco.
Edge submitted a recording to the Mitchell Brothers; to the surprise of no one, it was rejected outright. "They complained that it wasn't easy to dance to!" Creed says. So, the remaining members of Chrome, along with new member Creed, re-worked the material into Alien Soundtracks, a quantum leap for the band.
1978's Alien Soundtracks isn't really an "album" at all. Rather, it's a collage of stitched-together material taken from the aborted porno soundtrack, remnants of the first album, and Creed's new additions. It's arguable that this record and the process behind it is what made Chrome CHROME. With the members reduced to Edge, Creed, and Spain, the band used studio techniques—some already existing, some created on the spot—to weld all the various pieces together.
The result was a whirling dervish of a record. Songs fade in and out randomly; a driving drum machine features heavily, years before it would become the prominent tool in industrial and dance music; voices are so distorted that they are inaudible when leaked through the sonic murk. On "All Data Lost," someone groans and seems to complain about self-destruction. Some tracks are cold, spartan marches like "Nova Feedback," which resembles the UK's On-U Soundsystem beats that would emerge three years later, while others are multi-track mash-ups that sound like four songs being played on top of each other.
With Alien Soundtracks, Chrome reached its full potential by creating a dense, dark, sci-fi psychedelic world. Creed says, "Punk was already happening, and we were talking, 'What shall Chrome be now?' I said, 'Frankly, I like the weird stuff,' and Damon and I both sort of clicked on it. I thought instead of 'punk' we should make 'psychedelic punk.' It later got coined as industrial, but listen to what we were doing and then go listen to industrial. It's the same thing!"
Merch for this release:
Vinyl LP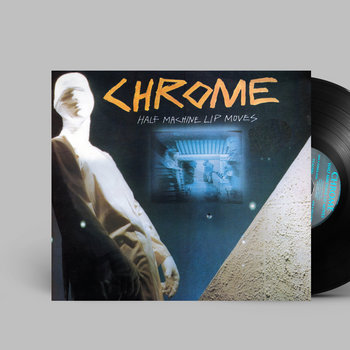 "The inspiration for Half Machine Lip Moves came from the fact that Alien Soundtracks came out so well," Creed says. "We wanted to make another record just like it…but better."
Indeed, Half Machine Lip Moves finds the band doubling down on their darkest and heaviest elements. If Alien Soundtracks retained the vestiges of prog rock, by the time of Half Machine's release in 1979, the band had evolved into something wholly unique and wholly creepy.
Bassist Spain had dropped out of the band, leaving Edge and Creed to feed off of each other's cosmic ideas: "We're both Scorpios. We both like the dark side. We come from kind of the same place, just slightly different. It's not a happy place. Well, it can be a happy place…but it usually isn't."
Check out "Zombie Warfare (Can't Let You Down)," the album's second track. Creed cranks out a screeching guitar riff as Edge drives forward with a mechanical drum pulse, co-mingling with voices that are distorted to the point of sounding inhuman, robots screaming over the din.
"We used to listen to this album all night while we would smoke pot and play this board game called Feudal," says Paul Della Pelle, a drummer who would play in Creed's solo band in the '90s, as well as with Nik Turner of Hawkwind and Jello Biafra; at the time, he was in an obscure, cultish Philadelphia punk band called Ruin. He continues, "What was particularly interesting about it was that it was punk rock, but it was infused with all this psychedelia—like backward tape loops, effected guitar leads, and a lot of experimental sound. I was like, 'This mish-mash is like nothing I had ever heard before!'"
"I think it's the pinnacle of that kind of sound," Creed says. "It's that kind of raw muddy crush and it worked with such effectiveness."
Merch for this release:
Vinyl LP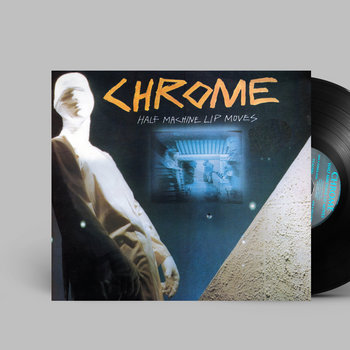 Just as Chrome had finally grasped the sound they had been searching for, they then went even further on the Read Only Memory EP, released the same year. Written after a short opium bender, the release wasn't so much music as it was a sonic experiment. Most of the songs have no cadence or beat and are instead distorted with sound effects butted up next to each other. In a way, just as the band's earlier works forecasted industrial music, Read Only Memory was something of a proto-noise record.
"We wanted to get strange and take it to the far reaches of the universe," Creed says. "We wanted to not make rock. We wanted noise! We would smoke a bunch of hash and get really fucked up and make that shit real!"
Merch for this release:
Compact Disc (CD), Vinyl LP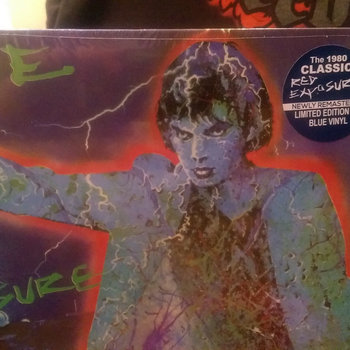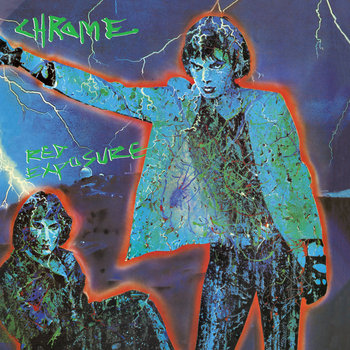 Surprisingly, Half Machine sold fairly well, resulting in Chrome getting a deal with hallowed UK label Beggars Banquet. With a little more cash behind them, Chrome cut what may be their definitive release, 1980's Red Exposure: a counter-intuitively pop-ish record. While the record still has plenty of abstract space exploration jams, many of the songs are perfectly timed for radio play and built around the verse-chorus-verse-chorus form even though there are still screaming robot effects, bent guitar solos, and demonic voices hissing throughout.
The more accessible sound may be due in part to studio engineer Oliver DiCicco, who also had worked with groups like Dead Kennedys, Tuxedomoon, and MX-80. As per journalist Neil Martinson, when Chrome entered DiCicco's studio, they had barely any material written. Working with DiCicco's input, the band cut an LP that was a bit closer to the snappy sci-fi of Gary Numan and Kraftwerk but still filtered through their own warped sensibility. For instance, "Static Gravity" was driven by a dub beat with poppy synths in the background that could have fit onto the most radio-friendly new wave records.
As with all Chrome records, though, despite the album's "friendlier sound" and despite the fact that, for once, the vocals have some level of clarity, the lyrics remain as enigmatic as ever. As Edge says in "Eyes on Mars, "My name is hurt and I get hurt/ I sight you off the road and I should know/ I am anti-fade and I can't go away." Uh, what does that even mean?
"More or less, it was words that popped into our head, like automatic writing," Creed says. "While some lyrics we did sit down and write, it was mostly just what we felt, not what we thought."
"Damon and I spent so much time together, we started sounding like each other," Creed says about 1981's Blood on the Moon. "At first, my singing and his singing, you could totally tell the difference. In fact, he wouldn't sing at all on the first Chrome LP. He didn't think he was good enough. But he has to be good, you know? But, by Blood on the Moon, we were working together so much and mixing the record in such a way that after the distortion effects, I can't always tell who is singing what lines."
Indeed, Blood on the Moon was one of the band's most cohesive and tightly written records. Somewhat mirroring the sonic sensibility of Red Exposure, the band built their sound around a digestible (for Chrome) format. "Inner Vacuum" could pass for an '80s indie rock track, if it didn't have the warped guitar crashing behind the vocals. Still, Blood on the Moon is notable for having almost no trademark Chrome effects: the caterwauling machines are mostly gone, as are the tape effects and random sonic assaults.
Perhaps this is due to the addition of the "Stench Brothers," aka John and Hilary Hanes. The Hanes had played in Pearl Harbor and the Explosions, a poppy new wave band. While recording Blood on the Moon, the Stench Brothers acted as supplements to Edge and Creed, bringing some (relatively) commercial ideas to the group.
However, the album does contain one of the group's freakiest tracks. "Insect Human" is propelled by Creed's slithering guitar, only for the track to break down into a slow-motion crush of sounds midway through, after which Edge recounts all the places where something sinister has been buried: Montréal, New York, L.A., Detroit, Chicago, and a bunch of other places. "That's when we got really good at sponto lyrics," Creed says. "That was when the words just came to us."
Despite the band's cohesion, it was the beginning of the end of Chrome's "classic era."
Merch for this release:
Vinyl LP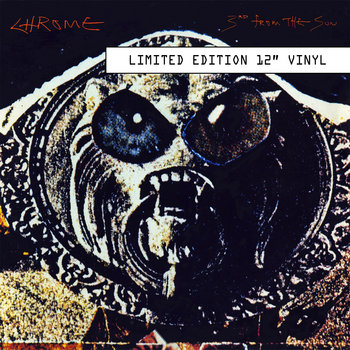 By the time Edge and Creed were working on 1982's 3rd from the Sun, resentments were growing. Edge was spending more time with his wife, Fabienne Shine of Shakin' Street, and the pair weren't meshing like they once did. "Damon and I used to get along great…until he got fucked up on girls and drugs," says Creed.
So, it's no surprise that 3rd from the Sun is arguably Chrome's darkest record. Still, it is arguably their most mature release. "Firebomb" is driven by a distorted guitar riff, while a sinister voice talks about being attacked with explosives. The title track features some of Creed's finest guitar theatrics.
"They kind of re-invented themselves with the droney, repetitive thing," Hazelmyer says. "'Firebomb' is a classic as was 'Electric Chair.' This is the pinnacle album. Bands have been trying to achieve this since the 40 years that the album came out."
While that album was one of the band's most cohesive offerings, due to the growing inter-band tension, Creed and Edge would reconvene just one more time to record.
Merch for this release:
Compact Disc (CD)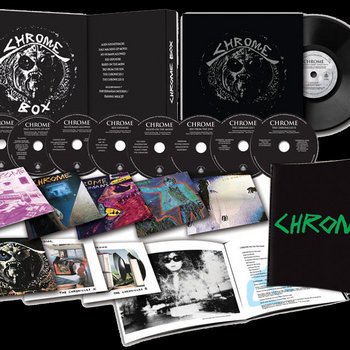 After the release of 3rd from the Sun, Chrome was fractured. Communication between Edge and Creed was almost non-existent. Perhaps sensing a finality to the project, Edge contacted famed Bay Area label Subterranean (home to Flipper and Nervous Gender) in order to collect the band's previously released material into a box set. Steve Tupper, who ran the label, asked for some new material that could be included in the set as an incentive. Therefore, the result of Edge's and Creed's final collaboration was The Chronicles, a DOUBLE record which was included as the bonus new album in the vaunted Chrome six LP Box set (Original price? Only $16.00! Wow!).
The double LP found Chrome referencing all of their earlier facets. "Anorexic Sacrifice," which found Edge howling over Creed's black-metal-ish riffs, was compact and almost commercial, as per "newer" Chrome. Meanwhile, Edge's massive, side-long psych adventure "Wings Born in the Night" returns to the band's initial King Crimson-style mind trip, albeit with the classic Chrome sci-fi destruction slathered over the top.
The release ended with one of Chrome's absolute high points, the 18-minute "Gehenna Lion." A clomping, Sabbath-meets-Bauhaus number, Creed makes references to ancient biblical concepts and draws them far into a bleak future. It's harder to sum up Chrome better than that.
Merch for this release:
Compact Disc (CD)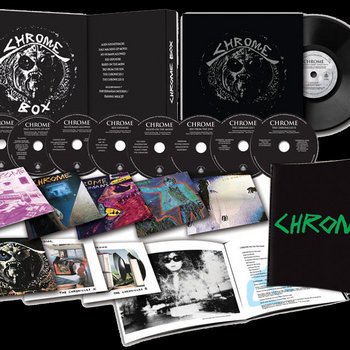 Yet, despite the fact that Edge and Creed's final works were some of their best, it would be the last time that they would ever record together and the end of the "classic era" of Chrome. Shortly thereafter, Edge and Fabienne Shine moved to Europe. Creed says, "Damon wanted to live in Europe, and I couldn't live in Europe. I had to live here because I had a family, and the longer he was over there, the more we drifted apart."
Not long after that, the "Chrome Universe" fractured into several pieces. Creed says, "I figured the band is half mine, and next thing I know, he put out Chrome records, without me, and they said 'featuring Damon Edge,' which had my songs on them, and some of his which totally ripped me off! I flipped out, and that's where the drugs for Damon really came into play."
Reflecting on Chrome's classic era, Hazelmeyer says, "I think with Chrome, it was basically one of those groundbreaking bands, and they stood out in a time when there was a fuckton of groundbreaking bands. It was dirty and greasy, but on top of it were layers of abstract sounds and ideas. It was one of those moments where I said, 'I can't make sense of this. It's so new. it's so bizarre!' I don't think anyone bent those angles like Chrome did."
Through the '80s and first half of the '90s, Edge would release records as both "Chrome" and "Damon Edge," with the distinctions in names being somewhat arbitrary. Meanwhile, Creed would sign with Hazelmeyer's Amphetamine Reptile Records and release several well-received solo records. Sadly, in 1995, Edge was found dead in his Redondo Beach apartment. He had succumbed to the effects of numerous substances after a period of isolation; it is estimated that he had been dead for about a month before anyone found him. After that, Creed reassumed the Chrome name and continues to release records under the moniker today.
"Chrome was something that Damon and I tapped into that was not controlled by either of us," Creed says. "Yet, we both became a part of it, and it became a part of us, and we are connected forever. I miss Damon. I wish he could have made it through all of the things that he was going through. To me, it's a very spiritual trip. It's a very special thing. It's a very cosmic thing, and that's why I want to keep doing what I can do until I can't do it anymore."