LISTS
A Guide to Bergsonist's Sprawling, Intuition-Driven Electronic Music
By Andra Nikolayi · November 04, 2020
With over 50 releases in two years' time, prolific might be too small a word for Bergsonist's output. The alter-ego of Moroccan-born, New York-based artist Selwa Abd, Bergsonist is a genderless persona she created for her musical endeavors. The name is a direct reference to the French philosopher Henry Bergson's writing, particularly the concept of favoring intuition over rational thought later reimagined by Gilles Deleuze in his 1966 book Le bergsonisme. "The idea Deleuze is defending is that just that intuition is the best method to legitimate any creative act," she says in a Resident Advisor feature, this foundational ethos working as the conceptual framework for her entire discography.
Working with a sparse analog setup built around the Korg ER-1 drum machine, Abd prefers this tactile, direct approach, which fits nicely into the improvisational Bergsonist narrative. "I like to not overthink when I compose, music is meant to be shared, not fetishized or made to be seen as complicated," she says. "I see making music as a functional activity, like eating oatmeal for breakfast." Her selection process is equally organic, trusting her gut in selecting the pieces she puts out: "If the music is strong in my ears, I release it. If I have nothing to say, I won't release anything."
Despite living in New York for over a decade, Abd is still very much connected to her roots. "I think Morocco is part of my blood, the way I sense rhythms is rooted in my childhood self," she says. "Growing up, in family gatherings, music was always there, whether it's chaabi music, Gnawa, or pop music." The music of her youth often translates into her own sound, as she mentions Moroccan musicians such as Master Musicians of Jajouka and Mahmoud Guinia among her influences. She also mentions liking the sound of contemporary artists as well, like Casa Voyager's Driss Bennis and Kosh.
Over the years, her sound has moved from a more structured compositional techno tailored to traditional club standards to freeform, squishy electronic experimentation that draws from field recordings, poetry, and ghostly '80s synth pop and constantly evolving into new forms. "I love diversity and feeling free," she says. "I hate when people see me as just one genre artist or see me as the Arab that will orientalize their party." She's also gone from putting out EPs on vinyl on labels such as Where to Now? and Styles Upon Styles to her current all-digital, self-releasing regimen. With the dizzying pace of her releases (over 20 just this year), Abd has completely circumvented the whole industry process of putting out music by placing herself outside the PR/release schedule cycle, both conceptually and politically. The choice of attaching as little information as possible to each product can be read as a response to the hyper-intellectual, overly verbose artist statement model, as well. She's more interested in creating alternative systems of interdependence and mutual aid such as her Pick Up the Flow resource-sharing initiative with Stephen Decker, her blog-turned label and promotional platform Bizaarbazaar, or her 3afak collective with DJ Sanna.
Her self-released catalog can be divided into two conceptual periods: the Arab Alphabet cycle and the Color Code cycle. The first was triggered by the looming threat of SoundCloud shutting down in 2017, resulting in Abd archiving all her material on Bandcamp, using a letter from the Arab Alphabet as her indexing system. "I like to work with concepts in mind and since I'm a visual person, I was so excited to experiment with design for the covers," she says. This year, she pushed the concept even further, starting a series identified by placing the Bergsonist logo over various colors and using the color code of the shade for each title. "I realized that music with too much thinking, ornaments around it would lose its core function; so I decided to stop the alphabet experiment and only release the albums with minimal linguistic elements."
Diving into the Bergsonist catalog might seem like a challenge, but Abd invites the listener to join in on her intuitive, improvisational approach and allow an element of chance to guide their experience, rather than try to be a completist or seek some sort of hierarchy: "I think my releases are like vlogs, they work as sonic capsules documenting myself in a given moment," she says. Here are a few of our favorites.
The Arab Alphabet
Among the later releases from the Arab Alphabet series, ظ is mainly a work of sampling and recontextualization, gleefully flipping Western expectations of Middle Eastern music.  "المغرب" turns a familiar-sounding sample of Arab music into a thumping club tool backed by a hefty kick drum and threatening, noisy synths. Abd reverses this process over the next couple of tracks by transforming two Western tracks into decolonial hybrids: "مغني (edit)," in which an unidentified pitched-down and heavily processed R&B track takes center stage, and the highlight of the EP, "انتظر الليلة (edit)," a flip (with tablas!) on Jennifer Lopez's "Waiting For Tonight," a turn-of-the-millennium earworm. Final tracks "If you know BR is shit, why do you play it?" and "Only Trusting Music Publications With Musicians As Writers" are two slithering deconstructed techno meditations, performing the same accountability function as institutional critique does in contemporary art, à la Guerilla Girls.
Abd's use of loops, simple word associations, and melodies can often create unexpectedly catchy results, like "Virtualite," which sounds a bit like a lost '80s French synth pop anthem Dark Entries could have reissued. "130 BPM Industry" couples Abd's charmingly out of tune vocals with a rapid, all-engulfing darkwave beat, reminiscent of audio sculptress AGF's strain of techno poetry. "All the songs with the vocals are some sort of new experiments I've been taking since the release of Middle Ouest on Optimo Music," she says. "I like the voice as it's the most primitive machine and the most unique sound each of us have. In that sense [it's] the most democratic instrument!" "BioTerrorism" delves into more abstract territory, with a sluggish breakbeat shrouded in reverb and delay, while "12 years to fix the planet" features a distorted EBM beat with sinewy keys and acid flourishes.
This 2018 release is a good example of the early Bergsonist sound—a mix of dark, dubbed-out techno with pensive atmospheres and an acid bent, perfectly illustrated on the noisy mid-tempo "Instagram Culture." "Deadly Police Shooting Sparks Anger in Crown Heights" could be a misplaced Balearic track if it weren't for its title. "Le Maroc Un Monde A Part" plays with glitch IDM tropes and electro elements. "Chaotic Politics" is breakneck-paced acid-tinged techno, and closer "Protect The Human Rights Of Palestinian Children" weaves a distorted, sluggish beat together with spaced-out synths and ferocious, echoing drums.
The Color Code Cycle
"I don't like language. I find language colonizing and elitist sometimes," Abd says. That's why she decided to adopt this bare-bones approach to her releases, titling them by the color of their monochromatic covers.  While this approach may be confusing at first, it encourages the listener to trust their ears first and foremost, rather than searching for an interpretation in PR materials. However, she still preserves her tradition of suggestive titles and makes clear, deliberate thematic choices with each color, making the listening experience also an imaginative effort. Tracks are as diverse as ever. "FUTURIZATION" is a mashed gabber melodic conundrum, "INDULGE" is a concise techno workout built around an organic sample, and "LOGARITHMIC GROWTH" is an unfolding piece of heavily rhythmic field recording.
#7dabff features a wide array of electronic explorations, ranging from abstract beats to ambient, with vocal and rhythmic experiments in between. "DREAMING" is a percussive track with drunken-sounding kick drums and expansive tabla samples. "NEED" uses Cocteau Twins-esque vocal murmurs to build out a sort of dystopian lullaby, and "STOP" is a progressive minimalist improvisation around the vocal loop of its title, also featuring panned-out percussive elements and a chant-like drum beat. Final track "IGNORE" is the slo-mo, hidden dembow surprise.
Other Releases
Sublime Language of My Century finds Bergsonist working with fellow NYC artist DeForrest Brown Jr. aka Speaker Music, a like-minded journalist, theoretician, and sound artist with a strong anticapitalist and decolonial voice. Using digital culture theorist McKenzie Wark's book Capital Is Dead as their framework, the album was recorded as a live improvisation session, fitting for both musicians' practices. "Sublime Language" alternates various sparse electronic elements and rhythmic phrases, punctuated by vocal contributions from both artists. Abd plays around with words like "pacifist," "humanitarian," and "capital" in French over pulsating synths and an echoing drum. "My Century" is the more rhythmic improvisation, using the occasional pitched-down vocals alongside aggressive electronic samples and disjointed drums, eventually dissolving into pure chaos.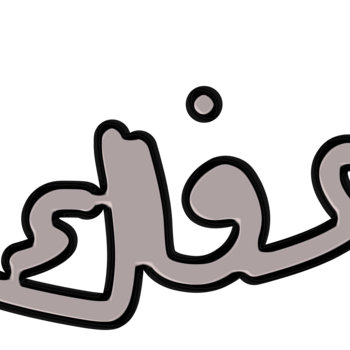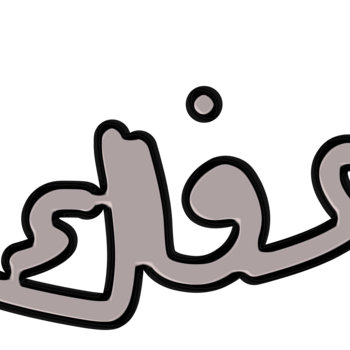 "With all the fucked up things we see in society, nurturing community and this sense of mutual aid is the most radical and forward-thinking act," Abd says. In response to the COVID-19 pandemic, she decided to garner the force of the 3afk collective she started with DJ Sanna to put together a mutual aid compilation, with all profits going to the musicians and The Okra Project. The compilation is a beautiful snapshot of the current underground electronic music community in New York City, offering a strong selection from both the rhythmic and the meditative side of the dancefloor. Opening with the melancholic "Give My Love to New York," a slow-burning love letter to the city featuring heavy sirens and Sadaf's soft, smoky vocals over strings and field recordings, it quickly shifts gears with a punchy percussive hybrid from Maral before reaching Bookworms' schizoid acid twister "CPT Symmetric Universe." Kush Jones' hypnotic "Folding Glass" and Boston Chery's ghost reggaeton flip of Rihanna's "Work" also stand out in this overall excellent selection.
"Greg is like my mentor [and] best friend. I love to collaborate with him whether in music or video," Abd says of her husband, artist, and musician Greg Zicak. "When we jam it's always chaotic, because he has his own way of making music and I have my je m'en foutiste intuitive approach, but as two opposed forces we make it work." Carroll St., simply titled after the studio they recorded it in, is her favorite among their collaborative efforts. There's certainly more of a structured, melodic approach here in contrast to her more freeform solo releases, but her signature kaleidoscopic acid sound is still present. "Generation" frames her whispered vocal incantations with pulsating, shapeshifting beats and a damp kick drum over dark '80s atmospheres. "Selgregtro" veers into claustrophobic EBM territory, and "SH911" is an expansive, distorted acid anthem.
"My album Middle Ouest is a study/self reflection of my connection to Morocco," Abd says. "People always think of any Arab music as being Oriental or coming from the Middle East. It's sad, there's lots of prejudices that need to be constantly denounced so that people don't fall into ignorance trusting ignorant statements. In Morocco as other countries in Africa, lots of musicians make music without being caricatural [or] using [an] 'Oriental sounds to please the Ouest' expectation. I think a background roots your identity, but then the challenge is to assert your own vision detached from what the general public wants to hear." This kind of exploration is evident in tracks like the convoluted "Amazon Snake Charming," constructed around the tabla as complimented by astral synths, and "Don't Have Babies, Global Warming Will Kill Them," which uses a dark, oversized kick drum and traditional Moroccan elements. The wonky acid "L'algorithme" is perhaps her first experiment with the improvisational vocal patterns she would continue to explore all through 2020.