LISTS
A Tom Waits Listening Primer
By Jonathan Bernstein · March 26, 2018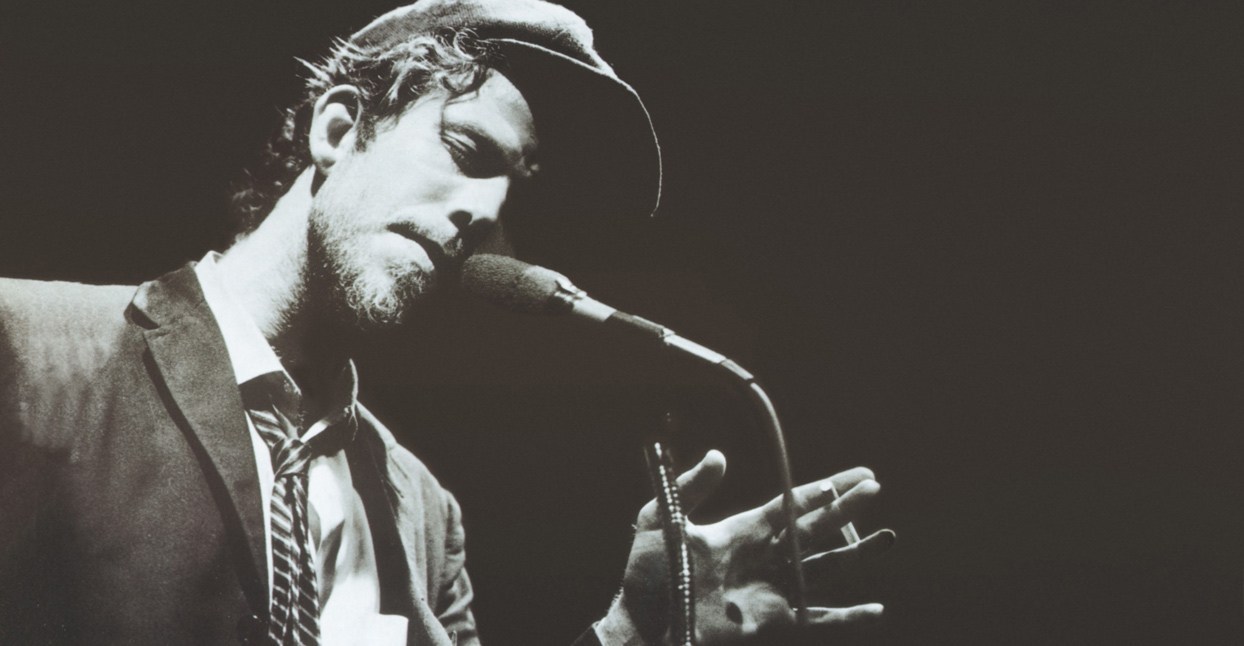 "The songs are coming all the time," Tom Waits said in 1999, more than 25 years after he first debuted with 1973's singer-songwriter classic Closing Time. "Just because you didn't go fishing today doesn't mean there aren't any fish out there."
Throughout his 45-year recording career, Tom Waits has amassed one of the most enduring songbooks in American popular music. Waits, 68, is the rare songwriter whose body of work includes both an entire collection of songs that are distinctly and uniquely his ("The Piano Has Been Drinking," "Bad As Me") and a whole collection of ballads that have become modern standards ("Picture in a Frame," "Ol' 55").
Waits's longtime songwriting partner is Kathleen Brennan, who helped expose Waits to more experimental sounds and styles and has co-written nearly every song Waits has composed since the couple met in 1980.
"One person holds the nail, the other swings the hammer," Waits once said of his creative partnership with Brennan. "We collaborate on everything, really. She writes more from her dreams and I wrote more from the world….Over the years she's exposed me to a lot of music. She doesn't like the limelight, but she's an incandescent presence on all songs we work on together."
After recording seven albums with the major label imprint Asylum, Waits spent the following decade with Island Records before eventually signing with the noted indie Anti- in 1999, where he remains to this day. Earlier this month, Anti- reissued the seven albums that comprise Waits's '70s Asylum Records catalog, which is now available on Bandcamp in addition to the entirety of his Anti- catalog.
On the surface, Waits's earliest '70s records—polished jazz-leaning singer-songwriter efforts full of late-night balladry—bear little resemblance to his recent left-field blues howling and raspy experimentation. But the entirety of Waits's catalog is ultimately concerned with the same musical and conceptual ideas. His music, almost always some blend of jazz, blues, and folk, has always been out of time—either relentlessly stuck in the past or stubbornly forward-looking. And Waits's primary lyrical concerns, be it the allure of nostalgia, the work of earthly redemption, the crippling effects of booze, or the eternal pull of romantic regret, have too remained constant over the course of his singular body of work.   
Here are 10 of Waits's greatest albums now available on Bandcamp.
"I feel so much older now," Tom Waits sang on "Martha," one of the several heartbreaking highlights of his 1973 debut album. Despite being released when Waits was just 24 years old, the young singer-songwriter takes on the romanticization of nostalgia as his primary main subject matter and emotional vehicle for the batch of country and blues-tinged lounge ballads that comprise his stunning first LP. By the time he released his debut, Waits had already fine-tuned his craftsmanship, cramming his first collection with immediate melodies ("Ol' 55," "Old Shoes (& Picture Postcards)") while firmly establishing his lifelong balancing act between irony and sincerity. "He parodies the lounge music subgenre so perfectly," read Rolling Stone's review of Waits's debut, "that we wonder if he's putting us on or if he's for real."
"I like smog, traffic, kinky people, car trouble, noisy neighbors, crowded bars, and spend most of my time in my car going to the movies," Tom Waits wrote in the press release that accompanied the release of his second album, a bleary-eyed collision of burnout beat poetry and '70s irony that builds on the sounds, styles, and moods he'd introduced just one year earlier. 1974's Heart of Saturday Night gently signals towards the future directions Waits would take in decades to come while still remaining firmly rooted in the much more accessible, melodic folk of his earliest records. Songs like "New Coat of Paint" and "Diamonds on My Windshield" hint at Waits's jazz and lounge influences as well as his more esoteric narrative tendencies, while "San Diego Serenade" and the title track are mid-'70s singer-songwriter classics with tinges of Randy Newman and Jackson Browne.
"Like Allen Ginsberg with a really good, good band," is how longtime Waits producer Bones Howe described Waits's 1975's Nighthawks at the Diner. Recorded live with an ace jazz quartet, Waits's third record was a determined departure from the traditional singer-songwriter templates of his first two records. Instead, Nighthawks introduced listeners to the singular Tom Waits—part vaudeville showman, part experimental eccentric, part raspy bluesman, part stream of conscious modernist—that he'd come to embody for the following four decades. But as much as Waits's banter and live atmosphere proved integral to his signature album, it's the structured craft of songs like "Eggs and Sausage (In a Cadillac with Susan Michelson)" and "Better Off Without a Wife" that make Nighthawks one of Waits's most enduring achievements.
From the opening notes of Tom Waits's his iconic "Tom Traubert's Blues (Four Sheets to the Wind in Copenhagen)," it's clear that Small Change is the album where Waits  fully settled into his role as gravel-voiced chronicler of degenerate desperation. Waits's fourth LP was his most cohesive and probing to date, a mirror into his mid-'70s turmoil. "I'd been traveling quite a bit, living in hotels, eating bad food, drinking a lot—too much," Waits once said of the chaotic period that led to the writing of Small Change, which is populated with alcoholic musings like "The Piano Has Been Drinking (Not Me) (An Evening With Pete King)" and "Bad Liver and a Broken Heart (In Lowell)." "I don't have a drinking problem," Waits sings in the latter midnight piano blues, "'Cept when I can't get a drink."
For what was Tom Waits's best-selling work to date, the famously idiosyncratic songwriter gently expanded his typical blues-jazz palette and embraced, for the first time in his career, rock music. "The subject matter that I was dealing with was caustic enough to require an ensemble that perhaps sounded a little more jagged," Waits said, in the book Tom Waits on Tom Waits: Interviews and Encounters. "I let a drummer use sticks for the first time, instead of brushes." Songs like "Downtown" and "Mr. Siegal" nod towards an accessible, full-band sound, with Waits littering the rest of the album with a pristine set of note-perfect ballads including "Saving All My Love For You" and "Jersey Girl," the latter of which would become an iconic standard for Bruce Springsteen. Waits stopped smoking during the record of his last-ever record with Asylum, and as a result his voice comes closer to resembling the smooth California singer-songwriter vocal delivery of his first two records. "I tried to arrive at some level of personal hygiene," Waits had said. "I thought the record deserved that."
For his first proper album of new material in seven years, Tom Waits returned to his classic formula of merging blues barnstormers, experimental hymns, piano ballads, and gravelly folk offerings. This 16-song collection is one of Waits's most generous later-career offerings, full of gems sure to please every shade of Tom Waits fan. Waits once again employs a masterful dynamism as he alternates between hard-edged electric blues originals like "Cold Water" and "Big in Japan" and down-tempo ballads such as "Hold On," "House Where Nobody Lives," and "Picture in a Frame," the latter a tender ode to lasting love that'd go on to be covered by Rod Stewart, Pearl Jam, and Willie Nelson. "I think it maybe goes back to dances when I was a teenager," Waits told an interviewer when the record was released. "They'd do four or five fast songs and then it was a slow dance…that cycle of music, I think, always stayed with me."
Tom Waits hardly slowed down with his recording output once he turned 50, releasing two albums worth of material in May 2002. Totaling 28 tracks, the originals written for Blood Money and Alice were drawn exclusively from compositions Waits had written for several plays he had been working on with director Robert Wilson in the '90s. "If you're gonna heat up the stove, you might as well make more than one pancake," Waits said of his decision to record each of the two albums concurrently during the summer of 2001. The albums hold up as stand-alone collections: Highlights like "Misery is the River of the World" and "Another Man's Vine" anchor Blood Money, while moving originals such as the title track and "I'm Still Here" set the tone on Alice. Having written the compositions years earlier for the theater stage, Waits was inspired to fully make them his own. "Writing songs for other people is just mortifying," he said in a 2002 interview for Chicago Tribune. "You stand by and watch other people completely butcher them…I figured I could improve upon most of them."
"Some of them you make up, some of them you build like contraptions," Tom Waits said of his songwriting process in 2004 for BBC Radio. "And some of them, you know, just find you." For the first time in his career, Waits completely ditched the piano and touched on a mix of late night crooning ("Green Grass"), bluesman howling ("Make It Rain"), and skeletal doomsday folk ("How's It Gonna End"). Released in the midst of the Iraq War and on the eve of the 2004 election, the songs that came to Waits for Real Gone included some of the most, and only, explicitly political statements of his career. From the haunting six-minute "Day After Tomorrow," the tale of a young soldier stationed overseas and the 10-minute centerpiece "Sins of My Father," a biblical exploration of salvation, Real Gone features some of the darkest, probing originals he'd written in decades.
In 2006, Tom Waits decided to release his first ever collection of outtakes and B-sides collection in the vein of Springsteen's Tracks or Dylan's Biograph. "Songs that fell behind the stove while making dinner" is how Waits described the material, most of which was recorded in the '90s and early '00s.  But unlike those two collections, Orphans: Brawlers, Bawlers & Bastards was structured as a sonically coherent collection of three discrete albums. The first, Brawlers is a thrilling set of rock and blues tracks, while Bawlers is comprised of tear-jerker piano ballads. Bastards serves as the home for Waits's oddball and left-field experimentations. Waits also uses the occasion to pay tribute to a range of influences, covering Daniel Johnston, the Ramones, and Lead Belly throughout. Full of overlooked masterpieces across all three collections like "Bottom of the World," "Long Way Home," and "Altar Boy," Orphans proves to be an essential and exhaustive portrait of the second half of the songwriter's career.
On his most recent studio collection, Tom Waits offers a beautifully ragged assortment of oddball musings ("Satisfied") and delicate meditations on mortality ("Last Leaf"). "Now Mr. Jagger and Mr. Richards," Waits sings on the former, "I will scratch where I've been itching." Indeed, Bad As Me finds Waits delving deeper into his career-long musical and lyrical obsessions as he expounds on broken faith and existential isolation over a mix of burlesque jazz, dirty roots rock, and boozy late-night hymns. With guest appearances from everyone from David Hidalgo to Charlie Musselwhite and even Richards himself, this 2007 Grammy-nominated album made it clear that even as he approached 60, Waits's craftsmanship hadn't slowed down one bit.
-Jonathan Bernstein