LISTS
A Guide to the MF DOOM Discography
By Marcus J. Moore · Illustration by Jo Minor · February 19, 2021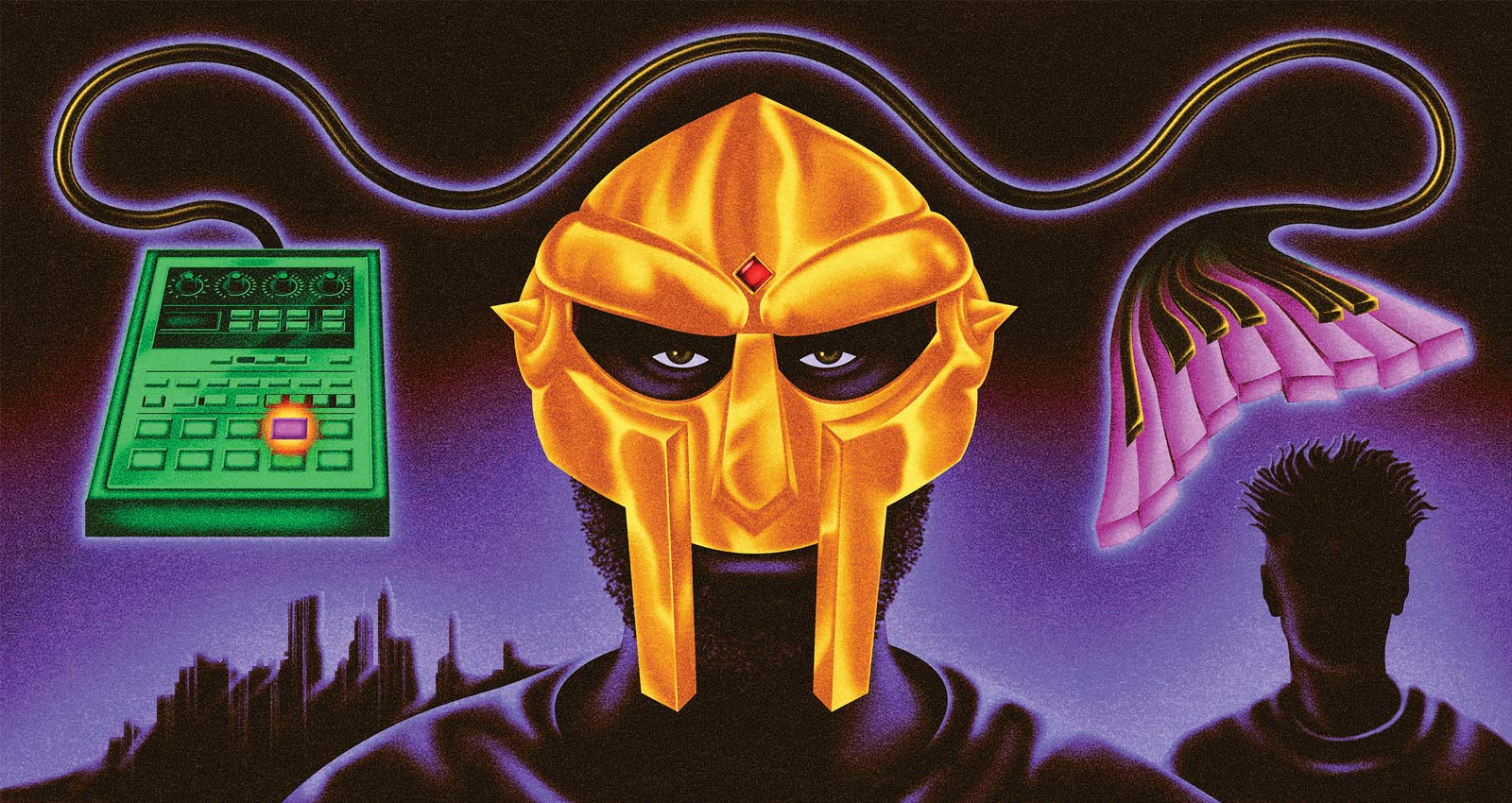 On New Year's Eve of 2020, the supervillain pulled his final trick. It was announced that MF DOOM, the masked British-American rapper whose informal cadence and unusual subject matter made him a fan favorite in alternative hip-hop, had died two months prior, on Halloween. He was 49. The news devastated his fan base; DOOM always seemed like someone who'd be around forever. It also deepened the sense of mystery that had always surrounded him: How could someone of his stature be dead for that long without anyone knowing it?
"I found out when everyone else did, on social media," Madlib, the noted producer and DOOM collaborator, said recently. "His family's very private, so they probably didn't know how to approach that one. I still can't believe that he died." Madlib's comment echoed the way many of us felt upon learning of DOOM's passing; he'd been so elusive, so mysterious, that maybe he was still somewhere in the shadows, plotting a grand return under a shroud of darkness. DOOM was always miles ahead of everyone else—rhythmically, intellectually, and conceptually—could this be part of a bigger vision?
But as the news slowly set in, and fans grappled with the sad reality, the attention began turning to his innovative music. It sparked a kind of rediscovery, even among those who'd followed his work since the beginning. Born Daniel Dumile in London, he moved to Long Island, New York as a child, and started his career in 1988 under the name Zev Love X, as a member of KMD with his brother Dingilizwe, aka DJ Subroc. Just a few years later, Dumile was beset by a pair of tragedies: Dingilizwe was struck by a car and died in 1993, and Elektra Records cancelled KMD's sophomore album, Black Bastards. A bereft Dumile disappeared for three years, reemerging in 1998 without warning at an open-mic night in Manhattan's Nuyorican Poets' Cafe, a stocking cap pulled over his face. He rebranded himself MF DOOM and started wearing a metal mask, like Marvel Comics's villain Doctor Doom; the hardware became his signature look. "The DOOM thing is to be able to come at things with a different point of view," he told music journalist David Ma. "I decided the mask would just add to the mystique of the character, as well as make DOOM stand out. I thought it'd be an easy way for people to see and differentiate between characters, sorta like when an actor gains weight for a role. Throwing on the mask was just a good way to switch it up."
DOOM went on to release a staggering number of vocal and instrumental projects under a variety of pseudonyms: MF DOOM, King Geedorah, Viktor Vaughn, and Metal Fingers. Because each project was vastly different from the other, he struck a chord with a wide spectrum of listeners: backpackers, comic book fans, gangsta rap enthusiasts and the lyrically inclined. His inability to be pinned down made him intriguing; his bold uniqueness made him a legend. In honor of the supervillain's legacy, we present a guide to DOOM's solo and collaborative discography on Bandcamp.
Merch for this release:
Vinyl LP
DOOM's second album—produced, arranged, mixed and mastered by the villain himself—was a conceptual release told from the perspective of King Geedorah, a giant three-headed lizard from outer space. On purpose, the record plays like a psychedelic, weed-fueled journey through the cosmos. But this isn't a peaceful ride like the ones Lonnie Liston Smith or Owen Marshall conduct; it's a winding road full of samples that skitter, beats that slow down and speed up in real time, and nods to old funk and jazz-inflected soul. There wasn't any real structure to it: On certain tracks—namely "Monster Zero" and the title track—DOOM layers the beats with Godzilla movie clips and doesn't rap at all. Conversely, "The Fine Print" is minimal; over a vocal beatbox and regal horn loop, the protagonist pushes his rhymes to the center. As with any DOOM lyric, the topic doesn't matter; it's about what he says and the way he says it.
The official follow-up to 1999's Operation: Doomsday was another conceptual release, this one referencing different types of cuisine. But DOOM isn't just rhyming about beef, beer, and cookies—that would've been too easy—instead, he uses food as a springboard to explore other themes. Taking cues from Boogie Down Productions's 1990 track of a similar name, "Beef Rap" runs down the health risks of too much beef consumption: "I suggest you change your diet, it can lead to high blood pressure if you fry it/ Or even a stroke, heart attack, heart disease/ It ain't no starting back once arteries start to squeeze." The song "Deep Fried Frenz" unpacks different types of companions—ones who only reach out when they want something, others who only come around when they need money, or these: "Some come in the form of codependents, a lotta times only end up bein' co-defendants/ Ten bucks say they'll tell for a lower sentence, and leave you up under the jail beggin' for a penance." Sure, that's an extreme example; but DOOM wasn't wrong.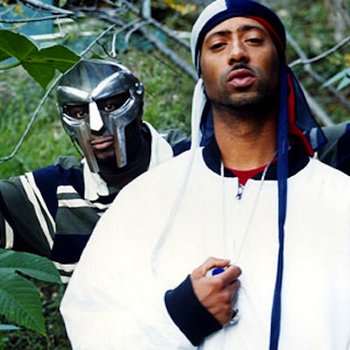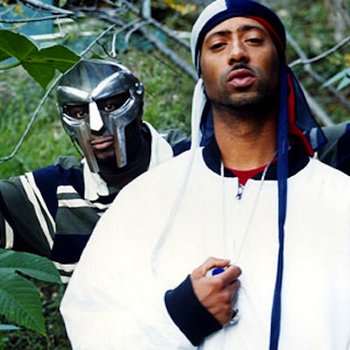 Merch for this release:
2 x Vinyl LP, Cassette, T-Shirt/Apparel, Poster/Print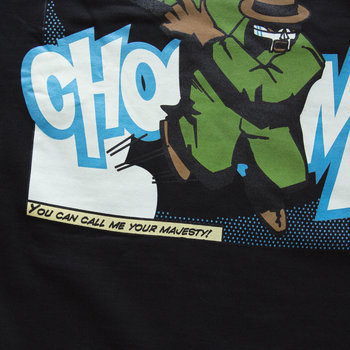 For some people, DOOM's catalog begins and ends with Madvillainy, his 2004 joint album with Madlib. And who could blame them? Both reached creative highs on an LP that's an absolute classic, full of extraordinary beats and unforgettable one-liners. It was also groundbreaking: Where other albums being released at that time felt glossy and buttoned-up, Madvillainy proved you didn't need structure to hit the mark. (A recent album like Yes Lawd!, the collaborative album from Anderson .Paak and Knxwledge, takes cues from Madvillain.) Many of the tracks don't hang on past the one-minute mark. Others are instrumentals, or feature Madlib's rapping alter-ego, Quasimoto. Madvillainy is full of standouts: "Accordion," "Meat Grinder," "Operation Lifesaver AKA Mint Test," "Figaro," "Fancy Clown," "Great Day," and "Rhinestone Cowboy." But it's "All Caps" that might be the album's mission statement. "It's ugly, like 'look at you, it's a damn shame,'" DOOM rapped. "Just remember ALL CAPS when you spell the man name."
Merch for this release:
2 x Vinyl LP, Compact Disc (CD)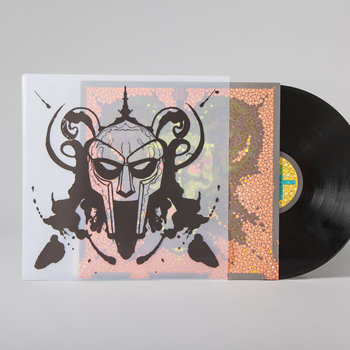 Released in 2005, The Mouse and the Mask was produced entirely by Danger Mouse, who sampled clips from different television shows airing on Cartoon Network's Adult Swim. The LP also arrived at a critical juncture for the producer: just after the second Gorillaz album, Demon Days, which he produced, and just before he formed the alt-pop duo Gnarls Barkley with Goodie Mob vocalist Cee-Lo Green. As for DOOM, he'd achieved cult status following the release of Madvillainy. Because of its generous use of cartoon samples, The Mouse and the Mask was easily the most overtly comedic album in DOOM's catalog. This rankled rap heads who preferred DOOM's deadpan quips without the aid of wise-talking fast food. While it took some getting used-to—"The Mask," featuring Ghostface Killah, ends with a freestyle from one of the animated characters—there is still a certain charm to the album's playful slapstick. The Mouse and the Mask wasn't intended to change lives; it was just a fun project meant for LOL's when the weed kicks in.
Merch for this release:
Compact Disc (CD), 2 x Vinyl LP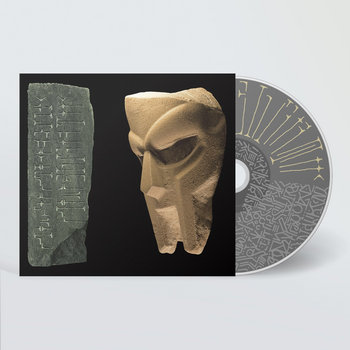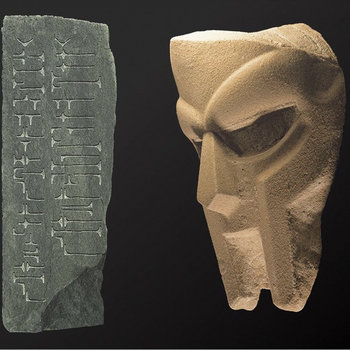 With rhymes from Wu-Tang Clan's Raekwon and Ghostface Killah; De La Soul's Posdnous; Prince Paul; and Freddie Foxxx; and a poem by Charles Bukowski, along with beats by Madlib, J Dilla, and DOOM himself, Born Like This might be DOOM's most commercial album ever. It was his last solo LP, even though he was still active in subsequent years on a number of collaborative LPs, guest verses, and production duties. DOOM had disappeared again shortly after the release of The Mouse and the Mask, slowing his output and more or less falling off the grid. Imposters were sent to perform in his place, and there was a rumored Ghostface collab album. But by all accounts, it seemed DOOM was done with music. Despite all that, on Born Like This, with lyrics referencing hock spit, hardcore porn, and microwave mayonnaise, he sounded rejuvenated—as flippant as ever.
Merch for this release:
Cassette, Vinyl Box Set, Compact Disc (CD), 2 x Vinyl LP, Vinyl LP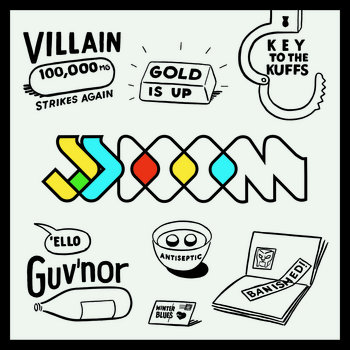 In 2010, after completing a European tour, DOOM was denied entry to the United States and forced to return to his native UK, where he hadn't lived since he was a young child. (He'd never attained U.S. citizenship after moving to New York.) By this point, DOOM had a life in the States, which included a wife and children. He wasn't able to see them during his exile, aside from their occasional short visits to the UK. While others may have sunk into melancholy, DOOM channeled his frustration into this joint album with producer Jneiro Jarel. "I spent 35 years growing up in the U.S., and it had its ups and downs," he told The Guardian, "but this is a new place for me. I have no friends here apart from the dudes at my record label, and I didn't go to school with no one. Nobody knows me—I'm incognito." Even though desperate moments arise on "Winter Blues," where he longs for human interaction, Key to the Kuffs found DOOM making the best of a bad situation.
Merch for this release:
Vinyl LP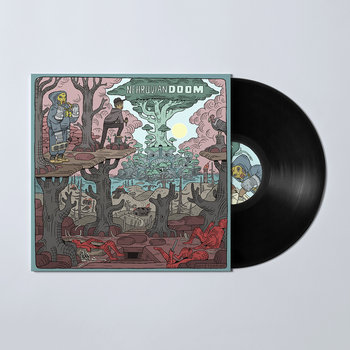 DOOM met the young, upstart rapper Bishop Nehru at the 100 Club jazz venue in London. It was April 2013, three years into the supervillain's forced exile in London. The two convened before a show they were both slated to play; they became fast friends and decided to work on music together. Shortly after the gig, DOOM sent Nehru folders of beats. The resulting LP, NehruvianDOOM, is a laid-back collection of '90s-leaning beats and easygoing rhymes. In that way, it doesn't resemble a DOOM album at all: There aren't any oddball references or NSFW song titles. According to its Bandcamp page, the original album caught flack for being too short—32 minutes, which constitutes a long player these days. So in 2019, DOOM re-released the album…as an even-shorter version without some of the skits. The villain was always in control.