LISTS
A Comprehensive Guide to the Arthur Russell Catalogue
By Daniel Dylan Wray · October 23, 2017
When Arthur Russell passed away 25 years ago—prematurely at the age of 40, due to AIDS-related illness—he left over 1,000 tapes in his archive. These tapes were filled with hundreds of hours of music, much of it unheard, unreleased, and often unfinished. For many artists, this may lead to a single posthumous release of half-baked ideas, underwhelming productions and junky demos—maybe a few odd gems. For Arthur Russell, it's led to over a decade's worth of releases that have continued to redefine his status as an artist of remarkably singular vision, spanning and shaping sounds as far afield as disco, minimalism, avant-garde, new wave, and folk-pop.
Few artists have managed to co-exist in musical worlds as seemingly antithetical to one another as Russell did. While experimenting with tape manipulations, warbled echoes, and cello playing—overlaid with vocals that simultaneously sound like the most intimate whisper and far-away cry—he was also writing minimalist compositions, funky disco, and glistening new wave. He was an artist that managed to create music for both the club and the concert hall, often at the same time or even within the same piece. For Russell, minimalism wasn't something to be confined to one style or tone; through his music he sought to expand it, both conceptually and sonically.
When he ran the avant-garde New York performance space, The Kitchen, between 1974-75, he booked upcoming bands of the time such as The Modern Lovers and Talking Heads, interested by their own take on minimalism that pushed beyond the constraints of conventional composition and moved into pop, art-rock, and proto-punk. Russell almost joined Talking Heads as a member, and did contribute a wild and enthralling cello performance on an early recording of the band's "Psycho Killer."
On top of writing and performing under his own name, Russell was in groups such as The Flying Hearts and The Necessaries. He then landed under the moniker of Dinosaur, a collaborative project—featuring Talking Heads' David Byrne on guitar—that would release the disco stomper "Kiss Me Again" in 1978. Russell then formed Loose Joints with Steve D'Aquisto, releasing tracks such as "Is It All Over My Face," which got the Larry Levan remix treatment and became a hit at the Paradise Garage, cementing its place in the canon of the early dance underground. Then Russell added an "L" onto his old moniker and, under Dinosaur L, put out funky, experimental disco tracks like "Go Bang." As a solo artist, he would go on to create countless idiosyncratic and unfathomably inventive pieces of music, all unique and progressive, yet also always unmistakably his own.
This is a guide to the work of that one man and the music he created under his own name.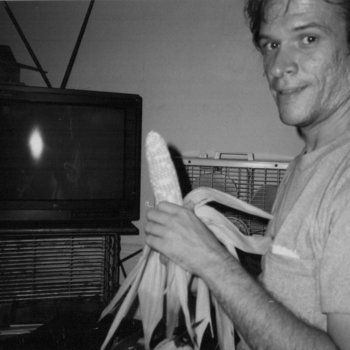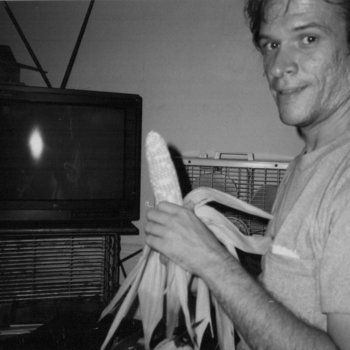 Merch for this release:
2 x Vinyl LP
This release features recordings that predate both Russell's disco experimentations and the echo-laden cello sounds he has become commonly associated with. By 1974, Russell had studied Indian classical composition, Western orchestral music, and enrolled at the Manhattan School of Music, before leaving due to a clash of styles and approaches with the degree instructor.
The first section of this release features 10 parts known as "Volume 1" of Russell's instrumentals, which were composed in 1974 and influenced by the photography of Russell's Buddhist teacher. They were then performed and recorded live with a host of other players and composers Russell would go on to work with more often, such as Peter Gordon, Rhys Chatham, Ernie Brooks, and Peter Zummo. The compositions show that Russell's desire to cross-pollinate the worlds of classical and pop music were apparent from an early period, as the music weaves between looping and hypnotic (bordering on psychedelic) explorations with intricate arrangements to playful melodies that flow like a tide gently lapping against a sun-drenched beach.
"Volume 2" is another batch of Russell's compositions included here, as conducted by Julius Eastman and performed by the CETA Orchestra. Eastman would also later conduct Russell's Tower of Meaning.
Arthur Russell and the Flying Hearts ft. Allen Ginsberg, Ballad of the Lights 
Before landing in New York, Russell studied in San Francisco where he met beat poet Allen Ginsberg. They became friends, sharing a love of poetry, music, and Buddhism. Russell would provide musical accompaniment for some of Ginsberg's poetry readings. In 1977, they recorded some of their works together with Russell's then-band, the Flying Hearts.
Russell's cello stirs quietly in the background, moving through the recording like a quiet wind. Ginsberg's spoken word rumbles atop as Russell's vocals then glide in and float above his. The piece starts as a slightly avant-garde take on traditional folk, but as it unfolds and more instrumentation comes in, the droning cello disappears and the song transitions into country-tinged folk-pop, a style Russell would return to and is perhaps best captured on Love Is Overtaking Me.
Merch for this release:
Compact Disc (CD), Vinyl LP
Corn was supposed to be released in 1985, but the label rejected it; Russell moved on. Some of its tracks would later end up on the 2004 compilation album, Calling Out of Context (12 then-unreleased tracks recorded between 1985-90), but this release includes previously unheard versions of the songs recorded between 1982-83. It finds Russell in a period of transition, still experimenting with head-spinning dance music, whilst also slowing things down and finding space to allow his own voice and cello to drift through. The release captures many of Russell's songs in their earliest incarnations, such as the wonky disco of "See My Brother, He's Jumping Out," which would become the beloved "Let's Go Swimming," and a more rugged draft of the exceptionally original "This is How We Walk On The Moon."
Merch for this release:
2 x Vinyl LP, Compact Disc (CD)
World of Echo was released in 1986 and was the only full, proper solo album that Russell released in his lifetime. It's a work of infinitely staggering beauty, a record in which Russell and his cello seem to melt into one, releasing their voices, quite literally, into a world of echo. There's a stark intimacy to the recording that makes it feel precious, almost worryingly delicate to listen to, yet there's also a hugeness to it—as if you were listening to Russell playing his cello alone in a gigantic warehouse. It's intimate and warm, but also powerful, and endlessly revelatory.
Merch for this release:
Compact Disc (CD), Vinyl LP
The fact that Russell was creating and releasing this sort of music at exactly the same time he was making World of Echo (and countless other pieces varying in style) really is testament to the scope of his vision and abilities around this period. Let's Go Swimming is probably the closest to a straight-up dance record that Russell released under his own name, loosely tying into the disco-funk of his previous work with Dinosaur and Loose Joints. This release features Russell's own dub disco mixes of the tracks, as well as the legendary producer Walter Gibbons's mix, and an 11-minute previously unreleased number "Make 1, 2," which is an almost lysergic, keys-heavy, constantly-unraveling track that keeps a steady, plodding groove, allowing the instrumentation to dance and flutter. 
Merch for this release:
Compact Disc (CD)
Originally released as a posthumous companion piece to Calling Out Of Context, this release focuses around a single track, "Springfield," that was one of Russell's later compositions in life. This is Russell's take on avant-house music. Its sputtering beats are restless yet fluid under waves of cello and Russell's ever-calming vocals, creating a wildly fluctuating and innovative piece in both tone and pace. It was meant to be completed with a producer, but that never materialized, ending up as just another tape in the archive. Given a proper release, James Murphy's DFA label offers their edited and completed version, included here.    
Merch for this release:
Compact Disc (CD), 2 x Vinyl LP
Perhaps the most expansive of the posthumous Arthur Russell releases, not just in that it spans 21 tracks, but that it also covers nearly as many years. This release filters Russell's more pop, folk, and country-leaning moments into one coherent vision. Recorded between the early 1970s and all the way up to 1991 shortly before his death, it captures Russell from home-recorded demos to John Hammond-produced sessions. It also includes cuts from his Flying Hearts band and also some collaborative side-projects he did under names such as Bright & Early and Turbo Sporty. Love Is Overtaking Me paints Russell as an artist who could do Nick Drake-esque sparse folk with the same seamless breeziness as he could do razor-sharp new wave or wonky pop lullabies.
—Daniel Dylan Wray