LIFETIME ACHIEVEMENT
Lifetime Achievement: Sharron Kraus's Mystical Psych-Folk
By Ned Raggett · November 06, 2018
When the American-born, English-raised musician Sharron Kraus was a child, she had a single fantasy: "Wouldn't it be lovely to be a traveling musician?" While she's hardly the only person to entertain dreams about life on the road, in Kraus's case, her fantasy came true. Her ear for elegant, lyrical music that's rooted in folk with a psychedelic edge has led to a nearly 20-year career of touring and country-hopping—with stops in Philadelphia, where she lived for a long period of time, and appearances at the irregular Terrastock gatherings and a variety of folk and underground music festivals throughout Europe. She honed her skill through collaboration, sitting in on folk sessions with other musicians, where the welcoming atmosphere helped to reinforce her confidence.
In 2002 she released Beautiful Twisted on Camera Obscura, a small but highly influential psych and folk label founded by the late Tony Dale. While the album was a confident first step, what followed was key to her growth as a musician.
"Tony hooked me up with [American duo] The Iditarod," Kraus says. "I did a tour with them either that same year or the year after. Being on the road for about a month with them in the U.S. and Canada, I got the bug for playing and connecting with other bands, and being part of that world. At that point, I was thinking, 'I'm not going to take any [regular] work that interferes with this!'"
Collaboration has remained a key part of Kraus's approach. Of the six albums she's chosen to represent her creative career, four of them are collaborations with other artists. She's also appeared on a vast number of compilations, contributing original work to scene-covering collections like John Barleycorn Reborn and Imaginational Anthems Volume 2, and cover songs for tributes to artists like Wire, famed U.K. folk singer Shirley Collins, and the late Songs: Ohia/Magnolia Electric Co. founder Jason Molina.
"Like a lot of people," Kraus says, "I'm a mix of very solitary—loving being in my own room, not being disturbed—and sociable. I wouldn't be able to live in a situation where I couldn't get inside my own head. One of the upsides of playing music is that it's forced me to be more sociable. It brought me into creating in a social setting and, in lots of ways, I think I'm more comfortable in other social situations now. I used to do a lot of hitchhiking, and that was a parallel thing—it threw you into socializing with a random person!"
No tour of Kraus's career would be complete without these six stops.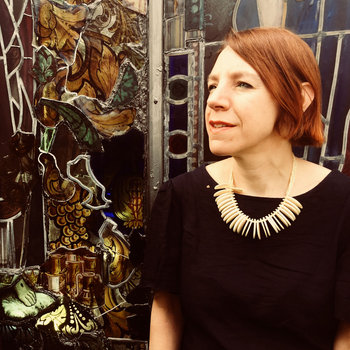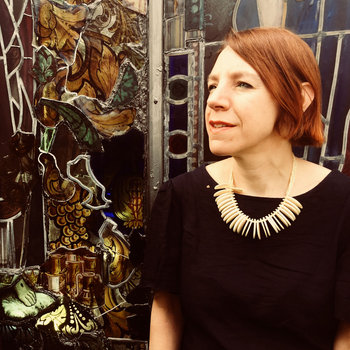 Merch for this release:
Compact Disc (CD)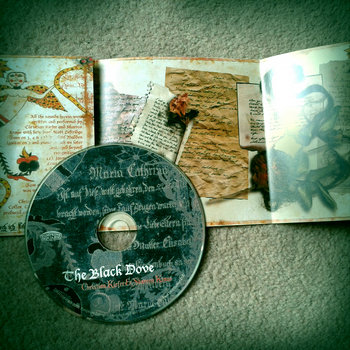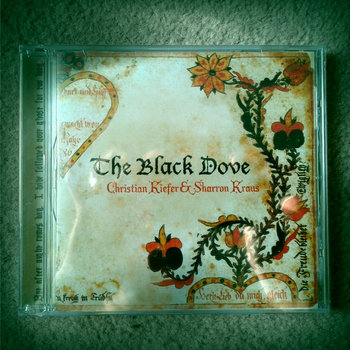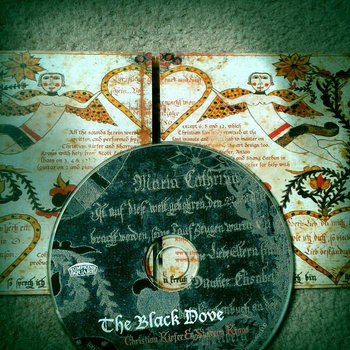 The first of her two full-length collaborations from 2006, this one with American musician Christian Kiefer, The Black Dove makes for an elegant balance between sprightlier, quicker compositions and a slower, reflective approach, all with often rich, rock-leaning arrangements described on the album page as, "love letters between two people, one the pursuer and one the pursued, one flesh and blood, the other a ghost."
"Christian Kiefer and I had been put in touch with one another by a mutual friend, and I liked the idea of collaborating. We wrote the lyrics via email before meeting, then had a frenzied week's worth of playing and recording. He had this basement studio with organs and string instruments, and I had brought with me a clarinet and some whistles. It happened very easily: one of us would sit down at a keyboard, the other would just start adding something over the top. The amount we got done in that time was incredible, and left me with a sense of possibility—what can be achieved in a small stretch of time. There weren't worries that got in the way, it just happened."
Kraus's other 2006 collaboration was a near-complete contrast to the detail and preparation of The Black Dove, with Kraus and two of her local Philadelphia neighbors and fellow musicians, then-Espers members Meg Baird and Helena Espvall, turning a casual meet-up one day to play various traditional pieces together into a full album by the end of the afternoon, recorded only with voices, guitars, cello, and dulcimer, and often performed a cappella.
"The most 'natural' project I've been involved with. Helena, Meg, and I were singing and playing together for fun and ended up recording the songs in one afternoon. I was away from England, looking for local folk sessions and not finding ones that were as good for singing. So for me it was, 'Who wants to do some singing of folk songs together?' We were all talking about Shirley Collins and the Incredible String Band, Pentangle, so that was the context in which that coming together happened. At one point I wanted to go live in Bulgaria or Poland, learn klezmer or gypsy tunes, and had I been living together with people playing those tunes, that's what we would have come together on."
Released in early 2008 under the name Tau Emerald, Travellers Two was a collaborative partnership between Kraus and another then-fellow Philadelphian, Tara Burke, who records and performs under the name Fursaxa. Burke's own well-honed ear for folk with a strange, uneasy twist was a perfect match for Kraus's approach, and the result's a sonically wide-ranging, mysterious listen.
"Recorded with Tara Burke in a week, when the two of us were due to fly to Finland but missed our flight. When I first moved to Philadelphia, everyone—Espers, Tara, Jack Rose, a bunch of other people that I didn't know previously—were living in a row of houses, and other people were nearby. I was immediately thrown into a situation where people were putting on either house concerts or, 'Let's hang out in the backyard and improvise together,' or, 'Let's record something together' situations. Having written or performed songs mostly with banjo or guitar, I was finding myself in a situation where there's a lot of fluidity. Similar to the situation with Christian, that's something that I took to. It excited me, and I really just wanted to leap into it. There's a sense of what Tara's doing that's really strange and wonderful, and rather than being someone who's mysterious and ethereal, she was someone I started going to walks with, talking about plants and gardening."
This solo release by Kraus from 2013, done in response to the rural landscape of mid-Wales, aims for what the album title suggests, with the feeling of slow religious processions in a quiet landscape, layered vocals set against understated instrumentation. Songs like "Rowan" and "Winding Road" practically conjure up a sense of misty hills and figures emerging from a forest.
"An album I wrote in response to a particular landscape and which started me off on making music that responds directly to places, other people's words and images. I'd moved to mid-Wales because of a visit I'd had there. I felt that if there's anywhere where there's music just coming up and out of the land, it was there, and wouldn't it be a wonderful thing to go there and spend enough time to try and listen to that and record it? I'm not talking about something supernatural, but it's just the sort of experiences that call for some kind of response. Whether that response is going to be something that you share with other people or not, it's something that you feel strongly. In my head it was a bit self-indulgent, but the people I shared it with loved it, and then I got some other musicians to add instruments."
Merch for this release:
Compact Disc (CD)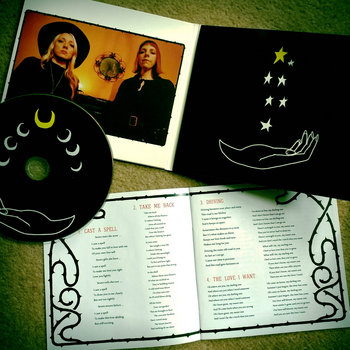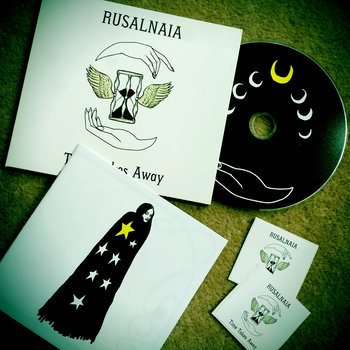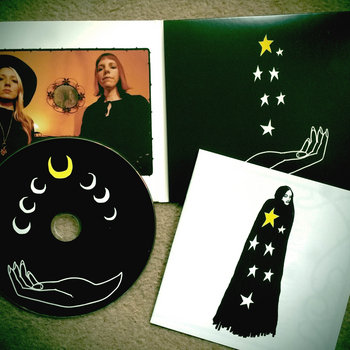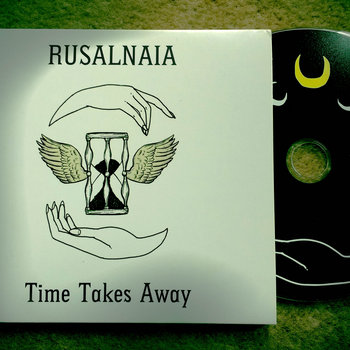 The second of Kraus's two collaborative albums with her next door neighbor in Philadelphia, Gillian Chadwick, under the name Rusalnaia, 2016's Time Takes Away came out nearly a decade after the first, self-titled effort. Time and distance itself is a theme of the album, as the title indicates, with Kraus and Chadwick creating a series of reflective duets with hints of guitar fuzz, murky mysticism, and even a bit of an easygoing hootenanny here and there.
"I'd left Philadelphia and, at some point in the process of recording and releasing the album, Gill had also left Philadelphia temporarily. When we were together, we were reflecting on what had happened with that lovely musical community. We'd come together and fragmented: people had gone, and some of the other things had changed—a lot of the people in that community had stopped making music, settled down, started having kids. Gill and I were talking about how, for us, we had found some kind of creative path, and neither of us was prepared to let go of that. Whether this thing is sustainable financially or difficult or easy, whatever it is, it's what we love doing. We'd gone out on a limb and it'd got to the point where I'm committed to this path now."
Merch for this release:
Compact Disc (CD), Vinyl LP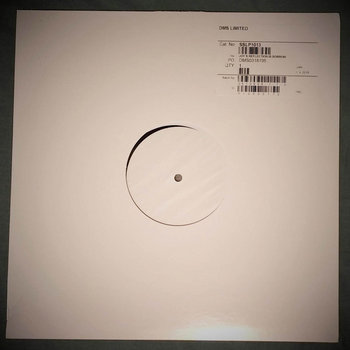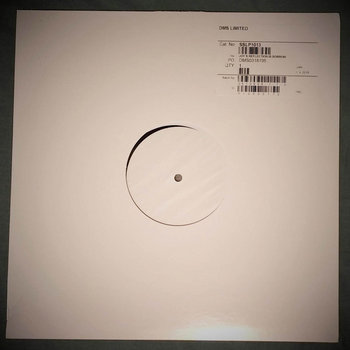 Kraus's most recent album, released earlier this year, is an intriguing fusion of her long-established musical and lyrical interests with a sound that feels much more of the present than past. With full band backing throughout, from bubbling synth murk to easy rhythm section accompaniment, Kraus has a commanding ease on songs like "Figs and Flowers" and the title track among others, even as the songs move further lyrically into a deeper meditation on departures and death.
"Lyrics keep getting redrafted and redrafted before a song is finished. I don't have one technique where it always works; what I always need is a combination. There's free writing, writing a load of junk that then I use one turn of phrase or one image that then can grow. It's almost like scattering a load of seeds, and then one thing will start to take root. Also, going for lots of walks—once I've got the seed of some kind, I'll go for a walk, I'll have my phone set to record, and I'll talk, or get a tune. Even if that's generally what the process is, sometimes there's a specific context that's framing it: my dad died, we had the Brexit vote, then there was Trump getting elected. Given that I don't want my music to be political in a heavy-handed way, these are things that are making me either anxious or scared or upset. They should find their way into my music one way or another."