LIFETIME ACHIEVEMENT
Lifetime Achievement: Joe McPhee's Vast and Brilliant Improvisational Discography
By Marc Masters · August 21, 2018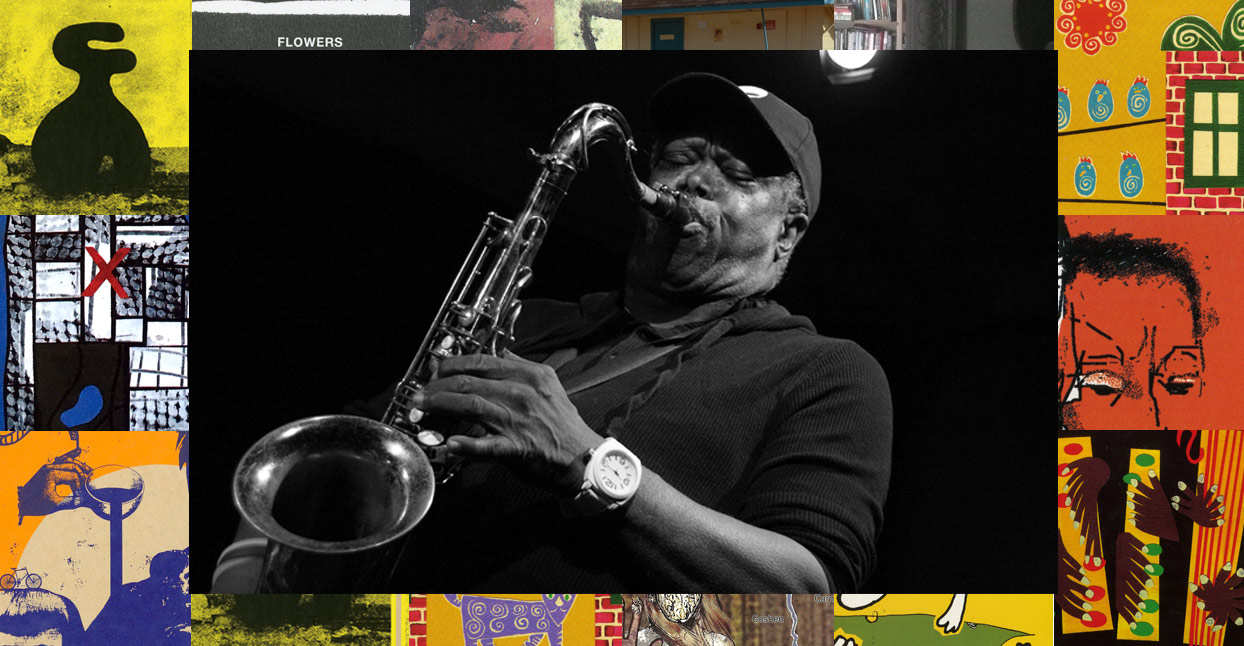 In our Lifetime Achievement series, Bandcamp Daily takes a deep dive into the work of artists with a staggering number of releases to their name.
Joe McPhee has been playing music for more than six decades, but he still has the enthusiasm of someone just getting started. "I like the concept of discovery," he says over the phone from his home in Poughkeepsie, NY. "I'm a romantic. I love music and I love the stories it can tell that quite often don't get heard."
That love goes back to when McPhee was just eight years old, and his trumpet-playing dad taught him how to use the instrument. He stuck with it until his early 30's, when he says he "fell in love with the music of Albert Ayler" and taught himself to play saxophone. Since then, he has carved out a huge, fascinating discography, much of it in collaboration with like-minded artists. "It's always a conversation, it's always a give and take," he says of his musical partnerships. "It comes down to having a close-knit family of friends and knowing each other for a long time."
That family is evident on the 85 releases on McPhee's Bandcamp page, which spans 30 years and includes stalwarts like Evan Parker, Chris Corsano, Peter Brötzmann, and Matthew Shipp. "More often than not, my recordings come from live performances, and then I move on," McPhee admits. "It's difficult for me to listen to things that I do—it takes me a long time to go back to them, and then maybe I find something new I can use moving forward." Still, McPhee was happy to tell us about some of the most interesting records in his Bandcamp catalog.
Joe McPhee, Damon Smith, Alvin Fielder
Six Situations
Recorded in 2016, Six Situations is a prime example of McPhee's ability to make a first-time meeting jell quickly. Though McPhee has known both Smith and Fielder for nearly 20 years, the three had never played together before this concert at Brooklyn performance space Roulette. "We never said anything to each other about the music before playing," recalls McPhee. "And it developed at its own pace." The result includes both short tracks with lots of speed and energy—see the hollering whirlwind "Alternate Diagonals"—and longer pieces in which the trio stretch through a variety of moods.
One of McPhee's longest-term groups was Trio X, who played together for 18 years until bassist Dominic Duval passed away in 2016. "It was a family affair, a love affair really," McPhee says of his work with Duval and drummer Jay Rosen. Nine of the group's releases are available on McPhee's Bandcamp page. The Sugar Hill Suite, recorded at New York's Spirit Room in 2004, is a particularly engaging demonstration of their talents. It has a reverent sense of history, with stirring covers of Duke Ellington's "Drop Me Off in Harlem" and the traditional tune "Sometimes I Feel Like A Motherless Child." "We're continuing on in a sense because Dominic's son, Dom Jr., is a very fine bass player, and I hope we're going to be able to do some things together," McPhee says. "Not to do things the way we had done them before, but new things in Dominic's memory."
On their website, Decoy—the trio of bassist John Edwards, organist Alexander Hawkins, and drummer Steve Noble—list McPhee as a member "on request." In this set recorded live at London's Café Oto in 2011, McPhee fits right in, joining in passages of delicate minimalism and intense crescendos. Three of the album's four tracks last over a half hour, giving the musicians lots of room to explore ideas. But in McPhee's mind, time is just a number. "We play until we get to say whatever it is that we want to say," he says. "There was a book by Ned Rorem called Knowing When to Stop, and I found that sentiment quite interesting. Knowing when to stop is very important."
Deep Listening Band / Joe McPhee Quartet
Unquenchable Fire
McPhee worked with Pauline Oliveros and her Deep Listening Band many times over the years, all sparked by Oliveros inviting him to play at a festival she curated in San Francisco in 1981. But Unquenchable Fire is unique because it presents an intersection of two groups—the Deep Listening Band and McPhee's own quartet—fused by a novel of the same name by science fiction author Rachel Pollack. Pollack herself reads sections from her book in between music that swings from careful sound construction to flurries of improvised activity. "Eventually we performed it at [New York's] Lincoln Center, outdoors," remembers McPhee. "I think it was a great collaboration."
This 2000 studio session features McPhee on sax and trumpet, working with veteran saxophonist Paul Flaherty and trombonist Steve Swell. "I was invited, we met, and we played," McPhee explains. "We didn't talk about it much beforehand; we just let the musical conversation happen." Turtle Crossing's conversation is rich and multi-faceted. Sounds that could easily blur together are instead played with patience and clarity. As with many of McPhee's collaborations, this encounter has spawned further projects. "Now I'm in a trio with Steve called Trombone Insurgency," McPhee says. "He's teaching me how to play trombone."
Recorded in 1996, Legend Street One includes some real jazz legends: drummer Charles Moffett (who played with Ornette Coleman, Eric Dolphy, and Archie Shepp) and tenor saxophonist Frank Lowe (who worked with Sun Ra and Alice Coltrane, and made his own groundbreaking records for labels such as ESP-Disk'). When asked what it's like to play with such important figures, McPhee admits, "Usually I quickly realize how much I don't know." But Legend Street One sees him holding his own in a very equal, sympathetic conversation. "Frank was an amazing person, warm and very generous," McPhee recalls. The group got along so well that they recorded more than an album's worth of material, later releasing the rest as Legend Street Two.
McPhee so favors collaboration that solo releases are rather rare in his discography. Flowers is one of his best, recorded in 2009 at a museum in Portugal. He covers a lot of sonic territory here—dissonance, silence, speed, precision—while never losing sight of the idea that opens each piece. He also again shows his reverence for the past, dedicating each track to a different artistic figure, including Ornette Coleman, Anthony Braxton, and Julius Hemphill. "I often make dedications to people who have been giants on whom shoulders I stand," McPhee says. "I always try to acknowledge those influences and their impact on me."