LIFETIME ACHIEVEMENT
Lifetime Achievement: Dreamcrusher's Harsh and Devastating Experimental Discography
By Marc Masters · October 08, 2018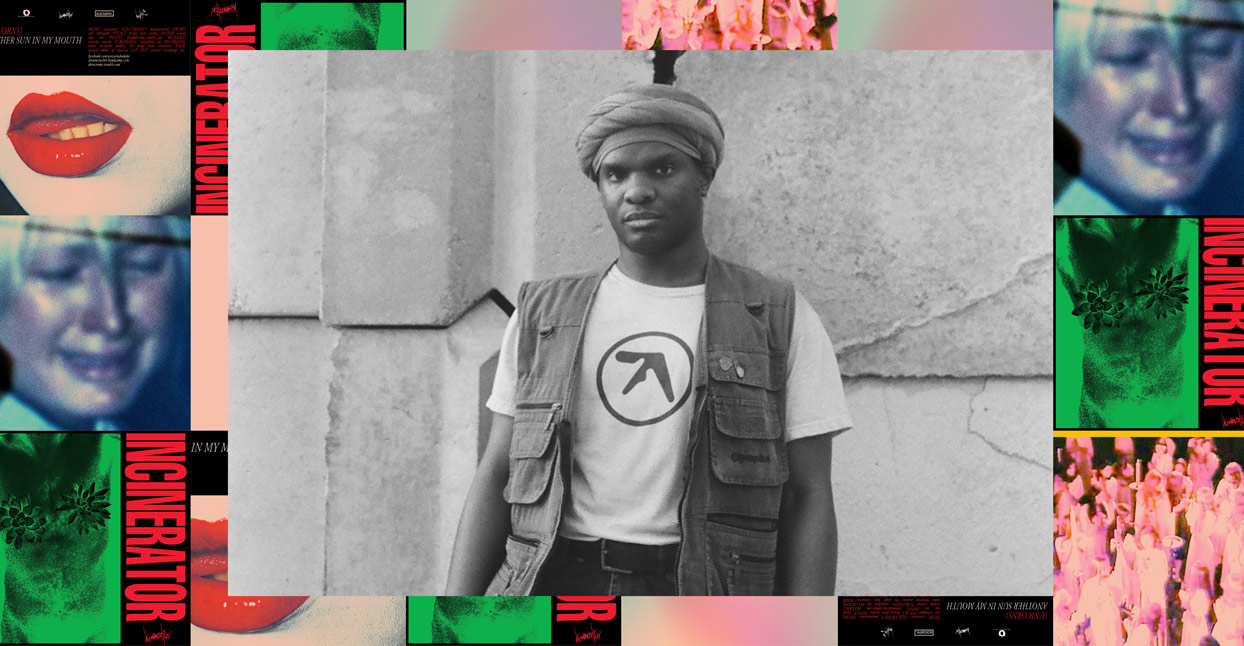 What kind of music does Dreamcrusher make? "I hate the idea that I have to tell people what things are," says Luwayne Glass, the brain (and guts) behind this prolific one-person project. "If I don't tell you what it is, then you'll have to pay attention." Most of the time, Dreamcrusher's vibrant, overloaded mix of abrasive blasts, hammering beats, and dense layers of fiery sound gets tagged as noise. "I guess people put me under that category because it's really loud and fucked up," Glass says. "But you can be loud and fucked up in jazz, in blues, in classical. And all those things all inform what I do, even if people don't see that immediately."
Simply as a human being, Glass defies easy classification. They're a person of color who self-identifies as "genderqueer, non-binary" and calls their work "NIHILIST QUEER REVOLT MUSIK." This gives Dreamcrusher a political edge even though their mostly-instrumental music rarely contains explicit messaging. "It's a political statement in and of itself that I exist," Glass insists. "People can be wishy-washy about their views because they want to appeal to a lot of people without appealing to anybody. I want to make sure that I believe what I'm saying, and that you believe what I'm saying. I think that's more important than anything." But they also have a sense of humor about it: when first asked about politics, Glass relates a plan to get into the pages of Vibe, Jet, and Essence. "I want to hit up every black publication," they say with a cackle, "because it would be so funny to see my crazy faggoty ass next to a picture of, like, Angela Bassett!"
Glass first began making music around age 12, inspired by rare encounters with avant-garde art, such as seeing German industrial-noise outfit Einstürzende Neubauten perform "Headcleaner" on the BBC at 3 a.m. "I was supposed to be asleep," they remember. "And my mom was like, 'What the fuck?'" They were also prodded creatively by the banality of their hometown—Wichita, Kansas. "I felt I had to start making music because I had nothing to do and nowhere to go," they explain. "There's a vibe in the city where if you don't look or act like any of the things that people know about already, then you're immediately an outcast. I remember my mom saying, 'You're kind of damned if you do and damned if you don't, so just be yourself.'"
An early breakthrough came when Glass—who had already dabbled heavily in visual art and computer hacking—taught themself to use audio software to make any sound they could imagine. "Once I learned that I was like, 'Oh, I'm making guitar sounds without using guitars. I'm make drum sounds without using drums,'" they recall. "I started to think in terms of laying out a body of work rather than just making individual songs." Glass moved from Kansas to New York in 2015, but that wide-view approach to building the Dreamcrusher oeuvre has persisted, and they were happy to guide us through some of the highlights of the 33 releases currently available on their Bandcamp page.
.
00:10 / 00:58
Though originally released in 2009, Antipop was recorded a few years earlier, on a momentous occasion. "It was my birthday," Glass says. "And I was like, 'I'm going to make a bunch of fucking music today because I'm 18!'" They recorded 12 songs that day, choosing five for the final album, which includes some of the boldest beats on any Dreamcrusher release. Especially bone-rattling is "Nucleus," which hammers rapid-fire rhythms for 12 minutes as a variety of tones and dissonances dive in and out of Glass's pounding mix.
.
00:10 / 00:58
Every Dreamcrusher release courses with adrenaline, but Suicide Deluxe is especially energy-heavy, filled with hyperactive beats that feel like they've been shot directly into your nerves. The music came from a tumultuous time in Glass's life when "some fucked-up shit [was] going on with my college." Forced to move back home, they started recording incessantly. "I don't think the material itself was directly inspired by all that, necessarily," they say. "I think it just came out of it. My crazy Gemini/Cancer ass decided to let all that shit out into some very loud songs."
.
00:10 / 00:58
Though it's as aggressive as any Dreamcrusher release, the four-song Haine (from the French for "hatred") has an undercurrent of melody. "I was trying to be more musical because my mom hadn't really liked my music," Glass says. "She does like that record, but she will not listen to anything else." They were also inspired by the '80s music they were listening to at the time: Bauhaus, Siouxsie and the Banshees, Psychedelic Furs. One track is actually a take on the Furs' "Sister Europe," though Dreamcrusher's harrowing noise-scape is a far tangent from the original. "I wanted to capture the vibe of it as it translates through what I do, instead of trying to directly interpret it," they say. "That can get fucked up and problematic, and I hate covers anyway."
.
00:10 / 00:58
Slower in tempo and moodier in tone, Katatonia is perhaps the most doom-laden release in the Dreamcrusher discography. It was inspired in part by the funeral of GG Allin, the punk instigator notorious for a stage act that included defecation and self-mutilation. The four tracks on Katatonia—the cover includes a blurred image of Allin taken from one of his earliest albums—are both harrowing and elegiac, capturing the conflicts of a provocative but problematic figure. "It was basically an attempt to make music for a funeral for somebody I don't like," Glass recalls.
.
00:10 / 00:58
When they moved from Kansas a few years ago, Glass began life as a New Yorker by couch surfing. "I think I did 103 shows that year," they say. "I would get kicked out of a place and then I would ask people at the next show, 'Hey, can I stay with you?' There were points where I was sleeping on the train." After cobbling together tracks for Hackers All of Them Hackers, Glass got the chance to record in a proper studio for Quid Pro Quo. "I was able to sit in the room and just do that one thing over the course of a few days, rather than rush through it," they say. "I like it because it feels more dedicated." The result is one of the most cohesive Dreamcrusher releases to date. All four songs bear a deliberate, contemplative aura that's captured well in the video for "Codeine Eyes," in which Glass thrashes around in the woods in slow-motion, both fighting against and surrendering to nature.
.
00:10 / 00:58
Though the sonic range of Self-Similar Cascade is as wide as on any Dreamcrusher release, it's a rarity in Glass's catalog because many of its tracks don't have discernible beats. It comes from a time when they relied a lot on improvisation, and most of their tracks were recorded "live" in the sense that they would grab samples and sources on the fly rather than editing them together over many iterations. "There certain points on each one of those songs where the samples reel back into one another," Glass explains. "[When that first happened] it sounded really fucked up and I thought, 'Ooh, I'm going to keep doing that over and over again!'"
.
00:10 / 00:58
A selection of tracks from across the entire Dreamcrusher career, Rarities (2003-2016) deftly demonstrates how Glass has carved out a recognizable sound without getting stale. That's not quite how they feel about it, though. "I fucking cringe!" Glass says when asked about revisiting older material. But they admit that "some of the early stuff is really interesting, basically because you can tell that a kid made it." It also reminds Glass of the immediacy of their early working process. "I was only using the demo version of a lot of the software, because I didn't have any money," they remember. "So pretty much everything was made in one take because I couldn't save it. It was basically, 'I have to finish it—now!"