LIFETIME ACHIEVEMENT
Lifetime Achievement: A Journey Into Diggs Duke's Lofty Eclectic Soul Catalog
By Jesse Fairfax · September 07, 2018
In our Lifetime Achievement series, Bandcamp Daily takes a deep dive into the work of artists with a staggering number of releases to their name.
Diggs Duke is an enigmatic figure, whose sporadic output and limited social media presence adds another layer of intrigue to his already-mysterious persona. Duke is a mostly self-taught multi-instrumentalist whose work mixes bebop and soul into fluid, shapeshifting art. His voice has a smoky, textured tone, recalling D'Angelo circa '00. He also cares little for traditional release dates, dropping new projects or songs at a moment's notice. As of this feature, Duke has 23 releases on his Bandcamp page; his most recent, Inkhenmet's Journey to the City of Harmony, is a conceptual piece about Egyptian history.
In 2012, Duke's music caught the attention of esteemed tastemaker and Brownswood Recordings label head Gilles Peterson, who included his track "Nine Winning Wives" on the compilation Brownswood Bubblers Nine. A year later, Duke released a full album via Peterson's label, and another EP—The Upper Hand & Other Grand Illusions—in 2014. Fast-forward to this summer, when June's Independent Studies played like a combination of intriguing demos that Duke decided were worth sharing. Elsewhere, 2017's Beyond The Years celebrated notable African-American poet Paul Laurence Dunbar and the rich history of jazz.
Here, we've chosen a number of Duke's most resonant projects as a way to salute the low-key virtuoso.
Though he records concept LPs and uses a variety of monikers, this past June's Independent Studies is the most recent collection of music he released under the name Diggs Duke. "Shepsi's Plea" is an example of Duke's simplicity; a subtle, plucked harp is used to create soothing, meditative arrangements. "Cybermoan" is structured around a steady drum build that eventually gives way to a somber trombone.
Diggs Duke partly designed Beyond The Years as a celebration of Paul Laurence Dunbar, one of the 19th Century's earliest prominent black poets. The title track and "Gettin' Up" put different musical spins on Dunbar's work: the former serves as a perfect intro with its simple piano-driven melody, while the latter recreates the sound of jazz from decades past. Throughout, Duke takes on the role of bandleader and student of musical history, employing perfect drum timing and freewheeling scat singing.
Merch for this release:
Vinyl LP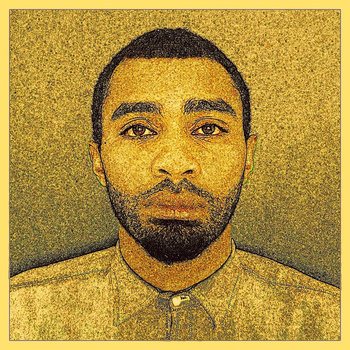 Offering For Anxious sounds like John Legend, if he were more experimental. The opener "Harsh Words With The Oracle" combines modern jazz with rhythmic conga drums, while the brief "Something In My Soul" would fit perfectly on a smooth jazz playlist alongside Sade. That song is just one of many examples where Duke stops just short enough to leave listeners wanting more.
Merch for this release:
Vinyl LP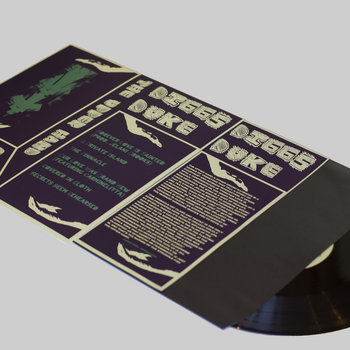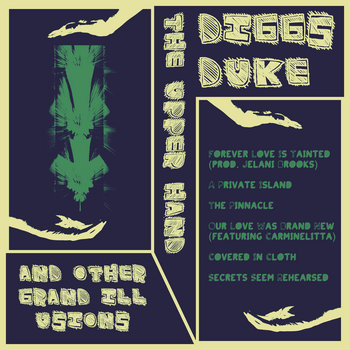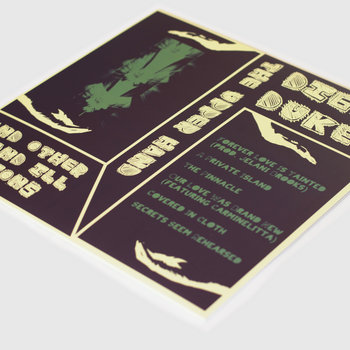 The Upper Hand & Other Grand Illusions fits comfortably in the "neo-soul" category, and is one of Duke's more cohesive projects. Though easier to digest than some of his headier material, the poetically titled EP still finds room for nuanced chord progressions, like the ones on "Forever Love Is Tainted." A progressive step into the adult contemporary world, the upbeat melody of"The Pinnacle Of Class & Taste" is powered by handclaps, and boasts a rousing piano solo that is at once sophisticated and festive.
Armoire is all deconstructed jazz and soul. Sonically, it's mostly spare, but moments like "Ego Eagle" feel sweet and unhindered, as Duke hums a faint melody over slight percussion. "Remember The Dark Sky" is a sophisticated lamentation where, once again, a methodical drum tap takes center stage over Duke's vocals.
Remembrance primarily relies on instrumentation to conjure a wide range of emotions and feelings. Duke's only vocals come by way of background harmonies on "Long Lost," where a vibraphone, plucked guitar, and soft sax notes play in perfect sync. "Love Breeds Love" features one of the most elegant arrangements Diggs has ever released, bringing his jazzy blend of brass, pianos, and drums together for the perfect soundtrack to a romantic rendezvous.
2017's Gravity showcases an artistic potential that would only blossom over time. The title track addresses the ups and downs of the mating game, and the incorporation of live horns, bass, and drums creates an adult contemporary vibe that makes it suitable background music for Sunday chores.
Merch for this release:
Other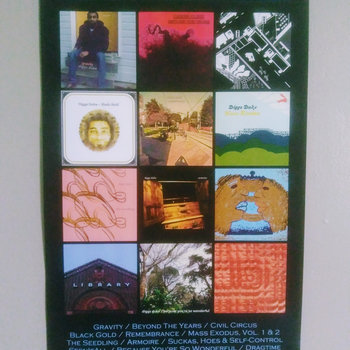 Because You're So Wonderful features Diggs Duke at his most dexterous. While his work doesn't generally cater to jazz novices, the title track centers around a well-arranged keyboard progression that manages to be both sophisticated and straightforward. "We Don't Need Love (But Understanding)" is a rumination on independent art that is delivered in the spirit of traditional gospel, while "Indiana Africana" is an educational tune, showing how centuries of music are interconnected, as conga rhythms clash with chords.