LIFETIME ACHIEVEMENT
Daevid Allen's Absurdist Rock
By John Morrison · February 05, 2020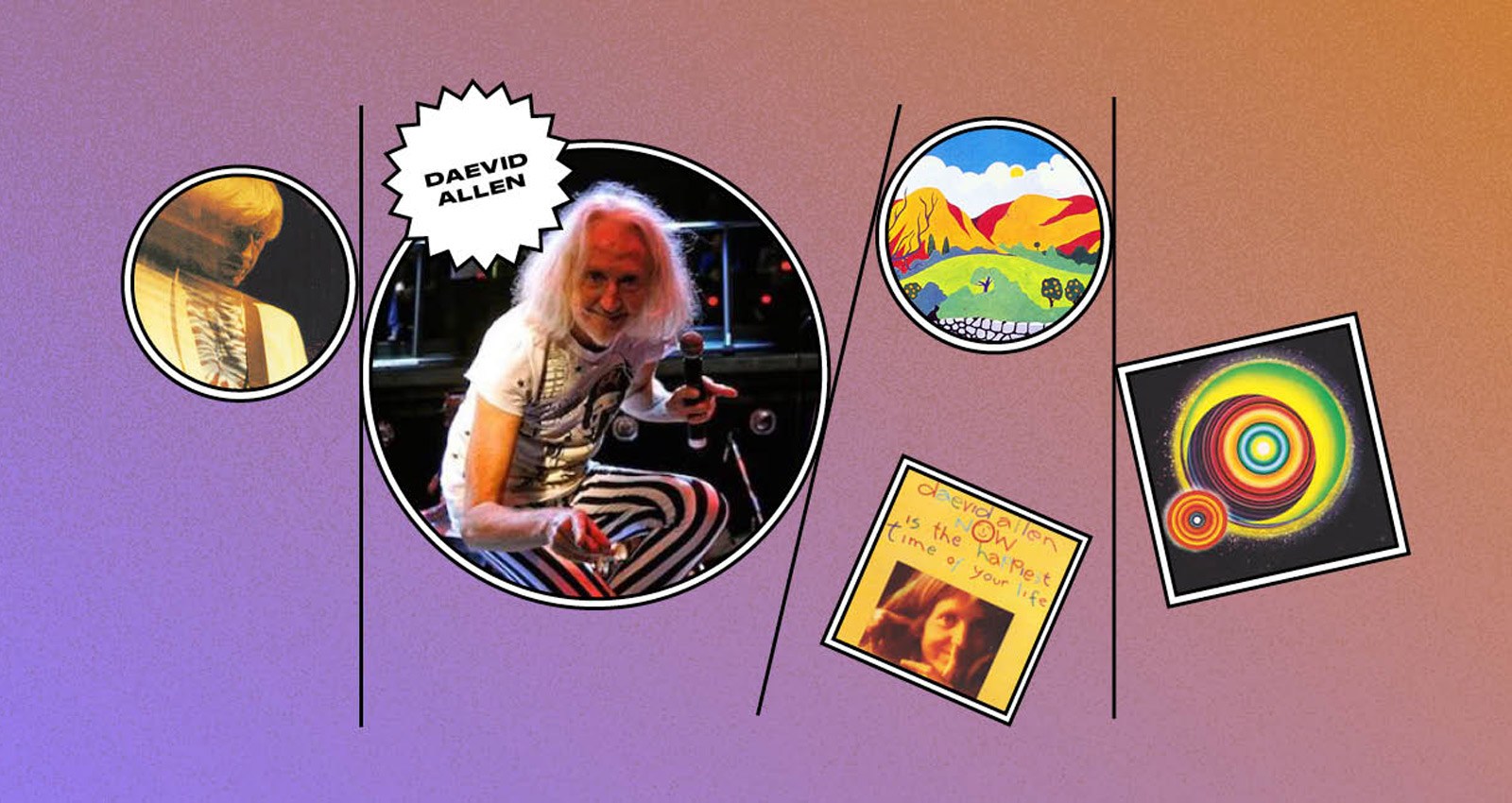 In 1966, the late Australian guitarist Daevid Allen co-founded the jazz-influenced, psych-rock group Soft Machine. As psych rock gave way to prog a few years later, Soft Machine, along with other experimental bands like Caravan and Egg, became representatives for "the Canterbury scene," named after the town of Canterbury, Kent where the bands were based.
Allen would go on to co-found the Soft Machine offshoot band, Gong, whose lighthearted, comedic psych/prog-rock was full of complex changes, unorthodox rhythms, and its own oddball internal mythology. Throughout the 1970's, Allen (both with Gong and as a solo artist) was responsible for some of the most inventive rock music of the day. His discography reflects the work of a restless, creative musician broadcasting fresh sounds from the farthest reaches of the imagination. Allen passed away from cancer in March of 2015, leaving behind one of rock history's most challenging bodies of work. We've assembled a list of some of the highlights.
Given the sound of the ripping opener "Time Of Your Life," it would be understandable to mistake Daevid Allen's 1970 debut Banana Moon as a British glam-rock opus alongside T. Rex's Electric Warrior and Bowie's Ziggy Stardust. However, as the album unfolds, different shades of Allen's musical personality begin to reveal themselves. "Memories" is a muted psychedelic ballad, while "Stoned Innocent Frankenstein" is an exercise in bugged-out, novelty garage-rock that explodes into a waterfall of distorted guitar, feedback, and explosive jazz drumming.
Dreamy, pastoral, and wide-eyed, Good Morning mixes English folk music with a take on psychedelic pop that rivals Syd Barrett's best work. The wistful title track blends tasteful acoustic guitar with synthesizer and dense, Beatlesque harmonies. Other standouts include "Have You Seen My Friend" and "French Garden."
Recorded in Allen's home, Now Is The Happiest Time Of Your Life is a quirky mash-up of  psychedelic folk, rock, and bizarre, beat-influenced poetry. "See You On The Moontower" is a rolicking slice of rockabilly, and "Only Make Love If You Want To" riffs on the type of utopian, English psych-folk that singer-songwriter Donovan was known for in the '60s. Allen strums his guitar delicately against faint hand percussion and cosmic synths as he assures a lover, "Don't you know, I'd climb mountains to find you? And only make love if you want to." "Deya Goddess" may be one of the most beautiful songs in Allen's entire repertoire. A love tune that borders on the ecstatic and religious in its intensity, the song closes the album on a note of bliss.
One of the oddest and most colorful entries in a discography full of odd and colorful music, Allen's N'existe pas! takes left-field free-jazz, comical narration, country, rock, and psychedelia and mixes it into a complex musical stew. "The Freedom of the City in a Suitable Box," opens like the film score to a late 1970's crime drama, before transitioning into a forceful bout of avant-garde jazz that would make Ornette Coleman proud. "Theme From Hashish to Ashes" is a direct reference to the music of the Arabic-speaking world, while "No Other than the Mother Is My Song" could've been straight out of the Revolver-era Lennon and McCartney songbook.
The Death Of Rock & Other Entrances is a noticeably darker spin on Allen's typically sunshiney, utopian vision. "The Switch Doctor" is a floating, experimental piece of dark ambience, while, on "You Never Existed At All," Allen delves into full-on, abstract electronic sound design. "Afraid" is the album's emotional centerpiece. Over a somber piano motif, Allen softly sings, "Fashions come and fashions go and passions burn and passions glow and life cycles turn and go," confronting mortality and the impermanence of the world.