LABEL PROFILE
Touching Bass Creates Community Scored by Soulful Music
By April Clare Welsh · August 22, 2022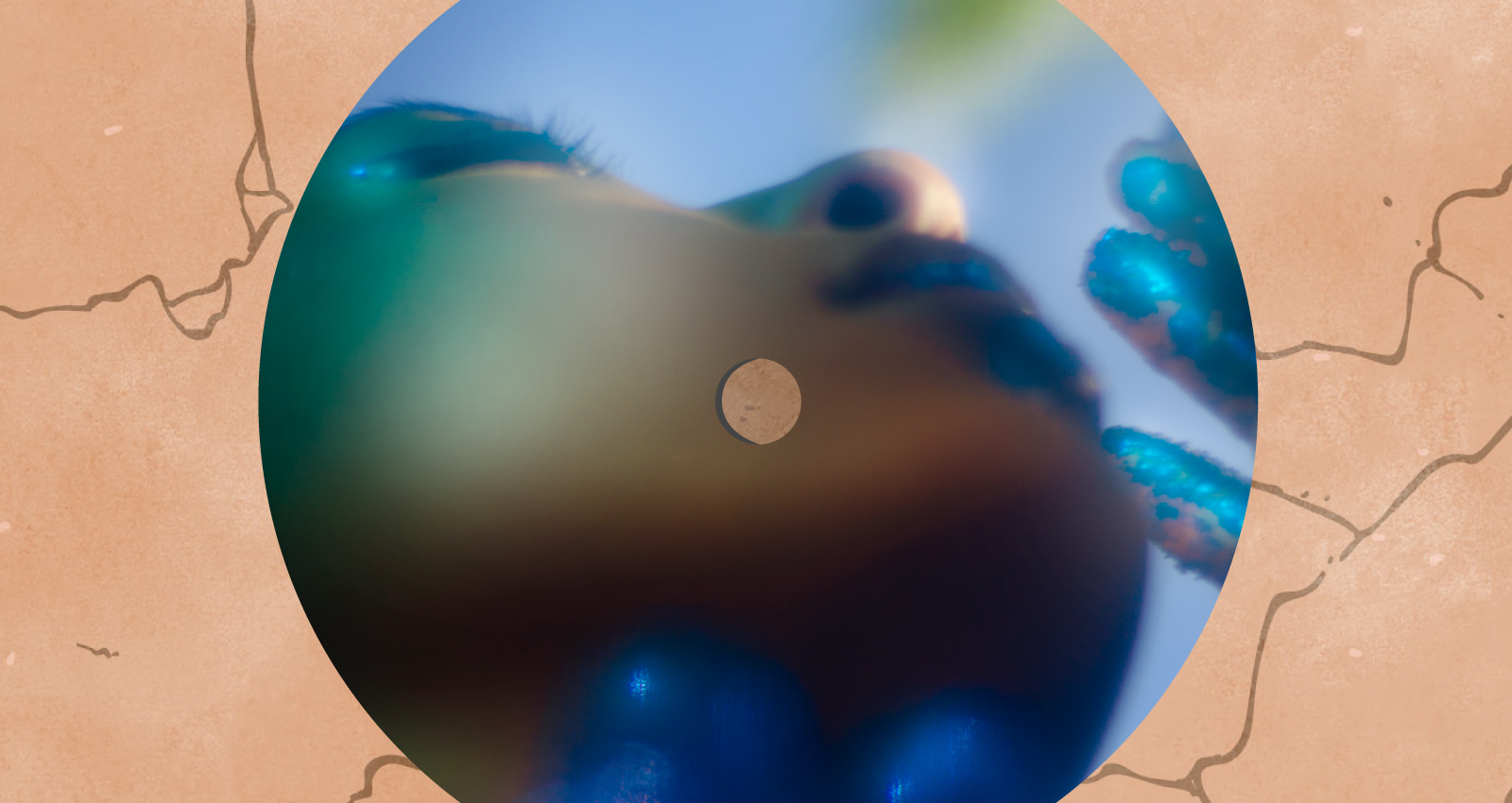 The UK music community of Touching Bass has spent the last eight years on a slow, steady journey to the forefront of the UK's DIY dance scene. Beginning as an interview and online mix series that gradually grew to include a club night, radio show and, eventually, a tastemaking label, Touching Bass was founded by DJs Alex Rita and Errol Anderson, who first crossed paths in East London seven years ago. "My inspiration definitely comes from the concrete jungle", says Errol. Raised in East London's Bow neighborhood to Jamaican and Grenadian parents, Errol was "shaped significantly" by the UK soundsystem icon Jah Shaka and the legendary Notting Hill Carnival, as well as the "rawnesss and spirit" of the house and techno he began encountering as he got older. Rita, a Copenhagen-born, London-based selector, illustrator, singer, and designer, cites Theo Parrish among her musical favorites, describing the Touching Bass oeuvre as "authentic music, very intentional music. It's very warm, even if it's hard." Jazz, hip-hop, broken beat, future soul—all of it features regularly in the group's club nights and radio shows.
As Touching Bass cohort, artist manager, and DJ Daniel Spinola puts it, TB champions, "music that makes you think and feel, with a soulful pulse running through it." Spinola first met Errol at a show back in 2015, and the pair immediately bonded over their shared desire for a transformative musical movement. "We were just bursting for something fresh in London, to create a scene for ourselves," he says.
Spinola recalled the laidback coziness of the South London house parties he attended in the early days, where prominent names from the now storied South London jazz scene would shoot the breeze and play tunes, and saw in it a potential model for TB. "It was just really good vibes and made me feel really at home, like somewhere I needed away from my own family," he reminiscences. Touching Bass may feel like a close-knit, family affair, but it's also welcoming and open, free of boundaries. "[Touching Bass] is not just us," Spinola says, "it's everyone who comes to our parties, who buys the records, who eats with us, drinks with us. Everyone is part of the community".
"TB has been a great connector of ideas and people, whether directly or through creating a space for it," says London-based poet Brother Portrait, whose track with 10.4 Rog, "The Lighthouse," opens the label's latest compilation. "They show what can come from being intentional and reflective, leading with values and ethos, the importance of the right scene and setting".
For London singer Demae, whose 2020 debut EP Life Works Out..Usually was released by Touching Bass, it's about creating a sustainable entity that will provide for future generations. "At the end of the day, all of the hard work we do now is so we can pass the baton on to the next generation and hopefully make their journey a little easier than our own," she says. "There's a lot of musical energy brewing in south London and London in general right now that is quite magical. I think Touching Bass are a good representation of that. They've given the London music scene a voice."
Here are six released by Touching Bass and their affiliated artists that encapsulate their free-thinking aesthetic.
---
Merch for this release:
2 x Vinyl LP
"We wanted to reflect all of the things that we listen to and all of the energies that we share," says Rita of the label's new 22-track compilation. "Hopefully, there's something for everyone." Indeed, Touching Bass presents: Soon Come spans moods, timezones, and continents to gather the growing TB family for a sonic love-in. Among the contributors are international rising stars like KeyiaA and WARP signee Nala Sinephro, as well as TB disciples like Wu-Lu. "Between some of the artists [on the comp] there are only one or two degrees of separation," says Errol. "They've either been on each other's tracks or they've been on friends of friends' tracks, so it's like this really beautiful ecosystem of people that we consider in our world".
Split into two halves—"Day" and "Night"—the compilation constructs a slow-building narrative that would work perfectly as a summery sundown DJ set. The selector hooks you in with spoken word, celestial neo-soul, and avant-R&B before kicking things up a notch with thrilling club mutations. It all ends with a brain-massaging finale that sends the listener off on a high. "The last track ('Dis & Dissolve' by Molinaro) could feel like that moment when you step out of a club night and it's like 6 or 7am in the morning," says Rita. "The sun is coming up and you just have this euphoric knowledge of what's just been."
Merch for this release:
Vinyl LP
Rita and Errol may be based in South London, but the TB family tree sprawls out across continents. The pair have fostered connections everywhere from Chicago and Detroit to Melbourne, where they first touched down on tour in 2018 and quickly found affinity in the city's soul and electronic scene. "When we go there it just feels like home," says Rita. Errol agrees, adding, "Those guys exist in a kind of like a parallel universe to us." Pareidolia, the debut album from Melbourne-based hip-hop producer (and drummer for Aussie jazz-funkers Hiatus Kaiyote) Clever Austin, was the label's first-ever single-artist album in 2019. (It was also released by Wondercore Records in Melbourne). Speckled with squawking gulls and smoldering grooves, Pareidolia feels like a cool ocean dip on a balmy day, where the crackly transistor radio is fully tuned to the TB frequency.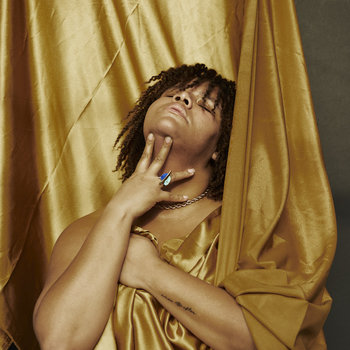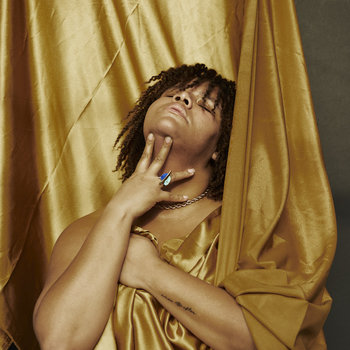 Brooklyn-based multi-hyphenate AMYRA is a spoken word artist, singer, educator, activist, and friend of Rita and Errol. Released in 2020, Witness is a smoky, soul-baring R&B record that touches on the same spiritual jazz-inflected sound as recent Erykah Badu, while delivering an unflinching political meditation on Black identity. In 2019, AMYRA performed at a series of intimate Touching Bass concerts in east London alongside Melbourne's "art-based resistance movement" Mandarin Dreams and spoken word dynamo Brother Portrait which, according to Errol, "felt like a cementing of various parts of the Touching Bass world…There were just so many moments when I was looking around the dancefloor that day and thinking 'Wow, I don't know what this is, but it's something very, very special.'"
Merch for this release:
Cassette,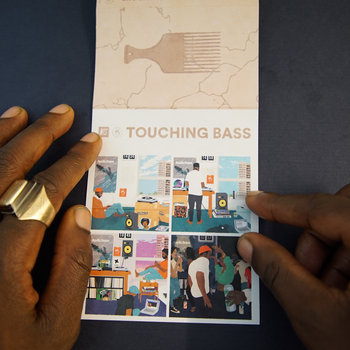 Touching Bass took listeners on a contemplative journey through the sound of '90s hip-hop, modern-day jazz, and more during their first appearance on the NTS Radio airwaves back in July 2016. Soon transitioning into a monthly show celebrating the full spectrum of soulful music, they toasted their first year at NTS with a tastemaking mixtape, TB Afro Chronicles: Volume One. The compilation brought together Wu-Lu, Nubya Garcia, Dylan Jones & Sheldon Agwu (aka Blue Lab Beats), and a clutch of rising artists across its 12 tracks. Like all good DIY labels, the visual identity of Touching Bass is an integral part of their story, and Afro Chronicles was accompanied by an A2-sized digital print produced by Mason London. "Over the years, each of our flyers has acted as a chapter in a story of interdimensional love," they wrote on Bandcamp at the time. The tradition continues to this day: Rita designers the collage-like cover that adorns the cover of the latest TB compilation.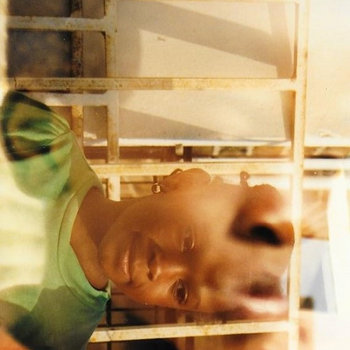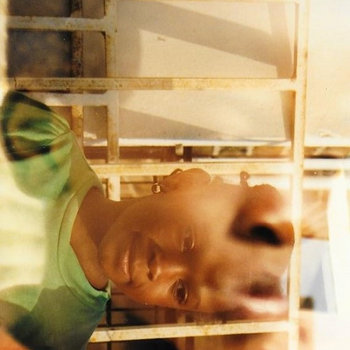 From Kae Tempest to George the Poet, the UK's spoken word scene has exploded to become an international phenomenon. Beginning his career as one-third of hip-hop trio Black/Other, Brother Portrait combines searching poetry with jazzy hip-hop beats on his mesmeric debut mixtape, navigate: in limbo. "I feel very much that I'm in communion with a kindred spirit," says the South Londoner on the significance of Touching Bass. "TB is a community that holds a mirror up to the best sides of ourselves, a welcome reminder on the dark hard days—of which there will be many. It's helped keep alive a belief in self-actualization, open-heartedness, and kindness."
Merch for this release:
Vinyl LP, , T-Shirt/Apparel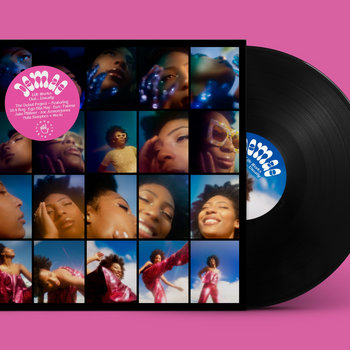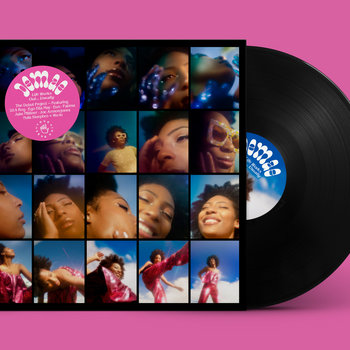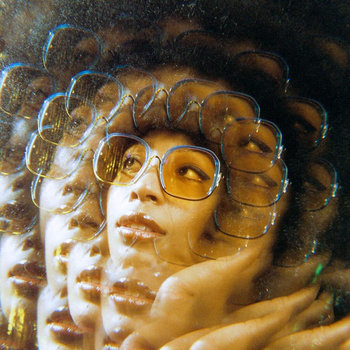 "I would climb a mountain for you," coos Demae on the second track of her debut EP, Life Works Out… Usually. It's an apt line for the luminous tales of romance that pop up throughout the Touching Bass catalog. Demae, who cut her teeth in hip-hop trio Hawk House, is in fine company among guest contributors Ego Ella May, Joe Armon-Jones, and beatmakers Eun, Jake Milliner (Slum Village) and 104.Rog. "It was vital for me to have the time I needed to make a body of work that was very honest and I knew I would need time to do so," she says. "Touching Bass gave me ample room, time, and patience, [and the fact that they] took a chance on me made me feel safe. Since then, I felt like I've really blossomed not only as an artist but as a person. Working with them allowed me the time to really shape my thoughts, message, and ideas of myself."