LABEL PROFILE
The "King-Cat" of Midwest Punk: John Porcellino and Spit and a Half
By Annie Mok · December 10, 2021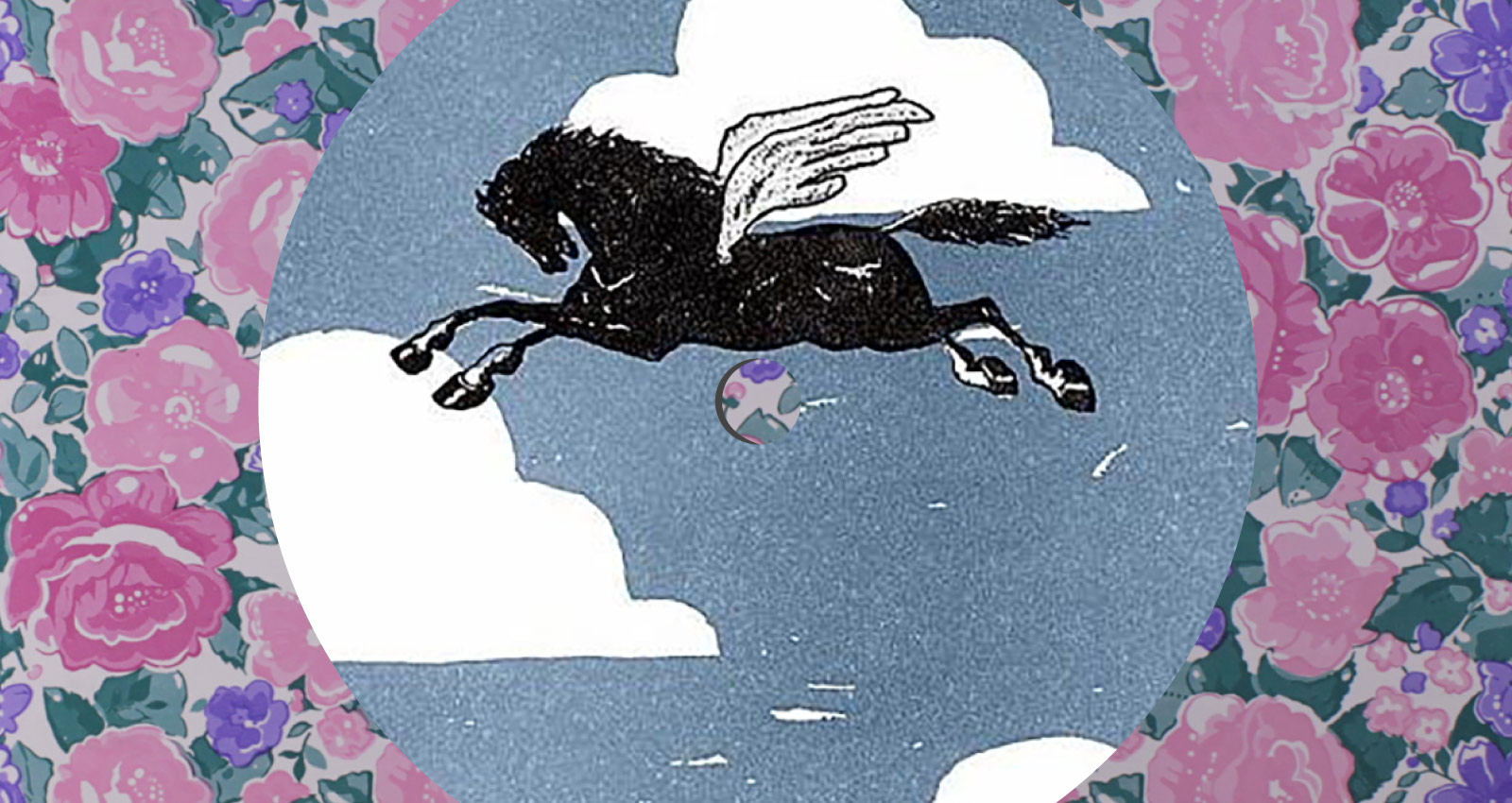 I first saw cartoonist, zine maker, and musician John Porcellino's work in anthologies like the Chris Ware-edited McSweeney's Quarterly Concern #13. Porcellino's work, like his 32-year-old zine series King-Cat Comics and Stories (80 issues and counting), was presented in mini-comics form, tucked snugly within the gatefold cover of that issue of McSweeney's. Little did I know that John P. (as he's often credited) has been making music for even longer than King-Cat has been appearing on shelves of anarchist bookstores.
"I started the [Spit and a Half] label in 1985, when I was a senior in [high school]," Porcellino writes over email. "I put out home-dubbed cassettes by my punk band Bryce Hammer, and then all the other bands I was in over the years, and bands of friends, etc. In 1992, I moved to Denver (from the Chicago Suburbs [sic]) and began putting out vinyl for the first time, by my group the Felt Pilotes and a few other friends and local Denver folks, like Jon Pinnow and the Virgo Snakes. I also put out a series of split singles by Australian groups called the Australian Pop Series, with records by [the] Cannanes, Flywheel, Blairmailer, [the] Cat's Miaow, Ashtray Boy, and more. This was when I was doing the Spit and a Half distro as well, and my hope (along with a lot of other folks in the overlapping scenes) was that we could kind of crossover comics fans into indie music and vice versa."
I ended up working with Porcellino via his Spit and a Half comics distro back when I was self-publishing; he distributed my comic books Annie Mok Draws James Joyce and Stitching Together, both long-out-of-print Risograph editions. Porcellino was, in my many years of working in comics, the only person I can remember working with who sent me money that I was owed without me having to ask him!
As detailed in Porcellino's 2005 King-Cat collection Diary of a Mosquito Abatement Man, put out with his friend Zak Sally's press La Mano 21, his hearing became very damaged, possibly from the chemicals used when he worked in pest control when he was young. (Sally was formerly the bassist for Low, and is a fellow independent cartoonist.) "In '95 or so I began putting out CDs, but by then my hearing was so damaged that I felt I had to curtail things music-wise. For the next bunch of years the label was on hiatus," he says.
In 2011, a bit of a light began to crack open for Porcellino. "In 2011, I started the Spit and a Half Bandcamp site to archive as many of those old recordings as I could, and gradually as my hearing improved began to put new (often archival) releases on there," he says.
Porcellino directed the label with an eye for the visual as well as the musical: with his hand-lettered logotype for the Bandcamp banner; a crazed cartoon pig on the cover of his side of a 1993 split with Bob Schaeffer, Porky's Revenge (bearing the subtitle "FILE UNDER MAJOR DEPRESSIVE EPISODE"); and his trademark drawings of clouds (always the lover of nature) on the Jon Pinnow & John Porcellino release Sweet Kansas.
Music, as had been the case for years, became yet again a lighthouse for Porcellino. For years, he had listed the Ramones, Frank Sinatra, Hüsker Dü, and many others in his never-just-40 Top 40 lists in King-Cat. Now, during the pandemic, he got back on the whinnying horse. "Last year the Felt Pilotes began recording our first new release in 25 years," he explains. "I figured technology had advanced to the point that I would be able to get away with recording as long as I played/sang quietly, and used appropriate hearing precautions. We recorded four basic tracks of rhythm guitar and vocals in early March 2020, and then COVID hit. During lockdown we began recording overdubs long distance, with all four band members in four different states, and were finally able to get it all done last month."
"Nowadays, I'm trying to keep adding new (and archival) stuff to the Bandcamp site as I manage to get crazy old recordings digitized," he continues. Having the Bandcamp page has fulfilled that part of me that felt empty ever since I had to quit playing in a band all those years ago. It was amazing how profound it was for me to get involved in music again. I could almost physically feel a part of my spirit come back to life."
Though, as Porcellino says, only a fraction of Spit and a Half's output is currently up on Bandcamp, here's a selection of the key tracks and releases from the label up so far.
---
The title track of Felt Pilotes' EP Moving Day encapsulates "that John P. feeling" (thinking of Barton Fink, natch); Porcellino's high-pitched vocals, ennui, and the feelings of transience that come with so much of his comic book work in King-Cat and his songs. The following track, "Another Day," fulfills Porcellino's stylistic decision to often make a large-feeling gesture with very few, very simple words. Their love of Bob Mould makes itself clear in the wistful, crunchy chords.
Asking Porcellino about what the DIY lifestyle means to him, he says, "To me, it means trying to create an alternative world where people can live without prescribed hierarchies. One of the things I loved about punk, that's true for zines too, is that the boundaries between artist and audience get broken down. The kind of communication that happens is two way; the artist and audience are on the same level, giving and taking mutually. That's the kind of connection that I sought to encourage with all the various forms my art took. To me, DIY is a way of living, thinking, and doing that informs every aspect of my interaction with the world."
Flywheel's dirty, crunchy guitars and catchy melodies reflect a Nirvana/Pixies/Vaselines grunge-pop influence. The pounding bass that opens second track "My Worst Fear" recalls the filthy rhythm of Nirvana's "Negative Creep"; and the closer "It's Over" is reminiscent of the soaring reverb-soaked vocals of the Stone Roses.
Epitomizing the "apolitical" stance of suburban teenage nonsense, most of these bands scream that they have nothing to say. Recorded in eight tracks directly to a boom box in 1985-87, the compilation by four bands from Hoffman Estates and Schaumburg, Illinois, represents the devil-may-care attitudes of lo-fi '80s punk quite well. The first track, by Bryce Hammer, has singer Jeff Jenke yelling, "We're all morons and we don't care!/ We've got more on our bottoms than we do upstairs." T.A.C. sings on "Yer Cheatin' Heart"—decidedly not a Hank Williams cover. Forty-Three's song "On Acid" presents the most fully-told story on the compilation, a very not-classically-acid-tinged punk song. Overall, the album comes as quoted by Maximumrocknroll: "Charming."
Porcellino says, "For me it was always part of one thing. If you're into punk music you don't just listen to punk albums and go to punk shows, you start your own band and make your own music. Then you start your own label to put the music out, you book your own shows in basements. Coming from that world, it made sense that, as a cartoonist, you put out your own comics, you help organize zinefests, you share with your peers in the community. It's all part of one thing—this kind of subculture of independent creativity and the sharing of ideas."
The 2019 single from the Ferns comes short and sweet, a total of five minutes of weird surf rock a la Man Or Astro-Man? And the record has an amusing credit; it's listed as being licensed to Spit and a Half by "Has-Tone Records, LLC, a division of HPS Enterprises, Inc." A quick online search revealed that the only HPS Enterprises that comes up is a part of the Building Equipment Contractors Industry, and Has-Tone Records whips up no replies in a search whatsoever. One wonders if the manager listed, "Haskel P. Stanback," is a fun pseudonym for Porcellino.; the record's credits say, when calling, "ask for Flora."
Another slice of melodic Midwest pop-punk, again featuring Porcellino, this time on guitar and vocals. The echoing bass, sweet-sad vocals, and slow guitar chords on "Galaxie 500" do indeed, reflect a self-conscious influence from the Boston trio. The rest of the 1991 release is standardly-styled yet entertaining.
More satisfying indie rock starring Porcellino and friends—are you sensing a theme here? Opener "I Wandered Lonely as a Cloud" has a bit of jangly Johnny Marr/Peter Buck influence in the guitars. In fact, in another titular tribute, the album features a song called "Pop Song '89" that is not an R.E.M. cover, but shares a similar poppy, fun vibe with that tune; Donal Ogilvie (whose name I recognized from King-Cat) bangs the drums here, making the rhythms bouncy. Ogilvie also takes the lead vocals on the ambivalent ditty "Lover's Life," featuring a killer solo from Porcellino.
This 1998 demo by North Americans, recorded in Denver, features sweet harmonies between lead singer-songwriter Doug Mioducki and the previously-mentioned Ogilvie, as well as melodic bass lines by Heather Oviatt. Two instrumental tracks end the demo, the sludge-y "Jedi" and the third-wave ska-inflected fun of "Led Zep Takes a Holiday."
Virgo Snakes
S/T
This 1995 self-titled release by Virgo Snakes, replete with cover art by Jeff Tady of a cowboy figurine standing in a landscape of cigarette butts, is the filthiest, most deranged-sounding album in the Spit and a Half catalogue to date. R.A. Rehayem wrote an entertaining blurb (for, supposedly, the Library Industries Journal in August '95) on Virgo Snakes live: "When the one Bob wasn't makin' me cry, the other Bob was making me laugh. My date said the band rocked so hard that she felt like more of a man than Teddy Roosevelt ever was. She's a respected authority on such matters, she writes 'what men really want in bed' for leading fashion magazines." Fair enough!
This EP marks Porcellino's return to music. I asked him about how he dealt with his hearing disabilities as a musician. "Well, it was really hard for a long time," he says. My hyperacusis basically meant performing live and attending live shows was out of the question for a long time. Even just playing quietly at home for me was essentially impossible. As my hearing improved over the years I got back into things as much as I could, given my limitations. I started setting up all-acoustic shows at Wax Trax Records in Denver…I'd have bands and musicians play really quiet, at conversational levels, meaning not even drums or vocal mics. No stages, people just stood around, up close, and listened to the music. It felt great.
As far as recording, it took some time until my ears healed enough and technology became flexible enough to make it possible for me again. For the new Felt Pilotes EP, I put in earplugs and recorded the rhythm guitar at a modest level while Donal, our drummer, tapped out the beat on his thighs. Then we overdubbed my vocals, without headphones. I just sang along into a directional mic to the studio speakers playing back low. Then the rest of the band took those rudimentary tracks and overdubbed their parts onto it all, long-distance. When I overdubbed guitar, I just plugged straight in, so it could be very quiet. We really didn't know what we were doing at first, but over time we kind of figured out what worked. It was really satisfying."